The deal we report on below has sold out – though the iPad Air M1 with Wi-Fi and Cellular is still reduced by $40 in purple. Plus, the 256GB Wi-Fi and Cellular version isreduced a bit, by 7% in most colours, bringing it to $839 at Amazon.
The iPad Air with an M1 chip released last year was a game-changer for the Air range – and, to be honest, it was a step up that confused us. We no longer knew firmly which iPad to recommend for creative professionals as the Air was sitting in the realm of the Pro range – but for less money. And now it's got more money off, with a price cut on Amazon bringing it down 20% to just $599.99.
This brings it a full $50 lower than anything we've seen before on this model, which has Wi-Fi and Cellular connection and 64GB storage. We've seen the non-cellular version drop to its current price before (it's currently $499.99, $100 off the usual price), but if you want full connection, this is a great deal. See our iPad generations post to compare models.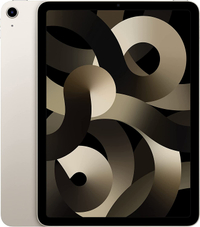 iPad Air (2022)
Was: $749.99
Now: $599.99 at Amazon
Save: $150

Overview: The M1 iPad Air was a confusing step forward for the Air range, as the screen and power now bring it into the territory of the Pro – ideal for creative tasks. The price makes it even more attractive.

Key features: You get 64GB of storage, which is the smallest of the two in this line-up (the other is 256GB but will cost you $200 more). There's an ample 10.9-inch screen, perfect for streaming or creative work, and of course you get the brilliant M1 chip. There's also Wi-Fi and Cellular.

Price history: The listing price is $749. Truthfully it sits at around $650 quite often, but this price is a new low, by $50.

Price comparison: $649.99 at Best Buy | $709.99 at B&H Photo

Reviews: In our iPad Air (5th Gen 2022) review, we saw that there is increasingly little to differentiate it from the iPad Pro. The M1 chip means it's got all the power most creatives will need, and unless you need the bigger screen of the 12.9-inch Pro, you'll save yourself money by going for the Air instead. We gave it a brilliant 4.5 stars out of 5.

Tom's Guide ⭑⭑⭑⭑⭑ | Tech Radar ⭑⭑⭑⭑⭑


Want to do more research? See the deals we've found below.