Looking for 2nd-gen Airpods Pro? Look no further. Usually, Prime Day deals turn to dust and get blipped like the Avengers once the clock strikes midnight, but this impressive deal saving you $50 on Airpods Pros has stuck around. Be quick and bag this discount before Amazon notices.
This record-low price is a steal for the AirPods Pro 2nd-Gen, and even cheaper than Best Buy, listed for just $199 down from $249! Directly from Apple, the AirPods Pro 2nd-Gen model will set you back an extra $50, so it's a no-brainer to opt for this great deal while stocks last. See our review of the AirPods Pro 2nd Gen if you need further persuasion to leap at this deal.
Sure, there are much cheaper wireless headphones on the market. But why compromise on quality when listening to your favourite podcast or having a blissful moment of escapism on the train after a long day in the office? Not only that, the AirPods Pro (2nd Gen) is equipped with noise cancelling features to really block out the world around you, as well as personalised spatial audio for a surround-sound experience like no other, thanks to the Apple-designed H2 chip.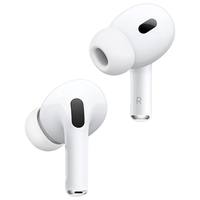 Apple AirPods Pro (2nd Generation)
Was: $249
Now: $199 at Amazon
Save: $50
Overview: The Apple AirPods Pro (2nd Generation) is a great choice if you're looking for a reliable pair of earphones suitable for music enthusiasts and commuters alike. More subtle than the larger AirPods Max, these iconically designed earphones are super portable with unmatched sound quality, and the active noise cancellation is industry-leading. You really get what you pay for.
Key features: These second-generation AirPods Pro offer a more premium way to listen to music, stream YouTube videos, or indulge in binge-worthy podcasts. The best part is that it has built-in Siri to listen to your commands, touch controls to swipe for volume adjustment, and up to 30 hours of battery life. The AirPods Pro suction tips create a sound seal for full immersion and ultimate comfort levels too.
Price history: The AirPods Pro (2nd Generation) retails at $249, and the last time we saw it drop was in November 2022. This current price of $199 is the all-time lowest price that we've ever seen on Amazon.
Price comparison: Amazon: $199.99 | B&H: $224.99
Reviews: When we tested the Apple AirPods Pro (2nd Generation), we gave them a 4.5 star rating, and found them to have mind-blowing efficiency in blocking outside noise, with rich and detailed sound quality. Our sister site, WhatHi-Fi described the AirPods Pro 2 as the "best-sounding AirPods" in its five-star review of the earphones.

Not interested in the second-generation AirPods Pro version? Take a look at these best AirPods alternatives, or save some money by downgrading with other fantastic deals on the standard Apple AirPods Pro below.