I recently purchased the Asus Vivobook Pro 15 after my previous Asus Rog Strix had a motherboard failure and bit the dust. To add salt to the wound, it's just gone on sale. Bad news for me, but great news for you! This 15-inch OLED display laptop has just had a price cut saving you $100 via Amazon. If you're in the UK, you can also bag a bargain on this laptop with £200 off at Amazon.
I would recommend this Asus laptop for photographers who need a reliable laptop for photo editing. It has an impeccable display with correct colour profiles, and enough RAM to support multitasking and running different software. As for the price, the deals above bring it down to just $1,149.99 $1,049 in the US.
This isn't the lowest price we've seen on the Asus Vivobook Pro 15 in the US. In May 2023 it was listed on Amazon for just $949. It didn't stay at this price for very long, however, and quickly jumped back up. Take a look at our guide to the best Asus laptops to see what other offers can be had.
Today's best Asus Vivobook Pro 15 deal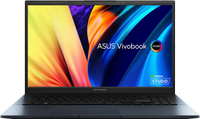 Asus Vivobook Pro 15
Was: $1,149.99
Now: $1,049 at Amazon
Save: $100
Overview: It all depends on the specifications you choose, but this laptop overall is super fast, can handle pretty much any task, and can even be used for gaming! The perfect laptop for creatives who don't want a MacBook.
Key features: Display: 15.6 -inch OLED| RAM: 16GB |Storage: 512GB |Processor: AMD Ryzen 7 6800H |GPU: NVIDIA GeForce RTX 3050 | OS: Windows 11 Home
Release date: September 2021.
Price history: This laptop was listed on Amazon for just $949 in May 2023, and in the UK, the lowest recorded price on Amazon was £899 back in March 2023.
Current price: Amazon: $1,049 | Adorama: $1,169.99
Review consensus: I just bought this laptop (as the headline says) and I absolutely love it. Admittedly, I am very loyal to Asus so maybe a bit biased here. But our sister site TechRadar reviewed a similar spec version of the Vivobook Pro 15 and loved the work-and-play balance it offered and respectable battery life.
The best deals on the Asus Vivobook Pro 15 do depend entirely on which model and specifications you opt for, with the Intel i9 core processor variants costing a fair bit more than the Ryzen 7 equipped models. With that said, the Ryzen 5 models are a much cheaper option for those who want the Vivobook Pro 15, yet don't require the slightly enhanced Ryzen 7 or intel processor options.