23. Audiko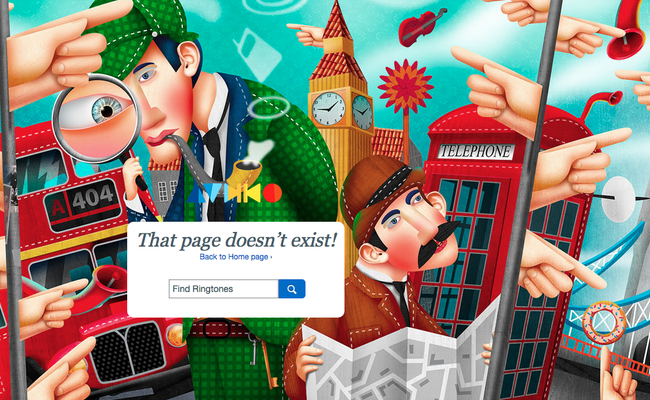 Audiko is a free ringtone-making service (surprised these still exist? Us too). Its 404 page is a delightful surprise, featuring a beautifully rendered illustration of London, including the obligatory red bus and telephone box, as well Big Ben, Sherlock Holmes and a hint of Tower Bridge. Even if you don't want to... ahem... design your own ringtone, the site's worth a visit for the brilliant artwork.
24. Bret Victor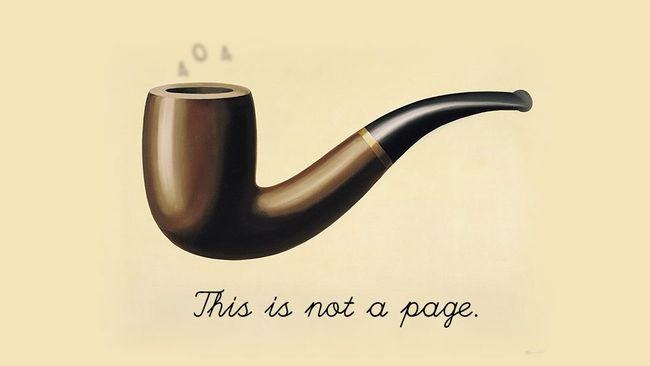 Computer scientist Bret Victor's 404 page, inspired of course by René Magritte's iconic painting, The Treachery of Images, confronts the viewer with some challenging philosophical questions. If this is not a page, then what is it? What constitutes a 'page'? Is it a thing that can be truly said to exist? What is the 'this' that this apparent non-page is referring to? Is anything truly real? Makes you think, no?
25. IMDb
Another awesome, movie-based 404 error page can be found on the IMDb website. This comprehensive database of film facts has jazzed up its 404 page with iconic quotes from famous films, subtly edited to fit their new purpose. Take a look to see which one you get.
26. Bit.ly
The 404 page for link shortening service Bit.ly features a cute Pufferfish bobbing upside-down in an interactive sea. The stranded fish responds to your mouse movements, and subtly animation details in the clouds and seagull help create a calming mood.
27. DropBox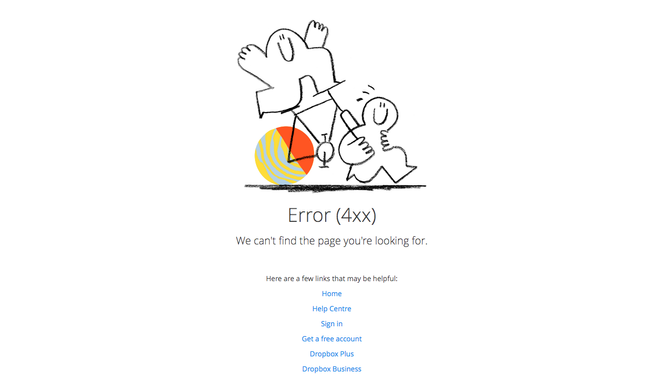 DropBox has replaced the Escher-esque impossible box that adorned its 404 page for years, with a similarly quirky illustration. We like to think of an abstract representation of everything going wrong – the wheels coming off. It's a nice, simple hand-drawn illustration that gets the message across well, with plenty of helpful navigation links for a top user experience.
28. eHarmony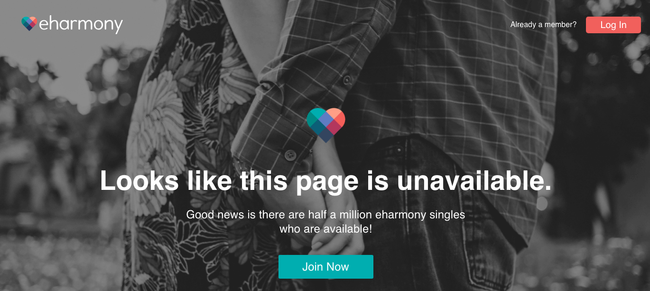 The last thing you want to hear when you're looking for love is that it can't be found. Online matchmaking service eHarmony's 404 page softens the blow with the news that while the page you're after is unavailable, there are still about half a million fish left in the sea.
29. Starbucks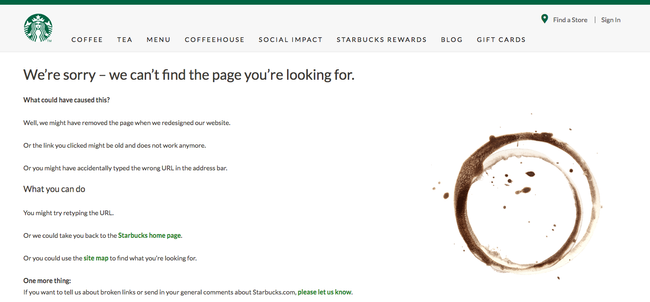 Starbucks makes good use of its primary product to illustrate its 404 message. In this instance, the tell-tales signs of a missing coffee cup are used to tell the story. There's also some jargon-free copy to help the user find what they were looking for.
30. Blizzard Entertainment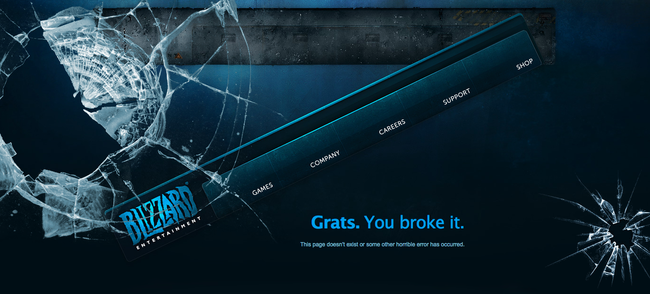 Video game developer Blizzard takes an original approach to its 404 page. In it, the working website design appears to have become broken: the header navigation has dropped down and there's a smashed screen effect. There isn't much in the way of helpful links, with Blizzard instead opting for a no-nonsense error message: "This page doesn't exist or some other horrible error has occurred".
31. NPR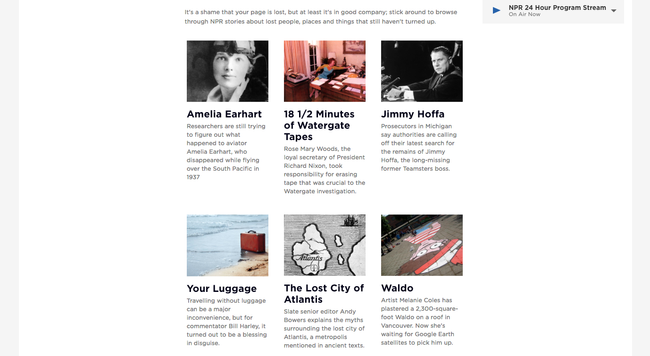 The US's National Public Radio website offers a fresh approach to 404 pages. It reassures the visitor they're in good company by presenting a list of other well-known people and things that have got lost. In a smart move, you can click through to access an audio clip and article on each item.
32. CSS-Tricks
The tips, tutorials and advice blog CSS-Tricks has plenty of personality, and its 404 page is no exception. To contrast techy subject matter, the designers have gone for an analogue-style look. How did that tear get in the site? Also, appropriately for a site aimed at coders, the page provides a link where visitors can let the site owners know if they think it's them that have made an error.
33. Magnt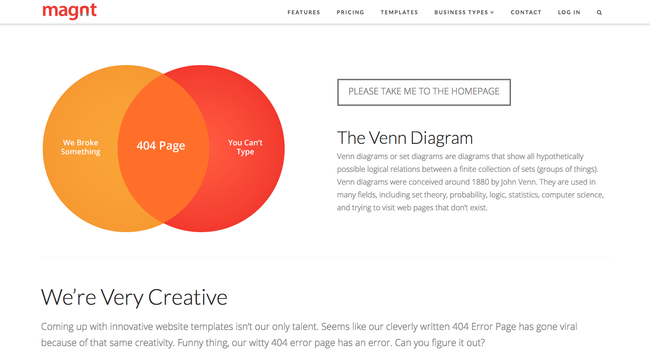 Website builder Magnt subtly pokes fun at its visitors on its clever 404 page. A Venn diagram explains the two main reasons why you could have landed on the site's error page: 'We broke something' or 'You can't type'. Some well thought-out copy and a clear call to action to take you back to the homepage keep things usable.
Related articles: