As a creative, it's natural to want to do a bit of customisation when in comes to your computer - and that's where Mac decals come in.
Ranging from the cute to the crude, most of these Mac decals incorporate the famous Apple logo design (although it might not be obvious at first sight) and enable any creative to express their personality through their Macbook.
And if you've got a Mac decal you'd like to share please don't hesitate to let us know about it!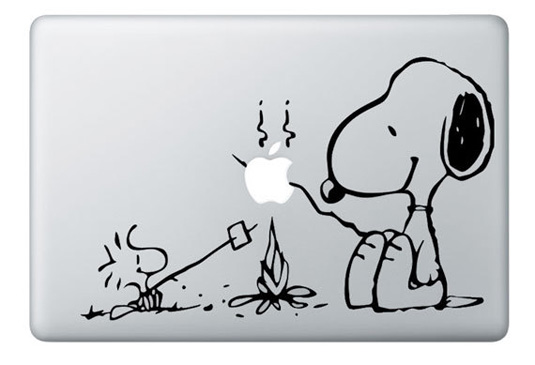 This charming mac decal is a must-have for fans of the Peanuts comic strip. With Snoopy and Woodstock sharing a cosy campfire meal, we love how this cover incorporates the glowing Apple logo into the final design.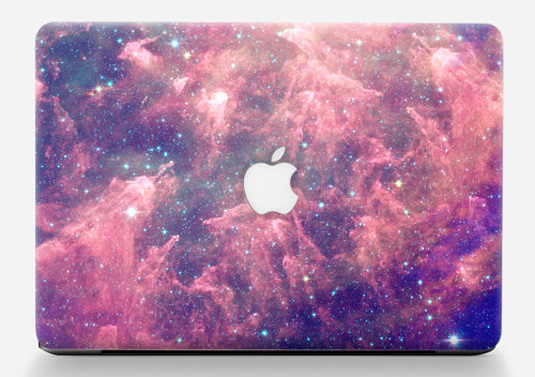 Head into the final frontier with this galactic mac decal. With a mesmerizing and gorgeous colour scheme, plus layers of bursting stars, it'll be easy to gaze at the back of your laptop rather than the screen.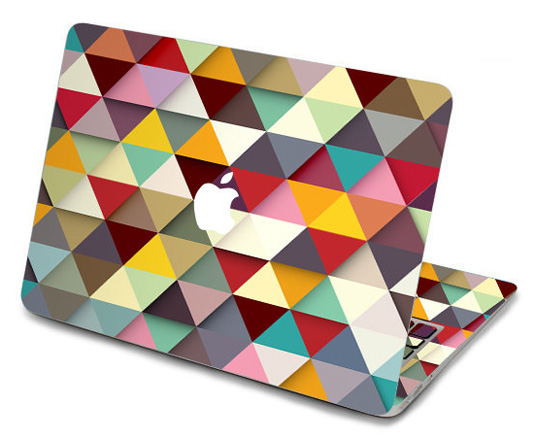 It's no secret that we're fans of geometric patterns, so it makes sense that we love this colourful mac decal. With a cover for both the back and the keyboard, this decal is a great way to give your mac a dash of colour.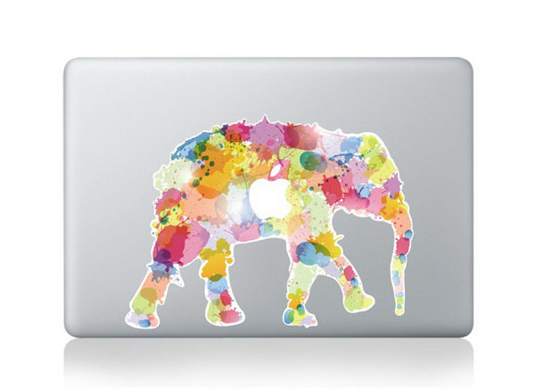 Combine your love of animals and colour with this cute and inspiring coloured elephant design. The splashes of colour will no doubt provide some colour inspiration for your latest projects, whilst the elephant will help transport you to warmer climates.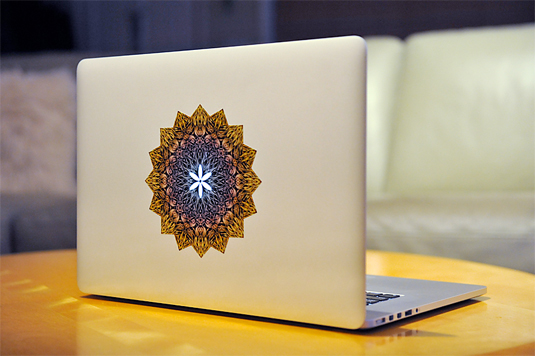 iCoverMyApple is a husband and wife duo where the idea for creating stickers began when they realised that they wanted to enhance and personalise their own 'stuff'. "Our search for beautiful stylish stickers came to a halt. So that's when we decided to create a line of stickers for people who appreciate art and celebrate their own personal style," they explain.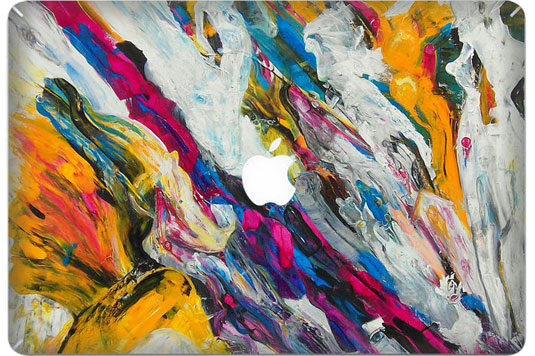 Add a splash of colour to your desk with this brilliant oil painting mac decal design. It will no doubt get those creative juices flowing and inspire you to add more colour to your work.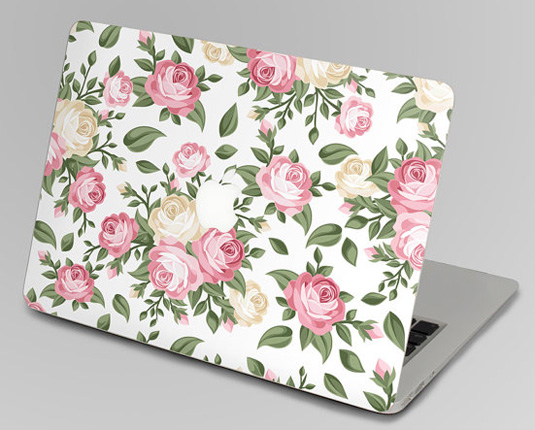 Macs might be one of the most high tech commercial gadgets, but even they can benefit from homely decals. This pleasant floral cover would be perfect for green-fingered mac users, or anyone after a subtle decal that would be at home anywhere.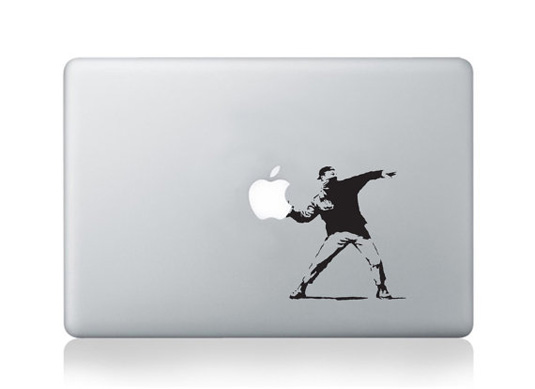 Did you manage to visit Dismaland? Or maybe you've got a copy of Wall and Piece on your coffee table. Either way, this decal is perfect for fans of the subversive, counter-culture graffiti artist, Banksy.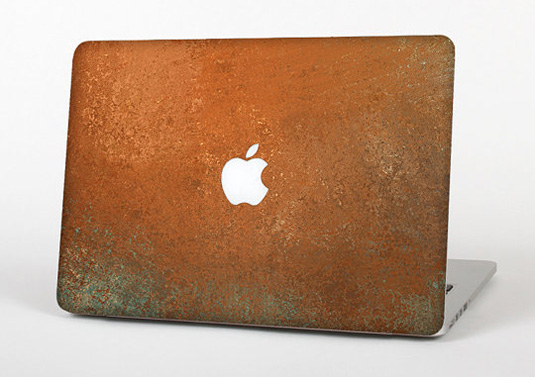 We love this burnt mac decal as it looks like it's come straight out of a futuristic sci-fi movie where macs are an outdated thing of the past. If you want to channel your inner sci-fi hero, grab this one.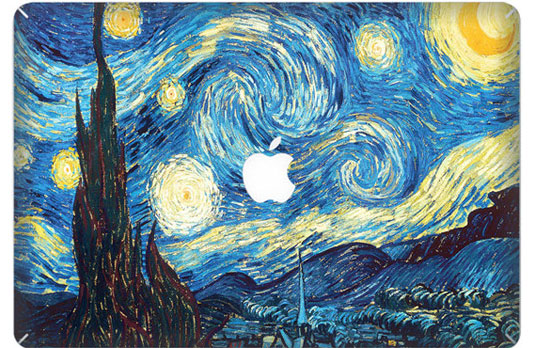 If the minimal, silver look of your mac doesn't really do it for you, why not add some classic painting to the exterior? This Van Gogh Mac decal design is perfect for those of you that love his work.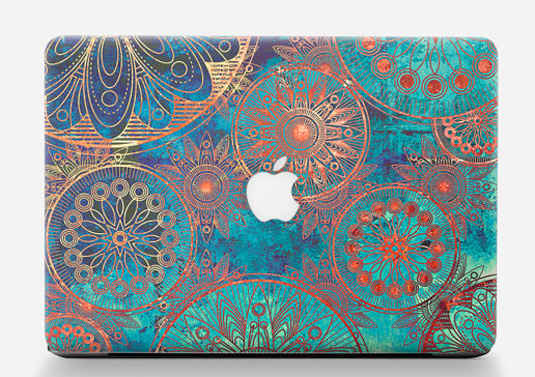 Channel your spiritual self with this beautifully worn mac decal. Decorated with intricate mandala-style imagery, this cover is finished off with a gorgeous turquoise and sepia colour scheme to give your laptop an ethereal touch.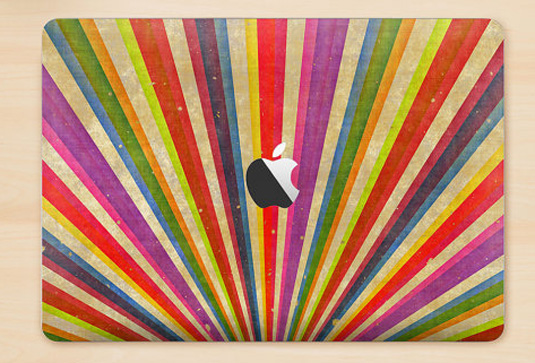 Here's a decal that will get you noticed! Inject some much-need rays of colour with this Mac decal design. Full of a wonderous array of shades, this will brighten up any day.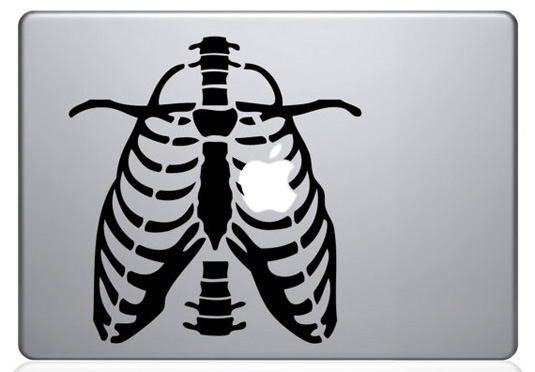 This is a Mac decal for those of you that live and breathe all things Apple (let's face it, there's plenty of you). Show your passion for the tech giant with this hearty design.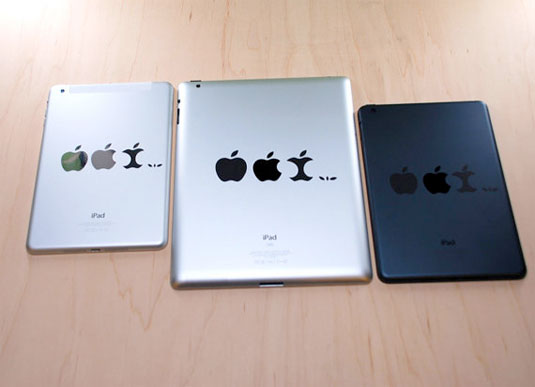 Okay, okay. Whilst this techinically isn't a 'Mac' decal, we're sure you could still stick it on your computer. Charting the evolution of Apple in a humourous manner, this design is a brilliant interpretation of the iconic logo.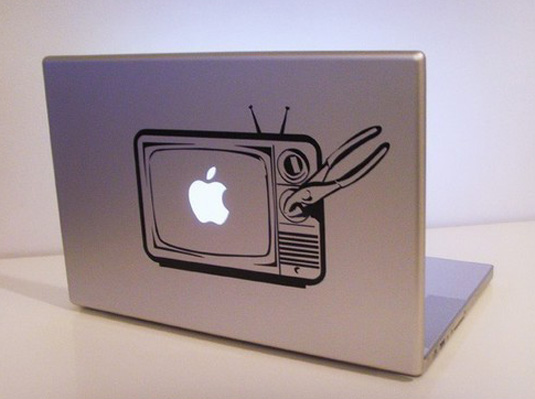 Go all old school with this retro-tastic TV Mac decal. What's more, if you like all things old school, there's also a boombox and plenty more retro stylings to choose from.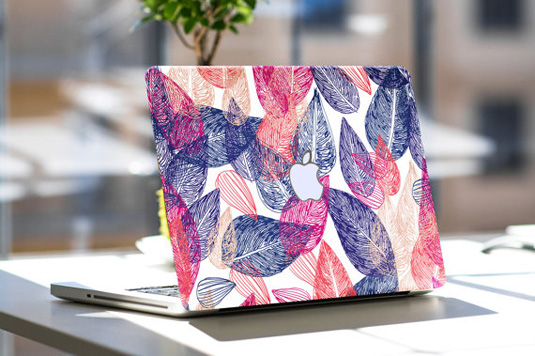 This mellow twist on vibrant floral mac decals is a welcome addition to the range of nature-themed colours. Layered with beautifully illustrated leaves, this decal is a piece of art in itself.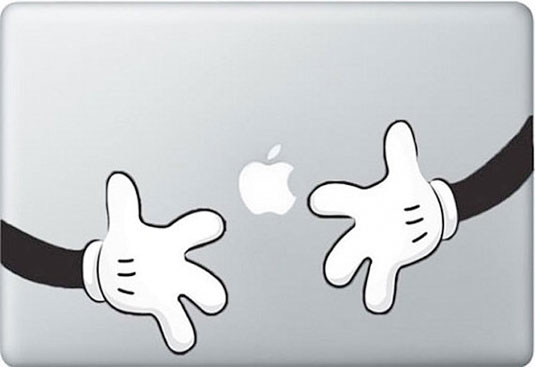 Add a little Disney inspiration to your mac with this Mickey hands mac decal. Carrying it along, it'll look as though Mickey's stuck in there with along with all your secrets!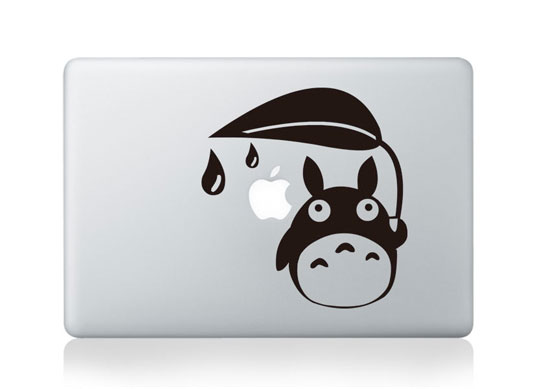 Now, who wouldn't fall in love with this adorable Studio Ghibli inspired Mac decal? Here, one of their best loved characters Tortoro lovingly shields the Apple logo from droplets of rain. Cute!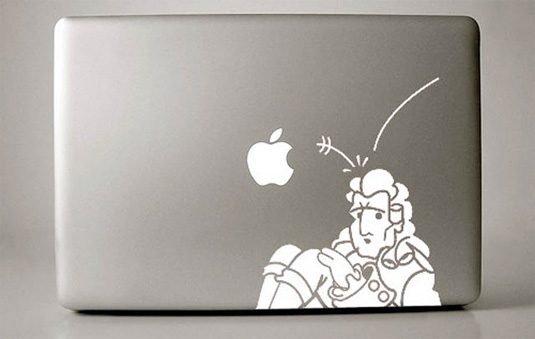 Unleash your inner scientist with this brilliantly apt Isaac Newton Mac decal. It's available in a whole host of colours too.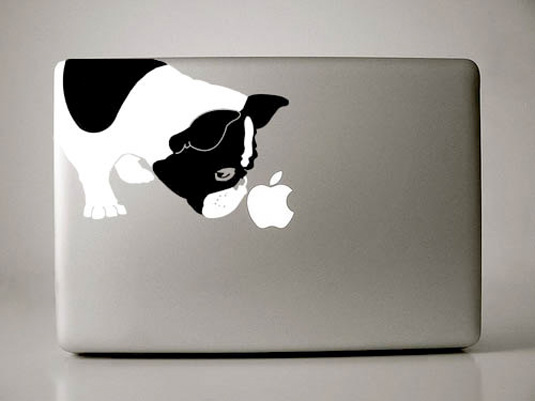 What a pretty pooch! This adorable Mac decal design was inspired by the creator's own dog Bella and we think it's one of the cutest decals we've ever some across.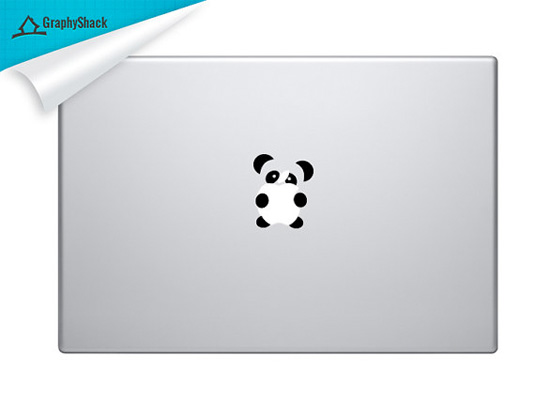 This heart shaped vinyl laptop sticker features a cute panda that's stolen our hearts. Perfect for lovers of twee, this Mac decal also comes in an array of pinks and greens.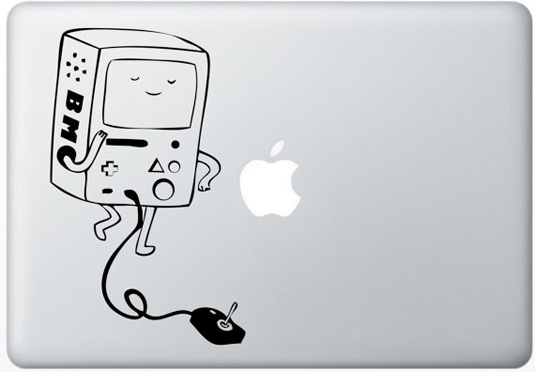 Calling all fans of TV cartoon series Adventure Time! The show's sentient video game console BMO has been immortalised in this cool Mac decal. As one of our favourite AT characters, this decal has to be one of our top picks.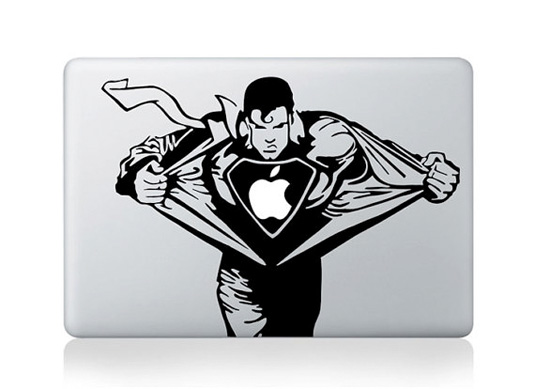 This Mac decal is a must-have for any Clark Kent fanatic. Whichever interpretation of the Kryptonian superhero you prefer, this Mac decal is the perfect accompaniment to your obsession.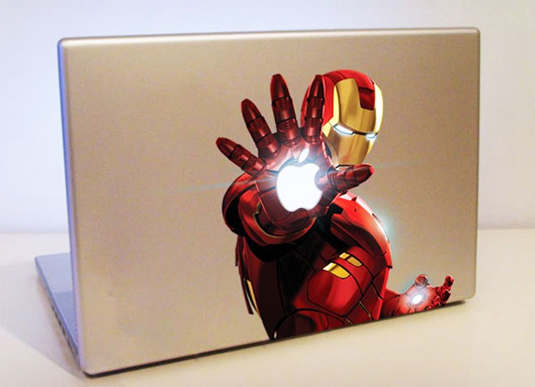 Kicking off our list is this awesome Iron Man Macbook decal. The clever design incorporates the famous Apple logo as the superhero's deadly arm blaster.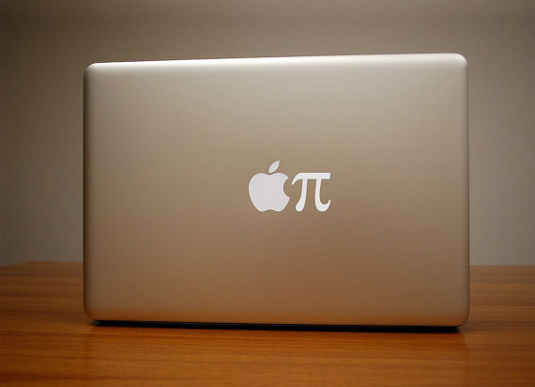 Serve up a slice of Apple pi with this simple but brilliant design from DecalForThat. This fun decal, created for your inner geek, is perfect for all you math and dessert lovers out there.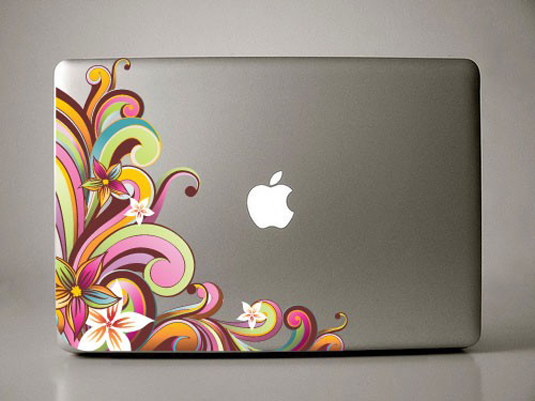 Add a splash of colour to your Mac with this gorgeous funkadelic design from StickySlaps. The perfect Mac accessory as we head into the summer months.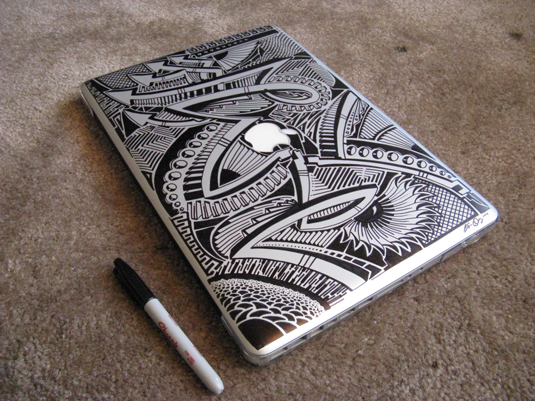 Artist Chris Dunlop aka Pinstripe Chris began his creative career as an airbrush artist and custom painter and later picked up pin-striping and Sharpie art. Probably best known for his Sharpie art cars, Dunlop has also started creating beautiful custom Macs decals, like this one, using the famous marker pen.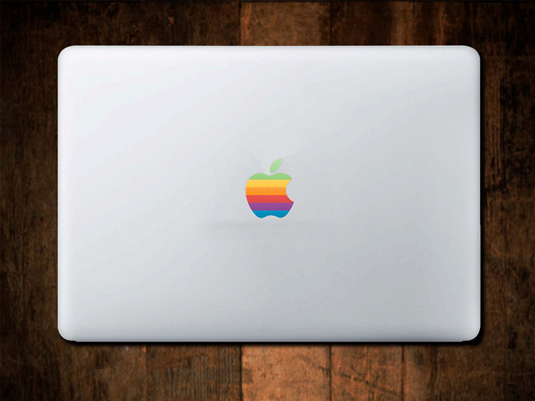 If you're a fan of retro design, then you'll love this replica of the rainbow Apple logo used by the company in the mid-'70s to the late-'90s. Simply place over the current Apple logo on your Mac, power up and watch the colours light up!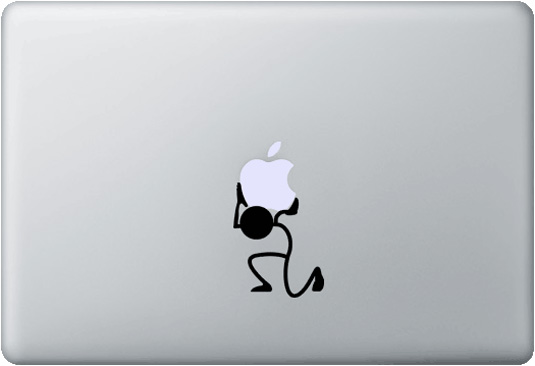 There's plenty of designs encorporating the simple stickman but we just loved this humourous take on the Apple logo. You can also buy it in a range of colours from purple to green.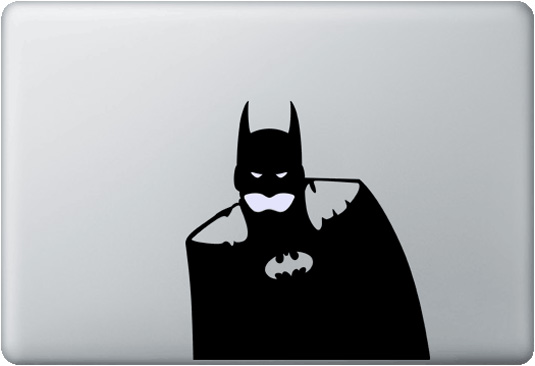 One for all you Bat-fans out there. We picked this one, as the designer has managed to encorporate the apple into the famous character. There's plenty more Batman related Mac decals out there if this one doesn't take your fancy!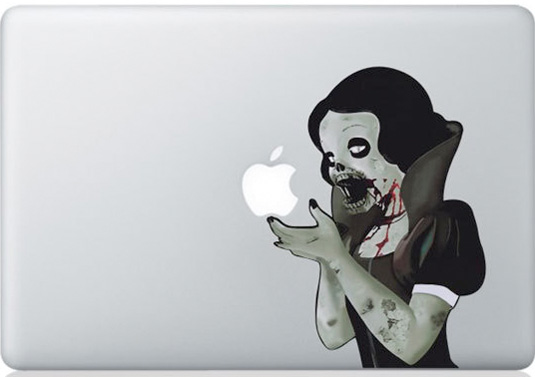 What could be better than a Disney Princess turned zombie?! With plenty of ordinary Snow White Mac decals out there, we have to say that this one is the best... obviously!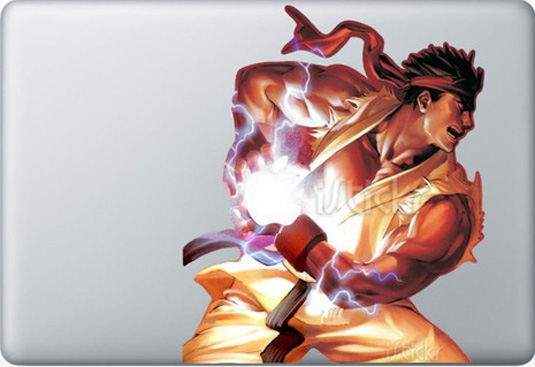 How awesome is this Ryu Mac decal?! The Street Fighter legend and 'hero' of the series comes to life, using the Apple logo as his fireball. One for you game-lovers out there! And speaking of Street Fighter, have you seen these brilliant Street Fighter illustrations?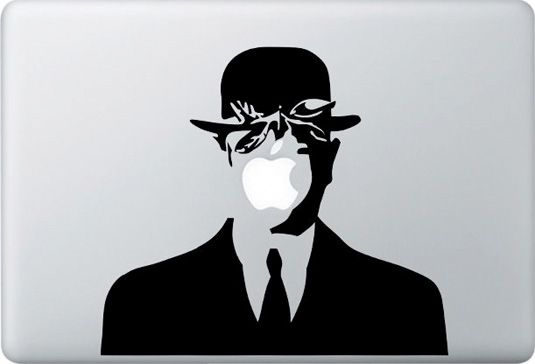 Of course the famous surrealist painter René François Ghislain Magritte was going to get the Mac decal treatment sooner or later. Based on his 1964 painting 'The Son of Man,' this is the perfect Mac decal for any surrealist art lover.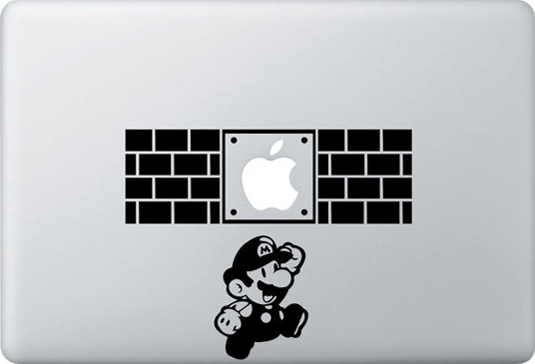 Itsa Mario! You simply can't have a post on Mac decals without the world's most famous Italian plumber making an appearance. We loved this one especially thanks to the cute and clever design.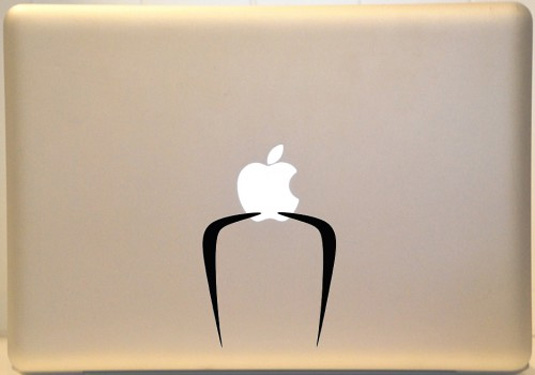 Perfect for Movember, this sensei moustache will be a brilliant accompianment to any Movember participant. If sensei is not quite your style, there's plenty of other moustache styles out there to suit everyone's tastes.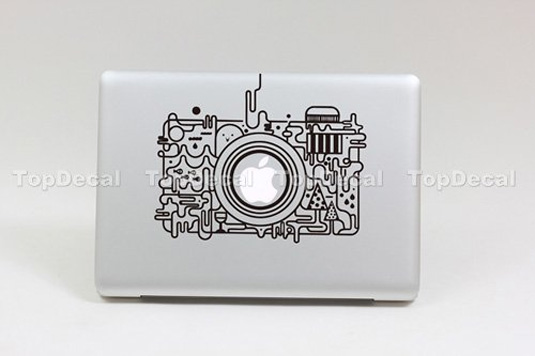 One for all you photography lovers out there. We love the doodle-like illustration on this one, with the cute characters making up the shape of the old school camera. Speaking of doodles, have you seen our round-up of the best doodle art?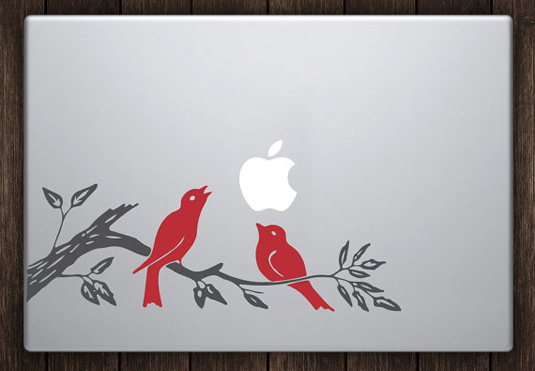 A lovely bit of illustration here. This birds on a branch Mac decal is perfect for creating a little tranquility in the office when your work seems to be getting on top of you. We love the colours too.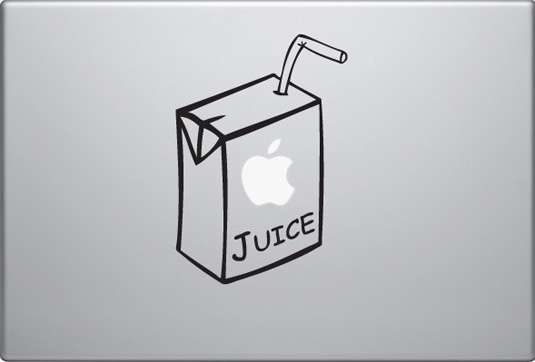 An apple Mac decal list just wouldn't be complete without some 'Apple' juice. Get those creative juices flowing with this cute Mac decal. What's more, you can choose from a wide array of colours and sizes.
Like this? Read these!