Quick menu
Jump to the quick list↴
1. Top: Zenbook S 13
2. Powerful: Precision 5480
3. Best Apple: MacBook Air M2
4. Value Apple: MacBook Air M1
5. 2-in-1: Dell XPS 13
6. Large: LG Gram 17
7. Apple alternative: MateBook X Pro
8. Android: Lenovo Tab P12
9. Business: ThinkPad X1
10. Under 1kg: Dragonfly G4
11. Gaming: ROG Flow Z13
FAQs
The best lightweight laptops are thin, light, and super-portable, but still provide a lot of processing power. They also have decent battery life, making them perfect for commuting, traveling, working in a cafe, or anywhere where there isn't a readily available power socket.
If there is one area where lightweight laptops lag, it tends to be graphics performance. You can get dedicated graphics chips in thing and light laptops, but typically the most powerful GPUs require larger, heavier chassis designs.
To help find the right model for you, we've gathered together the best lightweight laptops available today in the list below. They include ultrabooks, which are categorized as laptops with an Intel Core i3, i5, or i7 processor, an SSD, and a thickness of up to 1.5cm. Plus you'll also find some of the best lightweight laptops out there that aren't ultrabooks, but still offer lots of computing power for their size.
Whether you're a student heading back to school, a creative on the move, or a hybrid worker, we've included a range of laptops at different price points below. If you're looking for something more specific, though, you may want to read our roundup of best laptops for gaming or the best business laptops. Or, if you're studying, check out our picks of the best laptops for students.
Quick list
If you're looking for a quick breakdown of the best options available, then we've compiled this quick list for you that gives you a quick-fire breakdown of your options with links to jump down to read more below.
Load the next 5 products ↴
The best lightweight laptops we recommend in 2023
Why you can trust Creative Bloq Our expert reviewers spend hours testing and comparing products and services so you can choose the best for you. Find out more about how we test.
The best lightweight laptop overall
The ASUS Zenbook S 13 OLED is our top choice for the best lightweight laptops on the market this year. It's not just one of the smallest and lightest laptops I've ever used, but also hugely impressive when it comes to performance. It's on par with bulkier and heavier rivals (such as the Dell XPS 13 and MacBook Air), and the super-sharp 2.8K screen feels much bigger than it is and is a joy to look at and work on.
Extreme thinness comes at a price, though, so video-editing and 3D work will be best left to bigger bricks, but for portability and all-around performance, the Zenbook S 13 OLED is just about unbeatable right now.
Read all about the ASUS Zenbook S 13 OLED in our full review.
The most powerful lightweight laptop
The Dell Precision 5480 is its smallest mobile workstation, which sets it apart from the competition. The top-quality build, super power and incredible battery life, all packed into such a slim 14-inch design, makes it one of, if not the, in my opinion, best options for taking professional-level performance on the go.
There are, of course, factors to consider. Trade-offs for its portability mean less power than in other larger models, and anyone wanting to run the most demanding, graphics-intensive applications might need to look elsewhere. But when you take everything this little machine has to offer, and how long it can deliver it in one go, it's up there as one of the best mobile workstations available.
For more information, read our full review of the previous Dell Precision 5470 model with 12th Gen Intel CPUs.
The best Apple lightweight laptop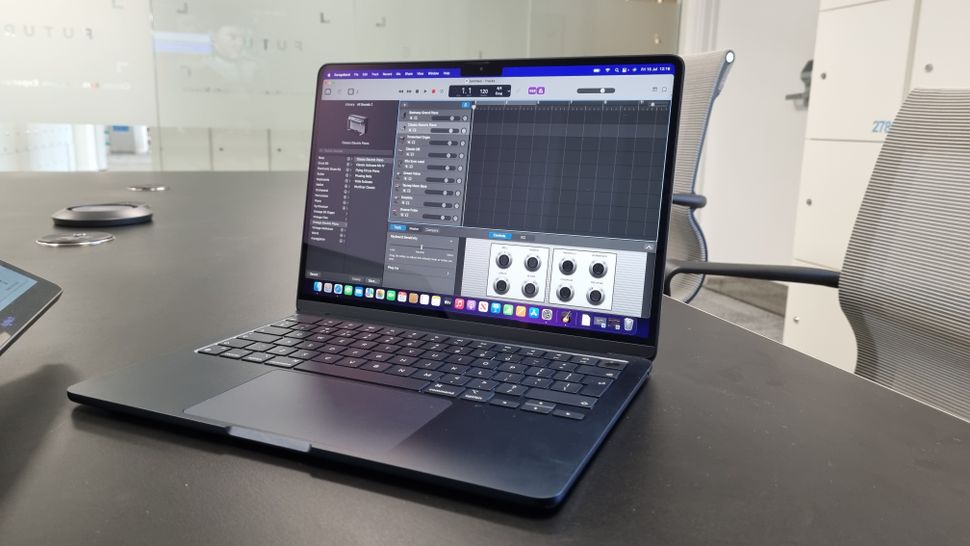 The Apple MacBook Air (M2, 2022) is a fantastic thin and light lapto. It comes with a range of improvements over the previous model, including a new 1080p webcam and a larger, brighter screen. In fact, the MacBook Air M2 now comes in a 15-inch size, giving you even more space for programming.
It also packs the M2 chip from Apple, which is a powerful but efficient bit of silicon that can turn its hand to almost any task. It's powerful enough to compile code in seconds, encode video at a reasonable lick and even a little gaming.
Best of all, the MacBook Air (M2, 2022)'s battery life is amazing, lasting over 16 hours in our tests. So, you can work on this throughout the day without worrying about being plugged into a power source.
It's not all good news, though, as it is quite a bit more expensive than the previous model, which means it's not quite as good value for money. The 2020 model, with an M1 chip, is still a fine laptop to program on, and is still on sale. It's definitely worth checking out if the M2 model is too pricey for your budget. Find out more in our full MacBook Air (M2, 2022) review.
The best value Apple lightweight laptop
The 2020 MacBook Air M1 may be over three years old, but it's still a great all-round laptop and a more affordable alternative for those who want a MacBook but can't stretch to the budget of the 2022 M2 MacBook Air. It's wonderfully thin and light and offers brilliant battery life, making it perfect for taking it out and about.
The M1 MacBook Air may not have the M2's more powerful chip, but still offers enough power for creative software alongside writing software, making it a viable option for those who need more than just writing capacity. The screen, while a tiny bit smaller than on the new model, is still a great piece of tech that's easy on the eyes and offers excellent pixel density and accuracy.
All the details are great on the Macbook Air M1, too. The track pad is fantastic, the keyboard is great and it has better speakers than most full-sized Windows laptops. Best of all, the 2020 model has been coming in for more regular discounts now that the newer 2022 M2 MacBook Air has been released.
See our full MacBook Air (M1, 2020) review for more details.
The best 2-in-1 lightweight laptop
The Dell XPS 13 9315 is an excellent choice for anyone who wants a powerful and portable laptop that can do it all. It's thin and light enough to easily carry around, and with enough power to handle even most tasks, it's ideal for students, business professionals and creatives alike.
This machine is ideal for those who can't choose between a traditional laptop or a tablet. The keyboard is fully detachable, so if you want to use it in tablet mode, then the impressive 13-inch touchscreen display just pulls away. It also comes with a stylus, so is brilliant for taking notes, and creating digital art or graphic design. For more, read our Dell XPS 13 2-in-1 review.
The best large screen lightweight laptop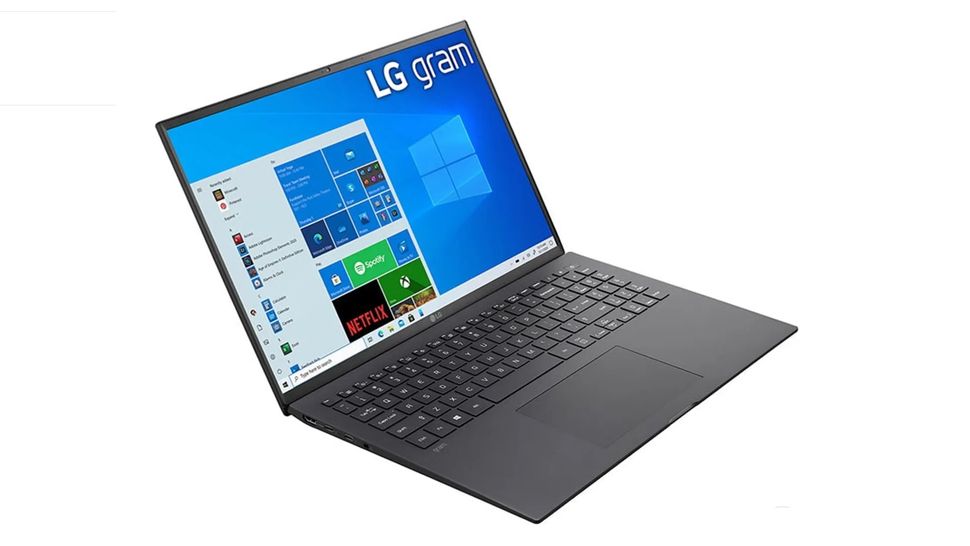 The largest in the latest set of lightweight laptops from LG, the LG Gram 17 (2022) is the new and improved version of 2019's LG Gram 17, which we rated highly for its super-thin, super-lightweight design and impressive performance when handling creative software.
With its large 17-inch display and 16:9 aspect ratio, the LG Gram 17 is a great choice for creatives of all creeds, from music producers to writers and digital artists. While its larger screen makes it a little less easy to stash away and a tad heavier (1.34kg) than some of the other laptops on this list, it does make for a less frustrating experience when you don't need to scroll around so much.
Specs-wise, it's a pretty capable machine, too, which considering the fairly lofty price tag, makes sense. It's got an impressive battery life, too.
The best Apple and Dell rival
This new Huawei Matebook X Pro is the real deal. Weighing just 1.26kg, it offers a brilliant processor for lightning quick speed, but the battery life is still ample for those all day sessions – the holy grail of laptops.
The 1TB of storage allows you plenty of space for weighty video or image files, with no worries about running out in the future. And the 16GB RAM is more than enough for your creative projects to grow into.
The display is excellent – bright and colourful, and is also touchscreen, which is a nice bonus. The connectivity is also brilliant. Our reviewer deemed it one of the best Windows laptops they'd ever seen, in fact. See our full Huawei Matebook X Pro (2022) review for more detail on what they liked.
The best Android 2-in-1
If you want something that's both super light and affordable, then the Lenovo Tab P12 is a great choice. It can be had with an optional detachable keyboard, so it's incredibly easy to carry around, and as it's an Android rather than Microsoft Windows device, it's much cheaper than most laptops.
It also boasts a huge 10,200mAh battery that will easily last all day with heavy use and multiple days with lighter use. You could even go away for a few days and not worry about bringing a charger.
There are some inevitable downsides with this type of device, however. The keyboard is small and not as comfortable as a proper laptop. As an Android device, you obviously can't run legacy Windows applications, either. But if most of what you do is browser based, that hardly matters. And it's not as if the Android platform is short on apps. For the money, this is a great little ultra-portable device.
The best for business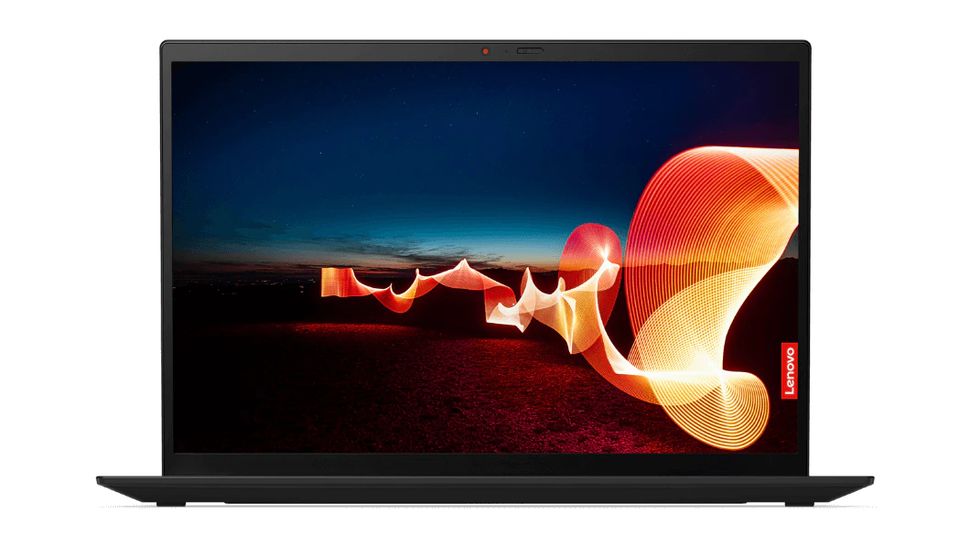 The Lenovo ThinkPad X1 Carbon Gen 11 is our choice for the best lightweight laptop for business on account of its fantastic battery life and its great performance. One of the lighter laptops on this list at just 1.2kg, it still has enough room for a 13th-gen Intel Core CPU, a 14-inch screen, and can be fitted with up to 32GB of RAM.
It also houses some great built-in security features, making it a great choice for business users who like to move around. It only comes with integrated graphics, though, so if you need to complete graphic-intensive jobs like animation or 3D rendering, you'll perhaps be better off elsewhere.
The best under 1kg
The HP Dragonfly G4 is the lightest laptop on our list, with some spectacular specs and features housed in its small 990g frame. This is another laptop we like a lot as a business device. Although once again it lacks the dedicated graphics you'd need for creative work, it's incredibly versatile in other areas.
With its 2-in-1 form factor complete with the option of a 3K touch display, along with powerful 13th-gen Intel Core chips and Intel Iris Xe graphics, this is a laptop that can handle a lot but can also keep going for a while; our sister site Techradar got almost 11.5 hours battery life on test when using it for video playback.
The best for gaming
Okay, so we're kind of cheating by including the Asus ROG Flow Z13. Without its keyboard folio, it's just 1.2kg, but with it, the weight bumps up to 1.53kg. So it's not quite as light and portable as some of the others included in this list.
That said, it's an excellent piece of kit for gamers on-the-go. So much so that it even ranks among the best gaming laptops we've tested, despite its lightweight nature.
It does, however, suffer from slightly weaker performance than some of its competition. Still, with the ROG Flow Z13, Asus is taking the 2-in-1 form factor in gaming to new heights. It's superbly built, and on-test we were impressed by the quality, though we wished it was a little more ergonomic. Read our full Asus ROG Flow Z13 review for more details.
FAQs
What's the best lightweight laptop?
The best lightweight laptop for you is going to depend on a variety of factors. If you're a student and are just looking for something cheap and easy to use that you can stash away between home, lectures and the library, you'll be perfectly happy with the Surface Laptop Go 2 or the Acer Swift 3, which are cost-effective and capable machines.
If you're looking for something powerful and highly capable, you're looking at the Dell XPS 13 or the MacBook Air (2022, M2), which come with much higher price tags to account for the greater capabilities.
Ultimately, your best bet is to identify what needs you have in a new laptop, whether it's value, performance and speed, storage, design or even software, and use resources like our buying guides to help you make the most informed decision you can.
Can lightweight laptops be powerful?
The short answer is yes, absolutely. However, it can sometimes come at a cost. Take, for example, the MacBook Air (2022, M2), which is one of our favourite laptops on this list. While the M2 chip makes for a powerful MacBook Air model and its tiny frame houses an incredibly impressive component set, it can't fit fans, so it can become very hot after sustained use.
Your experience with a powerful laptop is always going to be better with a larger, heavier machine, but if you need something more portable, we're confident some of our top picks can take you there.
What's the benefit of a lightweight laptop?
Lightweight laptops are supremely portable and great for running small to medium-sized tasks when you're away from your desk. If you frequently move between home and your office, school or local café, it's likely you'd be able to appreciate a smaller, easier to carry machine.
With technology advancements allowing for ever-smaller but still powerful machines, lightweight laptops have become an increasingly viable option for students, businesses and creatives alike to help support more flexible and varied work and life.
Read more:
How do we test?
In terms of performance, testing a lightweight laptop is the same as any other. CPU, GPU and storage performance are all in the mix. That said, expectations are different with thinner and lighter laptops.
They tend to use low voltage CPUs for starters. But if there's any component that has to be compromised for smaller form factors, it's the graphics chip. Some thin and light laptops do have dedicated graphics. But even then, it typically won't be the most powerful Nvidia or AMD mobile GPU, they simply aren't compatible with the limited thermal capacity of the smallest laptops.
Storage, however, is different, even the thinnest and lightest laptops are typically compatible with fast NVMe SSDs. Those core specs aside, we assess screen quality, features including connectivity, ergonomics including keyboard and track pack, and build quality. Last but not least, we test for battery life under multiple scenarios from light use to video playback.