The lowest MacBook Pro M2 prices are easy to find. We've found deals on all available models to suit a range of budgets, from the 13-inch to the 16-inch MacBook Pros, including the M2, M2 Pro and the M2 Max chips.
Apple's latest MacBook Pro laptops were released in January 2023 (the 14 and 16-inch models), making them less than a year old, but thankfully we're already seeing some great discounts and savings to be had. So what's a good MacBook Pro price in 2023? We've covered this model by model in our FAQs below, but as a general guide, we tend to see prices fall around $200 below retail during seasonal sales.
Our clever dedicated deals finder will pull in all of the best MacBook Pro M2 prices available right now in your region, so keep this page bookmarked as it updates 24/7. If you're looking for a little less power (and a smaller price tag), also check out our guides to the best MacBook Air M1 prices, or the best MacBook Air M2 prices.
The best MacBook Pro M2 prices (13-inch)
This portable 13-inch Pro was the first Apple laptop to spot the super fast M2 chip, which is boasting quite a jump up from the previously excellent M1 chip. And the entry configuration will cost you $700/£500 less than the slightly bigger 14-inch option – retailing at $1,299/£1,349.
That comparison is both Pros' entry-level configuration, so the higher the spec you crank the 13-inch, the closer the cost will be to the 14-inch Pro. All we know is that still sounds like a good price on the latest tech.
True, you won't get a new look, as the MacBook Pro (M2, 2022) has the same design that it's sported for years now. And you're not getting a Liquid Retina, but just a Retina display, not to mention the two ports (so you'll be needing a dock for your stationary work). But bring in portability, higher RAM option to previous 13-inch MacBook Pros, and that all-important M2 chip, and you've got yourself a pretty exciting Apple laptop.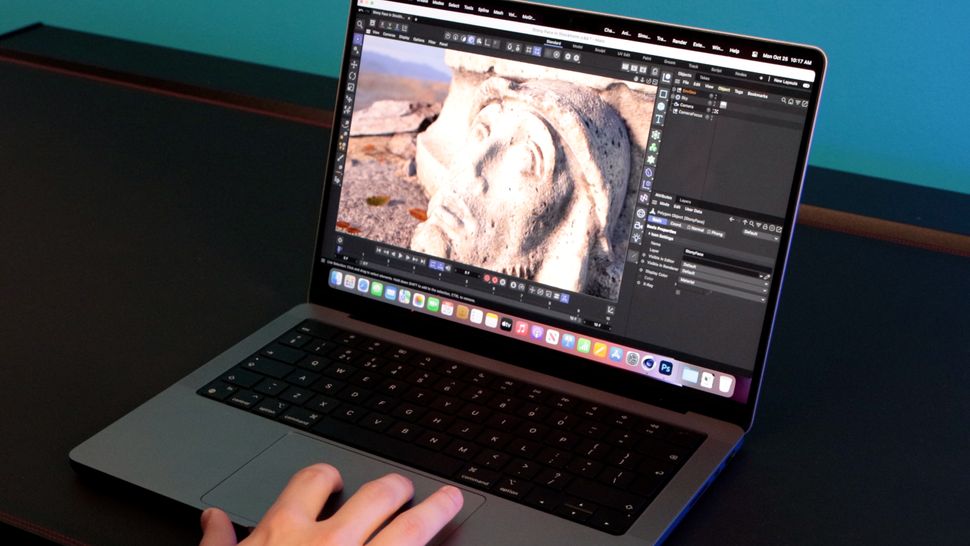 The 14-inch version of the 2023 MacBook Pro comes in three iterations. The first two have the M2 Pro chip, and retail at $1,999/£2,149 and $2,499/£2,699 (see specs above). And the third retails at $3,099/£3,349, and offers the ultimate Apple CPU right now – the M2 Max.
Obviously, this kind of power won't be for everyone, but we're presuming that you already know what you need, and are looking for the best prices on your desired MacBook Pro M2.
Basically, right now we'd say that anything under the above-quoted prices is worth looking into, as these are the latest Pros, so there haven't been a great deal of discounts on them yet (that may all change with Amazon Prime Day and seasonal sales, of course).
The 16-inch MacBook Pro, whether with the M2 Pro or the M2 Max chip, is 2023's most recent, most powerful, and most brilliant Apple laptop. If you need a portable desktop, that can deal with any professional workload, at lightning speed, this is the laptop for you... And even then, you may not really actually need the ultimate M2 Max power that's on offer.
Again, we presume that you know exactly what you need and want, so we're here to tell you about what a good MacBook Pro 16-inch (M2 Pro / M2 Max, 2023) price is. Well, anything under the current retail prices would be a good start. Currently, the entry-level 16-inch M2 Pro-chipped Pro sells for $2,499.
The next step up is the 1TB SSD M2 Pro version, and that will go for a couple more hundred dollars ($2,699). Things get funny with the 16-inch, M2 Max entry level that is currently $3,499. Of course, you could inflate the SSD and RAM on all of these points (and pay more).
FAQs
What's a good price for the MacBook Pro M2?
Let's take it model by model. First off, the 13-inch MacBook Pro (M2, 2022) retails at $1,299, but the best price that we've seen has been $1,099 over at Amazon for the 128GB model.
For the 14-inch MacBook Pro (M2 Pro, 2023), the retail price is $1,999 and the best price that we've reported on is $1,799. Unfortunately, that price is currently unavailable, but scroll down to see if there's something close.
Lastly, the 16-inch MacBook Pro (M2 Pro, 2023) retails at $2,499. That's because this is currently the most powerful laptop that Apple has to offer (and has ever made). This has recently dropped to $2,249 on Amazon.
The 16-inch MacBook Pro with the M2 Max chip however retails at an eye-watering $3,499, and that's just for the entry-level set-up. But because this is so expensive, you'll almost definitely see more money discounted on it (the best we've seen to date is $3,039.
Should I choose the MacBook Pro 14-inch or 16-inch?
The two 2021 MacBook Pros – Apple's 14-inch and the 16-inch laptops – offer largely the same specs, and both can be configured with either the M2 Pro chip, though only the larger 16-inch model can provide you with the M2 Max chip.
So, apart from that, the most obvious difference is the screen size. Some will find a larger screen more comfortable to work on, but the MacBook Pro 14-inch has the logical advantage of being lighter and more compact, and thus more convenient to carry around.
Since it's bigger, the MacBook Pro 16-inch also packs a bigger battery. Although the battery in the 14-inch is good, the 16-inch offers the longest life of any Apple laptop.