When it comes to getting a the best ultrawide monitor for your computer setup, the options available have multiplied in recent years. Gone are the days of piling two or three monitors onto your desk, now grabbing one of the market's best widescreen monitors can be a more affordable, productive and space saving option.
There's no doubt that the trend of stretched screens came from the demands of gamers, but there's no reason for creatives not to benefit from it. Whether you're an artist, film maker or photographer, the best ultrawide monitors can streamline your desk setup.
So what's the best ultrawide monitor for you? Well, the main factor you want to consider is size. With the main selling point of these screens being their extended screens, you will want to make sure it will fit in the space you're planning. Most of the ultrawide monitors in this roundup are around 34 inches, but even bigger screens are available. Make sure you have enough desk space (and funds) before investing in your chosen model, the largest screens also tend to be extremely heavy.
What to look for in an ultrawide monitor
Unfortunately it's not just size and price you have to consider with an ultrawide monitor - you also need to think about connectivity. Every PC and Mac from the past five years or so will have DisplayPort or HMDI connectors.
On top of that most newer computers have the graphic ability to drive high resolutions. If you've got a monitor that's now feeling its age, we would consider an upgrade before investing in a new display.
In terms of resolution, look for WQHD (Wide Quad High Definition) – which gives you a pixel count of 2560x1440 – and a wide aspect ratio of 21:9. Usually the bigger the screen, the higher the resolution. Some of the best ultrawide monitors offer additional features such as picture in-picture or side-by-side, so you can connect up a couple of sources (like two computers, or a computer and tablet) to the same display. If high resolution is really important to you, then see our post on the best 4K monitors available.
For gamers, fluid, synchronised 3D visuals are possible if your display supports FreeSync or G-Sync technology. Until just recently, G-Sync was limited to Nvidia graphics cards, and FreeSync to AMD, but just recently at CES 2019, Nvidia announced it would also support FreeSync technology with GeForce graphics cards, which is great news.
Finally, a relatively new question to consider, flat or curved? We're personally fans of a flat screen as it may still be better for design work, but increasingly the market for large widescreen monitors has moved towards curved displays.
Certainly on a flat 34-inch display the sides can feel a little distant. A curved screen will also slightly reduce the amount of side-to-side movement you have to do with your head. If you opt for one, remember to ensure you set up the monitor at an appropriate distance and height from your sitting position.
These are the main considerations you'll need to make. Now read on for our pick of the best ultrawide monitors you can buy right now.
The best ultrawide monitors in 2019
01. Dell U3419W
Dell's 2019 ultrawide monitor deserves the top slot
Screen size: 34-inch | Aspect ratio: 21:9 | Resolution: 3440 x 1440 | Response time: 5ms | Who's it for: Video editors, designers, creative professionals
USB-C support
High colour accuracy
Lots of extra connectivity options
Less affordable than predecessor
Dell's newest ultrawide display – the Dell Ultrasharp U3419W – retains pole position on our list, thanks to a winning combination of superb picture quality, fantastic connectivity, and great build quality. In addition to two HDMI ports and a DisplayPort connector, it now has USB-C, which can simultaneously connect the display to a laptop and deliver up to 90w of power for charging.
It has a KVM feature for connected devices too. Connect a single keyboard and mouse to the USB upstream ports to control two computers at once, both of which are visible at the same time via the Picture-By-Picture function. For graphics work, 10-bit colour and 99% sRGB coverage means excellent image quality too. While the U3419W is slightly pricier than its predecessor (the also-excellent Dell Ultrasharp U3415W), we think the extra features and more modern connectivity offers future proofing that makes the extra expenditure worth it.
02. LG 34UC79G
The most affordable ultrawide monitor – great for gamers
Screen size: 34-inch | Aspect ratio: 21:9 | Resolution: 2,560 x 1,080 | Who's it for: Gamers and those dipping a toe into ultrawide
Well-priced
AMD FreeSync compatible
Curved design won't appeal to all
Resolution lower than many others
Designed for gaming, the LG 34UC79G is a well-priced ultrawide monitor with DisplayPort plus dual HDMI. There is a potential downside: at 2, 560 x 1, 080, it doesn't have as high a resolution as more expensive options – LG instead opted for native 144Hz performance. However, we'd choose colour accuracy, contrast and motion blur reduction over a high pixel count – and in most of those areas the LG 34UC79G delivers. It has a great contrast ratio and black levels, alongside vibrant colours, but it does require some calibration for maximum accuracy. The monitor also features a couple of technologies designed to improve gaming performance, including AMD FreeSync (50-144Hz range) to reduce stuttering and motion blur. There's a fast 1ms response time, too. A cheaper 29-inch version is also available.
03. Samsung CHG90
At 49", this 144Hz FreeSync gaming screen is a whopper
Screen size: 49-inch | Aspect ratio: 32:9 | Resolution: 3,840 x 1,080 | Response time: 5ms | Who's it for: Gamers
Massive 49" display
Ultra-fast refresh rate
AMD FreeSync
Low vertical resolution
While the Samsung CHG90 isn't our first choice for professional use, it presents a gaming experience like no other. A curved 49-inch wide display gives you an utterly massive view of the gaming world, immersing your peripheral vision. And when coupled with a 144Hz refresh rate that's powered by AMD's FreeSync technology, you can expect fluid, tear-free 3D animation. This is now true even if you have an Nvidia graphics card, thanks to the announcement that GeForce cards now work with all FreeSync displays. So if you want to go even larger, this is one the best ultrawide monitors available.
That said, the CHG90 boasts a screen resolution that's some way off WQHD. With 1080 vertical pixels rather than 1440, you might want to consider an alternative if you need to use your computer for productivity software as well as gaming.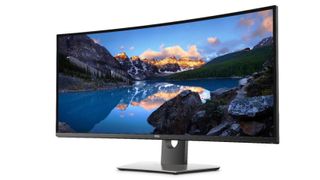 04. Dell Ultrasharp U3818DW
A sizeable ultrawide monitor
Screen size: 37.5-inch | Aspect ratio: 21:9 | Resolution: 3,840 x 1,600 | Response time: 5ms | Who's it for: Designers who want to go even bigger
Incredible size and WQHD+ resolution
Great connectivity options
Thin bezels
Slower response time
The Dell U3818DW is a huge, curved, 37.5-inch display. As you would expect, it costs more than the 34-inch options here, but Dell's not just upped the physical size of the screen – there's a bump in resolution, too, with 3,840 x 1,600 WQHD+. Picture-in-picture and dual input is supported, while there's DisplayPort and dual HDMI inputs. USB-C is also supported, too, for easier connectivity to new Macs, while there are also two upstream and four downstream ports for connecting peripherals to more than one PC or Mac.
05. Acer Predator Z35P
A great looking, well-priced 100Hz G-Sync display
Screen size: 35-inch | Aspect ratio: 21:9 | Resolution: 3,440 x 1,440 | Response time: 4ms | Who's it for: Gamers, people who love industrial hardware design
Native G-Sync support
100Hz refresh rate
Great-looking stand
No 10-bit colour
With the Acer Predator Z35P, Acer is continuing its exploration of exciting hardware design. The stand on this ultrawide monitor is like a twisted metal piece of a sci-fi spaceship, and the 34-inch curved screen that offers superb gaming performance. It offers a 100Hz refresh rate – which will give a great boost over the usual 60Hz we're all used to, along with native G-Sync technology for tear-free gaming using GeForce cards. Connectivity is the standard array of DisplayPort, HDMI and a USB hub, with picture quality that goes up to 100% sRGB coverage, making this screen perfectly suitable for general computing tasks as well.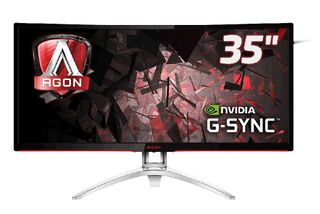 06. AOC Agon Curved Ultrawide
A great gaming alternative
Screen size: 35-inch | Aspect ratio: 21:9 | Resolution: 3,440 x 1,440 | Response time: 4ms | Who's it for: Gamers who want higher resolution
Fast 100Hz refresh rate
Nvidia G-Sync
Striking rear design
Probably not one for the office
Featuring Nvidia G-Sync for stutter-free gaming, The AOC Agon AG352UCG is our gaming choice if you're not prepared to put up with the lower resolution of the LG above (and you can stump up the extra cash for this model). Again, this display is gently curved and there are also a couple of AOC technologies to improve gaming colours and shadows. The stand is height-adjustable, too. The rear of the screen features a striking 'winged' design so won't be for everybody. It's a little bit of an odd combination since the front of the display is rather utilitarian in appearance.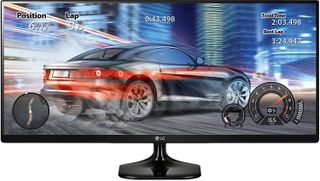 07. LG 25UM58
The best cheap ultrawide monitor
Screen size: 25-inch | Aspect ratio: 21:9 | Resolution: 2,560 x 1,080 | Response time: 5ms | Who's it for: Ultrawide enthusiasts on a budget
Well-priced
Game mode
Is ultrawide really what you want?
Plasticky appearance
There are a few options at the lower end of the scale, though it's harder to find screens that we'd recommend. This LG 25UM58 model is a lot smaller than other other options, at 25-inches, and features a lower resolution than many. But if an ultrawide monitor is what you want, you might be pulled in by the low price point because this display has been available for a couple of years now. A 29-inch version is also available from some sellers, although we think you'd be better off upgrading to one of the 34-inch models here, if you're considering that size.
Related articles: