If you're looking for the best ultrawide monitor then look no further - we've selected the very best options for you in this guide.
Ultrawide monitors are becoming more common as a better alternative to working across multiple displays. It's a lot easier to drag things to a different area of the display or work with multiple windows. Of course, that's a boon for designers and other creatives because we often use key apps in different areas of our displays. So rather than keeping your email and Slack open on a different monitor, you can just have them in the corner of your ultrawide display.
If you're working between three or four windows at the same time, it's much more natural to have everything open on one display rather than having to flip between virtual desktops or different windows. You can keep complementary apps open side by side, and have so many more tools and panes visible; there's a clear productivity benefit there.
Having an ultrawide monitor is also more aesthetically pleasing than having a bunch of screens on your desk and, of course, there are fewer cables. That's a big benefit if you like a more aesthetically pleasing desk.
Not sure if ultrawide is for you? See more options by heading to our guides to the best 4K monitors, best curved monitors, best portable monitors or best touchscreen monitors.
The best ultrawide monitors available now
The LG 34WN750 UltraWide QHD IPS Monitor is our pick for the best ultrawide monitor for creatives in 2021. That's because it toes the line between great features, brilliant pricing and fantastic quality.
With HDMI and DisplayPort, it's ideal for creatives and it's compatible with HDR10. too. It's also nice and bright, while colours really punch. Tilt adjustment is welcome - the only negatives being that it doesn't include other connectivity options like USB-C and it also doesn't pivot, but that won't really matter if you're in the market for an ultrawide.
The Asus Designo Curve MX38VC is an absolutely stunning display. Unlike some of the other monitors on this list,the Asus Designo Curve MX38VC has been created specifically for digital creatives. This means you get excellent color accuracy, and a high resolution that'll be a boon to photo and video editors.
However, it is one of the more expensive ultrawide monitors on this list, but if your a digital designer, photographer or artist, and you're looking for the very best ultrawide monitor, then this is a price worth paying. The built-in wireless charging mat is an added bonus.
This fine display has something special up its sleeve - HDR support, though you do pay for the privilege. There's a slight curve to this UWQHD resolution BenQ which won't be to all tastes, but you do feel nicely enveloped by what is a huge display that also boasts a 6cm height adjustment in case it sits too low.
The BenQ EX3501R also has a huge 2,500:1 contrast ratio plus supoort for AMD FreeSync - so while it's a terrific monitor for screen real estate, it also has a gaming side, too.
A USB-C cable offers excellent single-cable connectivity with data transfer and video delivery, though it isn't a Thunderbolt cable, unfortunately.
Dell's newest ultrawide display – the Dell Ultrasharp U3419W – retains its high position on our list, thanks to a winning combination of superb picture quality, fantastic connectivity, and great build quality. In addition to two HDMI ports and a DisplayPort connector, it now has USB-C, which can simultaneously connect the display to a laptop and deliver up to 90w of power for charging.
It has a KVM feature for connected devices too. Connect a single keyboard and mouse to the USB upstream ports to control two computers at once, both of which are visible at the same time via the Picture-By-Picture function. For graphics work, 10-bit colour and 99 per cent sRGB coverage means excellent image quality too. While the U3419W is slightly pricier than its predecessor (the also-excellent Dell Ultrasharp U3415W), we think the extra features and more modern connectivity offers future proofing that makes the extra expenditure worth it.
If the other monitors here are ultrawide, we're going to need a whole new word for the Philips 499P9H curved monitor, because even ultrawide… er. It's a 32:9 screen, whereas most of the screens here are 21:9. A normal monitor is 16:9, so the screen here is as wide as two 16:9 monitors side by side – it's like a dual-monitor setup, but with less of a footprint on the desk.
The screen size is a whopping 49 inches to fit all this in, so it's absolutely massive as a single monitor – but it's pretty tidy as an alternative to two. This amount of space is great for workflow, because you can keep so many windows and tool panes visible together. Like many of the screens here, you can connect two different computers and have the screen display what's on them side by side, and the monitor actually functions as a KVM switch, too, so you can use one keyboard and mouse.
It's a great connection hub, being equipped with dual HDMI ports, DisplayPort, and USB-C for doing power, video and data over a single connection. There are also three regular USB ports for accessories, and a Gigabit Ethernet port, which is really useful.
And, of course, it's a solid display for creative work. It supports 94 per cent of P3 and 91 per cent Adober RGB. The brightness of 450 nits is good (though not spectacular). It has adjustments for height, tilt and swivel, so you can get it set up pretty ergonomically.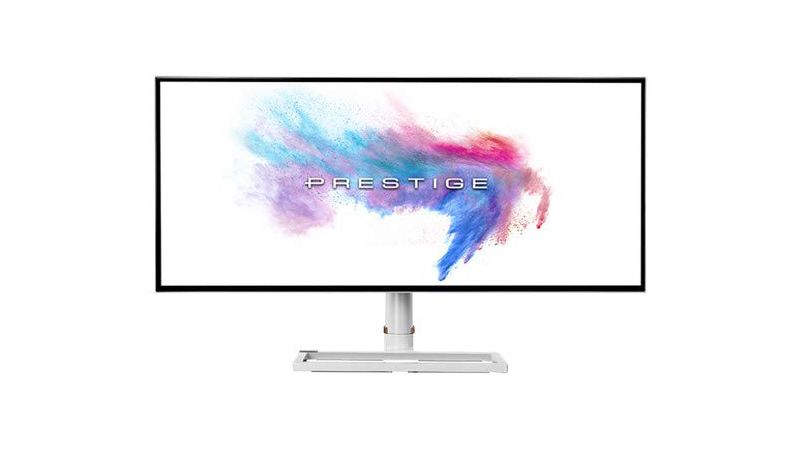 The MSI Prestige PS341WU is easily one of the best ultra-wide monitors for creatives you can buy in 2020. Not only does it have a wide 21:9 aspect ratio, but it also features a huge 5,120 x 2,160 resolution over its 34-inch IPS screen.
This leads to crystal-clear image quality, while also offering you huge amounts of desktop real estate to work on. It's expensive, but it features a stunning IPS panel, along with DCI-P3 colour gamut support, making this an ideal ultrawide for creatives like photographers and video editors who require colour accuracy. A solid entry into our list of the best ultrawide monitors.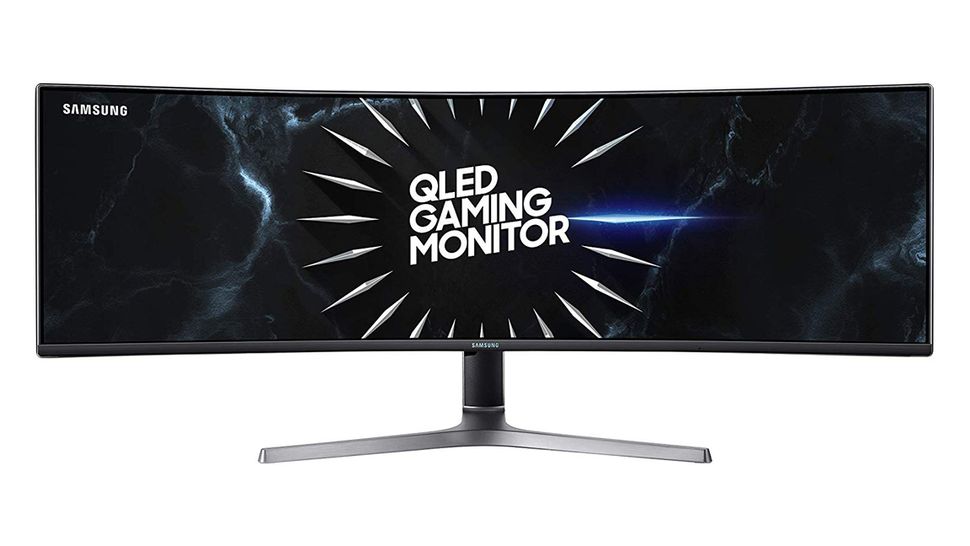 If you're after an absolute monster of an ultrawide monitor, then the Samsung CRG9 is the one to get. The screen is a huge 49-inches, and the aspect ratio dwarfs other ultrawides with a huge 32:9. If you have a desk (and wallet, this is expensive) big enough to hold it, you'll find this monitor offers an unrivalled amount of workspace that lets you have all your apps, websites and more open at once.
Thanks to its multiple inputs and picture-in-picture mode, you can actually hook up two difference devices and use them together on the same monitor - again making it a much more space-efficient alternative to having multiple monitors set up on the same desk. This monitor also offers superb image quality thanks to some of Samsung's best tech - making it an ideal choice for creative professionals.
Featuring Nvidia G-Sync which may be of interest if you want to play games as well, this AOC Agon display features some superb tech. Again, this display is gently curved and there are also a couple of AOC enhancements to improve gaming colours and shadows.
The stand is height-adjustable, too. The rear of the screen features a striking 'winged' design so won't be for everybody. It's a little bit of an odd combination since the front of the display is rather utilitarian in appearance.
Dell has knocked it out of the park with its monstrous 49-inch U4919DW, due to the excellent image quality from its enormous IPS panel, superior to the majority of alternative ultrawides that use VA panel technology.
Offering 99 per cent sRGB coverage, 350-nit brightness and a 1000:1 contrast ratio, it has a 32:9 aspect ratio and a 5,120 x 1,440 resolution - an absolutely huge desktop area that can accommodate two full screen applications side by side.
Delving in a bit deeper, its relatively low 5ms (fast mode) response time means it's fine for gaming too, making it well worth the additional expenditure, although it doesn't support adaptive-sync like some alternative displays out there.
Things to consider
The most common size of an ultrawide monitor is around 34 inches but there are plenty more with even bigger sizes - even up to a whopping 49 inches wide. Remember that if you like the idea of such a massive screen, you'll need a large desk to accommodate it.
You may also want to think about how close to the screen you'll be sitting. If you sit too close to a large screen, it'll be uncomfortable to use, as you'll be turning your head to view certain parts of the screen. Often the edges will be slightly outside your peripheral vision when sitting at a normal working distance so that's something you need to bear in mind. To solve the effect of this, most ultrawide monitors are just slightly curved at the edges.
In terms of resolution, look for WQHD (Wide Quad High Definition) – which gives you a pixel count of 2560x1440 – and a wide aspect ratio of 21:9. Usually the bigger the screen, the higher the resolution.
There are some ultrawide monitors that offer 2560×1080 resolutions. While this still gives you more workspace compared to a regular 1080p widescreen monitor, we feel it's still a little too low to get the full benefit of the ultrawide aspect ratio. However, they are quite a bit more affordable than ultrawide monitors with higher resolutions, so if you're on a budget, these could be a good choice.
Some of the best ultrawide monitors offer additional features such as picture-in-picture, so you can connect up a couple of sources (like two computers, or a computer and tablet) to the same display.
Ultrawide monitors vary based on panel technology and features. Ultrawide screens generally look just fine with vertical alignment (VA) panels, but the sharper, brighter and considerably more expensive in-plane switching (IPS) panel technology will offer better image quality.
While 21:9 is the most common ultrawide aspect ratio, there are even wider monitors with 32:9 aspect ratios. These offer even more workspace, but they are also more expensive, and take up more room.
Related articles: