Using one of the best ultrawide monitors can add a massive boost to your workflow. Having to toggle back and forth between multiple panels and windows is a common frustration for anyone working with creative software, and in fact most general office work too. Many people resolve the problem of working with many panels and windows by resorting to the use of multiple displays. That can certainly do the job, but a sole ultrawide monitor is often a neater solution, since it will take up less space and helps cut down on cables. We also find it easier to drag windows and panels across one big screen than across two or three smaller screens.
The best ultrawide monitors are even more useful in the era of hybrid working. While they're great for anyone who regularly needs to compare documents against each other or edit and preview in different windows, for example, they're also useful for attending video conferences or Zoom meetings if you need to access files or notes while you're talking – which is pretty much everyone now. With one of the best ultrawide monitors, you can consult notes while looking at a presentation and still see the people you're on the call with.
We've made a selection of the best ultrawide monitors for general and creative work, evaluating each based on their specs for resolution, brightness, response time and colour accuracy. We've also tried to mindful of budget, so we've also evaluated each screen on value, and we've included both QHD and 4K screens (and one that's even better than 4K).
One potential downside is that ultrawide monitors are, well, big. They do vary in size – we've included screens that range from 34in – the starting definition for ultrawide – to a massive 49in. You'll need the space to accommodate one, so take a look at our guides to the best desks and best L-shaped desks if you need help there, and make sure you check your measurements before buying an ultrawide screen. Scroll down to the bottom of the guide for more tips on what to look out for.
If you're not sure you have the space for an ultrawide, you might also want to browse our guides to the best 4K monitors or best curved monitors, and if you need a screen you can take with you on the move, see our selection of the best portable monitors. We also have a guide to the best monitors for Mac mini.
The best ultrawide monitors available now
The BenQ EW3880R is a great general all-round ultrawide display both for work and watching media (the built-in 2.1 sound system is surprisingly impressive, and can save you a pair of speakers). At 37.5in, the screen offers a lot of screen real estate for flexible working, and it has a subtle curve for added immersion and eye-comfort features. This monitor is expensive, and with a 60Hz refresh rate, it doesn't have the best specs for fast gaming, but it does make a great premium screen for comfortable multitasking and enjoyment of media.
The LG UltraGear 38GN950 is a 38in ultrawide monitor with a QHD+ (3840 x 1600) resolution Nano IPS panel that offers vibrant colours. We found the HDR image quality to be very impressive, and it boasts a quick response time and a very decent 144Hz refresh rate, which, together with G-Sync support, make it a great ultrawide monitor for gaming. The 3840 x 1600 resolution isn't quite 4K (3840 x 2160), but it's not far away, and we find that actually has the benefit of allowing better gaming performance with lower-end cards.
And does it serve as non-gaming monitor? Absolutely. While the speed for high-paced gaming is its main selling point, we reckon its 21:9 aspect ratio and 98% DCI-P3 support make it a great choice for productivity too if you have the money to spend. If you don't game at all, however, you really won't need a lot of the features, in which case it's an unnecessary expense, and you might be better looking at the BenQ monitor above, or the superb MSI screen below if you need higher resolution.
4K has become the norm, but if you want more than that, the MSI Prestige PS341WU offers a massive 5K2K native resolution with a 21:9 ultrawide aspect ratio. It boasts a stunning 34-inch IPS screen and has a host of features that justify its rather hefty price tag, including a Nano IPS panel with DCI-P3 colour gamut, HDR support (although that's not the best we've seen) and great connectivity options with USB-C and 2 HDMI ports. It looks the part too, making this one of the best ultrawide monitors for creatives. Note that with a 60Hz refresh rate, this isn't a monitor to choose if you're specifically interested in gaming.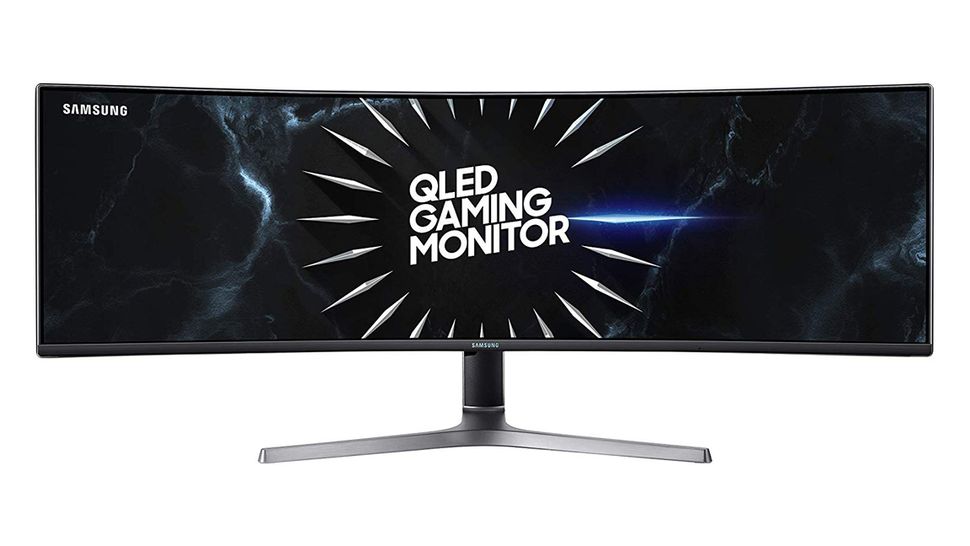 There's ultrawide, and then there are monitors like the Samsung CRG9 (and the Dell U4919DW and Philips 499P9H further down on our list) with whopping 49in screens. A standard monitor has an aspect ratio of 16:9, and most of the monitors in our pick of the best ultrawides are 21:9. But this trio of stunning screens are all 32:9, effectively giving you the space of two 16:9 monitors side by side, but with less of a footprint on your desk.
The Samsung CRG9's massive screen can offer a great boost to productivity if your desk can hold it. We've rated this higher than the Philips below mainly for value as it's significantly cheaper, while still having great specs for creatives and gamers. Like our other choices of monitors of this size, it offers multiple inputs and a picture-in-picture mode so you can connect two devices and use them together. We find it offers superb image quality, with 108 pixels per inch providing lots of screen space and vivid details without scaling, while the backlight's quantum dot enhanced film layer enhances the colour gamut to 95% DCI-P3 (equal to 125% sRGB) for more vibrant, lifelike colours. The refresh rate and response time are also reasonably fast for gaming.
The LG 34WN750 UltraWide QHD IPS Monitor is a solid ultrawide monitor that finds a balance between great features, brilliant pricing and fantastic quality. With HDMI and DisplayPort, it's ideal for creatives and it's compatible with HDR10. too. We found it to be nice and bright, while colours really punch. Tilt adjustment is welcome – the only negatives being that it doesn't include other connectivity options like USB-C, and it doesn't pivot, but that won't really matter if you're in the market for an ultrawide.
Samsung may have started the trend for 32:9 monitors, but this curved ultrawide gaming monitor from AOC is a very solid contender. The superb display panel offers vibrant, accurate colours and rich detail for gaming and desktop applications alike. It doesn't support HDR as well as some more expensive ultrawide monitors, but the AOC Agon AG493UCX has everything else you'd want for a fantastic ultrawide gaming experience.
It boasts a premium build with a firm height, tilt and swivel adjustable cast aluminium stand. As for ports, it carries two DisplayPort 1.4 and HDMI 2.0 plus USB-C, USB 3.2 upstream port and a 3.5mm headphone jack. With a smooth 120Hz refresh rate, this is beautiful curved screen. Just make sure you have space on your desk because this is wide and with that curve also fairly deep.
The Philips 499P9H is another massive 49in, 32:9 monitor. It doesn't offer quite the speed of the Samsung option above, and it's not as bright, but it's still a great display for creative work, supporting 94 per cent of P3 and 91 per cent Adobe RGB. The brightness of 450 nits is still fairly decent although not spectacular, and the monitor can be adjusted for height, tilt and swivel for an ergonomic setup. t's a great connection hub too, with dual HDMI ports, DisplayPort, and USB-C to transfer power, video and data over a single connection. There are also three regular USB ports for accessories and a handy Gigabit Ethernet port. All in all, this is one monster display.
Like the Samsung and Philips 49in screens higher up in our list, this screen will seem enormous for anyone who uses a single standard monitor, but again we think this is a much tidier option for those who use two monitors side by side. The huge desktop area can accommodate two full-screen applications side by side, which we find is a real boon for speeding up productivity, since there's no need to switch between windows or tool panes.
Like many of the best ultrawide monitors, the Dell U4919DW allows you to connect two different inputs to the screen, so you could also use all that space to view the screens of two different devices, which can be handy if you work across say a computer and a tablet. There's a KVM switch, too, so you can use one keyboard and mouse across the two devices.
There's no HDR on this one, and it's been designed more with general office multitasking functionalist in mind rather than creative working, so the refresh rate is a rather paltry 60hz. That said, the U4919DW offers excellent image quality with an enormous IPS panel, superior to many ultrawide monitors that use VA panel technology. It offers 99 per cent sRGB coverage, 350-nit brightness and a 1000:1 contrast ratio. The decent 5ms (fast mode) response time, means we wouldn't completely rule this out for gaming, though it certainly isn't a monitor we'd choose specifically as a gaming display, – it doesn't support adaptive-sync like some displays. Also, some might prefer the screen to have a bigger curve to help keep all that display in vision.
The BenQ EX3410R monitor is designed for gaming with a fast refresh rate, Adaptive-Sync and blur reduction features. The curved design offers an immersive field of view and colours are beautiful and saturated. When we reviewed this screen we were particularly impressed with the built-in speakers and we found the monitor can serve for a lot more than gaming, offering a great value screen for multi-tasking, media consumption and video game designers. Unfortunately, it doesn't have the colour accuracy that many creatives will be looking for if working in photography or visual design.
See our full BenQ EX3410R review for more details.
How wide is an ultrawide monitor?
Ultrawide monitors start at around 34in, and this is the most common screen size for an ultrawide monitor, but there are plenty of ultrawide monitors that have even larger screen sizes, going up to a whopping 49 inches. While 34in is plenty big enough for most uses, a larger screen allows you to effectively replace a dual monitor setup retaining your screen real estate while tidying up your workspace in the process – you'll just need a large enough desk to accommodate it.
How close should I sit to an ultrawide monitor?
If you sit too close to a large screen, it'll be uncomfortable to use, as you'll be turning your head to view certain parts of the screen. Often the edges will be slightly outside your peripheral vision when sitting at a normal working distance so that's something you need to bear in mind. To solve the effect of this, most ultrawide monitors are just slightly curved at the edges.
What resolution should I look for in an ultrawide monitor?
In terms of resolution, look for at least WQHD (Wide Quad High Definition) – which gives you a pixel count of 2560x1440 – and a wide aspect ratio of 21:9. Usually the bigger the screen, the higher the resolution.
There are some ultrawide monitors that offer 2560×1080 resolutions. While this still gives you more workspace compared to a regular 1080p widescreen monitor, we feel it's still a little too low to get the full benefit of the ultrawide aspect ratio. They are quite a bit more affordable than ultrawide monitors with higher resolutions, so if you're on a budget, these could be a good choice. However, in our guide to the best ultrawide monitors above, we've restricted our choices to at least WQHD since we find this offers the best ultrawide experience.
Can I divide the screen on an ultrawide monitor?
Yes, most of the best ultrawide monitors offer features that allow you to divide the screen so you can connect two sources (like two computers, or a computer and tablet) to the same display. This feature is called picture-in-picture, or PBP, and can usually be turned on in the display settings.
A monitor that has PBP mode activated will display the screen from two inputs at the same time, side-by-side. you will be able to select the input you want to see and swap them left to right. A KVM (keyboard, video and mouse) switch will allow you to use one keyboard and mouse to control both devices, saving clutter on your desk. There is also software such as DisplayFusion that can help you set up and manage the inputs on an ultrawide screen.
What else should I look for to choose the best ultrawide monitor?
Ultrawide monitors also vary based on panel technology and features. Ultrawide screens generally look just fine with vertical alignment (VA) panels, but the sharper, brighter and considerably more expensive in-plane switching (IPS) panel technology will offer better image quality. While 21:9 is the most common ultrawide aspect ratio, there are even wider monitors with 32:9 aspect ratios. These offer even more workspace, but they are also more expensive, and they take up more room.
Related articles: