The best free fonts: Handwriting fonts
34. Timothy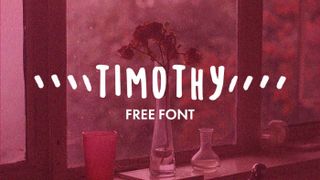 Handwriting fonts don't have to be about swirly letters. In this hand-drawn font, Timothy, it's block capitals that add a hand-written touch. Timothy was inspired by designer Timothy Goodman and is free for personal and commercial use. We think it'd be good for invitations of handwritten notes.
35. Kavivanar
This bold handwriting font was inspired by the slanting letterforms found in typical Tamal handwriting (as well as a Tamil alphabet, it also includes Latin letterforms). Kavivanar was designed by Tharique Azeez, a type designer based in Sri Lanka, and is free to download.
36. Tomato Soup
If you ever feel like you want to recreate the scratchy handwriting of your doctor or perhaps teacher, this is the font for you. Tomato Soup was made by Typed.one and looks best when there's less text – we wouldn't recommend writing out long chunks of text with it. However, it's ideal for invitations or anywhere where you want to recreate the handmade look. And if it doesn't quite fit the bill, check out our round up of other brilliant free script fonts from around the web.
37. Ambarella
Ambarella is a beautiful free font from Polem Studio. The handwritten design in a modern calligraphy style includes various swashes, alternates and Western European characters.
38. Amatic SC
Amatic is a small-caps, hand-drawn web font that is ideal for titles or small runs of text. It has gained popularity for its naive aesthetic, which is brimming with personality. The free font was first designed by Vernon Adams, before being refreshed and revised by Ben Nathan and Thomas Jockin. It currently features on over 760,000 websites.
39. Nickainley
Nickainley is one of our favourite free handwriting fonts. This Monoline script with a classic, vintage feel, includes uppercase and lowercase characters, as well as numerics and punctuation marks. Offering a variety of possible use cases, including logos, T-shirt designs, letterhead and signage, this free font was created by Indonesian agency Seniors Studio.
40. Shadows into Light
Shadows Into Light is the work of type designer Kimberly Geswein. Ideal for adding a personal touch to your projects, this free font features rounded edges and neat, clean characters. It's currently available in one style only, but has already proven extremely popular.
41. Pacifico
Pacifico is a fun brush script handwriting font inspired by 1950s American surf culture. This open source font was one of the great contributions to the free software community by the late designer Vernon Adams.
42. Cute Punk
Cute Punk offers a vibrant, youthful and thoroughly modern take on the handwriting font. Infusing the style with a striking, almost geometric feel, this free font is the work of Flou, a designer and illustrator from Bratislava, Slovakia.
43. Yellowtail
Yellowtail is an old-school, flat, brush font that evokes classic 1930s typefaces like Gillies Gothic and Kaufmann. Designed by typography institute Astigmatic, its mixture of connecting and non-connecting letterforms gives it a unique look and ensures good legibility.
Next page: Free vintage and retro fonts