I've been sitting on the idea of buying a 3D printer for a while now, as someone who has only used one a handful of times at university and a friend's house. I finally took the plunge and purchased my first-ever 3D printer, and it's all down to this amazing deal on the Kobra 2 Neo for just £149 from Anycubic with the code AN10.
There are also big discounts site-wide on resin and filament materials from Anycubic, plus an additional £10 off using the code BF2310 and £20 off using BF2320. You can also get this 3D printer for £176.99 at Amazondown from £229 if you prefer next-day Prime delivery, but Anycubic has that area covered too with 24-hour free shipping for Black Friday and a 14-day return policy.
This model is suitable for both beginners (like me) as well as more experienced users who know what they're doing. It has a maximum printing speed of 250mm/s, which if my research proves right, is pretty good at this price point. It also has features like automatic leveling which is super useful for newbies, and a 12.1L Print Size.
Keep an eye on our guide to the best Black Friday 3D printer deals for the best savings and regular updates on live deals as we find them. Not sure how to begin your 3D printing journey? See 3D printing for creatives, and understand how much a 3D printer costs.
The best Anycubic Kobra 2 Neo 3D Printer deal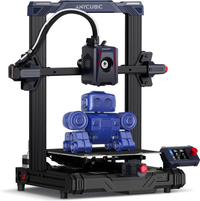 Anycubic Kobra 2 Neo 3D Printer
Was: £229.99
Now: £149 from Anycubic
Save: £80
Overview: This 3D printer from Anycubic is a great choice for beginners and is equipped with great features to help you start your 3D printer journey.
Key features: Dimensions: 19.1x17.3x17.3in | Weight: 7.3kg |Control: 2.4" LCD with Knob| Print Volume: 3.2gal./12.1L |Print volume: 250x220x220mm |Cooling fan: 7000rpm| XY Axis: Rail|Materials: PLA/ABS/TPU| Print Speed: 250mm/s.
Release date: September 2023.
Price history: For a bit of price context, the Anycubic Kobra 2 Neo generally retails for £229/$239 but this early Black Friday discount is slashing prices across multiple retailers.
Current price: Anycubic: £149 | Amazon: £179
Review consensus: We have yet to review this printer for ourselves, but we have reviewed its sister model, the Anycubic Kobra 2 3D printer, and were impressed by the Easy auto levelling and fast print speeds.
Below you'll find the best deals and lowest prices on the Anycubic Kobra 2 Neo 3D printers in your region and worldwide using our clever deals widget. See our picks of the best 3D printers for even more options.