Ah, the Nintendo Switch Pro. It's the ultimate on-again/off-again tech rumour, and has been said to be arriving pretty much every year for the last half-decade. Recently news of the souped-up Switch Sequel has quietened down – until now.
A noted Nintendo analyst has claimed that a new Nintendo Switch console is on the way. The not-so-great news is that we might have to wait until 2024 for it to arrive, but still – a Switch Pro in 2024 is better than no Switch Pro. (Don't fancy waiting? Check out today's best Nintendo Switch deals.)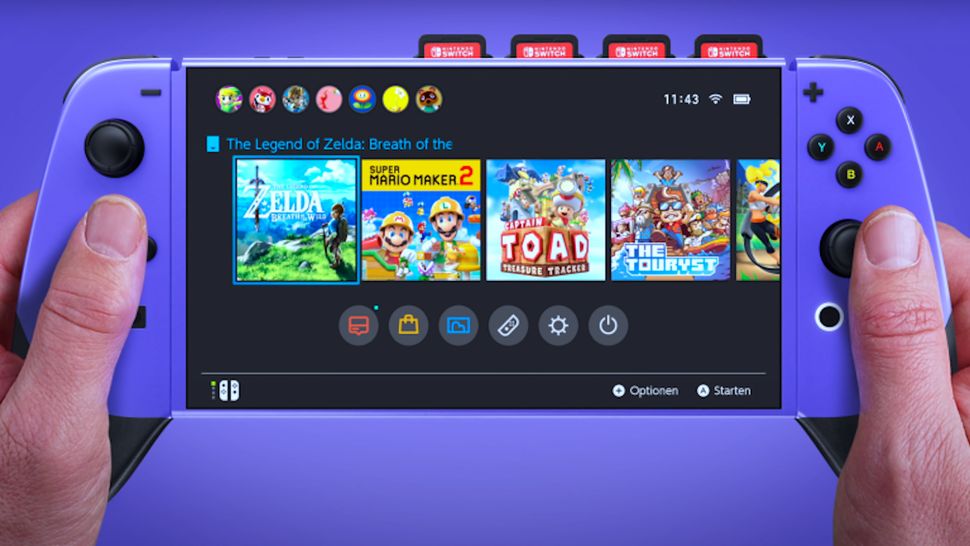 According to the brilliantly named Piers Harding-Rolls of Ampere Analysis, as reported by gamesindustry.biz, insiders are "not expecting a next-gen Nintendo console in 2023: we have 2024 in our forecasts." That said, with the sequel to Zelda: Breath of the Wild arriving this year, Harding-Rolls still expects the Switch to sell strongly even in this, its 6th year.
So what have we heard about the Nintendo Switch Pro so far? Firstly, it might not be called the Switch Pro – Switch 2 and even Super Nintendo Switch are names that have also done the rounds online. In terms of specs, we've heard that the machine will be capable of 4K output, something that gamers have been begging for – and many were disappointed not to see arrive with the Switch OLED. Indeed, exploring Breath of the Wild's Hyrule or zooming around Bowser's castle in Mario Kart would be infinitely more immersive in crisp 4K.
And then there's the design. Rumours have suggested we could be in for more ergonomic Joy-Cons, and a larger display. Seeing as the OLED Switch bumped the size up from 6.2-inches to 7, perhaps the Switch Pro could end up going even further, offering eight or nine (or even ten?) inches of screen real estate.
Time will tell what's on offer, but one thing's for sure – a Switch Pro in the next two years sounds better than a Switch Pro in the next 88 years. If you want to start gaming right now, check out today's best Nintendo Switch deals below.
Read more: