15. Figma
Even though we have a copy of Illustrator CC right here, and could play with anchor points and Bézier curves literally any time we want, we're still entranced by Figma's 404 page. Oversized 404 text is rendered in vectors that you can reshape to your heart's content. Have a go for yourself.
16. Airbnb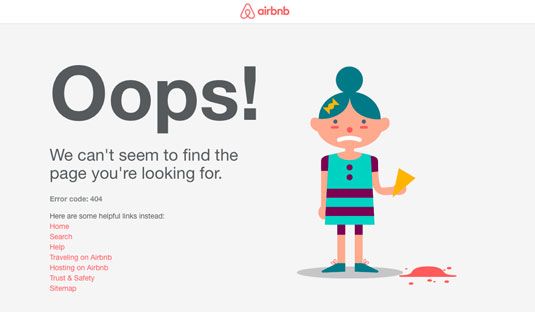 This 404 page from Airbnb features a simple-but-delightful animation of an unlucky girl dropping her ice-cream on the floor. Airbnb has built its reputation on being personable and friendly, and this 404 page suits its brand image perfectly.
17. Hot Dot Production
Hot Dot Productions has applied its 'where design meets technology' tagline to its impressive 404 page, which features the three numbers made up of hundreds of tiny dots that change direction or disperse in response to the visitor's mouse movements. Seriously cool. Play around with it yourself here.
18. Lego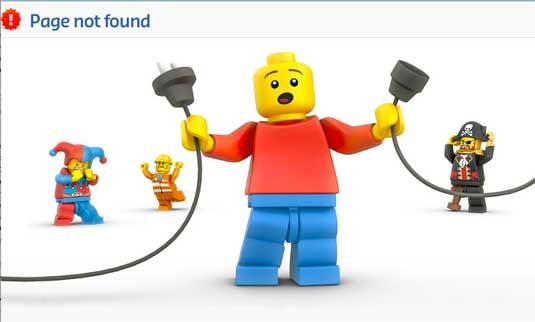 LEGO can do no wrong in our eyes (have you read our piece on how Lego reinvented itself as a super-brand yet?). We love this cute 404 page, which keeps things simple with some alarmed Lego figures and a jargon-free explanation.
19. GitHub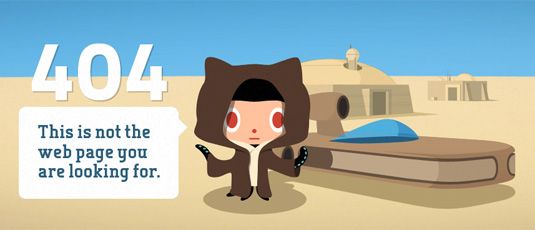 You'd expect some tech wizardry from a website dedicated to code versioning. The 404 page targets a different kind of geeks with a simple Star Wars parody elevated by a smart parallax effect when you move your mouse. GitHub also has a nice 500 page for when the server breaks.
20. CSS Ninjas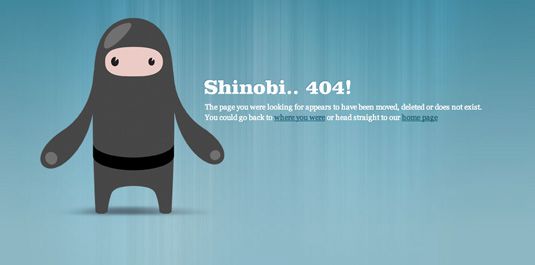 The web design world loves ninjas. Often as part of a self-styled job title. Falling in with the trend (and, we guess, its name), the 404 page for CSS Ninjas features a clean, stylised illustration that reflects the site's general approach to design.
21. MailChimp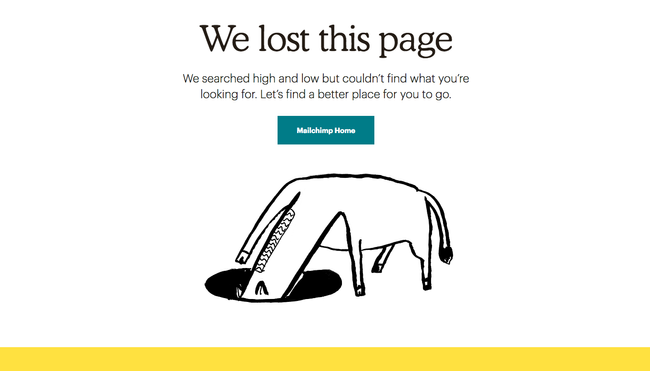 In autumn 2018, ultra-hip email newsletter service MailChimp underwent a rebrand, and its 404 page has a new look to match. The new-look error page features on of the off-beat, naive illustrations around which MailChimp's new branding centres. And really, what says 'I'm lost' better than a donkey with its head in a hole?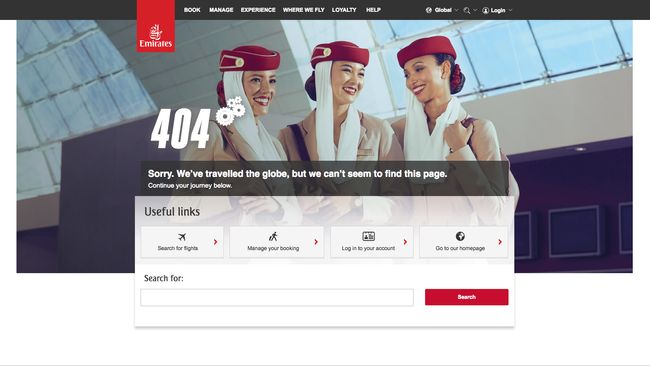 When you're an international airline known for chic styling and high quality, you don't want a sub-par 404 page. Luckily, Emirates' error page ties in beautifully with the rest of its website, getting its brand voice down to a tee and providing ample opportunities to get back on track with ease.
Tomas Panek at Emirates explains the company didn't want to leave its 404 behind, so redesigned it to keep it on-brand, complete with aviation-themed copy. The team also put a particular focus on UX. "We looked into analytics to see where people usually go after landing on 404, and based on the findings, we added four CTAs to help our customers," says Panek.
Next page: More brilliant 404 pages...