The best smart glasses (aka the best AR glasses) offer a whole new way to interact with apps and the internet. You no longer have to look at a screen to view digital images: you get them beamed directly into your eyes; and overlaying digital images onto your view of the real world offers endless possibilities for fun, information, education and entertainment.
Imagine, for instance, seeing map directions in real space, or experiencing what new furniture might look like in your actual home. Some models also let you take photos and videos of exactly what you're seeing, come with speakers for listening to music, and have microphones for making calls. Some can be hooked up to a PC, PlayStation 5 or Xbox Series X for gaming too, and even the cheapest smart glasses can be used to watch movies.
However, before you get too excited, I should point out that the tech is not there quite yet. Even the best augmented reality glasses (which should not be confused with the best VR headsets or mixed-reality headsets) are still very much in the prototype stage. It's all quite reminiscent of early pre-iPad tablets, or the first-ever smartwatches to come to market. Some, however, such as the Nreal Air smart glasses are regularly updated to improve the experience.
The best smart glasses available now
Why you can trust Creative Bloq Our expert reviewers spend hours testing and comparing products and services so you can choose the best for you. Find out more about how we test.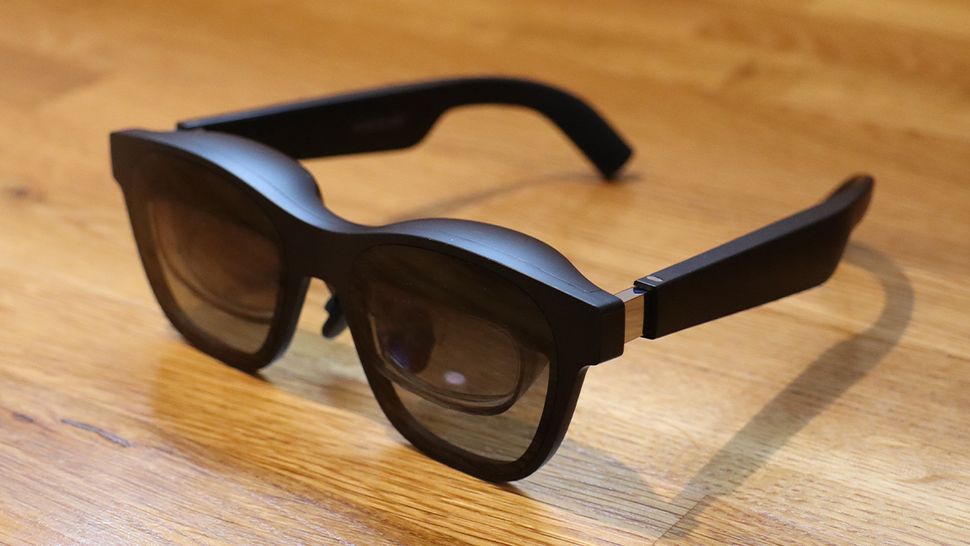 When you connect a pair of Nreal Air AR glasses to your smartphone, you can view content on a huge display that looks like it's suspended in mid-air in front of you: the equivalent to watching a 201-inch screen.
In that sense these glasses, which were first released last September and are now available in the USA, UK, Japan and Korea, are similar to one of the best VR headsets. However, in comparison to those bulky devices, the Nreal Air AR glasses are super-light and portable. Plus, rather than entirely immersing you in a virtual world, you can still see your normal surroundings around the display (albeit in dimmed light). If you want to multi-task, you can even view multiple displays next to each other.
In short these are the best AR glasses for viewing entertainment content... but do note that this is where the AR features start and end. After all, these glasses don't actually feature a camera. So it's best think of them as an alternative second monitor to your phone; one that virtually floats in your field of vision.
This in itself is pretty darned cool, though, and great for gaming too. It means you get a huge display only you can see, along with two speakers for audio. You can view it anywhere, even in light conditions. And that means you can spending a long bus or train journey chilling out to movies on (what looks like) a massive screen. Again, you could technically do that with a VR headset, but you'd be entirely shutting yourself off from the world around you; whether that be the conductor trying to punch your ticket or a thief trying to steal your wallet.
Note, though, that the Nreal Air AR glasses are only compatible with a certain modern smartphones (the full list is here). Beyond that, you can connect them to an iPhone, XBox, Nintendo Switch or PS 4/5 by buying a separate Nreal adapter. Read our opinion how well Nreal Air AR works.
Perhaps the biggest downside of these glasses, though, is that they don't come with their own battery; you have to plug them into the smartphone they're paired with. That makes for both a clunky experience in physical terms and can drain your phone's battery pretty quickly. Similarly, the only way to control the glasses is via your smartphone.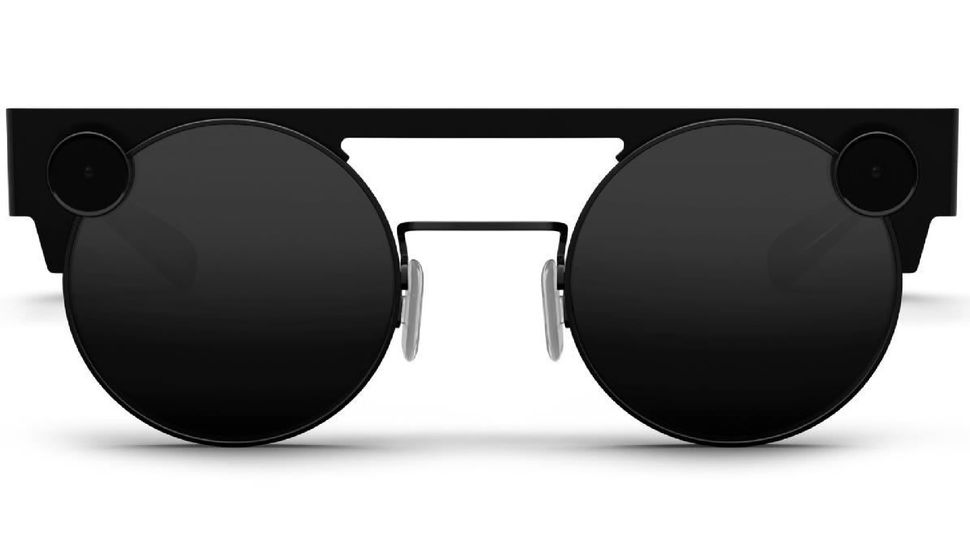 The Snap Spectacles 3 AR glasses are great for social media. You may have drifted away from Snapchat, or never joined the filter-tastic social network in the first place. But it remains hugely popular, and its parent company Snap is right at the forefront of developments in AR. So its new Snap Spectacles 4, which it announced this month, are big news: the first in the series to offer augmented reality features in real time.
Unfortunately, this new model's not for sale yet. If you're a developer, you can ask Snap to send you one by filling in this form, and hope for the best. But otherwise, you're limited to buying the current model, Snap Spectacles 3.
Released in 2019, the big selling point of these glasses is that as well as two speakers and four mics, they come with two cameras. That means that as well as shooting normal photos and videos, you can capture 3D images, which can be viewed through a supplied cardboard viewer.
The resolution is impressive: 1728 x 1728 pixels for stills, and 1216 x 1216 pixels at 60fps for videos. You get four microphones too, making for strong audio capture. Plus there's 4GB flash storage on board, which is enough for up to 100 3D videos or 1,200 3D photos.
As you'd expect from Snap, you can also apply loads of cool filters to your photos and videos. Frustratingly, though, you can only do this after importing them into Snap: you can't see filters appear over real life. They're still pretty cool, though, and the glasses design itself is a real fashion statement, if you like that kind of thing.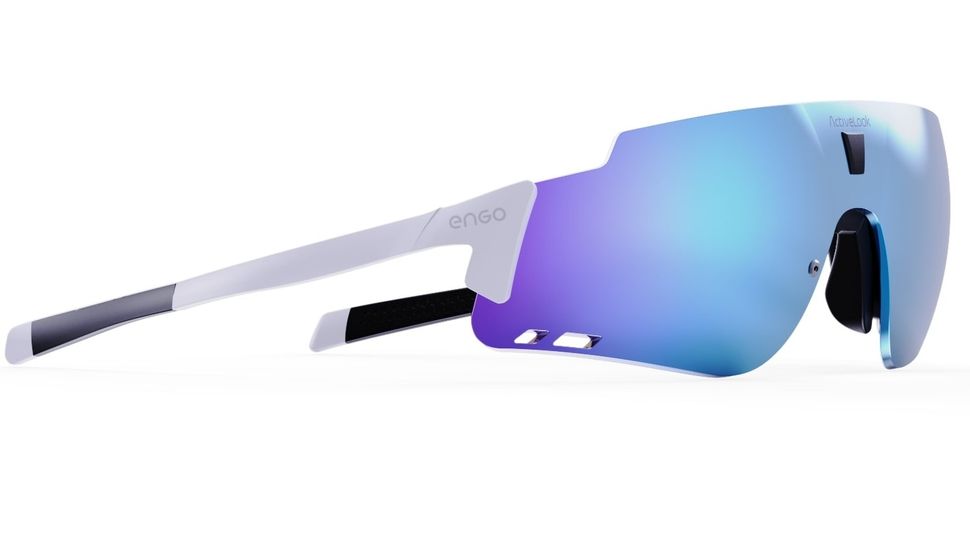 The Engo Eyewear Engo 2 are designed for those who love to exercise and keep track of their stats. The Nowadays, many of us who go out running or cycling use tech to help keep us on track and measure our performance. But looking down at a screen all the time doesn't just mess up your rhythm, it can potentially cause an accident if you take your eyes of the road for too long.
The Engo 2 aims to solve that problem by putting your real-time data – details like heart rate, power, pace, distance travelled, time elapsed, elevation gained and so on – right in your field of view.
Better still, if you want to change the information on your display, you don't have to fiddle with your smartphone either. A swipe of your hand in front of the glasses is all it takes. Plus you get up to 12 hours battery on a single charge, the glasses are water-, sweat- and dust-resistant, and you can set them up from both Android and iOS phones.
Sounds impressive, right? Unfortunately these smart glasses, which were launched last September, aren't brilliant in practice. That's because, unless they're positioned in the exact right place on your nose, the image quickly becomes blurry. And when you're running or cycling, that's pretty difficult to stick to. They're also bulkier than normal glasses, making them a drag on your performance. And in their current form, the glasses sometimes have difficulty distinguishing hand swipes from other things in your field of view.
Still, while they're not perfect, they're definitely the best AR glasses for sports activities available at the moment. And if you're bored of your routine and want to liven it up a bit, you might want to give them a try. After all, there's a 30-day trial so if you really don't like them, you can always return them.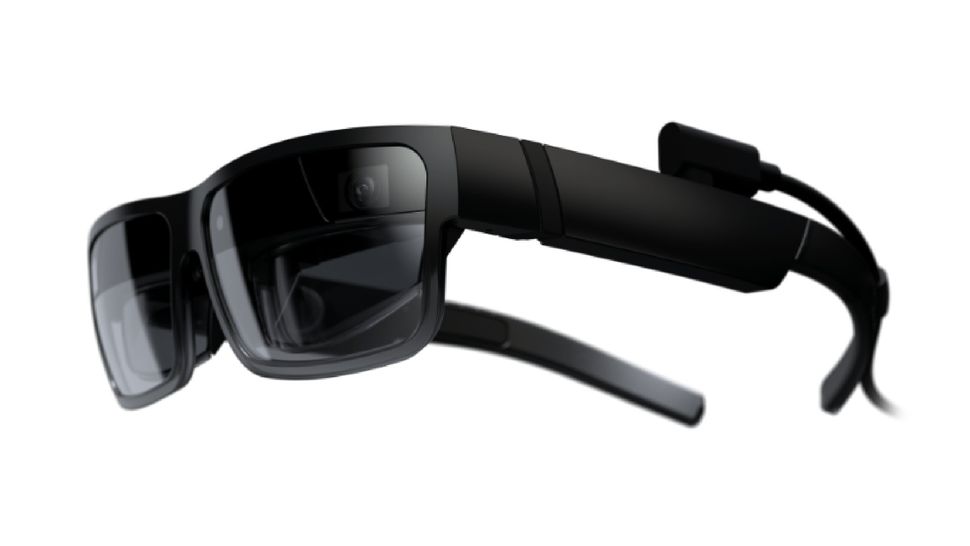 AR glasses aren't just for fun, but offer huge potential for making people more efficient and productive at work. And Lenovo are leading the charge here. However, while everyone's raving about their forthcoming Glasses T1, which are expected to launch later this year, their current ThinkReality A3 smart glasses still have a lot to offer developers and early adopters experimenting with AR in the workplace.
Originally released in December 2021, the glasses offer a 1080p, stereoscopic 3D display with 200 nits brightness, that allows you create and customise your workspace via augmented reality. There's also an 8MP camera for shooting video, hand-tracking functionality, three noise-cancelling microphones and integrated stereo speakers. The glasses are water resistance to IP54 quality.
Note, though, that while there's a USB port, there's no audio jack. And there's no onboard battery either: these glasses needs to be plugged into a compatible phone or computer to work.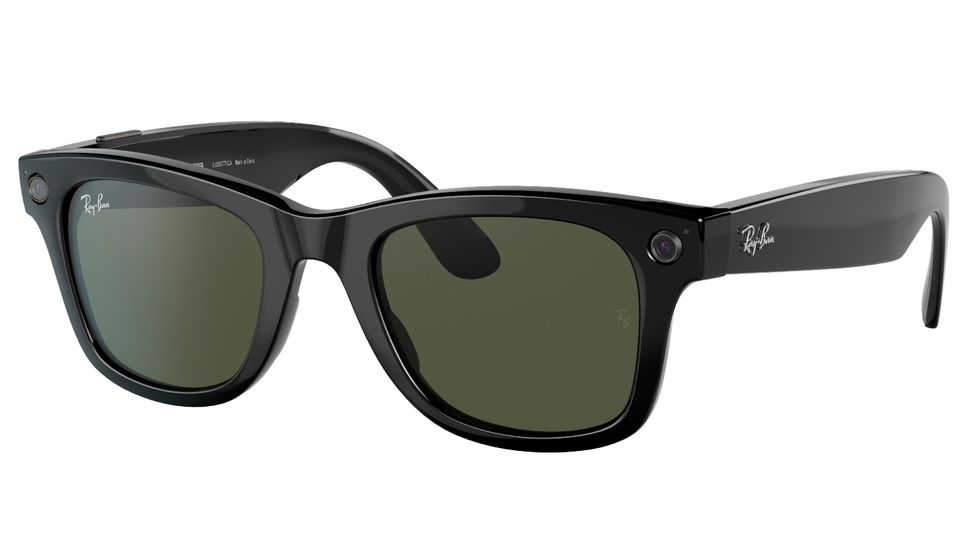 Launched in September 2021, Ray-Ban Stories are pretty basic. Created by Facebook, they come with two 5MP cameras, pair with your smartphone over Bluetooth, and are essentially a simpler version of the Snap Spectacles 3 (number two on our list).
They allow you to play music, take phone calls, take photos and shoot 30-second video clips, and import them to your smartphone. They come with 4GB of storage, which should be enough for 500 photos or more than 30 video clips. There are two speakers and three microphones.
You can capture stills at a resolution of 2592 x 1984 pixel images and video at 1184 x 1184 video, at 30 fps. But overall, these specs are less impressive than the Snap Spectacles 3... so why opt for these glasses instead?
In all honestly, the main reason would be for aesthetic appeal, because they really do look like standard Ray-Bans, which most fashion-conscious people generally consider a design classic. They're also slightly lighter, slightly cheaper and come in a range of sizes, from XXS to XXL, to suit all faces perfectly.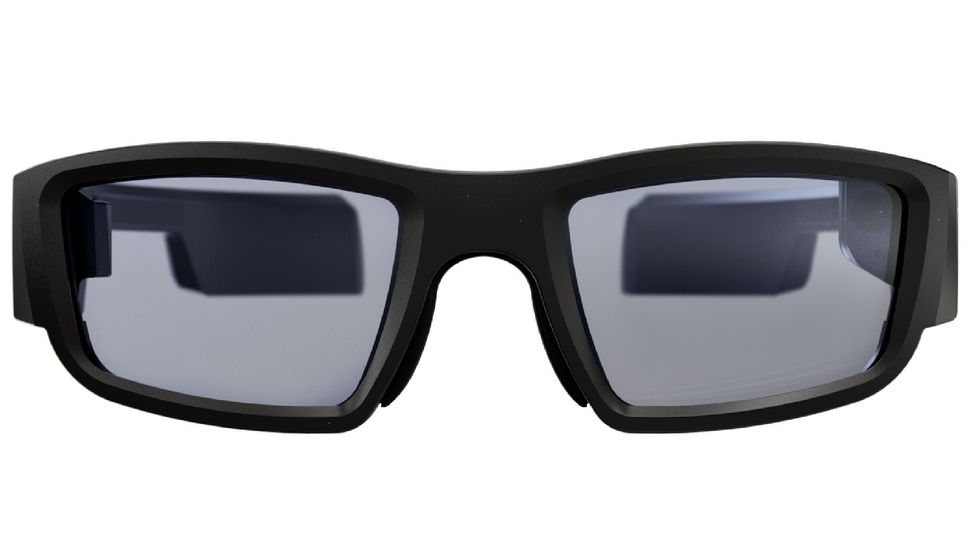 Released in August 2022, the Vuzix Blade 2 hasn't really set the AR world on fire. But they're quietly establishing itself as some of the best smart glasses in the enterprise space.
The Vuzix Blade 2 is firmly focused on providing workers instant access to critical data as they work, via 24-bit colour images (480x480 pixels per-eye) that are easily visible, whether inside or out. You also get stereo speakers, two noise-cancelling mics, and an 8MP camera for streaming video, which is all handy when collaborating with others in real-time.
These glasses run on Android 11, with a Qualcomm processor and include 40GB of onboard storage. They can be controlled by voice, an included two-axis touchpad with multi-finger or via a companion app for Android and iOS.
What are smart glasses?
Smart glasses, also known as AR glasses, are a form of wearable technology that displays digital information and content directly in your field of view. In this way, they are similar to virtual reality (VR) headsets, but they do not completely block out your view of your surroundings. This means you're able to see both digital information and the real world at the same time.
What are smart glasses used for?
Smart glasses place digital content and information directly in front of your eyes, overlaying the real world, and this has a number of uses. One is navigation: providing you with directions and data about your journey, such as traffic conditions, points of interest, and weather. The same applies to sports such as running and cycling, allowing you to see facts and figures such as speed, distance travelled, calories burned and so on. Another use is entertainment, such as being able to see a large virtual screen in front of you to enjoy TV, movies and games in a more immersive way. AR glasses can also be used in work and education to view documents, spreadsheets, and other materials.
Are smart glasses worth buying?
Smart glasses are still in their early stages of development, and even their greatest advocates will agree that they haven't yet reached their full potential. Even some of the best smart glasses (which we list above) are very expensive, limited on features, and need to be placed in a precise position on your face, otherwise the digital content appears blurry or distorted. For this reason, they're mainly of interest to developers and early adopters. However, it seems that the best augmented reality glasses are yet to come. The next generation, such as the Lenovo T1, Oppo Air Glass 2, Xiaomi Wireless AR Glass Discovery Edition and Snap Spectacles 4 look like being much more capable than their predecessors... although until they're actually released, we won't know for sure.
What is Google Glass?
Google Glass is a brand of smart glasses developed and sold by Google. The first prototype was made available to the public in 2014, but Google stopped producing it the following year. It was followed by the Google Glass Enterprise Edition in 2017, then the Google Glass Enterprise Edition 2 in 2019. In March 2023, Google announced that it was discontinuing the Enterprise Edition 2, although product support will continue until 15 September 2023.
Is Apple making smart glasses?
There has been no official word from Apple about smart glasses, but it is strongly rumoured to be developing them. However, in January 2023, a Bloomberg report by Mark Gurman suggested that due to technical challenges in their development, the company is now focusing on a mixed reality headset instead. And in a Medium post in April 2023, Apple expert Ming-Chi Kuo predicted that Apple would not release AR glasses until 2026 at the earliest.
Are there new smart glass models coming soon?
In recent months, at tech events like CES, many big brands have been showing off their next-generation glasses. And the Lenovo T1, Oppo Air Glass 2, Xiaomi Wireless AR Glass Discovery Edition and Snap Spectacles 4 all look like being much more impressive and capable than their predecessors.
There's only one problem: none of these have come to market as yet. Plus many of the best augmented reality glasses of recent years, from North's Focals to Google's Glass Enterprise Edition 2, have now been withdrawn from sale. So if you're keen to try out some smart glasses right now, we've listed the best you can actually buy today above.
At the risk of being repetitive, we should stress that none of these are particularly great, and they all have their problems. But they are available, and so if you want to get your hands dirty with AI and other smart features, they're essentially the only game in town right now.