Now lockdown is becoming a distant memory, the best travel laptops are firmly back on our radar. Handy for everything from short train rides to transatlantic flights, and everythig in between, these laptops allow you to do everything you can do at your desk while you're on the move.
The best travel laptops are small, light and easy to carry, but still packed with enough power to do everything you need while you're away. We've gathered our favourites together in the article below, covering a variety of budgets and a range of capabilities. If you're not sure what you're looking for, though, first read our section on how to pick the best travel laptop.
Looking for some more specific? Then you might also want to check out our roundups of the best laptops for graphic design or the best laptops for programming. Meanwhile, for some extra help planning a trip, also see our guides to the best travel accessories for designers.
The best travel laptops available now
Why you can trust Creative Bloq Our expert reviewers spend hours testing and comparing products and services so you can choose the best for you. Find out more about how we test.
Nice and compact, and weighing just 1.17 kg (2.59 lbs), the Dell XPS 13 (2022) offers an exceptional combination of portability and power, along with great battery life. In our eyes, that makes it the perfect travel companion.
The screen can give out just under 450 nits of brightness, so even bright daylight shouldn't be an issue. The inclusion of Intel's 12th-gen U-series chips means everything runs super-fast, and it's powerful enough to run creative software like Photoshop. It stays cool and quiet in use, and you can expect around 13 hours' battery life with light use.
On the downside, the webcam is only 720p, which is okay for Zoom calls but not the best picture quality. You're limited in the number of devices you can connect, with just two Thunderbolt 4 ports in total. But as long as those aren't deal breakers, we reckon the Dell XPS 13 offers better value overall, making it our pick as the best travel laptop of 2022.
Weighing just 1.4 kg (3 lbs), this latest version of the 13-inch MacBook Pro is perfect for travel. Showcasing the high build quality you'd expect from Apple, this thin and light laptop touts the latest M2 chip, a beautiful 13.3-inch Retina display and that convenient Touch ID. Our tests showed that it's great for multitasking, handles creative software like Photoshop very well, and lasted 15 and a half hours in our battery test, which involves playing a looped 1080p video.
On the downside, the webcam is just 720p and as far as connectivity goes, you're limited to just 2x Thunderbolt 3 (USB-C) slots and a 3.5mm headphone jack. Plus you're tied into Apple's ecosystem, which may be a good or bad thing, depending on where you stand. For more details, see our full MacBook Pro 13-inch (M2, 2022) review.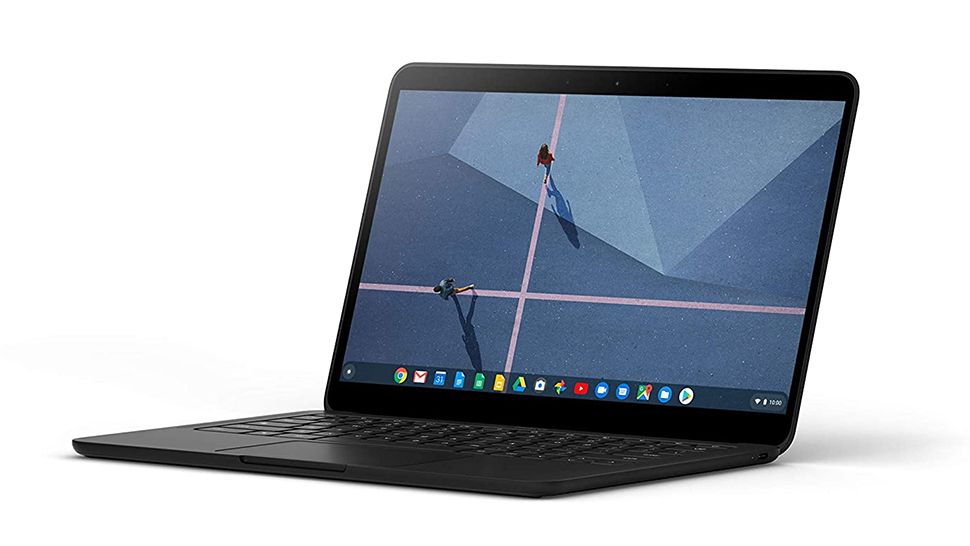 The diminutive sibling to Google's higher-end Pixelbook, the Pixelbook Go is truly great value for money. For sheer class and ease of use, due the stellar components that you get, this is a great bargain, and one of the best entry level Chromebooks out there for travel.
Of course, being a Chromebook, this will work on Google Chrome OS operating system, running cloud-based applications and storing a lot of data online, so a solid internet connection for its user is essential. And of course, you won't be able to run any Windows or macOS software you're used to.
More generally, its design is slim and light, its frame made from magnesium alloy with a matte finish, and it weighs in at 2.3 pounds and is 0.5-inches thin. On top on that, it offers a back-lit keyboard, and a 1080p front-facing camera; two elements that you won't find on most of the laptops here.
When you're travelling, particularly if you're jammed into tight spaces on planes, trains and automobiles, you need to be flexible. Helpfully, the HP Spectre x360 (2021) has a hybrid design so you can switch between, for instance, working in traditional laptop mode, playing games in tablet mode and streaming your favourite shows in tent mode.
More generally, it's gorgeous, with its elegant gem-cut design that will be the envy of everyone on your holiday. It offers a fair number of ports, so you can connect lots of devices: a USB-A 3.1 port, two Thunderbolt 4 ports, a microSD card reader and a combi audio jack. And it also boasts great Bang & Olufsen speakers, an exquisite touchscreen display and a whopping 12-hour battery life.
The Surface Laptop 4 continues Microsoft's tradition of crafting excellent portables. This thin and light laptop comes fitted with 11th-generation Intel Core processors, plenty of memory for most computing needs and decent storage options. It delivers such an excellent performance, and boasts Microsoft's impressive keyboard and trackpad as well.
As with most ultrabooks, there's a lack of ports: just one USB-C, one USB-A, a 3.5mm headphone jack, and Surface Connect port for power. However, at under 1.27 kg, this is lighter than most of its 13-inch rivals. So if weight is a top priority for you, this must be at the top of your list of options. For more details read our Surface Laptop 4 review.
Razer is no stranger to excellent gaming laptops that boast mind-blowing power, but it's the Razer Blade Stealth 13 that's really impressed us. While most gaming laptops are big and bulky machines, this 13-inch model has fitted all that gaming prowess in an Ultrabook laptop, so you can play all those latest games smoothly at 1080p while on the go. It's not just for games, mind you – it can handle creative tasks like photo and video editing as well. There's even a 4K option for an even better image quality. And the sophisticated and sleek non-gaming aesthetic is a bonus.
The Lenovo Flex 5 14 may be a couple of years old now, but it remains a great laptop for when you're out and about, serving brilliantly as a secondary travel laptop if you want to leave your heavy duty work horse in the office.
It's a 2-in-1 device, which makes it that little bit more, well, flexible. You can fold the screen back to use it as a supported tablet, ideal if you want the screen only to watch media on long journeys. And with its 14-inch, FHD (1920 x 1080) resolution display, the image is crisp and clear. And, it's specs include an impressive 16GB RAM, and a super fast and stable 256 solid state drive – perfect for when TV shows turn into a work project on the move, as it'll run the most common creative design software without breaking a sweat. With the Lenovo's Active Pen Stylus, digital artists should be happy too.
Add to that a nice array of ports, including a USB-C and two USB-A ports, plus an HDMI port in case you want to connect to an external monitor, and this is a fantastic allrounder at a affordable price.
How to pick the best travel laptop
Not every laptop can be a good travel laptop. Some are powerful yet too heavy to go traipsing around with, while others just aren't powerful enough to be reliable, especially for digital nomads whose computing demands are more intensive than that of regular users.
The best travel laptops must combine portability with power and durability. They must be thin and light so you can easily slip them in your backpack or carry-on, and not have to worry too much about the added weight. Anything under 1.59kg (3.5lbs) is ideal. After all, traveling as light as possible is one of the key things for a more relaxing – and cheaper – trip.
They must also be powerful enough to handle your needs, whatever those may be. If you're just looking to do travel research, stream movies and chat with friends, a less powerful laptop will do. However, if you're planning on working while traveling, not just any laptop will do. Luckily, there are excellent mobile workstations out there that are fitted with powerful processors and plenty of memory.
The best travel laptops must also be extremely durable, robust enough to not only handle hard bumps, but also accidental drops. MacBook Pros, for example, are tough enough to survive a high fall.
A long battery life is also extremely useful. While most cafes, airports, stations, trains and planes provide outlets for laptop users, a portable that will last you a while on a single charge is preferred in case you find yourself stuck in a place where charging just isn't possible. It wouldn't hurt to have plenty of storage space, either – although Cloud storage and best external hard drives are readily available, if upgrading to a bigger storage space proves too pricey for you.
Related articles: