40. iSight Camera (2003)
The original iSight Webcam was a short-lived product, but the term lives on as the camera in iMacs, MacBooks and other devices. It is a basic camera that is unobtrusive within a larger product, but when used for FaceTime and other tasks it can become indispensable.
39. Touch/Face ID (2013)
The PIN feels archaic today thanks to Touch ID and Face ID. Apple nailed fingerprint activation and did the same with Face ID using a clever dot projector module for extreme accuracy. Even better, the info sits on a secure module within the device and nowhere else.
38. PowerBook G4 Titanium (2001)
The design is what we remember the most, but the specs were also impressive, providing a worthy experience in a small space. Perhaps the first Apple laptop to emphasise professional design and capabilities in one product that appeals to everyone.
37. iPhone 5s (2013)
The iPhone 5s debuted Touch ID and was the first device to bring a 64-bit processor to the smartphone world. It may have looked identical to the iPhone 5, but these extras paved the way for future mobile developments that would go on to become industry standards.
36. Apple Pay (2014)
Apple is always happy to disrupt traditional industries and Apple Pay is no exception. With an emphasis on security and ease of use, Apple Pay has revolutionised the way we pay for things and it will likely be one of the dominant forces in the retail world going forward.
35. Apple LaserWriter (1985)
The LaserWriter may look like just an old printer, but it was instrumental in the early growth of desktop publishing. It was very much a business product due to the price, but it offered one of the best print offerings available at the time. If only Apple made printers today…
34. AirPods 1st gen (2016)
To understand the impact of AirPods just look around you. They are everywhere. With excellent sound quality, an innovative battery charging case and a distinctive design, they are one of the most Apple-like products made to date. The ideal earphones for iPhone users.
33. iPod mini (2004)
With the iPod mini, Apple demonstrated just how skilled it was at miniaturising devices to levels not previously seen. The beloved click wheel remained as the key controller just below a perfectly readable screen, but ultimately it succeeded because if its size. With 4 or 6GB of storage on offer in a device that was only 3.6" high, people could now run, commute and do anything else without even realising they had the device with them. Throw in eight hours of battery life and the excellent sound quality and it was destined for success from the very start.
Strangely, this actual design did not survive for too long because Apple took the miniaturisation even further, but we can look back on the first iPod mini now as a very important part of the company's history. It was a simple, elegant device that really did tick every single box.
32. iMac Aluminium (2007)
Apple had tinkered with various iMac designs until the Aluminium version in 2007 stuck to this day. With everything stored behind the screen it is not the easiest to expand or fix, but the end result is a very powerful computer that is supremely elegant in its design.
31. Macintosh PowerBook 520 (1994)
The 500 series of laptops propelled the format to a new level with many firsts built into the product. Stereo speakers, an internal expansion bay, 16-bit stereo sound and ethernet were new to the laptop form and they showed everyone a glimpse of the mobile computing future.
30. Keynotes (2005)
Various people have undertaken Apple keynotes, but Steve Jobs was the king of the 'Stevenote'. Who can forget his "A widescreen iPod with touch controls, a revolutionary mobile phone and a breakthrough Internet communicator" description of the iPhone back in 2007?
29. Apple Stores (2001)
Apple has grown its store portfolio in 18 years to more than 500 locations and has now reached the point where the sales per square foot are among the highest in the world. With highly valuable retail space the stores are welcomed anywhere because they generate so many ancillary sales via the extra footfall they bring in.
The design of the stores is minimal yet professional while retaining a welcoming sense that never feels overwhelming. The products are obviously key to the process, but the attention to excellent customer service and seamless repairs and sales make the real difference to the experience for customers. Apple's way of handling retail is an example to all competitors who are battling the declining bricks and mortar retail industry – to this day Apple and its cleverly named Geniuses still stand head and shoulders above the rest. No other retail space quite matches an Apple Store.
28. FaceTime (2010)
FaceTime is arguably the smoothest and easiest video communication software available today. It works on Macs, iPhone and iPads and has grown into a solution that even global businesses can use for multi-party conference calls with little setup required.
27. Newton MessagePad (1993)
The MessagePad 100 was a hugely impressive portable computer which offered handwriting recognition, Newton OS and up to 4MB of memory. It was way ahead of its time, both technically and culturally, but the huge popularity of Palm PDAs showed that you could keep organised with a much smaller device and we did not see anything like it again until the iPad arrived in a modernised form. To this day the MessagePad has many fans.
26. iPad mini 6th gen (2021)
If you'd asked us at the start of 2021, we'd have told you the iPad mini was over. Untouched design-wise by Apple for years, it was beginning to look like the diminutive device was losing relevance in a world of massive tablets and Pro Max phones. But then, Apple gave the tiny iPad the flat design treatment, incorporating the same edge-to-edge display and Apple Pencil 2 support as the iPad Pro and Air, breathing new life into the mini.
25. PowerBook 100 (1991)
You may be surprised to know that the PowerBook 100 was manufactured by Sony for Apple and that despite the high price it was the lowest powered of the PowerBook family. With a 16MHz processor and 2MB of RAM it was decent enough and rather fetching.
24. Apple Pencil (2015)
The Apple Pencil added a new layer to Apple's reputation of being a tech company that works for creative people. Marrying the traditional pencil with high-tech innovation, it offered a smooth digital writing experience, which has since been improved even further.
23. iMac (2021)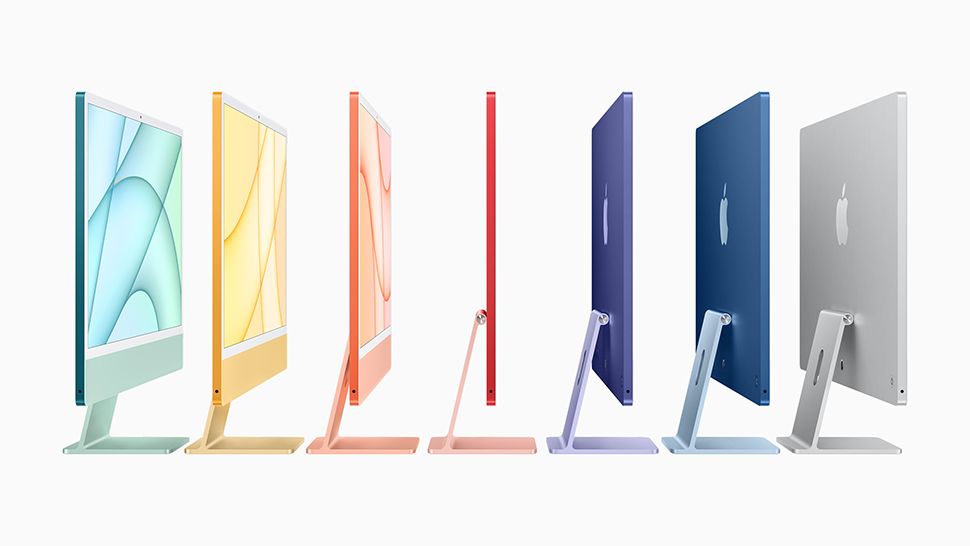 For a while it looked like the iMac might be on the way out. From 2012 to 2020, it languished with an unchanged design, while the likes of the iPhone and iPad got thinner, flatter and more colourful. Then came 2021.
The M1 iMac is truly a return to the company's colourful, retro best, and a delightful throwback to the iconic iMac G3. And that's just the design – on the inside, that M1 chip means it's Apple's most powerful all-in-one ever.
22. Apple QuickTake 100 (1994)
One of the world's first consumer digital cameras, the QuickTake 100 was easy to use and could connect to any Mac via the serial cable. The camera had enough onboard memory to store eight 640x480 photos or 32 320x240 photos but no focus or zoom controls.
21. iPod touch (2007)
The iPod touch gave people apps and music on a device that was thinner and cheaper than the iPhone. To this day it offers many benefits and with a large screen, quick processor and a familiar form it could easily be considered to be an iPhone in almost every regard.
Next page: The best Apple products 20-6