Black Friday may be a month away, but no one's told Amazon. The retail behemoth is currently offering the excellent 2021 iPad at a lower price than it was over the recent Prime Day 2 (earlier this month). It's currently down from $329 to a record low price of $249.
This is cool for a couple of reasons. First, we love the tablet – it's our current favourite classic iPad, besting the latest 2022 iPad that came with an un-needed upgrade plus price increase. That iPad had a bit of an identity crisis, being closer to a modern iPad Air than a classic iPad. This 9th Gen iPad knows what it is, offering everything we love about the entry tab. It's aimed at the majority of users who just want to stream stuff, have good quality video calls, and do a bit of sketching too.
Second thing we love about this iPad is that it was already being sold at a reasonable price point of $329. So to see it at a record low of $249, a whole $20 lower than the recent Prime Day 2 price of $269, is pretty special.
Will it go even lower as part of this November's Apple Black Friday deals? It might. But two record lows, one after the other seems slightly unlikely.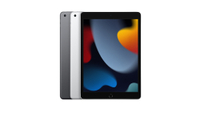 iPad (9th Gen, 10.2-inch, 64GB)
Was: $329
Now: $249 at Amazon
Save: $80
Overview: The Apple iPad 9th gen was released in late 2021. The large display is great for browsing and watching movies, and the front and rear dual camera setup is decent for video chats too.
Key features: It has an A13 Bionic chip which makes streaming fast, and an Ultra Wide front camera that can fit the whole family into selfies/videos. The PadOS will allow you to run multiple apps at once, and it has an impressive battery life. You can also set up a fingerprint scanner and make Apple Pay purchases.
Price history: The 9th Gen iPad retails, on average, at around $330, but the last time we saw it to $269 was for Prime Day 2, this October. It's now $20 lower than that, so this is the current record low price for the 2021 iPad.
Price comparison: Apple: $329 | Best Buy: $279.99
Reviews: We gave the Apple iPad 10.2-inch (9th Gen) a 4-star review when we tested it last year, noting only minor faults that included a lack of USB-type-C support. It also doesn't have support for the Apple Pencil 2, so keep that in mind if you're looking for any accessories to pair with this low-cost iPad.