Watches don't come much smarter than this, and the latest Apple Watch Series 8 GPS model has just taken a price cut in an early Apple Prime Day deal. Considering the Series 8 is less than a year old, a $70 saving is pretty awesome! We don't expect this to last long, so keep a watch-ful eye on these prices. You can also choose from several colours and configurations. Winner!
Amazon Prime Day is just around the corner, and we can't wait to see what Apple Prime Day deals are in store for us. The current price drop on this Apple Watch Series 8 is already impressive, down from its original launch price of $499 in the US. This is the lowest price we've seen yet on the Series 8 since its last discount in March 2023, but it's not guaranteed that the price will drop any further during the official Prime Day event in just 2 weeks' time.
It might be time to snap up this Apple Watch deal while it lasts. We reviewed the Apple Watch Series 8 back in October 2022 and loved the smooth and fast performance paired with the mix of health sensors. However, we also felt that the newly added temperature sensor had limited uses and the battery life could be better. So bare this in mind if you're looking to purchase one.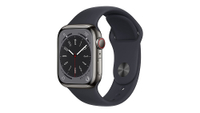 Apple Watch Series 8 (GPS, 45mm)
Was: $429
Now: $359 at Amazon
Save: $70
Overview: The Apple Watch Series 8 is one of the latest flagship smartwatches from Apple, next to the Apple Watch Ultra, and replaces the Apple Watch Series 7. There are plenty of watches in Apple's catalogue, including the Apple Watch SE (2022), so why should you choose this one? Simply, it boils down to whether you're fussed about having the latest tech or not.
Key features: New features of the Watch Series 8 include car crash detection and a temperature sensor that doesn't seem to have a lot of purposes besides ovulation prediction for people with ovaries. The always-on display is new too, and means the screen will dim when not in use rather than switch off. It also boasts an ECG sensor and pulse-oxygen sensor to monitor your health.
Price history: The Apple Watch Series 8 (GPS, 45mm) hasn't been around for long, so there's not much price history to report on. It retails on average at $450, but the last time we saw it drop to the current price of $359 was in March 2023.
Price comparison: Apple: $429 | Best Buy: $459
Reviews: We gave the Apple Watch Series 8 a 4-star review when we tested it last year, and were a little underwhelmed by the lack of upgrade from the Series 7 to this new model. It does have some great features such as the always-on screen and improved general performance, but it has nothing on the Ultra in our opinion.
Not interested in owning an Apple Watch? Take a look at the best Apple Watch alternatives instead. If you are looking for a new Apple Watch, then you might want to bookmark our lowest Apple Watch Series 8 prices article that updates every day and our clever widgets will find you the best prices as and when they go live.