The original Nintendo Switch console might be over six years old (released in 2017), but it still remains one of the most popular handheld gaming consoles of all time. Whether you enjoy racing karts, planting crops, or battling ogres, there are some fantastic Nintendo Switch games to suit every type of gamer, and this console can be played virtually anywhere too.
If you're thinking of getting a Nintendo Switch console either for yourself or a loved one, there are a few things you need to know before investing in Nintendo's colourful console. And we're here to break these down for you to help you make the best decision and an informed choice.
Can't decide which Switch console is the one for you? Take a look at our helpful explainers: Nintendo Switch vs Switch Lite, and Nintendo Switch vs Switch OLED.
Nintendo Switch Models
1. There's more than one Nintendo Switch
The first thing you should know when shopping for a Nintendo Switch is that there's more than one option. What we mean by this is not only that there are three consoles to choose from, the standard, the Lite, and the OLED – but also that there are a number of configurations to make for each one after you've chosen your console, such as the Joy-Con colours, any limited edition models, included game download codes, and the battery capacity.
Nintendo Switch (original and V2)
Not many people know that Nintendo actually re-launched the Switch with a "V2" of the console in 2019 that offered improved battery life due to customer complaints, and for the same price as the original model. The only real way to tell which model has been upgraded is by the model number (HAC-001(-01)), as well as the packaging, as the later model comes in an all-red box.
The original Nintendo Switch is the one with an LCD display screen, two removable Joy-con controllers attached on either side, and can be played handheld as well as hooked up to your TV or monitor using the included Nintendo Switch Dock.
Nintendo Switch Lite
This version of the console is a little smaller, with a 5.5-inch LCD screen, and has built-in controllers that are the same colour as the console, and cannot be removed. The Nintendo Switch Lite is a better and more affordable choice for solo gamers who will only play the console handheld and have no desire to play on a bigger screen by connecting their Switch to an external monitor or TV.
Although, there are a select number of games you cannot play on the Switch Lite as they require motion technology that separate Joy-Cons offer. The Just Dance series, Nintendo Switch Sports, Super Mario Party, and 1-2-Switch are just a few of the movement-based games that are not fully supported on the Switch Lite.
So in summary, it has only one controller that can't be removed, and it's a little bit smaller, slightly more affordable, and can't be connected to a TV. Skip over to the Price History section of this article for an in-depth comparison of all Nintendo Switch Prices across the three different consoles.
Nintendo Switch OLED
The newest edition to the Nintendo Switch product range, the Nintendo SWitch OLED console was first launched in October 2021, and differs from the standard Nintendo Switch in that it has a beautiful glass OLED screen. Not only that, you get enhanced speakers and twice the amount of storage than the original model, plus not to mention a slightly improved docking station that includes a LAN port, and a wider kickstand.
The Switch OLED can do everything that the original Nintendo Switch can do but with a much prettier screen. It does cost extra, though. So if you already own a Nintendo Switch and are considering an OLED upgrade then it might be wise to consider if the differences justify the price hike.
2. There might be a new model soon
The next thing you should probably know if you're thinking of buying a Nintendo Switch is that we're very confident that a new Nintendo Switch model is coming soon, so if you want the latest tech it might be wise to hold off until we know more about this rumoured Switch Pro console.
Some say that the Nintendo Switch 2 (or "Super Nintendo Switch" as it could be named) will be capable of 4K output when connected to a TV, and could potentially feature NVIDIA DLSS (Deep Learning Super Sampling) AI rendering technology with a more capable CPU, larger screen size, and a storage boost.
But this is only speculation, and Nintendo itself has not verified any of these rumours or announced direct plans for making a Switch sequel, though reliable leaks suggest that developers might already be working on it.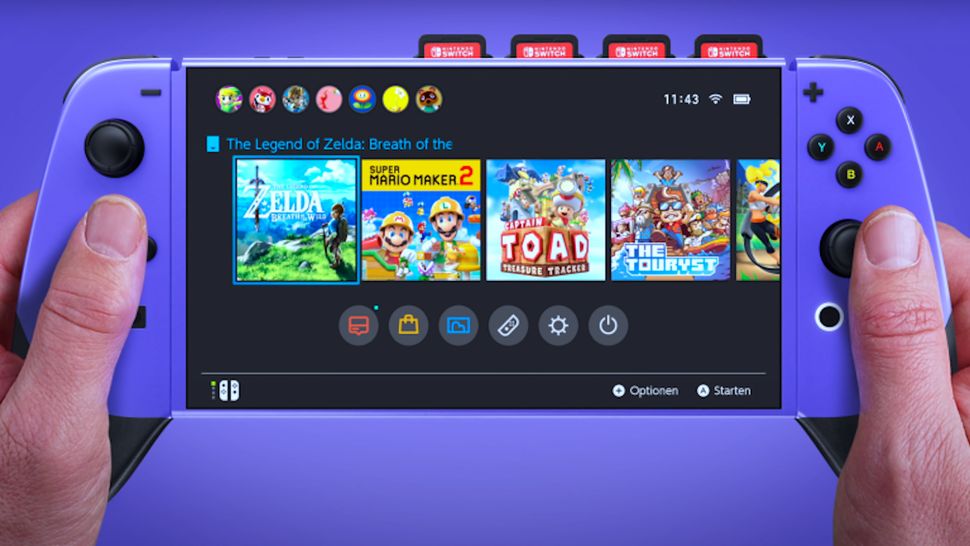 Accessories
3. You'll definitely need an SD card
As for storage size, nearly all Nintendo Switch models will have 32GB of storage as standard, but you'll probably find that you need more than this to play certain games. Thankfully, the Nintendo Switch has a MicroSD card slot for you to expand the storage up to a maximum of 2TB. The OLED model has 64GB of internal storage.
We can pretty much guarantee that you'll need an SD card for your Switch at some stage, no matter which model you buy. So you're better off grabbing one of the best Nintendo Switch SD cards in advance before you get your console to avoid running out of storage and not being able to download your favourite games.
4. It comes with two controllers!
This might sound obvious to some, but one of the nicer surprises that many people find when purchasing a Switch is that it already comes equipped and ready for multiplayer. Grandparents and people who might be new to gaming don't realise that the Switch (excluding the Switch Lite) has two joy-cons that can function as individual controllers, meaning that there's no need for sibling rivalry.
Many people buying consoles for their kids are likely used to having to pick up another controller by now so that the family can play together. That's still the case if you want to play with three people or more, and Joy-con's aren't the cheapest to buy individually, but it's still a nice touch that Nintendo gives you two.
5. Not all Nintendo Switch models can connect to the TV
We've kind of covered this in the models section, but if you've just been skimming through then a crucial thing you need to know before buying a Nintendo Switch is that the Lite model will not connect to a TV.
There are, however, other ways that you can connect your Switch Lite to the TV or a monitor by using third-party cables but it's really not advised, with sub-par image quality and an extensive setup process that could even damage your console or potentially void a warranty.
6. Joy-Con drift is a real problem (but Nintendo can fix it!)
You may have heard of the dreaded Joy-Con drift, but what this essentially means is that these controllers suffer from a design fault that lets them randomly drift out of place. On the screen, this will look like your character is moving backwards in arcade-type games, it can move your camera without meaning to, or you might even see a cursor drifting across the screen when you're trying to select something.
Nintendo is very aware of this problem, and so it encourages gamers to use its Joy-Con repair service to send them away in the post and get them fixed (for free!) by Nintendo. This should be done as a last resort, however, after following the recommended steps to re-calibrate them with your console first.
7. You can't use your Switch to watch Netflix
One common misconception of the Nintendo Switch is that it can be used for streaming Netflix. While, technically, there are some dodgy ways of doing this by hacking your console and installing Android OS to your Switch and then accessing the Google Play Store – but this is really not advised as you could easily make a mistake and leave your Switch inoperable, and void of any warranty too.
Nintendo has also banned users in the past from accessing online services if it suspects your Switch has been hacked, so you can say goodbye to the Nintendo E-shop and online multiplayer features if you choose to do this. So keep that in mind if you were planning on using a Switch as a miniature TV for watching Netflix on the go.
The Nintendo Switch can safely be used to stream Hulu by downloading the app from the Nintendo Store on your console, as well as other streaming apps like YouTube, Crunchyroll, Funimation, Twitch, and Pokemon TV.
Price History
If price is a key factor in helping you decide which Nintendo Switch console to buy (and the right time to buy it) then this should help. It's worth noting that Nintendo very rarely slashes its own prices, and Nintendo products are renowned for holding their value extremely well, so while prices might not change much, at least you know the resale value is there if you change your mind.
The Nintendo Switch (original) console began at a retail price of $299/£259 in 2017, and this price hasn't come down very far over the last six years. The original retail price is still in place, but we do sometimes see prices fall to around $259 during holiday sales such as Black Friday, and retail events such as Amazon Prime Day switch deals.
The Nintendo Switch OLED model retails for $349.99/£309.99, and the best deal we've ever seen on this model in the US was $280 back in February 2022. Needless to say, this didn't last long, and we've not seen a deal like this since. In the UK the best Nintendo Switch OLED price was £295.
The Nintendo Switch Lite model also rarely gets a price cut from the original $199/£199 price tag (which is around $100/£100 cheaper than the larger Switch consoles). The lowest price we saw recently on the Switch Lite was $185.65 at Walmart, which is hardly a discount, but it's something, right?
FAQs
Where can you buy a Nintendo Switch?
Nintendo Switch consoles can be bought from almost every online retailer, as well as in local stores. We've found that the best place to shop for a Nintendo Switch is usually through Amazon, as prices tend to fluctuate the most in line with its stock levels, and if you're lucky you might get $5 off.
The best deals on a Nintendo Switch are usually in the form of bundles, so keep an eye out for which games you might like to buy with your console and see if you can get any thrown in for free through retailer offers.
Is the Nintendo Switch worth buying?
Absolutely! The Nintendo switch is an excellent hybrid console and caters to nearly every gamer no matter their age or lifestyle. The travel-friendly nature of the switch makes it perfect for taking over to a friend's house for game night, or for a light gaming session on the train while heading to the office.
Take a look at our review of the Nintendo Switch for our honest opinion of this console, and see our Nintendo Switch Lite review too.
Will the Nintendo Switch be on sale on Black Friday?
Yes! There are usually a plethora of Nintendo Switch deals over Black Friday, but as we mentioned above, these usually take the shape of bundle deals and discounts rather than price cuts on the console individually.
Our favourite Nintendo Switch Black Friday bundle is already here, and for just $299 at Amazon, you get the Nintendo Switch Neon Red and Blue console, a digital download of Mario Kart 8 Deluxe, and a three-month subscription to Switch Online.