It can be hard to choose the best MacBook for your needs. Apple has two broad ranges, the Pros and the Airs, but also different sizes and configurations. And even between the Pros and the Airs, which is the best MacBook isn't always clear.
To choose the best MacBook for you, you'll need to consider how much power you need, what you'll be using your laptop for and whether you prioritise portability or a larger screen. When it comes to the silicon, all of the MacBooks now sold by Apple come with the company's own M chips, from the M1 in the 2020 MacBook Air and 13in MacBook Pro, to the M1 Pro and M1 Max in the 2021 MacBook Pros and the M2 in the 2022 MacBook Air and MacBook Pro 13.
Even that apparently simple naming can make it hard to work out which is the best MacBook. Although the M2 is the newest of all those chips, the M1 Pro and M1 Max remain the most powerful. On top of that, you may still be able to pick up some earlier Intel-chipped MacBooks from third-party retailers. Most people nowadays will want one of the newer models, but considering the last Intel-chipper MacBook was only released in 2020, it still makes a decent option if you find a good deal.
Below we compare every MacBook that's widely available new today to help you choose the best MacBook for you. We've evaluated the specs of each model and linked to our own in-depth hands-on reviews where you learn more about what we think of each device (see how we test laptops for more about our review process). Once you've chosen which model you want, you'll need to choose your configuration since every MacBook offers several options in terms of SSD size and memory. If you're unsure about that, see the questions section at the bottom.
If you're looking to save money on MacBooks, you'll find links to the best prices on each laptop below, but you might also want to check our roundup of the latest Apple deals and the best of Apple Black Friday 2022.
We also have our own pick of the best docks for MacBook Pro and the best MacBook Pro accessories overall. If you decide a MacBook isn't for you, we have you covered there too. We've also scoured the internet for the best MacBook alternatives, the best cheap iMac deals and the best Mac mini deals.
The best MacBook available today
Why you can trust Creative Bloq Our expert reviewers spend hours testing and comparing products and services so you can choose the best for you. Find out more about how we test.
We'll start by clarifying that the 2022 MacBook Air isn't the best MacBook in terms of overall specs and performance – scroll down for that. But based on our experience with the laptop, we think that it's the ideal choice for most people's needs.
The latest MacBook Air got a nice design upgrade from the 2020 model, making it even more compact but with a slightly larger screen (sounds like a contradiction, but it's true. It has the same M2 chip as the 2022 MacBook Pro 13, and it's actually pretty hard differentiate the specs of the two 2022 laptops. We found performance to be very much on a par, although it may get warm more quickly than its Pro cousin due to its fanless design.
With resolution increased to 2,560 x 1,664, 500 nits of brightness and with support the P3 colour gamut and one billion colours, we found it to be a decent option for creative work, while it's light and compact form make it the ideal laptop for travelling with. Battery life is fantastic – we looped a 1080p video for 16 hours, which is 5 hours longer than on the previous MacBook Air. All in all, we'd say this is the best MacBook, with a couple of qualifications. If you work in video editing or do 3D work or other very graphically intensive tasks, you will want one of the more powerful 2022 MacBook Pros. There's also the size of the screen – some people may want more than 13.6in.
See our full MacBook Air (M2, 2022) review for more on our experience with this MacBook.
The latest MacBook Pro 16-inch was released in October 2021 and it remains an absolute beast of a laptop. It fits a crazy amount of power into what is still a fairly slim frame while offering a more comfortable screen size for working across multiple panels. You have a choice of the M1 Pro or Pro Max chips, which offer excellent hardware accelerations at low power draw rates allowing you to push the CPU/GPU capabilities on battery. And this is the best MacBook for battery life – we got up to 17 hours for general browsing.
If you want the most massively powerful MacBook possible, you can get the MacBook Pro 16-inch with the M1 Max chip, 32GB of memory and 1TB of storage for around $3,499. You can even go up to 8TB storage and take the memory to 64GB, but by this point the price is getting silly and only very niche uses will need such specifications. Check the prices above because we have seen decent discounts on a range of configurations.
The only downside to the new MacBook Pro 16-inch other than the price is the size and weight, which makes it the least portable MacBook. It's 20 per cent heavier than its 14-inch sibling (see below) and 100g to 200g heavier than the old Intel MacBook Pro. However, if you prioritise screen space over portability, this is the best MacBook you can buy.
See our full MacBook Pro 16 (2021) review for more details.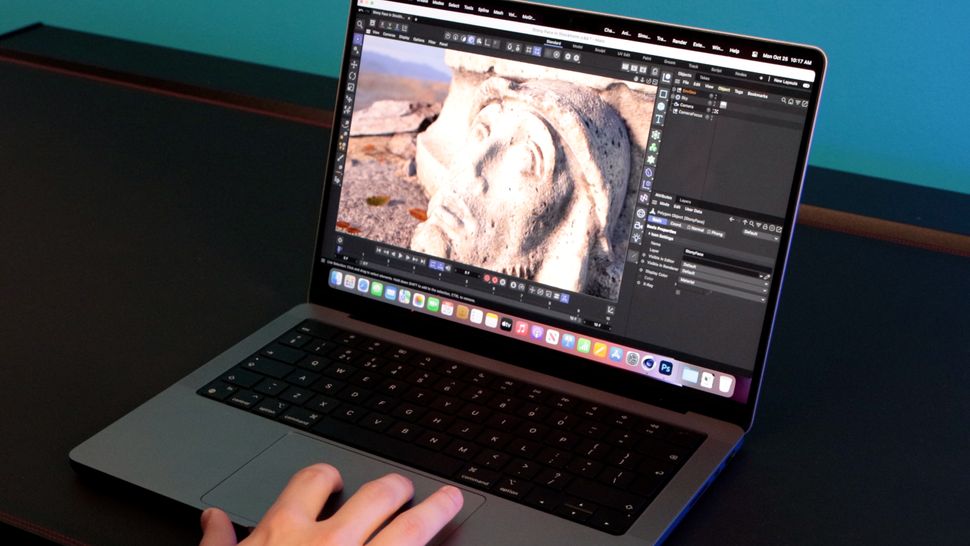 If you don't need the screen size of the 2021 MacBook Pro 16-inch (above), the smaller, and lighter 14-inch model offers almost identical performance in a more compact package, making it the best laptop available for creatives that want something more portable. It also has the advantage of being cheaper.
Again available with a choice of the M1 Pro or M1 Max chip, its price starts $500/£500 below that of its larger sibling, although the starting model has a slightly less powerful 8-core CPU, 14-core GPU version of the M1 Pro. You can choose to up that to the 16-inch's 10-core CPU, 16-core GPU.
The only other major difference apart from the screen size and weight is the battery size. In our review, we found that it should provide up to 11 hours of web surfing, but that compares to 17 hours for the larger MacBook Pro. That's still good enough for most people, and both chips options are optimised for improved efficiency for intensive video processing.
See our full MacBook Pro 14-inch (2021) review for more on what we thought.
There is a cheaper option that's well worth considering if you want a MacBook Pro but don't need the power or configuration options of the two above. The 13-inch MacBook Pro is significantly cheaper than either the 14in and 16in MacBook Pros, starting at $1,299 / $1,349 rather compared to $1,999 / £1,899. It still offers decent performance and a screen that supports the P3 colour gamut, and its smaller size may even make it a preferable choice for those who want a laptop for travelling.
That said, the M2 chip doesn't have the same optimisation of the M1 Pro and Pro Max, and this laptop doesn't offer a huge step up from the 2022 MacBook Air, which runs on the same chip and is a little cheaper. Like the Air, it also lacks the the wider port selection of the higher-end MacBook Pros. Its fans may help it keep up better than the Air in sustained use, though, and it comes with Apple's touchbar.
See our more detailed MacBook Pro 13-inch (M2, 2022) review to learn more.
There's also the 2020 13-inch MacBook Pro. Although this M1-chipped model has been superseded by the M2 above, it's still plenty powerful and it can be a fantastic buy now more deals are coming up following the release of the newer model. This was the first MacBook Pro to get Apple's own silicon in the form of the M1 Chip.
If you're considering buying an earlier MacBook to save money, it's worth noting that the M1 chip here offers a massive improvement over the previous Intel processor. This laptop handled everything we threw at it in our MacBook Pro 13-inch M1 review, including editing 8K footage in Final Cut Pro X, with absolute ease.
The 13-inch laptop has a superb Retina display, with P3 gamut support. And while the more recent models offer more memory, the 16GB limit here shouldn't be a concern for most users. Everything remains Apple quality. You get an excellent keyboard that's comfy even when you're typing all day long and solid battery life – 13 hours in our testing.
Likewise, you can still get hold of the 2020 M1-chipped MacBook Air – even direct from Apple itself. The latest MacBook Air has crept up in price, closer to the 13-inch MacBook Pro, but this older model is a good $200 / £200 cheaper (and that's before you factor in the regular discounts offered by third-party retailers.
The M1 MacBook Air was our favourite laptop for general use up until the release of the new model. Its fanless makes it silent to use. It's also light, weighing in at 1.3kg / 2.8 pounds and battery life is very good – we got 11 hours in a looping video test in our MacBook Air (M1, 2020) review. That makes it a great laptop for using on the go.
With Apple's own M1 chips now hogging the limelight, you might wonder whether there is still a place for Intel-based MacBooks in Apple's line-up. Well, the 16-inch MacBook Pro from 2019 could still be an attractive buy if you want the 16-inch screen and you're up for searching for a discount.
It's still a powerful machine with a great display – slim bezels, 500 nits of brightness, and support for the P3 wide colour gamut. Its cooling system keeps heat to a minimum, the keyboard feels pleasant to type on and you get the Touch Bar, which has been excised on the latest 16-inch MacBook). Yes, it's still running on an Intel architecture, but you get an awful lot for your money here and there's a wide range of configuration options.
See our full MacBook Pro 16-inch 2020) review for more details.
How do I choose the best MacBook?
The best MacBook for you will mainly depend on two things: how much power you need and how big a device you want. If you're going to be carrying your laptop around a lot, then you probably want a smaller, lighter MacBook – either the 13.3 or 13.6-inch MacBook Air, the 13-inch MacBook Pro, or at most the 14-inch MacBook Pro.
At the other end of the spectrum, if you'll mainly be using your laptop in one place and aren't too concerned about size and weight, then the larger screen of the 16-inch MacBook Pro can be more comfortable for working on – although another solution to this is to use a smaller MacBook and hook it up to an external monitors, giving you the best of both worlds (see our pick of the best 4K monitors).
As for power, all of the MacBooks that Apple sells directly now come with Apple's own M1 or M2 chips. The M1 Pro and M1 Max in particular have optimisations to help more efficiently deal with graphic intensive tasks, so if you work in video editing or other graphically demanding programs, you'll probably want to go with the 2021 MacBook Pro 14 or 16, which both have these chips as options. For anyone else, the M1 and M2 will offer as much power as you need.
As for configuration, Apple uses something called a unified memory architecture, which is shared across the processor and GPU. The higher-end MacBook can be configured up to specs that only niche users will need. For more people, 16GB of memory is just fine, and many find that with an Apple chip, 16GB feels like 32GB in a traditional laptop. Again those working in video editing, 3D rendering or graphics development may want to up that to 24GB or 32GB.
Related articles: