The best iPad stylus can take your tablet creativity to a whole new level, opening up more possibilities for productivity and creativity. A touchscreen tablet becomes a lot more versatile once you add a stylus, making it easy to take notes and adding the ability to sketch with precision.
The best iPad stylus for you will depend on what you want to use it for. For drawing, you'll want precision, a nice pen-on-paper feel, and ideally features like palm rejection, pressure sensitivity and a fast response time for a more natural drawing experience. If you want to scribble rough notes, then there's no need to pay a lot of money, and the best iPad stylus for you might be a cheaper option. Whatever you want, we've rounded up our pick of the best iPad styluses based on our own reviews and experiences, feedback from our wider network of contacts, customer reviews and stated specs.
For more options, you might also want to take a look at our guide to the best Apple Pencil alternatives. And if you've not yet settled on an iPad, see our choices of the best drawing tablets (spoiler: there are a few iPads in there) and to avoid running out of juice while you're using your stylus on the move, see our roundup of the best power banks. For now, though, here's our guide to choosing the best iPad stylus.
The best iPad stylus available now
Why you can trust Creative Bloq Our expert reviewers spend hours testing and comparing products and services so you can choose the best for you. Find out more about how we test.
The Apple Pencil 2 is the best iPad stylus you can buy, provided that you're willing to pay for it and provided that you have a compatible iPad. This iPad stylus is not a direct replacement for the Apple Pencil, since the two styluses continue to coexist, offering compatibility with different tablets. Newer, higher-end iPads such as the iPad Air 5 and iPad Pro 12.9 2022 work with the Pencil 2, while the entry-level 10.2in iPad and anything released pre-2018 will require the original Apple Pencil (see below).
If you have a compatible device, then you're in for an absolute treat because the Apple Pencil 2 feels just right for drawing and notetaking on the iPad. We find it comfortable to hold, with a snug build and pitch-perfect balance. As for performance, we found the rapid response time and pressure sensitivity offer a super smooth and natural feel for drawing. Meanwhile, wireless charging and tap-based controls make it an efficient stylus to use in busy workflows.
To top it off, it has a revamped flat-edge design, thus avoiding the original Apple Pencil's tendency to roll off a table. The only downside here is the cost, and the fact that Apple removed the spare tips that it packaged with the original Pencil, while still inevitably bumping the price up.
Find out more in our full Apple Pencil 2 review.
The original Apple Pencil isn't just for old iPads. Newer models at the lower end of the price scale, like the iPad 2022 (10th gen), are still coming out with Apple Pencil 1 compatibility, and it's still a good iPad stylus for many users. In our full review of the Apple Pencil, we praised the premium drawing experience it provides, with excellent pressure and tilt sensitivity, as well as solid battery life.
There's no wireless charging – instead, you charge it via the Lightning connector concealed beneath the cap (we find the cap frustratingly easy to lose, so do keep an eye on it). The good news is that the fast connection means the Pencil charges quickly, so you don't have to leave it off for too long at a time.
The Apple Pencil has more or less held its price since launch, so if it's compatible with your iPad, you are still looking at paying a fair premium for it, but it is slightly cheaper than the Apple Pencil 2, and you can sometimes find a small discount. All in all, if your iPad isn't compatible with the newer stylus, this is the best iPad stylus you can buy. Our Apple Pencil review goes into more detail.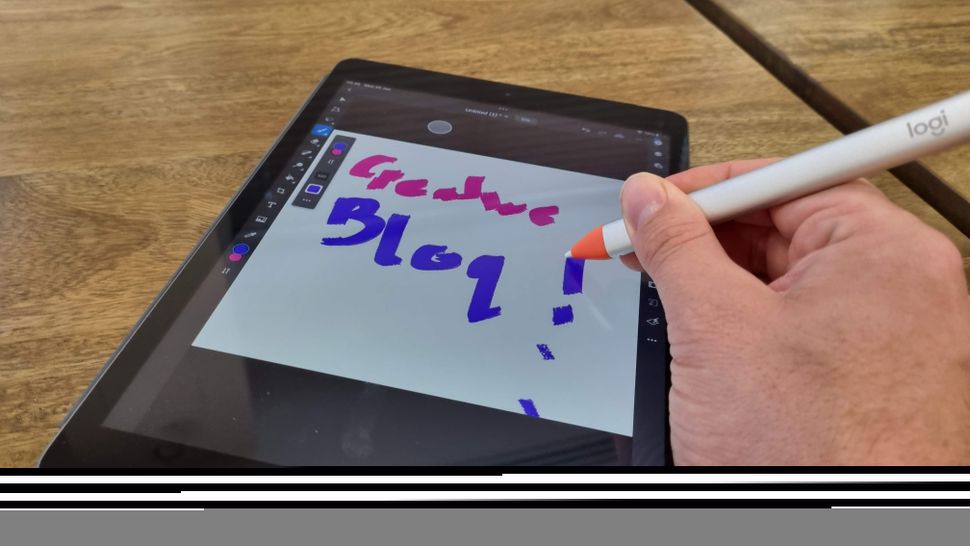 The Logitech Crayon is the only non-Apple iPad stylus that has an official stamp of approval from Apple itself. And after trying it out, we're big fans. It was originally designed for educational use in schools and colleges, but it has grown in popularity and is a solid choice for general iPad users too. One feature we missed when we reviewed it was pressure sensitivity, so that will rule it out for those who want a stylus for more serious artistic use, but we found that the tip offers impressive precision, and we liked the way the Dynamic Line Weight allows the thickness of a line to be varied by the angle at which we held the Crayon.
With instant connectivity and a long-lasting lithium-ion battery, the Logitech Crayon has a lot going for it, and the aluminium build gives it a satisfying weight in the hand. We found it comfortable to use for several hours. We'd particularly recommend it for kids, but we think it's also a sound choice for adults who want to draw or write on their iPad.
See our full Logitech Crayon review for more details.
If you don't want to pay Apple Pencil prices, there are a host of third-party styluses out there, and our pick as one of the best is the Adonit Dash 4. Versatile and compatible with the majority of iPads, we think it's an excellent choice for more casual users. It's a passive stylus, so there's no Bluetooth connectivity, and it has a useful dual-mode toggle that lets you switch between general-purpose use and palm rejection for drawing (provided your iPad is compatible).
There's no pressure sensitivity, so we found that creative options are limited for serious artistic use (this is a tendency with many third-party styluses). However, in our review, we liked a lot of things about the Adonit Dash 4, especially its sleek aluminium design, and the fact that its battery can last up to 15 hours before needing a charge. It's a pretty basic stylus – but if that's all you need, then the Adonit Dash 4 does exceptionally well.
Check out our Adonit Dash 4 review to learn more.
When you look for third-party iPad styluses, you have to accept some compromises, and, like the last two options we've mentioned, the Zagg Pro Stylus does not offer pressure sensitivity. However, other than that, this stylus has a lot going for it, not least the fact that it's significantly cheaper than the Apple Pencils.
It does offer palm rejection and tilt sensitivity, which we found made it comfortable and easy to use to sketch on the iPad. It worked seamlessly across most iPad apps, and charges via a hidden USB port. There's no Bluetooth here – the stylus connects by creating an electric field with the touchscreen, so there's no frustration of pairing and unpairing.
We found battery life to be pretty good (up to around eight hours), and the overall design was comfortable to use for lengthy sessions. It has embedded magnets too, so you can attach it to the side of compatible iPads to keep hold of it (no magnetic charging, sadly). Cost-effective and well designed, the Zagg Pro Stylus is one of the stronger Apple Pencil alternatives we've seen.
So far on our list of the best iPad styluses, the only options with pressure sensitivity have been Apple's own devices. However, Adonit has an answer for that. Adonit's been refining its styluses for close to a decade now, and the Adonit Pixel is one of its best for drawing on an iPad.
Bluetooth-enabled and compatible with many of the sorts of apps creatives will likely be using on their tablets, the Pixel boasts 2,048 levels of pressure sensitivity and a range of function buttons on its body that can be assigned to the user's preferred tools (though be warned these can be easy to knock accidentally if you're not paying attention).
We found the battery last for a decent 15 hours before needing a recharge, and the sleek design makes the Pixel stylus feel premium and genuinely enjoyable to use. The downside is that it's not that much cheaper than Apple's own options, selling for around $80 / £80, but you can sometimes find discounts.
If you only plan to use an iPad stylus for navigating your iPad's UI and don't want to spend more than $20/£20 on something you'll only use as a pointing device, then Adonit's cheapest stylus, the Adonit Mark, could be the option you're looking for. We found that despite the very cheap price, the stylus feels comfortable to hold, with a triangular anti-roll design and found the smudge-free mesh tip is precise for navigating websites and apps.
The Adonit Mark won't win any innovation awards, but if you just want a simple stylus to make it easier to navigate on your iPad, this is the best budget iPad stylus we've tried,
The JimJake K10 Stylus Pen isn't the best iPad stylus overall but it's a solid choice if you want a cheap iPad stylus that can match the Apple Pencil's clean white look. It's cheap at just over $30 / £30, but we found it to be very effective at its job, which is for notetaking and browsing.
With no Bluetooth connectivity or pressure sensitivity, it's not an iPad stylus for artists, but if you want to take notes or make rough sketches down quickly, it will do fine. And it boasts a palm rejection, so it's not frustrating to use like some cheaper styluses can be. It looks like an Apple Pencil 2 with its flat edges, and it's compatible with all iPads post-2018.
We've already mentioned several options as the best iPad stylus for those looking for something more affordable than the Apple Pencil, but if you want something really, really cheap, the Meko Universal Stylus is the best we can recommend. At under $15 / £12, this is obviously going to be a very basic stylus, so no chance of advanced features like pressure sensitivity. But for the price, it's great.
The nib has a clear disc so you can see where you're drawing, and both the disc tip and the fibre tip are replaceable. You wouldn't want to use this pen for detailed digital art, but you can use it to draw. It doesn't connect to the device in any way, so there's no connection and no battery to worry about – and you can use it for other devices as well as an iPad. If you're not looking for anything sophisticated and just want the cheapest recommendable stylus for quick sketches, note-taking and browsing, this does the job at a very cheap price.
Which Apple Pencil works with my iPad?
Which versions of the iPad is the Apple Pencil 2 compatible with? You can use the newer 2018 device with the fourth-generation iPad Air (2020), the iPad Pro 12.9-inch (third generation) and later, and the iPad Pro 11-inch (first generation) and most iPads that come later, the exception being cheaper models such as the recent 10.2-inch 9th gen iPad, which only supports the original Apple Pencil.
The original Apple Pencil works with iPad Pro 12.9-inch (first and second generation), iPad Pro 10.5-inch, iPad Pro 9.7-inch, iPad (sixth generation to ninth generation) and iPad mini fifth generation. It can all get a bit confusing, so to compare the two styluses, see our guide to Apple Pencil vs Apple Pencil 2 where we cover in detail the differences between the two models, as well as their various compatibilities.
What makes a good iPad stylus?
Which is the best iPad stylus for you? That depends a lot on your needs, but for most people, a comfortable hold is critical. A stylus is no good if using it is less comfortable than simply using your finger on the touchscreen. A good stylus should sit easily in your hand and be comfortable to use for long periods. Of course, you also need a tip that won't scratch your screen, which is the reason why you should avoid super-cheap styluses from dodgy-looking websites.
If you want a stylus simply to navigate on your iPad and maybe take down notes, those two criteria may be enough. However, if you want to use your iPad stylus to sketch or illustrate, then you'll want to consider paying more for more sophisticated features. The terms below are the ones to look out for.
Pressure sensitivity: This is important for drawing and you'll see it mentioned a lot in our guide above. Cheaper styluses have only two states of operation – drawing a line, or not drawing a line. However, premium styluses with pressure sensitivity can detect how hard you're pressing and vary the thickness of the line accordingly. In digital art, this is hugely important.
Different styluses offer different levels of pressure sensitivity (as do different tablets). Styluses with 2,048 distinct levels of pressure sensitivity are fairly common, but some offer as many as 8,192. Apple is notably quiet about how many levels its Pencil can detect, though it's clearly quite a few.
Palm rejection: With palm rejection, you can rest your hand comfortably on the surface of the tablet while you're drawing without it impacting on your work, just as you would a piece of paper. Without it, the tablet may get confused with the multiple input signals. If you're planning to spend long sessions drawing, a stylus with palm rejection will make things much more fluid and comfortable.
Tilt sensitivity: like with pressure sensitivity, tilt sensitivity allows you to fine-tune your drawing. It allows the tablet to detect the angle at which the stylus is being placed against the screen. This allows you to vary line shape and thickness in a very intuitive manner, just as you would with a pen or pencil.
Wireless connectivity: Some of the above features require the stylus to be connected to your tablet, so it can be a great advantage to have a stylus that offers connectivity via Bluetooth or similar wireless technology. Styluses with this option also tend to be a lot more compatible with drawing apps.
All these features are great to have, and fairly essential if you're planning on using your iPad stylus for digital art. They do add to the cost, however, and aren't necessary if you're only going to use your iPad stylus for note-taking and general navigation.
Can a stylus damage an iPad?
A stylus designed specifically for an iPad, like the Apple Pencil or a third-party option like a Zagg Pro Stylus, will be made with a soft tip and therefore will be unlikely to run any risk of damaging an iPad. The only real danger will be if you use a stylus that isn't intended for an iPad, and hasn't been optimised specifically for an iPad screen. It may damage the iPad screen, and also probably won't work all that well. So stick with an iPad-specific stylus and you shouldn't run into any problems.
Related articles: