The best iPad stylus lets you turn your iPad into a creative powerhouse. Turn it into a canvas for drawing and digital painting, retouch photos using Photoshop, move clips around a video editing timeline, and a whole lot more. It can also be more casual – many people like iPad styluses to write shopping lists, play games and organise their apps. Anything to keep greasy fingerprints off the screen!
Which stylus is right for you is going to depend on what type of user you are. If you're looking to get some serious creative work done, perhaps on one of the latest high-end iPads like the iPad Air 5, then you're going to want something with pressure sensitivity, fast response times and palm rejection. It's likely that one of Apple's own styluses, the Apple Pencil or Apple Pencil 2, is going to fit the bill. But these are expensive, and if your needs are simpler, then a cheaper third-party stylus will likely be a better option.
In this guide, we've included a mix of styluses for all needs and budgets, from Apple's high-end options to cheap, simple ones that are minimal on features. In most cases, we've reviewed these ourselves, evaluating the functionality, quality, drawing experience and more (see our how we test guide for more on how we review products).
We also do have a guide to the best Apple Pencil alternatives if you want more of the those, and if you're not necessarily sold on an iPad yet, we also have a handy guide to the best drawing tablets (though a fair few iPads do feature there). Also, given that digital drawing can be quite power-intensive, it might be a good idea to pick up one of the best power banks.
For now, though, read on to find the best iPad stylus you can buy right now.
The best iPad stylus available now
The Apple Pencil 2 is the best iPad stylus you can buy, as long as two things are true – you have an iPad that supports it, and you have the budget for it. The Apple Pencil 2 is not a replacement for the Apple Pencil, as the two styluses are compatible with different tablets; an iPad that works with one will not work with the other. Newer iPads such as the iPad Air 5 and iPad Pro 12.9 (opens in new tab) will work with the Pencil 2, while anything released pre-2018 will likely be compatible with the original Pencil.
But that's enough preamble – if the Pencil 2 is a suitable stylus for you, then you're in for an absolute treat. It feels just right in the hand, with a snug build and pitch-perfect balance. The new additions like wireless charging and tap-based controls help it integrate seamlessly into your workflow, and the revamped design adds a flat edge. This may sound like an odd thing to single out, but anyone who used the original Apple Pencil is already nodding vigorously (it has a habit of rolling off desks).
In our review of the Apple Pencil 2, we could hardly say enough good things about it. With super-fast response times and a pitch-perfect drawing feel, it's a superb feat of product design. The only real barrier is the cost, and the fact that Apple removed the spare tips that were packaged with the original Pencil, while still inevitably bumping the price up.
Find out more in our full Apple Pencil 2 review.
The original Apple Pencil isn't just for old iPads. Newer models at the lower end of the price scale, like the 10.2-inch (9th gen) iPad, are still coming out with Apple Pencil 1 compatibility, meaning it's still a solid buy for many users. In our full review of the Apple Pencil, we praised the premium drawing experience it provides, with excellent pressure and tilt sensitivity, as well as solid battery life.
There's no wireless charging – instead, you charge it via the Lightning connector concealed beneath the cap. This cap is notoriously easy to lose, so keep an eye on it, but the good news is that the fast connection means the Pencil charges quickly, so you don't have to leave it off for too long at a time.
The Apple Pencil has more or less held its price since launch, so if it's compatible with your iPad, you are still looking at paying a fair premium for it. It's a fantastic stylus though, and perfect for serious drawing and design work on the iPad.
Our original Apple Pencil review goes into detail on this excellent stylus.
If you don't want to pay Apple Pencil prices, there are a host of third-party styluses out there to tempt you. The Adonit Dash 4 is a great one – compatible with the majority of iPads, it's a versatile stylus that's excellent for more casual users. It's a passive stylus, meaning no Bluetooth connectivity, and has a useful dual-mode toggle that lets you switch between general-purpose use and palm rejection for drawing (provided your iPad is compatible, of course).
There's no pressure sensitivity, so for serious artistic aspirations this may not be the best choice (and you'll find this to be a frequent refrain as we explore third-party styluses). However, in our review, we liked a lot of things about the Adonit Dash 4, especially its sleek aluminium design, and the fact that its battery can last up to 15 hours before needing a charge.
It's a pretty basic stylus – but if that's all you need, then the Adonit Dash 4 will fit the bill exceptionally well.
To find out more, check out our Adonit Dash 4 review.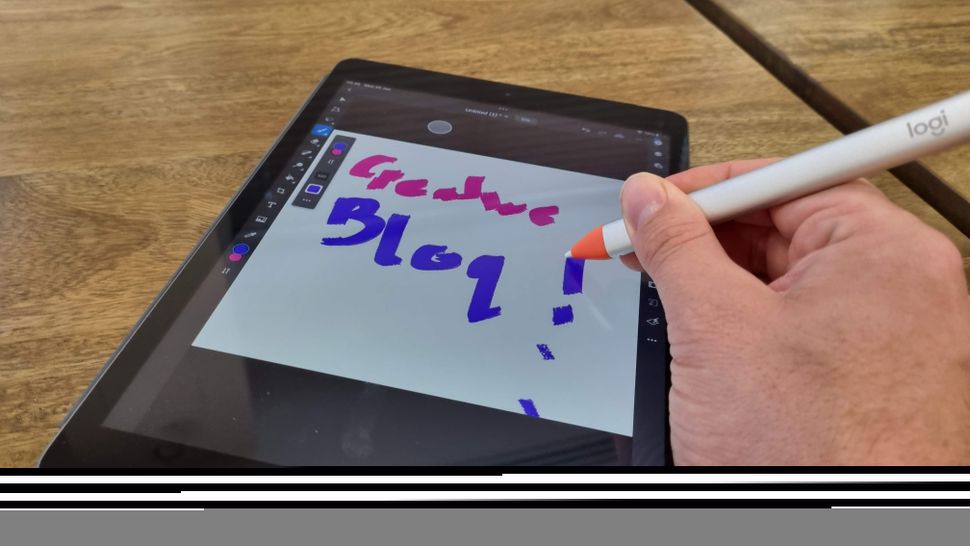 The Logitech Crayon is the only non-Pencil iPad stylus that Apple has given its official stamp of approval, and after getting our hands on it, we can tell you we're big fans. It was originally designed just for educational use in schools and colleges, but has since grown in popularity and now is a solid choice for just about any iPad user. When we tested it out, we noticed that you don't get pressure sensitivity – that's worth saying right off the bat – but the tip offers impressive precision, and the Crayon also supports Dynamic Line Weight, meaning we could vary the thickness of our line by virtue of the angle at which you hold the Crayon.
With instant connectivity and a long-lasting lithium-ion battery, the Logitech Crayon has a lot going for it, and the aluminium build gives it a satisfying weight in the hand. Many hours of use did not fatigue the hand. It's also great for kids drawing their first sketch, and an excellent tool for adults who want to get some drawing or writing done on their iPad. We think it's a solid choice all round.
When you look for third-party iPad styluses, you have to accept some compromises, so let's get this out of the way: the Zagg Pro Stylus does not offer pressure sensitivity. None at all. This is going to be a deal-breaker for some users, which is fair enough – pressure sensitivity is something that serious artists simply need, after all.
Otherwise, however, this stylus has a lot going for it, not least that it is significantly cheaper than either Apple Pencil. Plus, it does offer palm rejection and tilt sensitivity, making it comfortable and easy to sketch on the iPad. It interfaces seamlessly across most iPad apps, and charges via a hidden USB port. It's also not a Bluetooth stylus – it connects by creating an electric field with the touchscreen – meaning there isn't all the annoying pairing and unpairing.
Battery life is generally pretty good, and the overall design of the Zagg Pro Stylus means you'll be comfortable using it for long periods of time. Also, it has embedded magnets, so you can attach it to the side of compatible iPads to keep hold of it (no magnetic charging, sadly).
Cost-effective and well designed, the Zagg Pro Stylus is one of the stronger Apple Pencil alternatives we've seen.
If you don't need anything fancy and just want a basic stylus that works, the Meko Universal Stylus should be your point of call. With its single-digit price tag, it's much, much more affordable than a high-end stylus. While it doesn't have sophisticated artistry features like pressure-sensitivity, it does have a pleasingly precise nib. The handy clear disc that lets you see precisely where you're drawing is a welcome touch.
For writing, note-taking and basic sketching, this will do the job. The aluminium build of the Meko Universal Stylus is pleasingly solid, and the fact that it's compatible with pretty much any touchscreen going means it's an especially good choice if your household has multiple tablets of different makes and models.
Wacom boasts an industry-leading reputation thanks to its fabulous range of dedicated drawing tablets. So it's only natural that the company produces an attractive line of styluses as well. As well as being our favourite iPad stylus for sketching, the Wacom Bamboo Fineline 3 also takes the plaudits for general use on the iPad Air and iPad Mini series thanks to its compatibility with iOS devices. it only misses out on our top three because it's not currently available in the US.
Instead of trying to mimic a traditional rounded pen, the Bamboo Fineline 3 has an ergonomic triangular design for better grip. It also has a comfortable palm rejection function, which makes it super-authentic. It's an excellent all-rounder, but its fine tip and pressure-sensitive nibs make it just about as close an experience to sketching on paper as you can get. With a brilliant battery life (recharged via USB) it uses Bluetooth to connect to your iPad, which brings the integrated shortcut buttons into play, too, enabling you to set up handy shortcuts within your chosen iOS apps.
Adonit has been refining its styluses for close to a decade now, and the Adonit Pixel is still one of its best for drawing on an iPad. Bluetooth enabled and compatible with many of the sorts of apps creatives will likely be using on their tablets, the Pixel boasts 2,048 levels of pressure sensitivity and a range of function buttons on its body that can be assigned to the user's preferred tools (though be warned these can be easy to knock accidentally if you're not paying attention). The battery should last for about 15 hours of use, allowing you to get really stuck into your projects, and the sleek design makes the Pixel stylus genuinely enjoyable to use.
If you only plan to use an iPad stylus for navigating and aren't convinced about the need to spend more than $20/£20 on something you'll only use as a pointing device, then Adonit's most budget option, the Adonit Mark, could be the option you're looking for. Despite the very cheap price, this stylus has been designed to feel comfortable in your hand, with a triangular anti-roll design. It retains the precision you'd expect from a manufacturer that only makes styluses, largely thanks to its smudge-free mesh tip. The Adonit Mark won't win any innovation awards, but if you just want a simple stylus to make it easier to navigate on your iPad, you won't find a better budget iPad stylus than this.
Which Apple Pencil works with my iPad?
Which versions of the iPad is the Apple Pencil 2 compatible with? You can use the newer 2018 device with the fourth-generation iPad Air (2020), the iPad Pro 12.9-inch (third generation) and later, and the iPad Pro 11-inch (first generation) and most iPads that come later, the exception being cheaper models such as the recent 10.2-inch 9th gen iPad, which only supports the original Apple Pencil.
The original Apple Pencil works with iPad Pro 12.9-inch (first and second generation), iPad Pro 10.5-inch, iPad Pro 9.7-inch, iPad (sixth generation to ninth generation) and iPad mini fifth generation. It can all get a bit confusing, so to compare the two styluses, see our guide to Apple Pencil vs Apple Pencil 2 where we cover in detail the differences between the two models, as well as their various compatibilities.
What makes a good stylus?
Which is the best iPad stylus for you? That depends a lot on your needs, but for most people, a comfortable hold is critical. A stylus is no good if using it is less comfortable than simply using your finger on the touchscreen. A good stylus should sit easily in your hand and be comfortable to use for long periods. Of course, you also need a tip that won't scratch your screen, which is the reason why you should avoid super-cheap styluses from dodgy-looking websites.
If you want a stylus simply to navigate on your iPad and maybe take down notes, those two criteria may be enough. However, if you want to use your iPad stylus to sketch or illustrate, then you'll want to consider paying more for more sophisticated features. The terms below are the ones to look out for.
Pressure sensitivity: This is important for drawing and you'll see it mentioned a lot in our guide above. Cheaper styluses have only two states of operation – drawing a line, or not drawing a line. However, premium styluses with pressure sensitivity can detect how hard you're pressing and vary the thickness of the line accordingly. In digital art, this is hugely important.
Different styluses offer different levels of pressure sensitivity (as do different tablets). Styluses with 2,048 distinct levels of pressure sensitivity are fairly common, but some offer as many as 8,192. Apple is notably quiet about how many levels its Pencil can detect, though it's clearly quite a few.
Palm rejection: With palm rejection, you can rest your hand comfortably on the surface of the tablet while you're drawing without it impacting on your work, just as you would a piece of paper. Without it, the tablet may get confused with the multiple input signals. If you're planning to spend long sessions drawing, a stylus with palm rejection will make things much more fluid and comfortable.
Tilt sensitivity: like with pressure sensitivity, tilt sensitivity allows you to fine-tune your drawing. It allows the tablet to detect the angle at which the stylus is being placed against the screen. This allows you to vary line shape and thickness in a very intuitive manner, just as you would with a pen or pencil.
Wireless connectivity: Some of the above features require the stylus to be connected to your tablet, so it can be a great advantage to have a stylus that offers connectivity via Bluetooth or similar wireless technology. Styluses with this option also tend to be a lot more compatible with drawing apps.
All these features are great to have, and fairly essential if you're planning on using your iPad stylus for digital art. They do add to the cost, however, and aren't necessary if you're only going to use your iPad stylus for note-taking and general navigation.
Can a stylus damage an iPad?
A stylus designed specifically for an iPad, like the Apple Pencil or a third-party option like a Zagg Pro Stylus, will be made with a soft tip and therefore will be unlikely to run any risk of damaging an iPad. The only real danger will be if you use a stylus that isn't intended for an iPad, and hasn't been optimised specifically for an iPad screen. It may damage the iPad screen, and also probably won't work all that well. So stick with an iPad-specific stylus and you shouldn't run into any problems.
Related articles: