The choice between iPad Pro vs iPad Air got a lot more complicated this year. Because it's no longer the case that the iPad Pro is light years ahead of the iPad Air in terms of power and performance.
Released in March, the iPad Air (5th Gen, 2022) has elbowed itself right into the iPad Pro's territory, blurring the lines for creatives. Yes, the latest verson of the iPad Pro, the iPad Pro 2022 (M2), is the more powerful and feature-packed model overall. But given that the iPad Air is so capable, is it worth paying more for the Pro? Or is the more affordable Air a better place to invest your cash?
To help you decide which one is the best buy for you, this article tells you everything you need to know about the latest models of the iPad Air and iPad Pro, and where the most important differences lie.
Meanwhile, if you need to compare iPads of different generations across the entire range, including iPad Pro, iPad Air, iPad Mini and basic iPad, our iPad generations guide has all the info you need.
iPad Pro vs iPad Air: Price & release date
The current generation of iPad Pro, the iPad Pro 2022 (M2), was released in October 2022. It comes in versions with 11-inch and 12.9-inch screen sizes.
Prices for the 11-inch model start from £899/$799 for a model with 128GB of storage, £1,019/$899 for 256GB, £1,249/$1,099 for 512GB, £1,699/$1,499 for 1TB and £2,149/$1,899 for 2TB. The 12.9-inch model starts from £1,249/$1,099 for 128GB, £1,369/$1,199 for 256GB, £1,599/$1,399 for 512GB, £2,049/$1,799 for 1TB and $2,199/£2,499 for 2TB.
These prices are for the Wi-Fi-only models; if you want 4G connectivity as well, and of those models is available with it, for an additional £200/$200.
The current iPad Air, the iPad Air (5th Gen, 2022) , was released in September 2020. It starts from £669/$599 for 64GB of storage, or you can get 256GB for £849/$749. Again, that's for Wi-Fi-only, but you can add 4G potential for an extra £180/$150.
iPad Pro vs iPad Air: Design
In terms of their physical design, the 11-inch iPad Pro and the 10.9-inch iPad Air look pretty similar. The iPad Air features marginally thicker bezels, and is very slightly thicker at 6.4 mm to the iPad Pro's 6.1mm. But in practice very few people will notice the difference. The same can be said for the 12.9 inch iPad Pro, other than the obvious fact that the screen and overall tablet is bigger.
Another difference is that the iPad Air comes in more colours: namely, Space Grey, Starlight, Pink, Purple and Blue. The iPad Pro only comes in Space Grey and Silver.
iPad Pro vs iPad Air: Features
The features of the iPad Pro and Air are pretty similar. One big difference, however, is that iPad Pro features Face ID for unlocking the device, whereas the iPad Air has Touch ID built into the power button.
In terms of ports, the ‌iPad Air‌ features a standard USB-C port, while the ‌iPad Pro‌ has a Thunderbolt port. That means data transfer speeds of up to 40Gb/s, compared with a max 10Gb/s on the iPad Air, assuming you have devices that support Thunderbolt of course. (If you don't, this port is backwards-compatible, so you'll still be able to use it just like a normal USB-C port.)
The iPad Air has a ƒ/1.8, 12MP single-lens camera on the rear, and it's a thoroughly mid-range affair. It works, but is nothing special. The ‌iPad Pro‌ has a more powerful setup, featuring a ƒ/1.8 12MP wide camera, a ƒ/2.4 10MP Ultra Wide camera and a LiDAR scanner. This takes much better pictures, although nothing like what you'd get from a modern smartphone's camera.
On the front, both tablets have a 12 MP, f/2.4, 122˚ ultrawide camera and both are capable of capturing 4K video. With the iPad Pro, though, you also get support for ProRes video, at up to 30fps, and audio zoom.
iPad Pro vs iPad Air: Performance & battery
The iPad Pro is a phenomenally powerful computer – for sheer processing power, it can match a MacBook Pro in benchmarks, thanks to the addition of Apple's incredible new M2 chip.
It's extraordinarily difficult to make an iPad Pro stumble, and it's possible to create huge multi-layered canvases in image apps, to edit 4K video (in certain formats) on multiple tracks without issue, and to have as many as four apps on-screen at the same time. It's also worth noting that while storage on the iPad Air maxes out at 256GB, you can store up to 2TB on the top-price iPad Pro.
The iPad Air is less powerful, but is certainly no slouch. The latest version has an M1 processor, which may be less powerful than an M2, but only just. So while the Pro is the safer option if you plan to use it for demanding creative purposes, such as using Illustrator for iPad, both tablets should be pretty speedy overall.
When it comes to battery life, Apple rates all of its tablets for 10 hours of light use on Wi-Fi and up to nine on cellular. It's easy to get this from both the Pro and the Air for web browsing, movie watching and similar. But you can expect high-res image editing, or prolonged 3D rendering, to reduce this pretty severely, just as it is with any laptop. Exactly how much depends on the app, but something that taxes both processor and GPU, such as high-end games, can bring it down to about half that.
iPad Pro vs iPad Air: Screen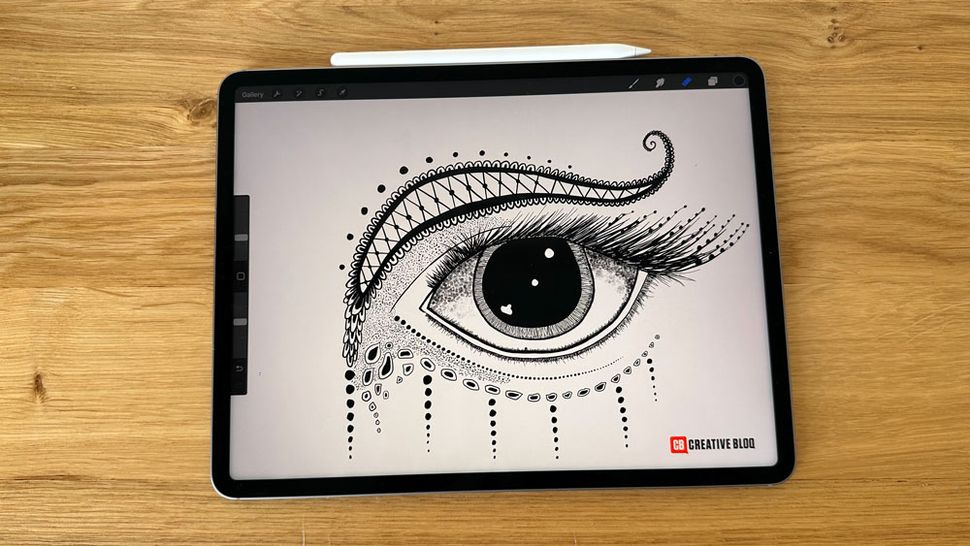 If you want the best screen available on a tablet, it doesn't come better than the 12.9-inch iPad Pro. What Apple calls a 'Liquid Retina XDR display' can reach up to 1,000 nits full-screen brightness, 1,600 nits peak brightness, and a 1 million-to-1 contrast ratio.
Compared with the iPad Air, the screen on the 12.9-inch iPad Pro is larger, has a higher resolution (2048 x 2732 pixels to the Air's 1640 x 2360) and support for ProMotion. Along with support for HDR and Dolby Vision content, creative professionals will absolutely adore this screen.
The 11-inch iPad Pro and the iPad Air are more evenly matched. There's only 0.1 inch difference in screen diameter, and the resolution is the same, at 264ppi. You still get the advantage of ProMotion technology with the Pro, though, and a maximum brightness of 600 nits to the Air's 500.
It's also worth noting that both sizes of the iPad Pro have better audio, with four speakers that produces high-quality. The iPad Air's two speakers are still solid, though, and are perfectly decent for watching movies and listening to music.
iPad Pro vs iPad Air: Apple Pencil
Like drawing on your tablet? Both the iPad Pro and iPad Air support the Apple Pencil 2, which offers tilt detection and multiple pressure levels (Apple doesn't specify how many, but it offers lots of granularity for sure). Both allow it to magnetically attach to the side of the iPad to charge wirelessly, which is super handy.
However, the superior refresh rate of the iPad Pro (120Hz to 60Hz on the Air) means that in practice, drawing is smoother on the more expensive tablet. The latest iPad Pro also comes with a brand new 'Hover' feature, which detects your Apple Pencil 2 up to 12mm above the screen, allowing you to see a preview of your mark before you make it. We expect lots of art and design apps will be doing cool stuff with this in due course. Check out our Apple Pencil 2 review for more info.
iPad Pro vs iPad Air: Verdict
So who wins in the battle of iPad Air vs iPad Pro? It really comes down to what you need from a tablet, and what you're willing to spend. The iPad Pro is better than the iPad Air in most ways, but it costs a fair bit more, so it's about whether those improvements are a fair investment for you.
When it comes to drawing, the 120Hz screen response rate makes the iPad Pro the precision instrument of choice undoubtedly – and nothing comes close to the high-resolution display on the 12.9-inch model. But the iPad Air is more than good enough if you won't use your tablet for your finest work.
The iPad Pro can be massively more powerful, but will you use apps that take advantage of it? If so, then obviously you should get the Pro, but for anything more middle of the road, the Air is really just as fast – if you'll mostly use it for viewing and some admin work on the go, there will be no meaningful performance difference.
In short, if money's no object, or if running creative software your iPad plays a central role in your working life, go for the Pro. For everyone else, we'd say the iPad Air is plenty powerful enough, at a much more affordable price.
Read more: