Although Labor Day has passed, we're still seeing some decent deals that are still live. Top of the list for us is this record-low deal on the top-end Apple AirPods Max headphones. Right now, you can get them for $429, down from $540, saving you a decent $120 over at Amazon.
And this writer can confidently say that these over-ear cans are well worth the price – especially if you get to save $120! I've had a pair since they were first released in December 2020. What's most striking about these headphones is the sound quality and the active noise cancelling technology. The sound is by far the best that I've experienced (and that includes other industry-leading cans from Sony, boss, etc). And the ANC is on a par with the industry leaders, the Sony XM4s. Granted, the AirPods Max are more expensive than the Sony's, but if you love that Apple quality and attention to design detail, the AirPods Max are a brilliant option, especially at this price.
Be sure to check out all the other great Apple Labor Day Deals that we've put together. And read our detailed review of the AirPods Max if you want to know more about these great headphones.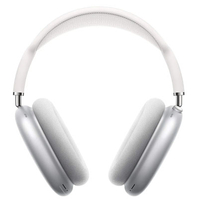 Apple AirPods Max Headphones: $549 $429 at Amazon
Save $120: This fantastic saving of 22% is a great way to get your hands on Apple's latest music tech. The discount also applies to other colour options if you're looking for some variation, including the green and pink headphones.
If you're wanting to check out some other music tech options, we do have a breakdown of the best wireless headphones too. Apple fans can also keep an eye on our Apple Event blog where we'll be keeping you up to date with the latest announcements as they happen.
If you want to see the best Apple AIrPods Max prices wherever you are in the world, here they are...
Related Articles: