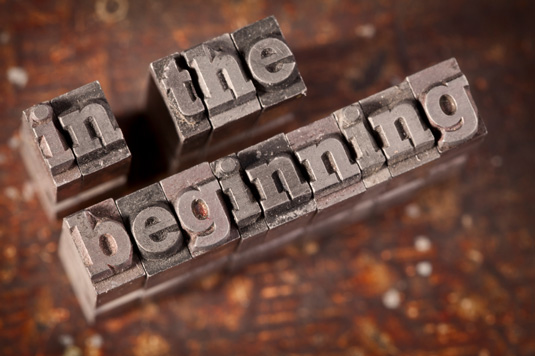 Letterpress printing has been around for hundreds of years and yet remains one of the hottest trends in stationery. Letterpress business cards still have the ability to turn heads.
The ancient technique involves a surface with raised letters or artwork inked and then pressed into thick, soft paper, adding an exciting, tactile quality to the design.
Known for producing a clean and elegant style, the letterpress technique is favoured by many designers for creating unique and creative business cards. Here we've picked 50 brilliant examples of letterpress business cards to inspire your designs.
01. Quentin Monge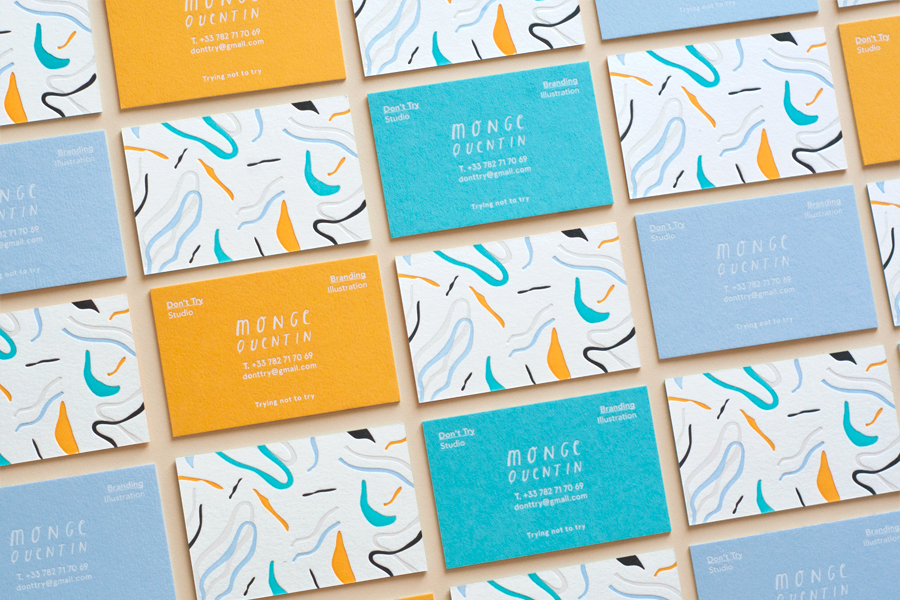 Created using white foil, these five colour letterpress business cards on triplex colourplan paper certainly pop. Using a bold and colourful pattern only plays to the card's strengths that'll certainly make for a memorable exchange. Designed by Don't Try Studio for Quentin Monge, they're some of the best looking we've ever seen.
02. The Fox Yards Company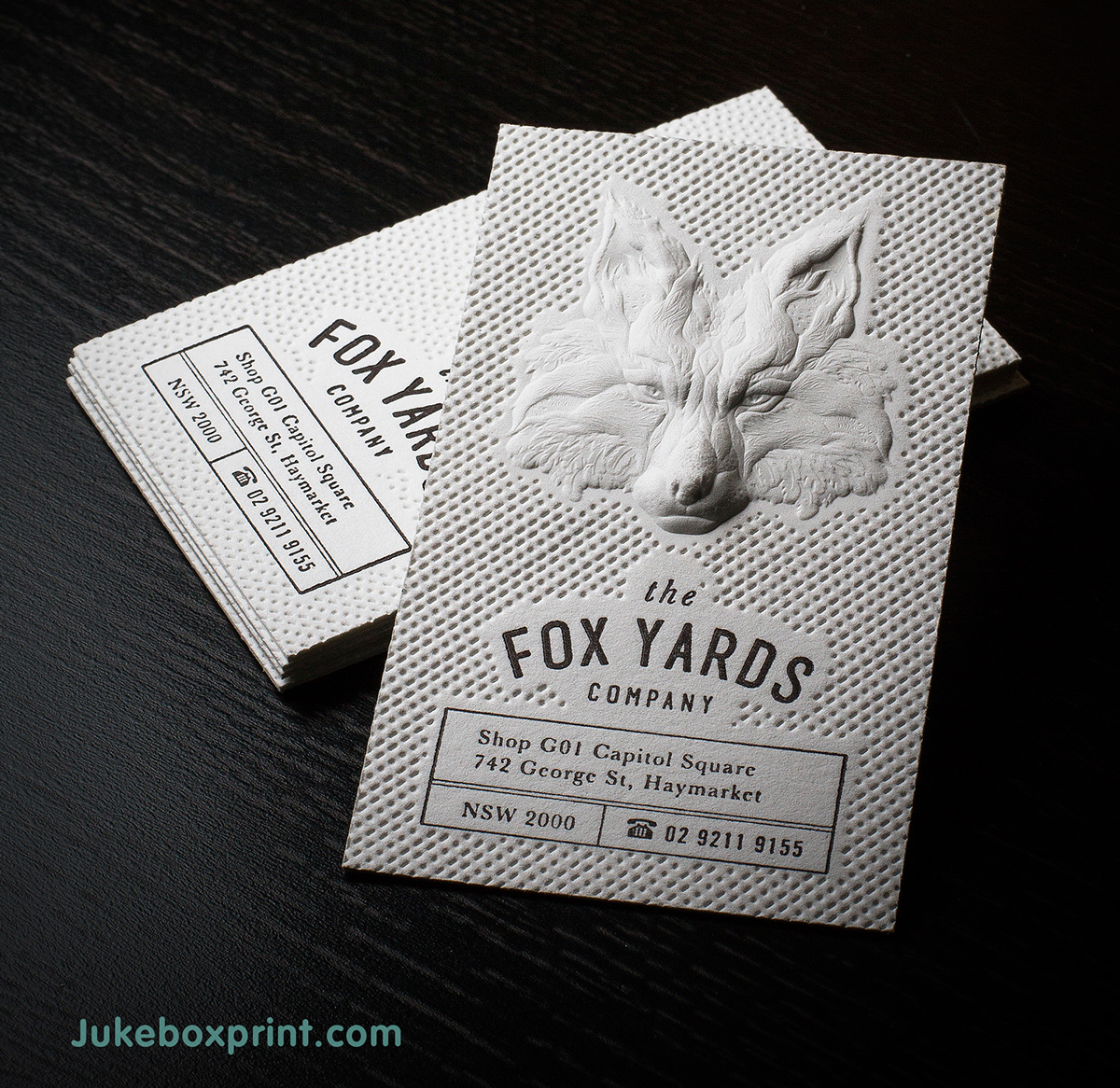 Produced by Jukebox Print, these ultra thick cotton paper letterpress business cards bring 3D embossed design to the table. Using Jukebox Print's own innovative method, the attention to detail is wonderful, with the letterpress used to add text as well as a quirky textured background.
03. Christina Yan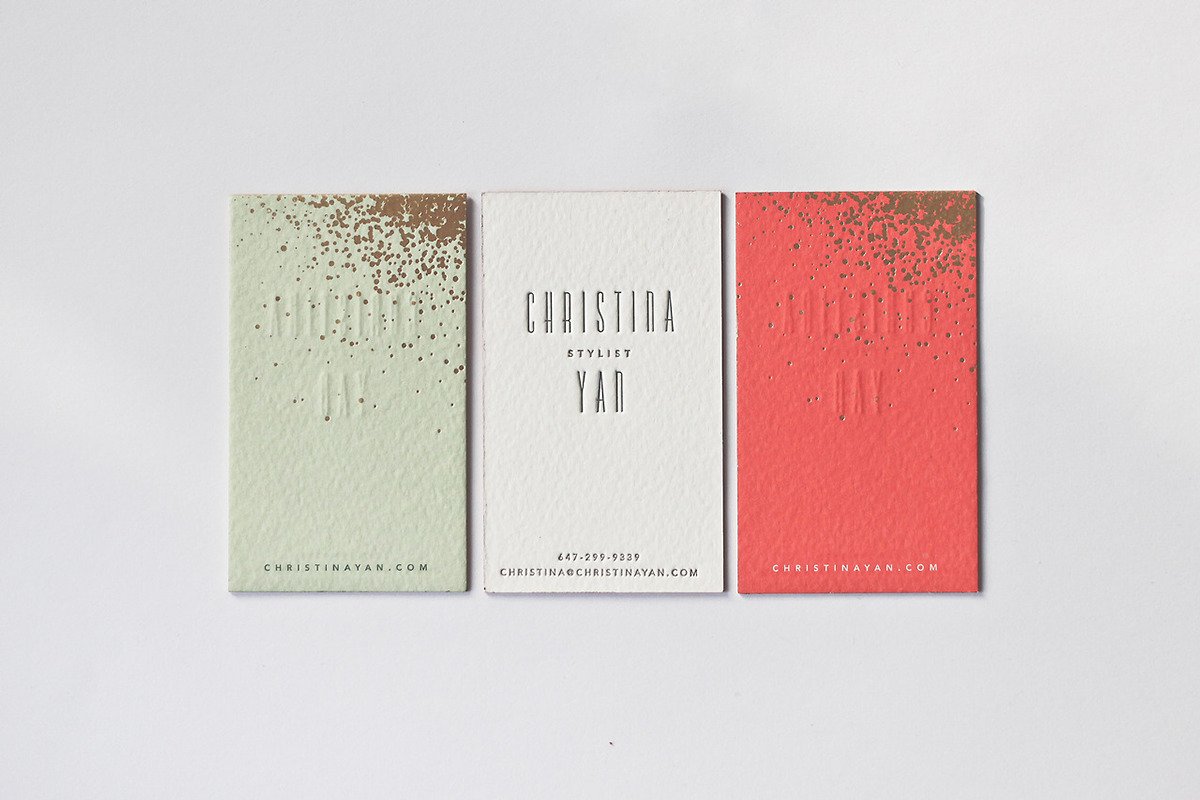 "Christina Yan is a talented prop stylist based in Toronto," explains creator Belinda Love Lee. "This whole stationery set exudes sophistication, timelessness with a bit edge. Each piece was letterpressed with the finishing touches of gold foiling, gold edging, and embossing."
04. OF ZOOS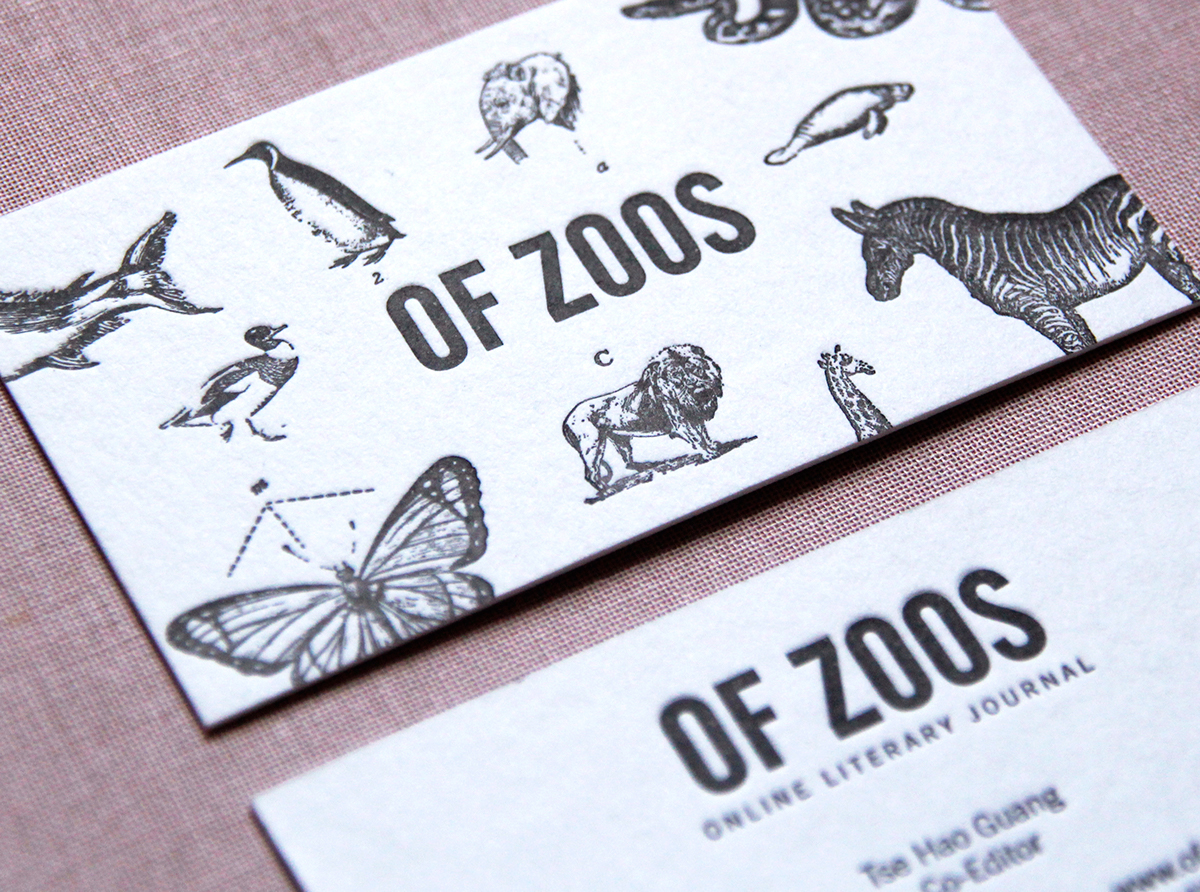 Using a simple yet effective pattern of illustrative animals, these letterpress business cards pack a punch when it comes to originality. Designed for Singaporean online literary journal, OF ZOOS, we love designer Charmaine Yeo's execution.
05. Rafal Borek Photography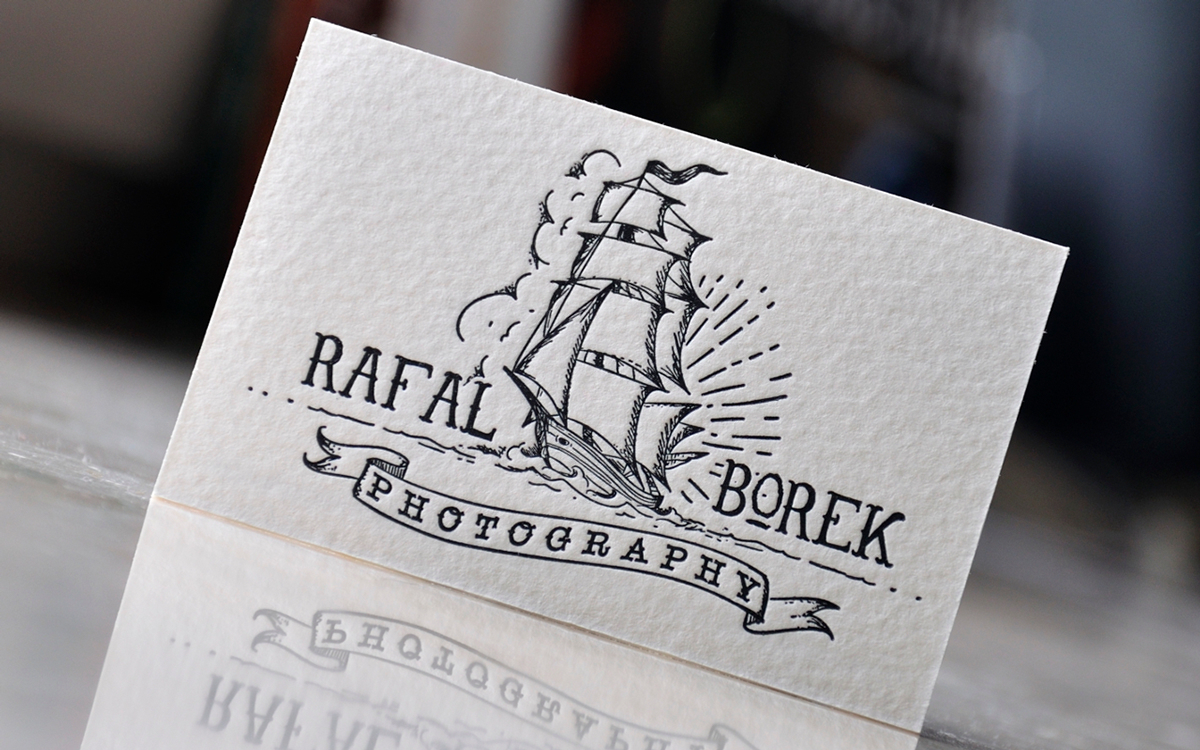 The Letter & Press Behance page states: "Mr. Rafal from Ireland needed some business cards for his photographic business. But not a usual ones – really wonderful and over the top. So we printed the graphic with our historic press which can really show fine detail. For this of course one need the necessary know-how but after so many hundreds of thousands of business cards taken from the press job fits well in the hands – that you can be sure."
06. Mild Whistle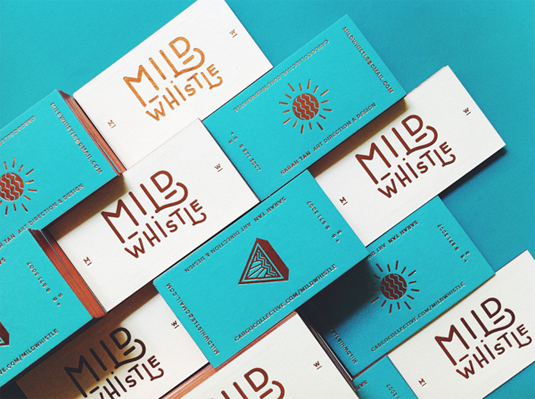 Combining craft and precision to produce a beautiful aesthetic, these new cards from Singapore based agency Oddds are about as beautiful as they come.
The Oddds website states: "The identity broadens with usage of letterpress accompanied by glamour with modernism. This is created with the intertwining between bronze and a soft tone of turquoise. The play of metal tones and pieces with cotton represents the designer's ideologies of art direction and design."
07. Elias Mendoza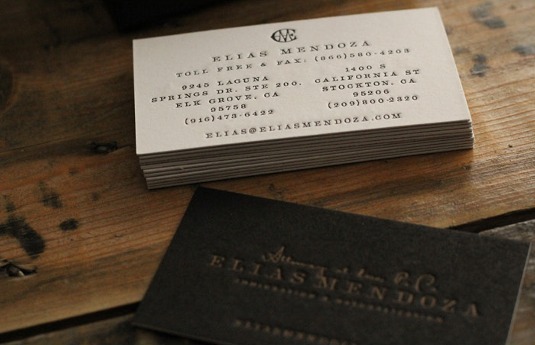 When Cocoa Branding was hired to create branding materials for Elias Mendoza, one of the most prominent immigration and naturalisation attorneys in the United States, it needed to convey the unique and personalised touch that Mendoza brings to his work with all types of family and business immigration needs. Part of the branding solution was these heavyweight letterpress business cards, designed by Rodrigo Suárez.
08. Bailey H Robinson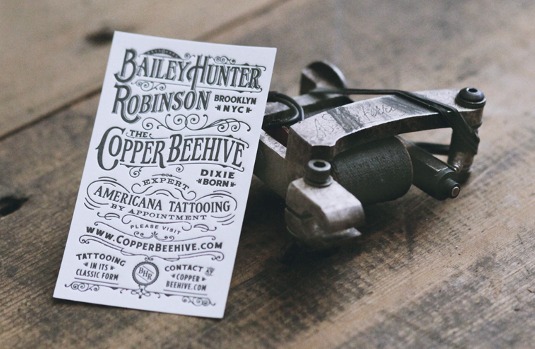 Brooklyn-based tattoo artist Bailey H Robinson has a very distinct take on traditional American tattooing, and when he brought in Two Arms Inc to produce a set of custom letterpress business cards, they were keen to design something that looked and felt like traditional turn-of-the-century type. The resulting card is an ornate delight that wouldn't have looked out of place in 1901 (except for the contact URL, of course).
09. Two Sisters Photography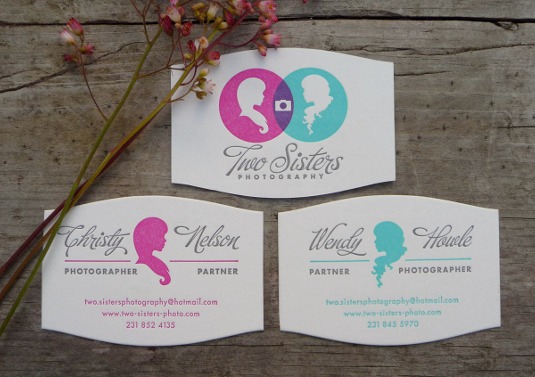 Commissioned to create an identity for Two Sisters Photography, Fizz took inspiration from a Venn diagram and used that as the basis for cameo-style silhouettes. The silhouettes enabled Fizz to showcase each sister's style and personality through their profile treatment, and alongside the Venn-style card Fizz also created individual designs for each sister. Fizz went all-out in the production stakes, using three Pantone colours on 220lb Crane Letra cotton stock, and finishing everything off with a custom die-cut.
10. Mia Parcell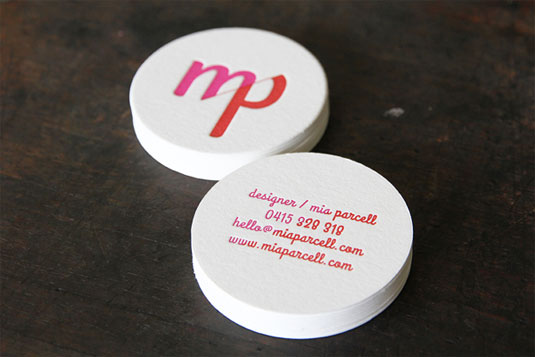 Impressworks printed these letterpress business cards for designer Mia Parcell. The job features a two-colour, double-sided print on our 600gsm Fluoro White Crane Lettra stock. Parcell took care of the artwork herself, with Impressworks coming up with the circular execution.
11. Simon Featherstone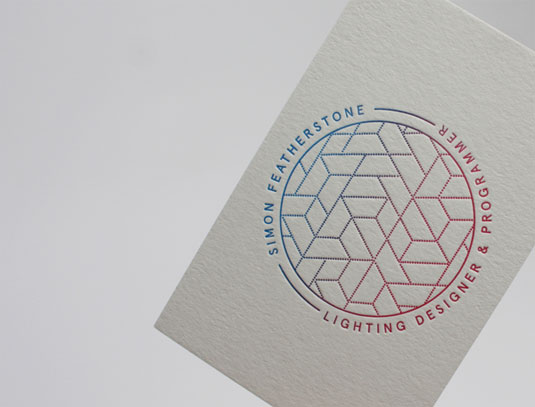 Simon Featherstone is a freelance lighting designer and programmer, with vast experience in video and LED technology. He needed a branding refresh to help portray the qualities and capabilities of his practice to a wider audience.
The contemporary logo marque used a pattern derived from LEDs and combined it with a bold gradient running from cyan to magenta. The branding collateral uses a range of cool grey tones to suitably reflect the high-end nature of the industry and communicate a professional and knowledgable tone of voice.
12. Graphic Wand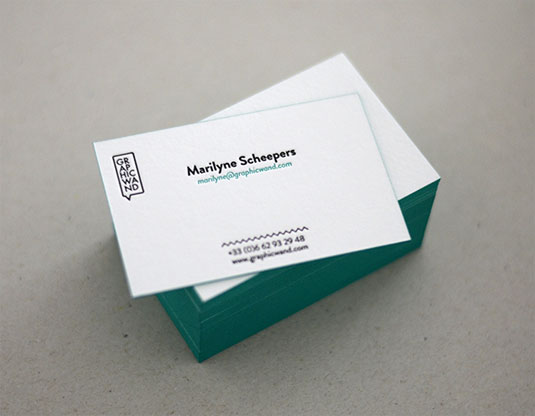 Marilyne Scheepers created this letterpress business card design for Graphic Wand studio. The turquoise colouring on the edge of the cards enables a striking effect when staked. Simple typography and a clever logo allow these letterpress business cards to speak for themselves.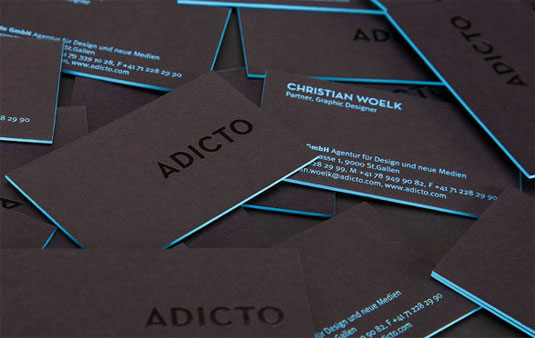 Offizin Parnassia is a fine art studio born out of a love for old books. The team there combined authentic design with passionate craftsmenship to create these beautiful Adicto letterpress business cards.
14. Lucky Cat Acupuncture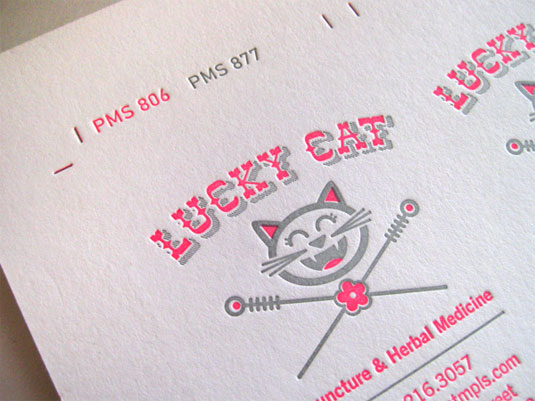 This playful letterpress business card was created as part of the identity for designer Lovely Mpls' wife's acupuncture clinic in Minneapolis. "She requested something that had a little bit of an anime style with some whimsy," he explains. The business cards were printed at Studio on Fire.
15. Pepelatz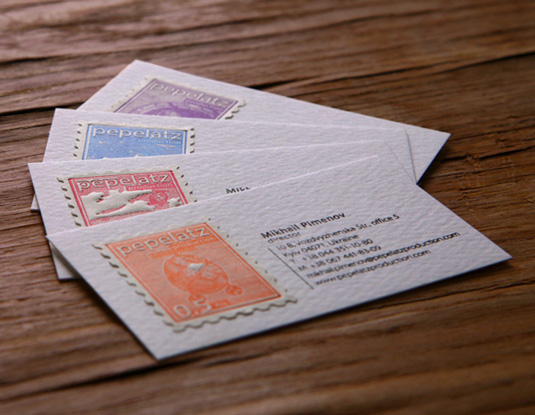 Ukraine-based designer and illustrator Andrej Barmelaj is the man behind these brilliant postage stamp-inspired letterpress business cards for independent advertising agency Pepelatz.
With four different designs to choose from, each stamp adds a splash of colour to Pepelatz employees otherwise simple white letterpress business card.
16. German Torres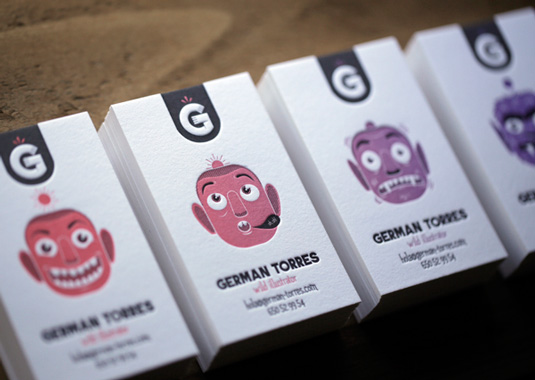 These beautiful letterpress business cards feature the wild illustrator German Torres transforming from human to werewolf. Print shop La Trasteria created them using a two colour split fountain for the transformation and black ink for the other details.
These creative business cards are beautifully printed, and we just love the playful design, which depicts a smiley character by day and the stages that turn him into a wild illustrator by night.
17. Dane Holmquist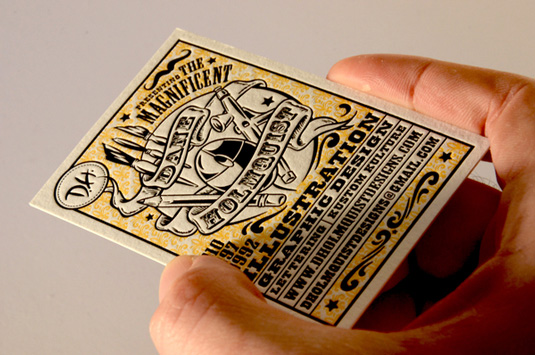 These detailed, beautiful letterpress business cards belong to illustrator and graphic designer Dane Holmquist. The talented artist created the intricate illustration himself, before elisting the help of printers DSJ in Santa Monica, who helped bring his vision to life. Holmquist's mantra is: "If it has the potential to be cool, I will do my very best to make it so." And he's certainly achieved that with this gorgeous design.
18. Jee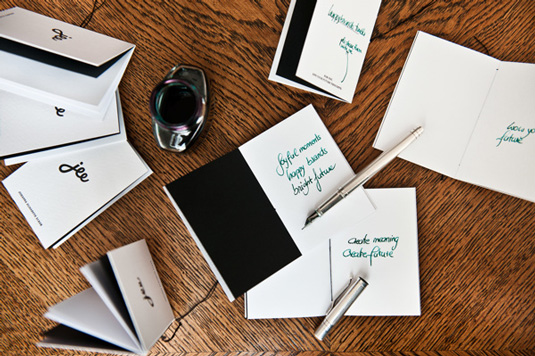 Brandconsultant Johanna Elisabeth Ecker wanted a business card that reflected both her quality of her work and personality. Working alongside designer Kurt Glanzer at Moodley Brand Identity, she developed these beautiful letterpress business cards, which double as a tiny notebook, including a personal handwritten message for the receiver and 15 more empty pages for them to use as they wish.
19. Bentply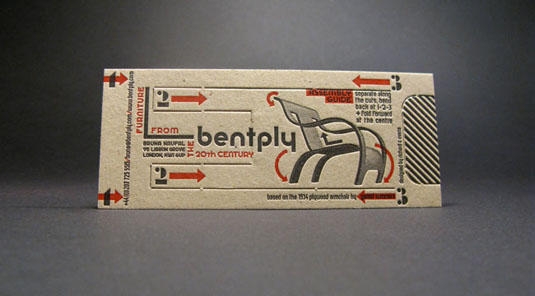 What you see here is one of the neat letterpress business cards for furniture shop Bentply in Marylebone, London that can be made into mini bent plywood chairs.
The ingenious card design was created by art director, writer, and designer Richard C Evans and produced by Elegante Press in Lithuania. Just follow the instructions and the kiss-cut card can be folded into a miniature of the iconic 1934 plywood armchair designed by Gerald Summers.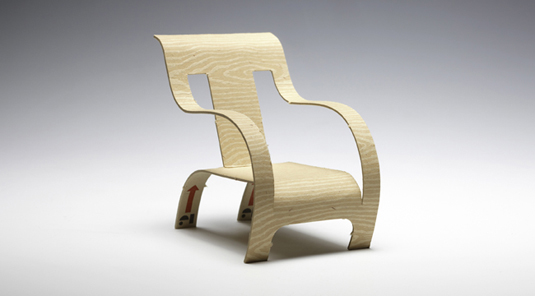 20. Dot Design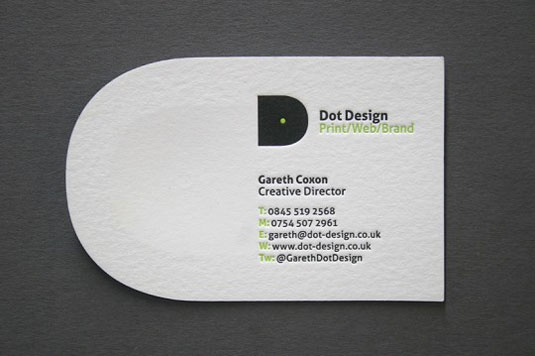 Printed using two colours on both sides and die cut to shape, the carefully placed design elements on each side of these letterpress business cards avoid any overlapping. They're printed on 425gsm cotton and are instantly striking. Creating such a distinct shape really makes these creative letterpress business cards one of our favourites.
Next page: 20 more brilliant letterpress business cards