The best iPad Pro deals online could save you a tidy packed on Apple's most powerful (but also most expensive) tablet. The two latest iPad Pros come with Apple's own M1 chip, offering stunning power for a portable tablet. So much so that you could probably use one instead of a laptop. They're not cheap though, so you'll want to find the best iPad Pro prices possible
Some of the best iPad Pro deals are still on the pre-M1 2020 generation, but we've been seeing some good deals on the super-powerful 2021 models too, with savings of up to $400 / £350 on the higher-spec configurations. Below, we're automatically pulling in links to the retailers with the best prices based on your location, so take a look to find the best iPad Pro price for you.
We'll look first at the 12.9in iPad Pro (2021), and then the 11in iPad Pro (2021), before turning to the 2020 12.9in iPad Pro. We'll briefly outline the specs for each tablet, but you can follow the links to our full reviews for more details. If you want something more portable and don't need such high-end specs, see our guides to the best iPad mini prices and the best iPad Air prices. And with rumours emerging that there might be an Amazon fall event, make sure you've bookmarked our round-up of the best Apple Prime Day deals because we'll be reporting the latest deals there if a sale is announced.
The best iPad Pro deals available now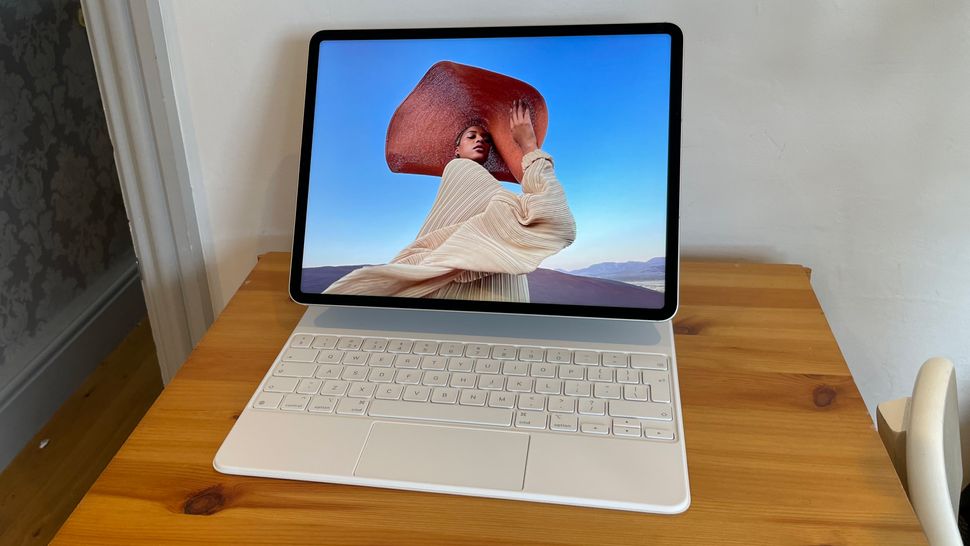 The iPad Pro 12.9 (2021) comes at the top of the pile in Apple's range of tablets. It boasts an M1 chip for superb performance even for demanding creative tasks like video editing. And most uniquely, it has a Liquid Retina XDR display, which blew us away when we reviewed the device – we think it's the best screen we've seen on a tablet. The iPad Pro 12.9 could replace a laptop for many people, but it is the most expensive iPad there is.
If you're scouting for iPad Pro deals, know that the 12.9-inch model starts at $1,099 / £999, and that's for the 128GB storage wifi-only configuration. You can step storage up to 256GB, 512GB, 1TB or 2TB. This will all mean an increase in price, so be aware of what configuration you're getting. The good news is that we have seen some big discounts on those bigger models, with $400 being the biggest discount we've seen yet. If you want a cellular connection, that generally adds $100 / £100 to the price. See our more detailed iPad Pro 12-9-inch (M1, 2021) review to learn more.
The iPad Pro 11-inch 2021 is a stunning tablet and almost exactly the same as the larger tablet above. It's just smaller and has a slightly inferior display since it doesn't boast that Liquid Retain XDR technology for improved contrast ratio and peak brightness. The positive is that the smaller form makes this tablet slightly easier to hold in one hand, and easier to carry about.
The iPad Pro 11-inch (2021) retails at $799/£749 for the entry-level configuration, but builds up in price as you add more storage and RAM. It's calibrated for colour, brightness, gamma and white point and has an anti-reflective coating so you can use it in harsh lights. Check out our full iPad Pro 11-inch (M1, 2021) review for all the details.
When the 4th gen iPad 11- and 12.9-inch came out in 2020, we waxed just as lyrical about them as we have about the latest models. They're still cracking tablets, with a plenty-fast A12Z Bionic chip. As we've noted, casual use won't give you any idea of the processing power difference between this and the newer 2021 model - that will only become (slightly) apparent with more heavy lifting, like video editing.
This iPad Pro maxes out in storage at 1TB, but if you can get it at a competitive price, it's well worth going for. Considering that the latest models will be overkill for many users, the 2020 iPad Pro can be a great buy considering that we're now seeing bigger discounts following the release of the newer models. Check the prices above, or compare prices on all three models below. See our full 2020 iPad Pro 12.9 review for more details.
Which are the best iPad Pro deals now?
Most people are going to want one of the 2021 iPad Pros for that power boost that comes with the switch to Apple's own M1 chip. After all, the main point of splashing out for an iPad Pro would be the supreme performance it offers, and Apple says the 2021 models are up to 50% faster than their predecessor, which carries an A12Z Bionic chip. That makes it a choice between two sizes: 11in and 12.9-inch.
There might not seem like a big difference there, but it's another to make the 11in more convenient for easy stowing and for using on the move, while the 12.9in option is a better size for those who want more space to work on, for example for image editing or illustration, or who want to use the tablet with a keyboard as a laptop replacement. There is also a difference in the screen tech. The 12.9in boasts a Liquid Retina XDR display which offers improved contrast and brightness.
Above, we've also included the best iPad Pro deals for the 2020 model since it's still a very powerful tablet, and the extra power of the 2021 devices is really only particularly notable with demanding tasks like video editing. Also since it's an older model, we've been seeing bigger deals on it, making it great value if you see it in a sale. If you're losing track and need a recap on the different models and where they fall in the iPad family, take a look at our guide to all of the iPad generations.
Related articles: