The best Cricut EasyPress 2 bundle deals will enable you to start creating straight away and can save you money. Not only do you get one of the best heat press machines but also the tools and materials to get making out-of-the-box.
The Cricut EasyPress 2 released in 2018 and remains one of the most popular heat press machines – this will transfer designs from vinyl to fabrics. Read our Cricut EasyPress 2 review for more details. There are three different sizes to the Cricut EasyPress 2, all represented below in our smart widget that pulls in all the best Cricut Easypress 2 bundle deals from around the world. Below I've also picked out the best Cricut EasyPress 2 bundle deals found at Cricut itself.
If you want to know where the Cricut EasyPress 2 sits among the other Cricut machines, go over to our guide to the best Cricut machines and get the full picture. The short story is that it's the most affordable Cricut machine on sale right now. That's because it doesn't offer the various creative options that the best Cricut Explore 3 bundles, or even the best Cricut Joy bundles do. This is a straight forward Cricut heat press, which means you can print your favourite designs onto various materials – from tote bags to t-shirts.
Once you've got your Cricut EasyPress 2 bundle deal, it's worth looking into the best Cricut accessories and the best Cricut materials to see what you can use with your new gadget. But for now, let's look at the best deals on the standard, large and mini Cricut Easypress 2 machines.
The best Cricut Easypress 2 bundle deals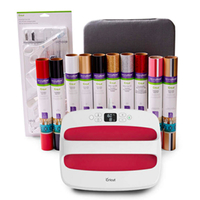 EasyPress 2 (12" x 10") + Essentials Iron-On Bundle: $401.87 $249.99 at Cricut
Save 151.88: This bundles the EasyPress 2 with seven rolls of Everyday Iron-On material in a mix of common colours, plus you get holo and glitter finishes. (Note, some rolls of material are samplers.) It comes with a core tool set and heat mat.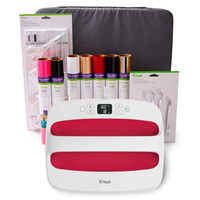 EasyPress 2 (12" x 10") + Everything Iron-On Bundle: $453.89 $269.99 at Cricut
Save 151.88: This 'everything' bundle is your one-stop package containing all you need to get started with a heat press. Included are seven material rolls, two tool kits and a large heat press mat. Note, unlike the bundle above, all rolls of material are full lengths of vinyl.
Should I get the Cricut Easypress or the Cricut Easypress 2?
The short answer is the Cricut Easypress 2. First of all, the Cricut Easypress 2 is sold through the Cricut website, and has a few advantages over its previous model. It remembers the temperature of the last heat pressing job, which is really convenient if you mainly heat press a certain type of material (say, a t-shirt), but =it's also useful if you're bulk pressing and need to take a break at any point. This feature guarantees consistency in all your heat press projects.
Is the Cricut EasyPress 2 worth the money?
Yes, this remains one of the most consistent and easiest to use heat presses around right now. It may be an older model, but for most crafters looking to create t-shirts, bags and more it's a good choice.
What's the difference between Cricut EasyPress 2 and 3?
The main difference is the newer Cricut EasyPress 3 has a new Bluetooth connectivity to your Cricut machine, which means it can also be connected directly to the Design Space app or mobile app, and so is easier to use. But functionally, these are the same.
Does the Cricut EasyPress 2 cut vinyl?
No, the EasyPress 2 is a heat press machine; this simply warms and presses designs onto fabrics and other materials. To make your designs you'll need a Cricut Maker, Explore or Joy to cut them onto iron-on vinyl material.
Read more: