The best Cricut blades enable you to cut all kinds of materials with confidence using a Cricut cutting machine – the Cricut Maker and Cricut Explore series and smaller blades for the Cricut Joy. This can mean doing everything from trimming vinyl and fabric to embossing card and applying foil cutting metals.
Cricut cutting machines are one of the leading brands in crafts, enabling hobbyists and pros to create incredible projects, from gifts and cards to custom wallpaper and car decals. Read our guide to the best Cricut machines to find the one that's right for you. If you need in-depth advice, read our Cricut Maker 3 review, our Cricut Explore 3 review, and our Cricut Joy review.
In this guide to the best Cricut blades we'll look at what blades you'll need to get started on a Cricut machine, as well as the more interesting Cricut blades used to achieve unique finishes in foils and those need to cut wood and more. We'll start with the best Cricut blades for Maker and Explore series of machines, then the best Cricut Joy blades.
If you want to use a blade-less craft cutter then consider one of the best Glowforge machines. These new and clean laser cutters can do everything a Cricut can but with a powerful laser.
The best Cricut blades: Maker and Explore series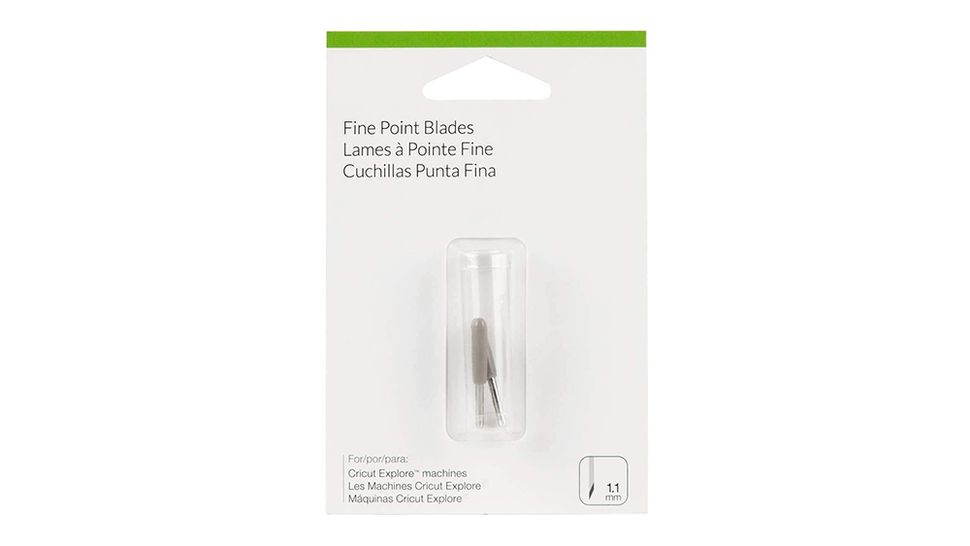 A couple of replacement blades are among the most essential of Cricut supplies to always have on hand. Made from premium German carbide steel, its gold-coloured premium Fine-Point blades are designed to make intricate cuts in a variety of thin to medium-weight materials including paper, cardstock, poster board, vinyl and iron-on. You can buy non-Cricut branded replacement blades for cheaper, but for guaranteed quality, we would recommend sticking to Cricut's own.
For particularly tough craft projects you'll need the Cricut Deep-Point Blade. This little marvel is designed to cut through tougher materials like chipboard, stiffened felt and tough cardboard. It can even cut through magnetic material.
This blade attachment has a steeper angle, 60 degrees as opposed to the standard 45 degrees, enabling it to dig deeper into those tricky materials. The Cricut Deep-Point Blade can be used with all Cricut Maker and Cricut Explore machines, but not Cricut Joy.
Unlike traditional craft debossing folders the Cricut Fine Debossing Tip is a roller that can be attached to a Cricut Maker and used to make any design you choose. We find it offers a great freedom for creating patterns and debossed textures on cards and decorations.
The Cricut Fine Debossing Tip uses a ceramic roller to create debossed designs imported from Design Space or your own creations. It snaps into place and can be used with cardstock, foil poster board, foil cardstock, foil kraft board, poster board, kraft board, and more materials. The only downside we find is its limited to use with the more powerful Cricut Maker machines.
Designed to cut dense materials, such as wood, leather, craft foam, and more, we find the Cricut Knife Blade is a great Cricut blade if you're planning on using your Cricut Maker to create more than card projects.
The Cricut Knife Blade is a 12mm carbide blade that can easily cut through materials you'll want to use for creating puzzles, dioramas and even leather bags and goods. Because you're using this blade to cut very tough materials it only works with a Cricut Maker or Cricut Maker 3.
The Cricut Basic Perforation Blade is the best Cricut blade for creating 'tear-off' projects, such as raffle tickets, calendars, coupons, and collectible paper dolls. It can trim paper, card and foil stock, as well as some fabric materials. It cuts 2.5mm teeth with 0.5mm gaps.
We've found the Cricut Basic Perforation Blade works great for these kinds of projects, where you need to create materials that can be torn off in even ways. It's a very niche use, but also one some crafters will absolutely need, for example if you're making tear-out booklets or poster-books of your art.
The Cricut Wavy blade does just that, it cuts a wavy, smooth edge on most materials, including card, vinyl and fabric. This Cricut blade is fantastic for creating unique and whimsical finishing touches to most of your Cricut projects.
In use we found it incredibly easy to switch out this blade tip for the existing one using Cricut's QuickSwap Housing system. Once attached it creates the elegant wavy edge to give every project a touch of class, and does so in a quicker time and with less hassle than a standard drag blade.
The Cricut Bonded-Fabric Blade has a very specific use, to enable you to cut and trim stiff fabrics and bonded, backed fabrics. The tough high-grade German carbide steel blade doesn't dull with use, and will likely last around six months of constant cutting. This is clearly a blade designed for pro-level use.
In use we find there are some nice design touches, such as the metallic pink finish that matches the colour of the Cricut FabricGrip mat so you always know this is your go-to fabric blade. If you're creating applique and detailed sewing projects that require accuracy, this is the blade you need. We love it.
The Cricut Engraving Tip is your perfect attachment for creating metal and leather personalised gifts and craft projects. It can permanently engrave metal tags and badges, leather goods and more. Designs can include everything from written messages to intricate drawings and designs.
The premium carbide steel will last and offers great flexibility for most projects. We'd recommend you use this with other blades, such as the debossing and wavy blades, to create more detailed designs. It can be expensive, and while you don't need the whole lot, you may find it helpful.
The best Cricut blades: Cricut joy
The do-all Cricut Joy Blade. This is a replacement for the blade that comes with your Cricut Joy and can be used for most basic craft projects, including cutting cards, tags, stickers, and more. It's a hard-wearing and adaptable blade.
When in use we find this rarely sticks or tears, and it's easily swapped out for your old blade and stored safely. It's compatible with all the standard Cricut joy projects, including Infusible Ink, Transfer Sheets, Insert Cards and more. This pack doesn't come with the blade housing, but you have one in the Cricut Joy. If you need a new one, Cricut does a pack of both blade and housing.
The Cricut Joy Foil Transfer Kit can enable you to add a little shimmer and shine to your usual paper and card craft projects. You can even create blocks of foil and cut into them, or cut our intricate foil patterns to transfer onto existing cards, invitations and tags.
Inside the box you'll find one tip for trimming and cutting the foil sheets, as well as 12 sheets to experiment with. There's tape too, for keeping the foil sheets in place. Usually we find you don't need the tape, but in this case it helps as the metallic sheet can slip and slide.
We love the Foil Transfer Kit and the extra gloss it brings to a project but it can take some getting used to, and with teething problems in your early projects you'll be glad of the 12 sheets in the box. In our Cricut Joy review with often needed to test things out with Cricut's small cutter.
Note: this Foil Transfer Kit comes in a larger size for the Cricut Maker 3 and Cricut Explore 3.
The best Cricut blades: frequent questions
Why you can trust Creative Bloq Our expert reviewers spend hours testing and comparing products and services so you can choose the best for you. Find out more about how we test.
What is the best Cricut blade?
The best Cricut blade for most projects is the Deep Point blade; this can be used to cut magnet material, chipboard, cardstock, stiffened felt, cardboard, paper, and light fabrics. It's the best all-round blade for Cricut.
How long do Cricut blades last?
In use, we've found the average Cricut blade lasts around six months. We use our Cricut Maker every day and the standard Premium Fine Point has easily lasted this long. Other blades may fare better or worse depending on what you're cutting.
Can I sharpen my Cricut blade?
You can, but you need to be very careful as these are very sharp. The easy way to sharpen a Cricut blade is to create a tight ball of tin foil, and carefully jab the blade in and out of this foil bundle. We'd advice placing the foil ball on a stable surface and stab it carefully (never hold the ball off foil in your hand).
How do you make your Cricut cutting mat sticky again?
You can clean the Cricut cutting mat easily with our directions below and miss out Step 2, but we'd recommend doing the whole process as the Awesome Spray is incredible.
1. Place your mat in a sink and keep it level.
2. Spray the mat with Awesome, and gently rub in small circles to lift any grime.
3. Run warm water over the matt.
4. Pat dry with a paper towel or clean cloth.
5. Let the mat air dry naturally, and it's sticky again.
How many different blades are there for Cricut
In our guide above we've selected our favourite Cricut blades, but there are 11 Cricut blades in total for the main Cricut Maker series. These enable you to cut, emboss, engrave and more across all materials from wood to metal, fabric and paper.
Read more: