The best Apple deals can save you a bunch of cash on what are some of the best tech products around. And to make it easy for you to find the biggest savings across the Cupertino giant's entire range, we've rounded up all of the best Apple deals going on one single page.
Apple is renowned for high-end devices that look great, do their jobs well and last. That means that despite regular new releases, their tech tends to hold its value for a while. Apple itself never runs discount its prices aside from its student deals, but other online retailers do, and sometimes even on quite new Apple products.
Below you'll find the best Apple deals on a whole gamut of Apple products from the last few years, from AirPods and iPads to MacBooks, iMacs and Apple Watch. We've provided an overview of the pros and cons of each device, links to our more in-depth hands-on reviews, plus direct links to the best deals currently on off at retailers in your region.
With rumours bubbling that there might be an Amazon fall event, make sure you keep an eye on our Apple Prime Day page for more deals. And if you're a student, see our guide to getting an Apple student discount.
Best Apple deals: iPads
Apple's best value iPad yet, the iPad 10.2 (2021) is significantly faster than its predecessor, super easy to use and comes with an upgraded selfie camera that makes video calling a great deal smoother. Other upgrades are smaller but welcome, such as True Tone technology, which makes the display adjust to suit your surroundings.
It doesn't have the power of the iPad Pro range, but all in all, it's a fantastic affordable tablet for those that don't need the absolute most powerful tech that Apple offers. Check out our iPad (2021) review for more in-depth details.
The 2021 iPad Pro 12-inch is Apple's most powerful tablet yet, introducing its own M1 chip to the iPad Pro. While the concept's been bandied about for years, this time Apple really has come close to producing a tablet that can replace a laptop or desktop PC. Pair this iPad with Apple's Magic Keyboard and you have a fully fledged multitasking productivity machine complete with a trackpad for a more laptop-like user experience. It's a brilliant device for all kinds of creative work, and indeed all kinds of work and play in general.
The 11in iPad Pro is a lighter, more portable, and more affordable version of Apple's top-of-the-range tablet, and it's a device that sees regular Apple deals at many retailers. It doesn't boast the Liquid Retina XDR Mini LED display, which is one of the highlight of the larger device, but you still get the stunning performance of Apple's M1 chip and the same cameras, making it a great device if you want something smaller than the 12.9in tablet.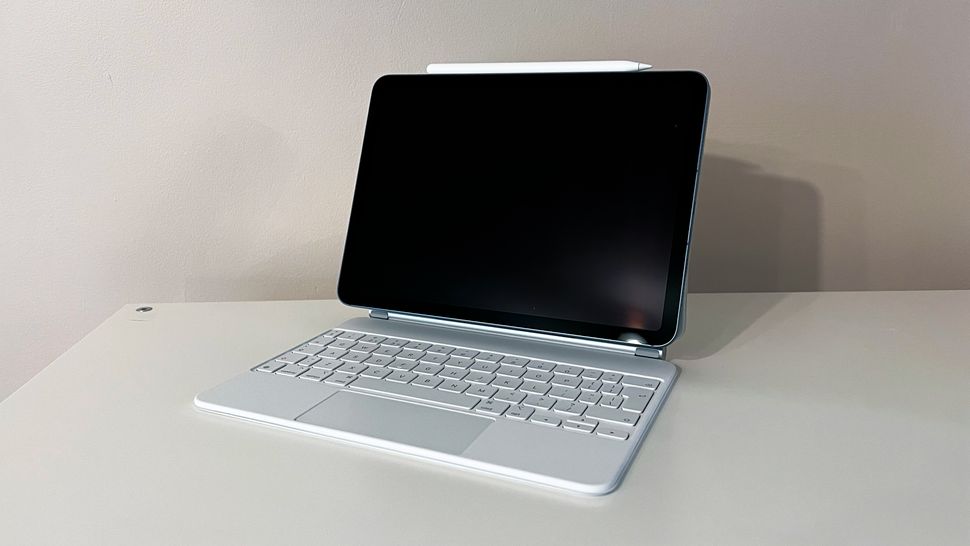 The new iPad Air (2022) is the perfect compromise between the classic iPad and the Pro. In terms of specs, it outshines the entry-level iPad, but it won't set you back anywhere near as much as the Pro. The 5th generation iPad Air even features Apple's M1 chipset, Liquid Retina display, and dual cameras (12MP rear, 7MP front). It has fantastic screen and CPU specs, and the 2022 version has a 10.9-inch screen and facial recognition.
Released just this April, it may seem early to include this in a guide to the best Apple deals, but we have already seen some small discounts cropping up at Amazon, so keep an eye on the price widget above.
Best Apple deals: MacBooks
We reckon the 2021 MacBook Pro 14-inch is the best laptop that creative professionals can buy right now. Yes, it's expensive, starting at $1,799 / £1,763, but nothing can rival the performance and build quality this laptop offers, and we have seen some Apple deals on this offering up to $200 / £200 off.
While the 2020 M1 MacBook 13 was already very impressive (see number 3), Apple's new M1 Pro and M1 Max chips (you can choose which configuration to opt for), take things even further and mean the latest Pros can handle even the most intensive creative with ease, offering excellent performance with complex graphics, including ultra high-resolution textures. It can often beat what even powerful professional graphics cards from Nvidia and AMD can manage, and its improved handling of video is superb.
This MacBook Pro offers more power than most people will need in a laptop, but for professional creatives, it's a dream. We only put the 14in at number one because its more portable size will make it the more convenient option for many – and it's a little cheaper too – but if you need the larger screen, there's the 16in version below. See our full MacBook Pro 14-inch (2021) review for more details.
If you want Apple's best ever MacBook but with even more display to admire, you can get just that in the MacBook Pro 16in (2021). The larger device offers the same incredible performance with a larger screen and even better battery life. For many video editors and other creatives, the extra screen size will be very welcome. Don't expect to see big Apple deals on this beast for some time, but keep your eye on the price above for any reductions and you may be able to find a saving of a couple of hundred on the higher-spec configurations. See our full MacBook Pro 16-inch (2021) review for more details.
The latest MacBook Pro, this year's M2-powered 13 incher might not be as powerful as last year's 14 and 16 with their M1 Pro and M1 Max chips, but it is the most accessible MacBook in terms of price. The addition of the M2 chips means it also has improved performance over its predecessor, not that the 2020 MacBook 13 was exactly a slouch.
When we reviewed it, we felt it was a little directionless in that it doesn't really add anything new to the MacBook family, but this new laptop makes good sense if you don't need all the specs of the MacBook Pro 14 and 16 since it starts at $700 cheaper. What's more, we've already seen some discounts cropping up, particularly at Amazon, so it could be a good buy. See our full MacBook Pro 13-inch (M2,2022) review for more details.
Apple's newest laptop is the 2022 MacBook Air, which was revealed only in July. Carrying the same M2 chip as the newest MacBook Pro (see above), the MacBook Air's becoming more and more Pro like. It also now starts at only $100 cheaper than the MacBook Pro 13, however, so while it's still Apple's most accessible laptop in terms of price – just – there's no longer a very clear differentiation between these two 2022 laptops.
The MacBook Pro 13 above offers better battery life, but the M2 MacBook Air has a slightly bigger and brighter screen, and it's also thinner and lighter. All in all, for more people who want a stunning, highly portable laptop that can handle creative work a a reasonably accessible price, we'd go for the Air. We found it to be a good enough upgrade to warrant choosing this over the 2020 MacBook Air too thanks to the improved design and the performance boost provided by the M2 chip. See our full MacBook Air (M2, 2022) review for more details.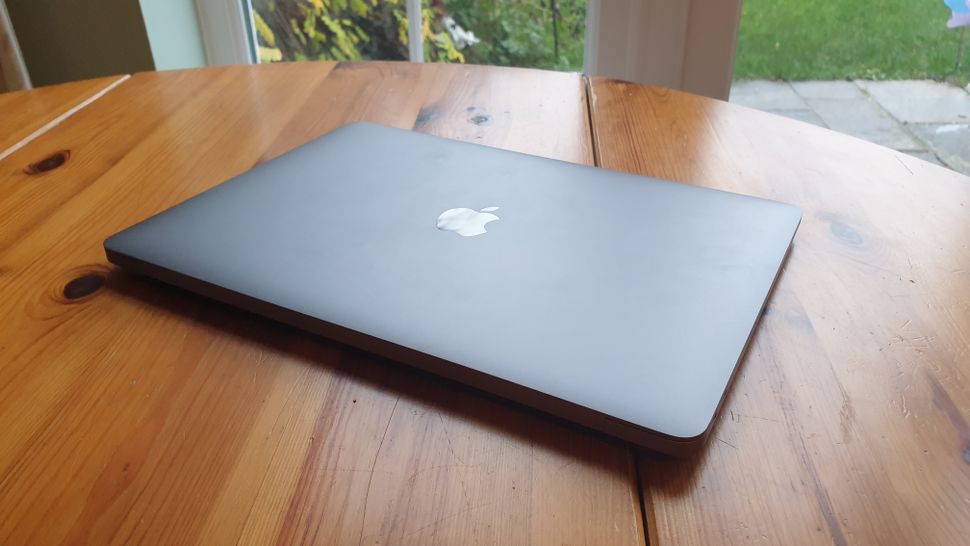 The 2020 MacBook Air has now been superseded by this year's M2-chipped laptop above. However, this year's laptop also came with a bit of a price hike, so if you're after a gorgeous laptop at a more affordable price, it's still worth considering the M1 MacBook Air, especially if you find a deal – discounts of $100 or even more are now fairly common.
The MacBook Air comes with Apple's own M1 chip with an 8-core CPU and 7-core GPU, all-day battery life, and 13.3-inch Retina display with P3 wide colour gamut support, so it's hardly passed it in terms of performance for creative use. See our in-depth MacBook Air (M1, 2020) review to learn more.
Best Apple deals: iMac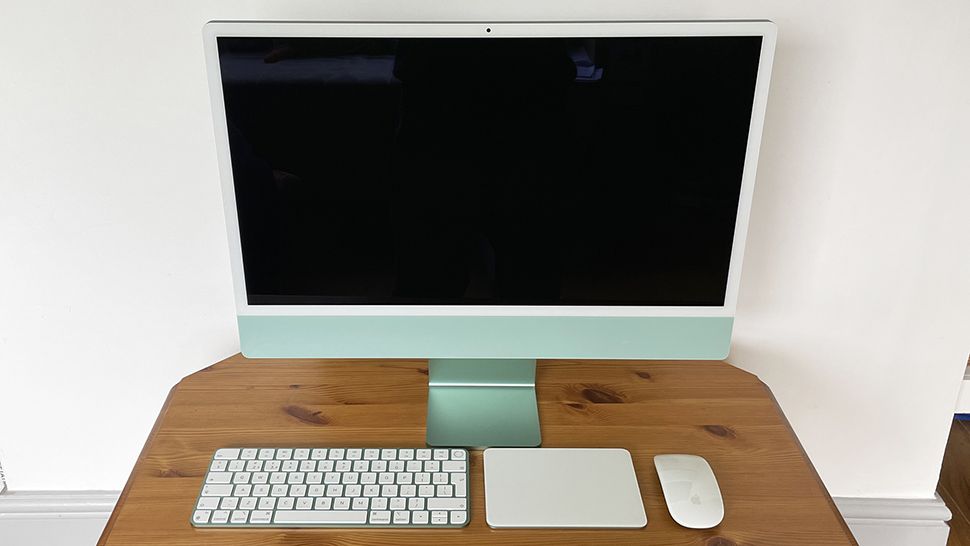 For a colourful Mac experience, Apple's ultra-thin iMac M1 comes in a choice of six colours, offering truly stunning aesthetics. As for the specs, the 24-inch 4.5K display is gorgeous, and Apple's M1 chip offers a more-than-capable CPU.
The iMac M1 maxes out at 16GB RAM and only features integrated graphics, so some creative pros may want to consider the older but beefier iMac 27-inch (see below). Still, for low-to-moderate design work and general computing, the iMac M1 is a solid machine. Full price, it starts at $1,250 / £1,249, but we've seen small savings crop up. See our full iMac M1 review for more details.
While the iMac (27-inch, 2020) isn't the newest generation of Apple's all-in-one, we reckon it's still the best choice for many graphic designers. Thanks to its large screen and discrete graphics card, it's got everything graphic designers need, and the subsequent introduction of newer models also means you might have an easier time picking it up or a good price.
This 2020 version is one of the last computers from Apple not to sport the in-house M1 processing chips. Instead, it uses 10th generation Intel Core processors, with the option to go for a 10-core CPU. This is a huge amount of computing power, comfortably more than you need for all but the most absurdly resource-intensive design tasks. When we reviewed the iMac 2020, we were impressed by both the quality of the display and the speed of the performance. It will cost you, with a retail price from $1,725 / £1.749, but with the computer getting on now, you may spot a deal.
Best Apple deals: Apple Pencil
If you have anything other than a standard 2019 iPad or iPad Air, you'll need a second-generation Apple Pencil. It costs a little more but includes several welcome features that offer improvements over its older sibling.
It ditches the totally circular design for a flat edge, which means it won't roll away and can be attached to an iPad via magnets for safekeeping and wireless charging. It also has a matte finish for a more authentic pencil feel and a nicer hold. See our hands-on Apple Pencil 2 review for more details.
The original Apple Pencil was first released back in 2015, and its excellent quality means it's retained its value to this day. Whether you can use it depends on what model iPad you have, however. It's supported by the iPad 10.2-inch (2019), iPad mini (2019) and iPad Air (2019).
If you have anything newer than those, then you'll need the slightly more expensive second-gen Apple Pencil below, which ironed out a couple of the flaws in this first stylus, particularly the circular design which makes it prone to rolling away. See our full Apple Pencil review to learn more.
Best Apple deals: Apple Watch
The Apple Watch 7 is the biggest Apple Watch to date and the first major redesign since the Apple Watch 4. The bigger screen size make it the most usable Apple Watch yet, while it also chargers more quickly and has a 70 per cent brighter always on display indoors. We've regularly seen at least $50 off at Amazon in the US, so keep an eye on the price widget above.
September 2020's Apple Watch Series 6 boasted an always-on screen and took a step forward introducing blood oxygen monitoring – great if you want to keep on top of your fitness / wellbeing. It also introduced stainless steel and ceramic cases on top of the existing aluminium option, and fresh goodies such as an ECG app, international emergency calling, fall detection and even a compass.
The battery life is also a step up from the Watch 5, and with the S6 processor, everything just runs that bit quicker. It's a great watch, but with the Series 7 offering a bigger display at the same starting price, you'll want to see a discount to make the Series 6 worth considering over the newer watch. This model was also released at the same time as the cheaper Apple Watch SE, which is also well worth a look if you want a cheaper price (see below). See our full Apple Watch Series 6 review for more details.
If the Apple Watch Series 6 is too pricy but you want something more up to date than the Apple Watch Series 3, the Apple Watch SE might be for you. It's among Apple's most affordable watch offerings, and while it may lack some more cutting-edge features – notably an always-on display – it does just enough to be a serviceable companion to your iPhone.
Like the Series 6, this mid-range Apple Watch includes 32GB of storage and runs watchOS 7. The SE has an S5 chipset, which is one notch down from the Series 6 and its S6 chipset. However, one area where the Apple Watch SE actually beats the Apple Watch Series 6 is battery life – a silver lining to that lack of always-on display.
If you don't need all the bells and whistles of the Series 6, go for the Apple Watch SE and save some cash on your brand-new smartwatch . You can put the extra money towards customising your new SE by picking up one of the best Apple Watch bands. See our full Apple Watch SE review for more details.
Best Apple deals: Apple AirPods
Released in October 2021, Apple's improved third-generation Apple AirPods introduce some of the features of the AirPods Pro to the standard AirPods line. Although they still don't have noise-cancellation, they do have shorter stems, water and sweat resistance, force control, Adaptive EQ to automatically tune music to your ear and spatial audio for truly immersive sound.
With a standard retail price of $179 / £159, the AirPods 3 are, however, more expensive than the second-generation AirPods, falling in between the price of those and the AirPods Pro. It's a tough call because we sometimes see Apple deals on the Pros taking them down to under $200 / £190, so for not very much extra money, you could get the Pros with active noise cancelling. A discount on the AirPods 3 standard retail price may make them more attractive, and we have already seen some savings – and the AirPods 3 do have the advantage of better battery life than the Pros.
Although the AirPods 3 have nabbed some of the AirPods Pros' superior features, the Pros do still have a couple of advantages that justify while they're more expensive. Most significant is the active noise cancellation, which helps remove background noise so you can fully concentrate on what you're listening too (they also have a transparency mode to let outside sound in for when you want to be able to hear what's going on around you.
Their only drawback is that the battery life is shorter than that of the AirPods 3, at a max 4.5 hours instead of 6. That and the price of course, but we've been seeing plenty of discounts on the AirPods Pro lately, taking the standard price of $249 / £249 to below $200 / £190. See our full AirPods Pro review for more details.
You can't argue with popularity, and since their launch, Apple's AirPods have become a much sought-after accessory. The AirPods Pro and AirPods 3 offer improved features, the 2nd generation AirPods now offer great value since they're regularly discounted following the release of the newer model. They have longer stems and they don't have sweat or water resistance, but they still offer good quality sound. See our full AirPods (2nd gen) review for more details.
The Apple AirPods Max is a bit of a misnomer. Unlike the in-ear AirPods them, the Max are over-ear headphones meant to rival the likes of higher-end models from Sony and Bose. And quite honestly, Apple has manufactured a strong contender.
The Apple AirPods Max are one of the best wireless noise-cancelling headphones you can buy if you're already firmly planted in Apple's ecosystem. In addition to fantastically-balanced sound, the AirPods Max also include a variety of features exclusive to iOS such as always-on Siri, audio sharing across Apple devices, and Spatial Audio for an immersive experience whilst watching movies.
Could you use the Apple AirPods Max with, say, an Android phone? Sure, but you'll lose a range of features that'll make difficult to justify the Max's high price tag. If you want to level up your iPhone or iPad audio, however, it's hard to go wrong with the AirPods Max. See our more detailed AirPods Max review to learn more.
Best Apple deals: iPhone
The iPhone 13 is a step up from the previous model, although it isn't exactly a game-changer. It does offer better battery life, plus a better processor and an upgraded camera setup. If you don't need the extra features offered by the pricier iPhone 13 Pro, but want the latest iPhone, this is for you.
The standard retail price starts at $799 / £679 for the configuration with 128GB of storage, and prices go up from there. That's $200 / £200 less than the iPhone 13 Pro. If you don't need the latest specs, you might want to look out for a bargain on an earlier model (see below). And if you do want the super processing power and superior camera of the Pro variation, see our dedicated guide to the best iPhone 13 Pro prices.
It's always tempting to go for the newest phone, and that makes some sense – you'll get the latest specs and longer support for software updates, but it can be well worth looking for a bargain on an earlier model. The iPhone 12's wide and ultra-wide 12MP front cameras will suit most of your photographic needs, it'll shoot 4K video at 60fps, it has the same A14 Bionic chip as its more expensive siblings in the same generation.
Does Apple every have sales?
The answer to whether you might ever find the best Apple deals itself is no, at least not usually. Apple, at least until now, only ever offers discounts for students, either through its regular student discount or its back-to-school offers. Other than that, the only special offers that Apple runs are voucher deals – usually on Black Friday. It doesn't reduce its prices, but it offers gift vouchers that can be redeemed against future Apple purchases.
The other way that you can save money with Apple itself is with trade in. Apple gives credit for the trade in of certain qualifying phones, iPads and MacBooks, so that's always an option to look into.
Which retailers offer the best Apple deals?
Lots of online retailers offer occasional sales on Apple products, but the best Apple deals, or at least the most regular deals, tend to be at Amazon, Best Buy and B&H Photo in the US, and at Amazon, Currys and Very in the UK.
These retailers also watch each others prices closely so you'll often find that if Amazon runs a discount, Best Buy will match it and vice versa, which is good to know in case one retailer sells out of stock on the particular colour or configuration of a device that you want. You can find all the best Apple deals at Best Buy (opens in new tab) in one place. And here are the best Apple deals at Amazon (opens in new tab).
Related articles: