Best tablets for Cricut 2023: Jump Menu
1. The list in brief ↴
2. Best overall: iPad (2022)
3. Best Apple: iPad Air (2022)
4. Best Windows: Surface Pro 8
5. Small Android: Galaxy Tab S6
6. Large Apple: iPad Pro 12.9-inch
7. Best Android: Galaxy Tab S8
8. Powerful Apple: iPad Pro (2022)
9. Cheap Android: Galaxy Tab S7+
10. Best Chromebook: IdeaPad Duet Chromebook 10.1
11. Best cheap Chromebook: HP Chromebook x2
12. Best basic tablet: Dragon Touch Max10
13. Small Apple: iPad Mini (2021)
13. How to test
14. How to choose
14. Frequent questions
The best tablets for Cricut enable you to create digital craft designs but without the bulk of a laptop. The best tablet for Cricut Design Space will make use of a touchscreen and ideally have a large enough display to show your projects in detail, and they'll slot nicely into the notch on your Cricut machine.
We've been covering Cricut in detail for years now and and have reviewed all of the machines, you can find these in our best Cricut machines guide. Our reviewers also test the latest tablets, from iPads to Android devices, so this guide combines the best of both experts views. When reviewing the best tablets for Cricut our team consider how Cricut's Design Space app works with the device. Some tablets aren't compatible with all Cricut functions and its software, for example, but they may be excellent all-round devices.
In my guide to the best tablets for Cricut below I've looked at factors that you need to get more from Design Space, such as those that come with a stylus, a good display, ease of portability, compatibility with Cricuts, and battery life, as projects often take a long amount of time. I've gathered information from our reviews and reviewers, and as someone who owns three Cricut machines I've tested them in a practical setting.
While most of the entries below are Apple, Windows and Android tablets if you're looking for something more affordable then read my guide to the best Chromebooks for Cricut.
The quick list
Below you can find three of the best picks for different reasons, while if you scroll down you can find deeper details all twelve of my choices for the best tablets for Cricut in depth and links to further reviews.
Best overall
The Apple iPad (2022) is a small but powerful tablet that is well-suited to all Cricut machines. Its display, while not huge, is bright. Apple Pencil 2 support requires an adaptor.
Read more below
Best Apple tablet
The Apple iPad Air (2022) is the best Apple tablet overall; it's faster and more powerful than the standard iPad (left), and supports Apple Pencil 2 out of the box.
Read more below
Best Apple tablet
3. Microsoft Surface Pro 8
The Microsoft Surface Pro 8 is the best Windows tablet for Cricut and ideal if you're using third-party design software (it's also cheaper than the new Surface Pro 9).
Read more below
The best tablets for Cricut we recommend in 2023
Why you can trust Creative Bloq Our expert reviewers spend hours testing and comparing products and services so you can choose the best for you. Find out more about how we test.
The best tablet for Cricut overall
The new redesigned iPad 2022 (10th Gen) is a superb tablet and easily my favourite tablet for Cricut right now. The iPad 2022 features a new larger, brighter display as well as USB-C support and a set of new accessories, including colourful cases and Magic Keyboard.
For Cricut use the screen is great and the support for Apple Pencil is excellent for tweaking your detailed designs with accuracy. The slight downside is you need to buy an adapter to use Apple's excellent stylus.
A new processor, the A14 Bionic chip, and expansive 64GB or 256GB of memory options ensures Apple's entry-level tablet is well-capable of most tasks, and perfect for using with Cricut. In our iPad 2022 review our tester loved our adaptable this model is to most creative tasks, and easily handles Design Space and Procreate, writing: "I don't need the power of the M1-charged iPad Air, but would like a tablet to be able to handle more than that of the standard model".
The best Apple tablet for Cricut
The Apple iPad Air (5th Gen, 2022) is a superb option as it offers tablet-sized portability with the power of a MacBook Pro – Apple's M1 chip can handle almost any task and easily breezes through Cricut Design Space. The new iPadOS also means multitasking and multi-view windows are an option, handy when you're designing but need to search for fonts, photos and more online on in folders.
In our Apple iPad Air (5th Gen, 2022) review we found the screen impresses, as you'd expect from Apple. For Cricut uses this cheaper iPad model just pips in my list above the more costly and larger iPad Pro. Some may want to spend the extra for the Pro's larger 12.9-inch screen, but for the money and power the new iPad Air's 10.9-inch screen will suit most crafter's needs.
The Apple iPad Air (5th Gen, 2022) supports the Apple Pencil 2, which you'll certainly need on a screen that's a little too small for fingers, particularly if you're creating some intricate designs. The attachable keyboard offers good versatility, and the Logitech Combo Touch Keyboard Case is a nice option. Both will need to be bought separately.
The best Windows tablet for Cricut
If you're willing to pay the money then the best Windows tablet is the Surface Pro 8; this impressive tablet also features a detachable keyboard, stand and stylus (bought separately). to make life easier and adaptable. Cricut Design Space was only available for Windows for a long time, and as such still performs better on this OS – though the Mac edition has come a long way. For many, a Windows tablet is an easier way to use Design Space.
When we reviewed the Surface Pro 8 we found it can stand its ground against multiple excellent laptops, yet is far more portable and lightweight. Users will be carving out beautiful decals in no time, as long as they are willing to shell out – though as this model has been on sale for almost a year you can pick up a Surface Pro 8 for around 20 percent off.
Windows 11 has proved excellent, particularly for design apps. Using a Surface Pro 8 means you can not only run Cricut Design Space but make use of other full design apps, such as CorelDRAW, Photoshop and Figma to create bespoke projects to make ready in Design Space. This broader use means I'd opt for a Surface Pro 8 over an iPad Air, just.
If you like the look of the Surface Pro but perhaps want one a little cheaper, then read our Microsoft Surface Pro 7 review, it's an older model but still handy for Cricut.
The best small Android tablet for Cricut
The Samsung Galaxy Tab S6 Lite is a great option for Cricut users for several reasons. First of all, the high quality display is brilliant for designing anything that includes fine detail and is super crisp. The battery life can last around 15 hours on one charge, which means it is perfect for designing on the go, and packing in a briefcase or handbag to use on the move. Coupled with a Cricut Joy you can craft on the go with ease.
This tablet's great performance is ideal for operating Cricut Design Space, and unlike most devices, the Samsung Galaxy Tab S6 Lite comes with the S Pen stylus at no extra cost, which is especially great for those who love to get creative. This lite version offers many of the functions of Samsung's Galaxy Tab S7, but without the hefty price tag. The big downside is that screen size; if you're creating your own designs you could find it too small, but for pre-designs in the Joy app or Heat Press app it's fine.
The best powerful Apple tablet for Cricut
The Apple iPad Pro (5th Gen, 2021) is the best tablet for Cricut if you've got the budget to shell out for the best tablet that money can buy. Currently Apple's best iPad this tablet features an M1 processing chip, which guarantees it has a lot of the same qualities as a Macbook, a classic yet expensive option for any art and design lover.
In our iPad Pro 12.9-inch (M1, 2021) review we found the HDR display featured is stunning, with a peak brightness of 1,600 nits and great control over dimming, this tablet is a great option for those who may be looking at their screen for a long period of time.
The performance is incredibly fast too, and paired with an Apple Pencil, you'll be making masterpieces. This iPad Pro comes with excellent storage, and for those who can part with the cash, will make a great tablet for Cricut. If you're set on an iPad Pro but want one for less, read our iPad Pro 11-inch (M1, 2021) review for an alternative model.
The best Android tablet for Cricut
The first of three Samsung tablets to make my list, but I'm opting for the Samsung Galaxy Tab S8 Ultra as the best Android tablet for Cricut. This new model really is a powerhouse and has some standout features, notably the large, glossy 14.6 inch display – bigger than the iPad Pro.
If that Apple-beating screen doesn't sell this tablet to you then the superb new S Pen should. This new stylus is close to matching Wacom, and features ultra-low latency and gesture control.
The only downside in comparison to the iPad Pro is the Samsung's screen is a little less vibrant and Apple pips Android when it comes to broader design apps. But, there are enough high-spec design apps on Android to suit crafters, and Cricut Design Space works well on Android these days. And the S Pen comes packaged with the Samsung Galaxy Tab S8 Ultra. Read our in-depth Samsung Galaxy Tab S8 Ultra review for a complete breakdown as to why this new tablet is the best Android device around.
The best powerful Apple tablet for Cricut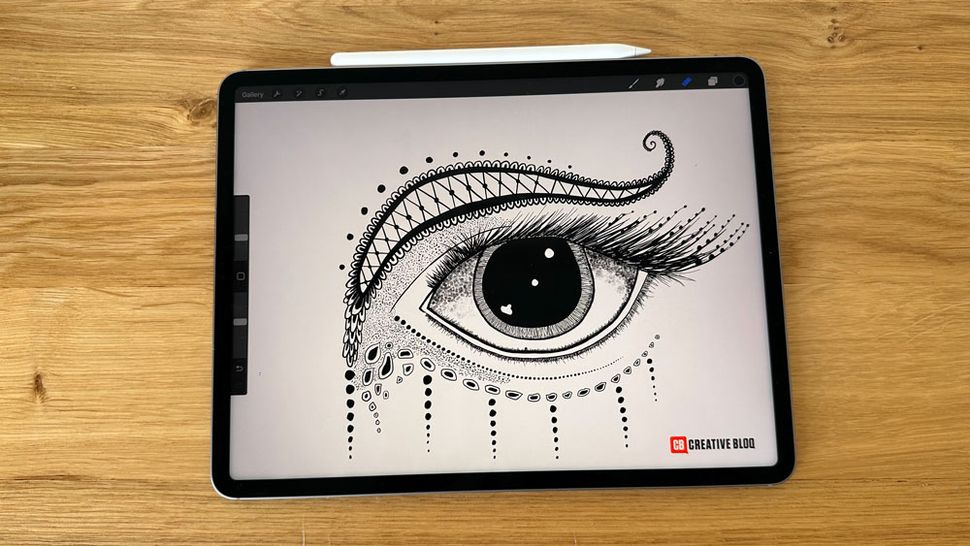 Now, the new iPad Pro 2022 (M2) is the best overall tablet on this list if you just want a high-spec, fast and powerful tablet. It really is superb. So why is it so low on my list? Because if you're looking for the best tablet for Cricut then it's a little overpowered and expensive.
In this regard, the older iPad Pro or the newer iPad Air 2022 (M2) on this list are still excellent tablets and a little cheaper than this high-end tablet from Apple. If you do want to spend the money, then the iPad 2022 (M2) is excellent. Featuring a 12.9-inch LED display with a 120Hz refresh rate, this screen is just stunning. In our iPad Pro 2022 (M2) review, our tester loved the M2 processor and found it speedy and dynamic, and the new iPadOS 16 offers all sorts of impressive features, such as multi-screen, multi-app workflows.
The Apple Pencil 2 support is excellent and the new Magic Keyboard turns the iPad Pro into a laptop, though it does add to the overall weight of the tablet. I have been using one of these daily, and love it. Though it's very expensive and for Design Space and even working in Procreate the new iPad at No.1 is great value.
The best cheap Android tablet for Cricut
The Samsung Galaxy Tab S7+ is a great tablet for Cricut lovers, and especially with Cricut Design Space this tablet from Samsung is a rival for the Apple iPad Pro. With a large screen that features a picture perfect display, the crisp, bright screen is an ideal option for designers of all kinds.
For those willing to invest in a slightly higher price tag, this incredibly thin and lightweight tablet has a fantastic battery life, a bright and clear display, as well as a fast performance – everything that's needed when those looking to get crafty with vinyls could possibly need.
If you're on a budget the Samsung Galaxy Tab S6 (below) is perfect, if price isn't a problem then the Samsung Galaxy Tab S7+ is a great option. If you're really looking to invest, then the newer Samsung Galaxy Tab S8 Ultra is a the newest and best of the Samsung range of iPad Pro alternatives.
The best Chromebook tablet for Cricut
If you're looking for an alternative to Windows or iOS, then the Lenovo IdeaPad Duet Chromebook 10.1 is the best Chromebook option. For a long time Cricut didn't support Chromebook or Android, but now it is possible to install Android apps on the from Chrome store and therefore, users are able to go ahead and get designing just like they are on any other tablet. So, if you're a die hard Chromebook fan, fear not.
This tablet is fast, lightweight and comes with great security features and automatic backups, which is vital when designing something that takes time. Although there isn't a huge amount of on-device storage space you don't really need it as this is a Chrome browser tablet so everything is in the Cloud. It can take some getting used to but the Lenovo IdeaPad Duet Chromebook 10.1 is an affordable option with great features, and an added keyboard and stand.
The best cheap Chromebook tablet for Cricut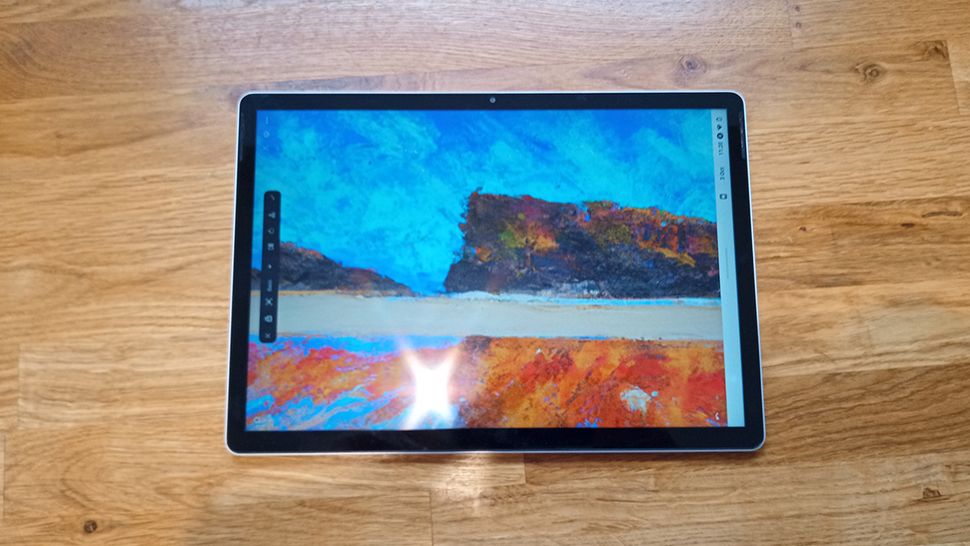 The HP Chromebook x2 is one of the smaller tablets on this list but also a little larger than the two tablets above; you get an 11-inch display rather than a 10-inch screen. So while it's not the biggest tablet, it's also not the smallest. You'll find it can display enough of a pattern in Design Space, or if using pre-designed files you'll want for nothing.
The touchscreen is excellent. It's bright and clear and perfectly suited to all uses, from graphic design to video streaming. The HP Chromebook x2 is small enough to fit on top of a Maker 3 or Explore 3, or the stand that magnetically adheres to the back is a perfect alternative.
In my HP Chromebook x2 review I found this to be an excellent small tablet that performs well and at speed. The only downside, as ever, with ChromeOS is the limited library of art and design apps. If you're looking to create new designs in Adobe Illustrator, for example, you'll be in trouble. However, if you're just using this to create in Cricut Design Space or importing files, it works just fine.
The best basic tablet for Cricut
Whilst the Dragon Touch Max10 Tablet doesn't have all the bells and whistles that come with the likes of the iPad Pro or a Samsung Galaxy tablet, it is certainly a brilliant option for those looking for something that still offers most features that you'd need to work with Cricut Design Space, and for a fraction of the price.
The display is very good and a surprise at this price-point; the Dragon Touch Max10 Tablet features high resolution and brightness levels you expect from a more expensive device. The battery isn't the strongest, however, but this tablet is more than enough for those who simply want to design.
The best small Apple tablet for Cricut
The Apple iPad Mini (6th Gen, 2021) comes with many of the features you'd expect from Apple's iPad Pro but at a fraction of the cost, and it's more portable. But after this 2021 refresh, the iPad Mini has got even better. This tablet is now compatible with Apple Pencil 2nd Generation, making it a match made in heaven for designers.
With Apple's A15 Bionic processor and a Liquid Retina IPS LCD screen, this tablet has a brilliant spec, and fast performance. And, although it isn't possible to plug your headphones in to block out the world whilst you work, you can become the next Picasso with the Apple Pencil (if you're looking to purchase one), that attaches magnetically to this iPad.
Weighing less than 300g and super sleek in design, users may assume that this tablet couldn't pack a punch, but they'd be wrong. The screen size may not suit all Design Space and Cricut users, but if you can cope with the smaller screen you get then quality-of-life Apple offers.
Again, like many at the tail end of my guide this tablet has a small-ish screen, so it's great from basic pre-designs but you'll need one of the larger devices in numbers 1-5 for creating your own projects in Design Space.
The best tablets for Cricut: how we test
We like to test and review the best tablets for Cricut under the same conditions as they would be used at home, this means we run Cricut Design Space and create projects on our Cricut machines.
We spend at least two weeks with a tablet and use it with a Cricut machine, varying from the Cricut Maker 3 to the smaller Cricut Joy, depending on the size and type of the tablet. You can read a general guide to how we test on Creative Bloq for more details.
The best tablets for Cricut: how to choose
Choosing from the best tablets for Cricut in my list can come down to a number of personal preferences, from the operating system you prefer to the size of tablet you need. The choice has expanded since Cricut began supporting Android and Chromebook tablets, as well as releasing the new Cricut Heat app and Cricut mobile version of Design Space. Tablets are now a great way to connect to your Cricut machine.
So, how to choose a tablet for Cricut? First, consider if you're creating designs from scratch and do you use other software for Cricut, such as Adobe Illustrator or CorelDRAW? If so, you'll likely need a larger tablet and something with some power, like an iPad Pro 12.9-inch or the Microsoft Surface Pro 8 (the new Surface Pro 9 is excellent but more expensive).
If you rely more on pre-made projects in Design Space then a tablet with a smaller screen, and less power, would be just fine. The new Apple iPad is a good choice, for example, but if you prefer Android the the Samsung Tab range is an option, and if you want a Chromebook, the HP models are excellent and cheap.
Finally, as I teased above, the operating system you prefer will ultimately decide which tablet is best for you; overall I would say iOS tablets are the smoothest to use with Cricut, while Android and Windows tablets are good too. Chromebooks work, but they are more limited and take time to get used to.
The best tablets for Cricut: frequent questions
Can you use a tablet with a Cricut?
Tablets are ideal for using with Cricut as you will need the flexibility of a touch screen and stylus if you want to get the most from Design Space. Cricut has Design Space apps for Apple, Windows and Android (and this works on Chromebooks now).
Can I used Cricut Design Space with a Chromebook?
Yes, you can now. For a while Cricut's support for Chromebooks was lacking but now you can download the Android Design Space app and use this on your Chromebook. Here's how:
1. Go to the Google Play store and download the Design Space app
2. Open and sign in to the app, or set up a new profile account
3. Connect to your Cricut machine by turning it on
4. Then open the system menu of your Chromebook, usually bottom right, and select Bluetooth to pair the device
Can I use Cricut with my phone?
Yes, in fact the Cricut Joy is perfect for use with an Android or Apple phone. It's focus on stickers and cards ensures the size is just right for a phone screen. We'd suggest for larger projects on Cricut Maker and Explore you will need a tablet or laptop.
Can I use my iPad with Cricut?
Yes, Cricut has the Design Space app and Cricut Access app in the Apple Store, and the iPad is a great tablet to use with the Cricut Maker 3 or Explore. You will ideally need an Apple Pencil or Apple Pencil 2 as well. As well as Design Space you can use over digital art and design apps, read my guide to the best software for Cricut for more details.
Can I use a Kindle with Design Space?
No, Kindle's are e-readers and are very limited, whether that's the display or OS. Amazon Fire tablets shouldn't really be used either as the operating system doesn't support Design Space - best stick with an Android tablet for a budget experience.