The Apple Watch Series 8 has just hit another record-low price – it's now reduced to just $279 at BestBuy (for the S/M size). This is $120 off the RRP, and a full $30 lower than we've seen before – and all because the Series 9 has just been released. If you'd rather shop at Amazon, it has a great deal on the M/L Starlight and the S/M Midnight – both now $299 at Amazon (if you're not in the US, there's a lowest price situation on the Apple Watch SE 2 – reduced by £60 to £199 at Amazon).
But what's key about this deal on the Series 8? Well, based on previous sale patterns, I'm not sure it'll go much lower during Black Friday. Of course, this is speculation but we didn't see the Series 7 go anywhere near this low last year (it stuck at $339 over Black Friday) – so I'm pretty confident that this is a good deal.
Sure, the Apple Watch 9 has some extra features, but we think the 8 will be more than enough for most people, especially at this price. See our Apple Watch generations guide to see what's available with the 8 (and head to the bottom to see what the 9 will give you).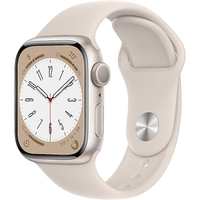 Apple Watch Series 8
Was: $399
Now: $279 at BestBuy
Save: $120
Overview: The Apple Watch Series 8 introduced new features, which are still super-powerful. If you're not bothered about some of the bells and whistles on the upcoming 9, this model is a decent way to save some money. This deal is on the 41mm option in S/M.
Key features: Our Apple Watch 8 review explores the features, which include Crash Detection, Blood Oxygen sensor and app, Electrical Heart sensor and app, and temperature sensor. It also has all the usual messaging and call functionality, and more.
Price history: The RRP is $399 for this model, though it's been fluctuating between $309 and $399 for a while now. This is the lowest we've seen it go for, and it's the lowest around at the moment.
Price comparison: Amazon: $299.99 | Walmart: $329.99
Reviews: We gave the the Apple Watch 8 a very respectable four stars. On the plus side we loved the bright, always-on screen and fast, smooth performance, but we felt it was only incrementally better than the Series 7.

TechRadar ⭑⭑⭑⭑ | Tom's Guide ⭑⭑⭑⭑⭑

So why spend more for the Series 9? The new Watch 9 has an S9 chip (which is 30% faster) and a 4-core neural engine (twice as fast) – so if speed is your thing maybe spend the extra dollars. Besides that there will be a Double Tap gesture, Precision Finding for your iPhone, extra dimming functionality and HomePod integration. But most of every other feature is the same, including Crash Detection, heart rate monitoring etc.
Not sure which Apple Watch you want? See the deals we've found below (or see our Apple Watch SE 2022 review).