In this series of tutorials for TutsPlus, Sara Berntsson walks you through the creation of comics and characters in Adobe Illustrator, from making a character sheet to inking and halftone effects.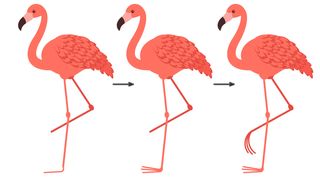 In this comprehensive tutorial, Nataliya Dolotko shows you how to create your own Illustrator brush and use it to create a flamingo on a tropical background.
In this tutorial, Simon Middleweek looks at how to take a vector-based logo from Illustrator and Photoshop into Cinema 4D and give it shape, texture and lighting. This will only take 30 mins with some basic knowledge of C4D.
In this Adobe Illustrator tutorial, Sharon Milne shows you how to create a striking portrait using a stock image, in only one colour. This is an advanced vector portrait tutorial, in the sense that previous knowledge of creating portraits is required.
Don't pay for icons, make your own! Andrei Marius explains how to create a colorful icon pack in Adobe Illustrator in this excellent tutorial.
Related articles: