If you're a student (or a teacher, for that matter), and you're in need of a high-end PC before heading back to school, college or university, we highly recommend the Mac mini (M2, 2023). Especially when you get $100 off the price over at Apple.
As we said in our review, it's a word-class computer, and as long as you have a keyboard, monitor and mouse already, it's perfect for more high-end student work, including video editing. The down side? Well, it's probably overkill for a lot of student courses that only involve browsing and text documents. And you'll have to find yourself a monitor, keyboard and mouse. However, if your workload justifies the super-powerful M2-chipped Mac mini, for only $499 you could afford to get the other equipment and still be paying less than the equivalent M2-chipped MacBook Pro laptop. Bargain!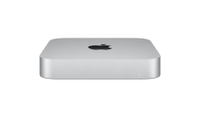 Apple Mac mini (8GB, 256GB, M2, 2023)
Was: $599
Now: $499 at Apple
Save $100
Overview: For the price, this is one of the best computers out there. You're getting the famed Apple M2 chip with 8-core CPU and 10-core GPU, 8GB RAM and 256GB SSD. This might be overkill for a lot of student work, but if you want a powerful PC that can handle pretty much anything, this is a great option.
Key features: The M2 chip is Apple's latest, bringing speed, power and reliability to its computers. It's got two Thunderbolt 4, HDMI and two USB-A ports. It can also support two displays at the same time (up to 6K and 5K), should you want that set up.
Price history: The Mac mini is already sold at the fair retail price of $599, so to get $100 off the M2 model is a great deal. This student-exclusive deal has already been matched for all retailers, but only for a short period of time over Amazon Prime Day.
Price comparison: $599 at Best Buy
Reviews: When we got our hands on this Mac mini at the beginning of the year, we were impressed by its 'immense power', and called it, 'one of, if not the, best small form factor PCs money can buy'. Looking around at the other top tech sites, they all agree.