It's March 10, which means, of course, it's Mario day. March 10th. Mar 10. Mar10. Mario. Geddit? It sort of looks like the word 'Mario'. Anyway, there's lots going on in honour of everyone's favourite moustachioed Italian plumber today, including a (slightly underwhelming) new Switch console release.
To get into the celebratory spirit, we've plumbed the depths of our Mario knowledge to bring you four character design secrets from the Mushroom Kingdom. And if you're ready to start gaming, take a look at our roundup of the best Nintendo Switch deals available now.
Mario's hat isn't always red
A user on Twitter has shared some pretty mind-boggling facts about everyone's favourite plumber. From game to game, Mario's cap has varied in colours but only once has he sported a 'Pure Red' hat.
The reddest that Mario's shirt and hat have ever been was in Super Mario 64, where they were the hex color FF0000, the purest red representable on a screen. All Mario sprites and models before and after this used various less pure shades of red. pic.twitter.com/BfPkZLrkCMMarch 8, 2022
The reddest Mario's hat has ever been was in the Super Mario 64 games. The plumber's hat and t-shirt is a shade of #FF0000 in the game, which is classed as the purest shade of red. Indeed, in some games it's practically brown. Brown!
Only one female Mario character has teeth
Have you ever been playing your favourite Mario game and wondered which characters have teeth and which don't? Yeah, us neither. But apparently, Nintendo has been keeping a dental-themed secret from everyone for years – and the same Twitter user discovered it.
Out of the recurring female human characters in the Mario series, only Daisy regularly has teeth. This affects both official art and in-game models; in the vast majority of cases, Peach, Rosalina and Pauline simply have no teeth modeled inside their mouths. pic.twitter.com/vYe04PrMMaFebruary 9, 2022
Daisy is the only female character in the Mario franchise that actually has teeth. Supper Mario Broth (great Twitter name, by the way) shows the wireframe (check out our roundup of the best wireframe tools if you haven't already) of Daisy, Princess Peach, Rosalina and Pauline, revealing that Daisy is the only one with a head full of chompers.
How tall is Mario?
One of the most recurrent Mario debates involves the height of the games' heroes. Just how tall is Super Mario and his companions? Many cite Mario's height as 5ft 1in based on a statue in Japan, but that was never intended to be a life-size representation. But last year, a size charts was revealed for the upcoming Super Mario Bros movie. While it doesn't give exact measurements, it does show that Mario is a touch shorter than both Luigi and Princess Peach. And Bowser is twice as tall as Mario. Wowser.
What's under Toad's hat?
Okay, this one isn't official – but we're including it because it's so damn terrifying. It's one of the most pressing questions of our time: is Toad's head a hat, or is it just his head? The conundrum has led several illustrators to create their own Toad-themed concept art (naturally), and back in March 2020, Alex Solis gave us perhaps the most nightmarish example yet. Who cares if said head is a hat – what matters now is whether those eyes are... nostrils?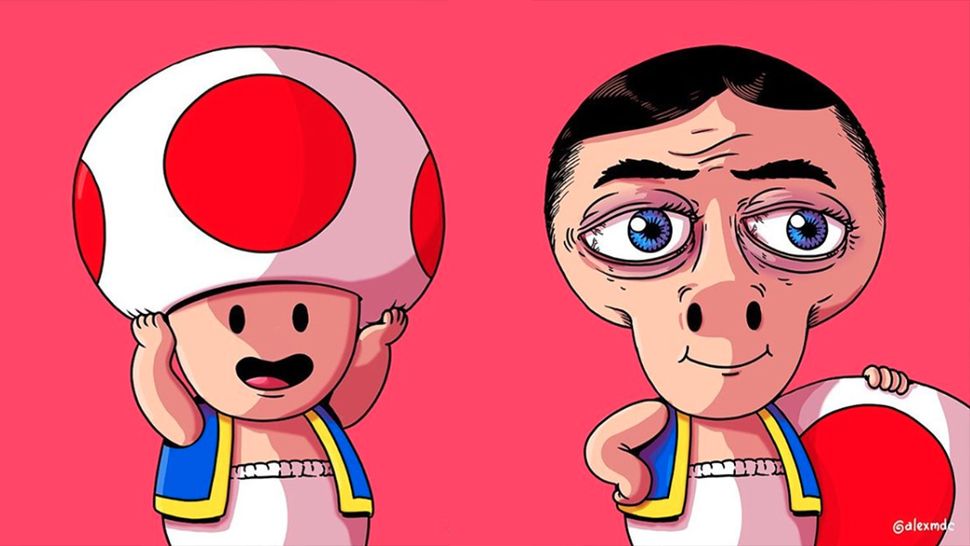 But there's good news! Solis' terrifying (and apparently sleep-deprived – or intoxicated – or both) version doesn't match up with Nintendo's explanation of everyone's favourite mushroom. "So that, as it turns out, is actually Toad's head," Super Mario Odyssey producer Yoshiaki Koizumi recently revealed in a video on the company's official YouTube channel. So, there we go – it isn't a hat! There's nothing underneath! We can all sleep easy now. Until Mario Day next year, when we will almost certainly be wheeling out this monstrosity again.