Update: this article focussed on Prime Day 2 deals in October. Now, with Black Friday near, over 24-27 November, we're going to be reporting on the best Black Friday office chair deals, so be sure and check them out for up to the minute deals.
For the last three years I've been testing and reviewing the best ergonomic office chairs out there. My top three choices were all on sale for Prime Day – and, brilliantly, they're all still discounted now.
When I say my top three picks, I mean it – I still own two of these chairs several months, and even years, after reviewing them. From a design icon to a great value for money option, these chairs offer not only comfort, but really good back support too. That's actually my primary criteria when reviewing them. As detailed in my list of the best ergonomic chairs for back pain, lumbar support is really important when it comes to a modern ergo chair. Adjustability is also up there, and all three of these models offer that - with three very different styles. Take a look.
Best overall ergonomic office chair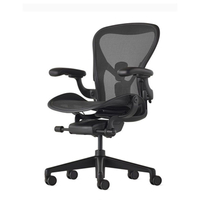 Herman Miller Aeron: $1,275 $711 at Amazon
Save $564: This deal needs some explanation. The Aeron is being sold for $711 on Amazon – a whopping $564 lower than at the Herman Miller website. The difference? You'll get a 12 year warranty from HM direct, but not from Amazon.
In either case, this is my all-time favourite office chair, and the one I'm sitting on right now typing this article. It's stylish, beautifully put together, and is hands-down the most comfortable chair I've ever used. Your back will thank you for getting this ergo throne!
Best value for money chair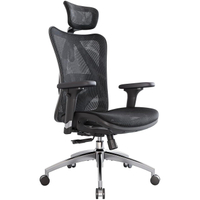 Sihoo M57: $219 $175 at Amazon
Save $50: Sihoo is a Chinese company that has really nailed the budget office chair sector in the last couple of years. And that's because they do it so well – a quality build with adjustable features usually beyond its price bracket.
I don't think it's the most attractive chair to ever be made, but if budget is more important than looks, this is an excellent option. It's a pain to put together, but once you have, it's a solid chair that's supportive in all the right places. Just make sure you add the coupon to get your discount.
Best leather ergonomic chair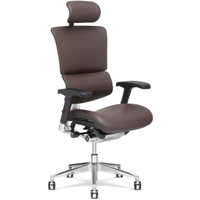 X Chair's X4: $1,349 $1,154 at Amazon
Save $195: This was my favourite ergonomic office chair, until I got the above Herman Miller Aeron in! It's made with real leather and memory foam for supreme comfort. It also has a weight to it that, doubled-up with the in-built lumbar support, makes it one of the most supporting chairs out there.
I love it for hours of office work, but also gaming, with its highly adjustable arms. In short - it's pure class.