If you know you're going to be looking for Black Friday drawing tablet deals on November 24, you'll want to bookmark this page. But deals often start appearing way earlier so we're here to make sure you don't miss anything. On this page, we'll be sharing top buying advice and all the best deals we can find on tablets from Wacom to Huion, Xp-Pen to Xencelabs and more.
Drawing tablets allow you to sketch and draw with a stylus and touchscreen, converting your strokes into vibrant digital art you can then edit on your computer. They can be extremely pricey, but Black Friday is historically a brilliant time to snap one up for a bargain. See below for answers to all your Black Friday questions, sale predictions, and last year's deals to give you some idea of what we're expecting.
As the event draws nearer and offers start appearing, we'll be rounding up deals on tablets by brand – such as the all the Wacom Black Friday deals you could hope for. Make sure you also check our Apple Black Friday deals hub for more offers on hardware for creatives.
Black Friday drawing tablets: Need to know
Will drawing tablets be on sale for Black Friday?
The short answer is, yes. Definitely. That's all we can say with certainty though. Previous Black Fridays have seen good deals on drawing tablets, accessories and bundles. Though we don't often see mind-blowing discounts on Wacom (these are normally fairly modest offers), other brands like XP-Pen, Huion and Xencelabs run Black Friday and Cyber Monday deals that are worth holding out for.
What is the cheapest but best drawing tablet?
We think the best value drawing tablet is the XP-Pen Artist 16 (2nd gen), which is excellently priced and performs super-well too. XP-Pen is a brilliant budget brand – and Black Friday will probably get you more money off.
Can you use an iPad as a drawing tablet?
Yes, you can use an iPad as a drawing tablet. The Apple Pencil works excellently with Apple's tablet to create digital art. However, the experience won't always be the same as other, more specialist tablets – the screen is shinier so it's a less authentic art experience, for example. But there is incredible power in the Pro, and the most recent Air, so it will handle any digital art tasks easily. The other consideration is size, drawing tablets can come in a much bigger size than the biggest iPad, which is 12.9-inches.
And there will almost definitely be some iPad deals this Black Friday (but we won't be listing them here. For that you need the afore-mentioned Apple hub).
Black Friday drawing tablets: Sale predictions
In previous years we've seen the biggest discounts on X-Pen and Huion, though Xencelabs (winner of two Creative Bloq Awards this year) have also had some excellent deals – especially on bundles.
Wacom have some modest discounts that will save you small amounts. Given Wacom has just refreshed its line, we tentatively predict we'll see some bigger discounts on older models, though nothing is ever certain.
Black Friday drawing tablets: best US retailers
Black Friday retailer quick links: US
Black Friday drawing tablets: best US retailers
Black Friday drawing tablet retailer quick links: UK
Black Friday drawing tablets: Last year's deals
The best Black Friday drawing tablet deals: US
The best early Black Friday drawing tablet deals: UK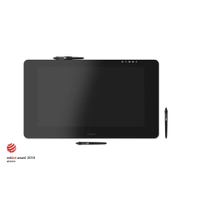 Wacom Cintiq Pro 24: £2,399 £2,199 at Wex Photo
Save £200: Looking for a full professional drawing tablet? Wex has £200 off the Cintiq Pro 24 Creative Pen Display Touch, which offers Wacom's most natural and accurate pen experience of all, with tilt detection and 8,192 levels of pressure sensitivity.
When do Black Friday and Cyber Monday drawing tablet deals start?
Black Friday 2022 is officially 25 November, with Cyber Monday following on 28 November. These two dates will likely see the biggest drawing tablet deals, but retailers are starting their sales earlier and earlier, and we're now seeing Black Friday drawing tablet deas as early as the start of November.
It's always hard to know whether to grab an early deal or hold out for the chance of a bigger saving, but as a general guide, we'd see if you see a very attractive saving in the run up to Black Friday, it's probably a good idea to grab it. The weekend between Black Friday and Cyber Monday also hosts plenty of excellent deals, so even if you don't find something on 26 November, there's a good chance more drawing tablet deals will pop up.
How to get the best Black Friday drawing tablet deals
There are a huge number of retailers out there that will be offering drawing tablet Black Friday deals, and while that offers you a lot of choice for finding the best deals, it can also be a bit overwhelming. So, to make things easier, follow these steps.
First of all, set out a budget. This will give you a good idea of the kind of deals that will be right for you. After all, if even after a big price cut, the drawing tablet you have your eye on is still too expensive, then you should look elsewhere.
If that happens, think about buying second hand, or looking at cheaper alternatives. While Wacom is the market leader, the likes of Huion and XP-Pen offer excellent alternatives that are usually less expensive, and those too should see price cuts on Black Friday.
Next, think about what you need from a drawing tablet. Do you need a large surface to draw on, or would a smaller, more compact tablet work better? Do you need accessories such as additional keys and buttons?
It may also be worth thinking if you need a dedicated drawing tablet, or if you'd be better off with an iPad or Android tablet with a stylus? These are more versatile, and could see big discounts as well.
If you're buying for a child, then check out our best drawing tablets for kids guide for specific advice and recommendations.
Once you have a budget and your needs in mind, you can narrow down your search. We've also made life easier for you here, as we'll be updating this page in the run up to Black Friday and during the day itself to highlight all of the best drawing tablet deals we've found, so make sure you check back here first before you buy!
Read more: