After Effects tutorials: Quick links
Learning from the best After Effects tutorials will progress your ability in Adobe's powerful and versatile software. Whether beginner or pro, the vast wealth of tutorials out there will advance your understanding of visual effects, compositing and motion graphics.
Packed full of features for creating everything from a simple title sequence to full 3D stereo compositing, Adobe After Effects is the industry-standard software. It's used by most VFX, 3D and motion graphics artists, as well as animators – all of who could benefit from all the input the wise internet has to offer. Our list contains the very best of the tutorials out there.
We've grouped the tuts in sections so you can find what you need. Beginners will get to grips with the interface and basic features, whilst those further along can learn techniques such as custom transitions and warp stabilisation. More advanced? Dive into rotoscoping nature footage.
If you don't have the software, you can learn how to download After Effects here, or see our roundup of the latest Adobe Creative Cloud discounts. Wan more tools? Here's our guide the After Effects plugins you need. Fancy learning more about drawing? See our how to draw tutorial roundup. If you want to put your skills to the test, check out our guide to gaining Adobe certification.
Save on an 3D World subscription
3D World is the leading title for 3D artists, VFX pros and enthusiastic hobbyists. Its 13 issues per year offer exclusive practical inspiration, advice and insights with some of the world's leading artists and studios, and as a subscriber, you'll get access to every single issue, direct to your door or device!
Offer ends 31 December 2021 (GMT)
Download a 7-day free trial of After Effects for PC or Mac
Try the latest release of After Effects free with this seven-day trial from Adobe. If you like it you can convert to a paid subscription during the trial, or after it's expired. There's no obligation to buy the software, but if you don't want to keep paying, the onus is on you to cancel before the end of the trial.
After Effects tutorials: Get started with AE
New to the software and want to get shown the ropes, in plain English? Here are the best After Effects tutorials for beginners, to set you on the right path.
01. Learn EVERYTHING about After Effects
In this comprehensive video, freelance video editor, videographer and YouTuber Jack Cole explains what After Effects is and how to use it, with keen insight and a lot of enthusiasm. This is not so much a single tutorial as an entire course: the whole thing is over 11 hours long. Jack begins with the basics, introducing the layout (7:19), creating a composition (13:42) and importing media (19:41), then progresses on to more advanced After Effects tutorials. He talks you through the syllabus during the first two minutes of the video, or you can read through all the lessons and timings on the YouTube page.
02. After Effects Basics
Don't have a lot of time? This 25 minute After Effects Basics video is one of the best After Effects tutorials for getting a grasp of the software quickly and thoroughly. With an abundance of energy and passion, photographer, cinematographer and YouTuber Peter McKinnon begins by running through the different elements of the interface. He then demonstrates how it all works via a quick project, where he animates a title that's tracked through 3D space.
03. The beginner's guide to After Effects
If you're looking to augment your knowledge of Photoshop and Illustrator and move into AE, here's one of the best After Effects tutorials you can follow. In this lesson by Mike Griggs for Creative Bloq, you'll learn how to get started with the software, and get introduced to the basics of layers, expressions, animated typography, rototools and more.
04. Get to know After Effects
Here's one of best After Effects tutorials produced by Adobe itself. This first-time user's tutorial gives you a solid introduction to After Effects, explaining how to launch the application, import files, and organise assets in the Project panel.
05. The basics of After Effects in just 18 minutes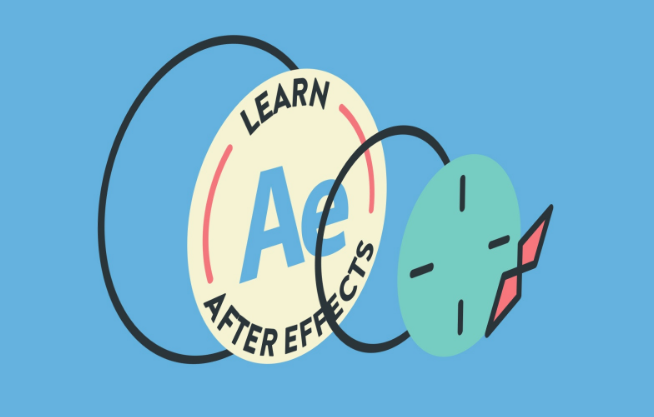 In this After Effects tutorial, Owen from Motion Array provides a walkthrough of the creation of an animated logo, explaining various basic elements of the software along the way.
06. Get started with animation in After Effects
Once you grasp some basic concepts, you'll be able to create a range of animation styles using After Effects CC. This get started in animation tutorial by Sara Barnes runs through some top tips for animating illustrations in After Effects, starting with the basics.
07. How to animate a line in After Effects
Motion Array is a great place to find After Effects tutorials for beginners, and here's a great one. In this video walkthrough, Owen shows you how to animate a line in After Effects, from one point to another on a map.
08. How to Make a Simple Intro in After Effects
One of the most popular reasons to follow After Effects tutorials is so you can make a professional looking title for your video. This tutorial from Tech Infusion shows you how to make a clean and eye-catching intro that really pops, and walks you through the entire process in just over eight minutes.
09. How to move from Photoshop to After Effects
Getting into motion design can seem quite intimidating, but Rob Carney's tutorial shows how many similarities there are between Adobe's motion graphics, animation and video editing tool and Photoshop. Learn how to apply your Photoshop skills to making images that move.
10. Work with composition in After Affects
This tutorial from Adobe will help you to learn the basics of creating your first composition in After Effects, as well as how to add animation, apply effects and more. You'll learn to build your first composition with multiple layers, position layers in a composition and record multiple keyframes to create an animation.
11. Create and animate text in After Effects
This series of After Effects tutorials will teach you the fundamentals required to create and animate text layers. Here you'll learn to add text to a composition, apply and edit prebuilt text animations and create per-character animation.
12. Learn the text write-on technique in After Effects
The text write-on effect is one of the most commonly used techniques in motion design. It involves using masks to mimics the natural motion of handwriting words, which can come in handy when, for example, animating reveals for logos, titles, and other motion graphic elements. You'll find a lot of After Effects tutorials on this topic, but this video tutorial by Black Mixture is our top pick.
13. Build custom transitions in After Effects
Learn how to create custom transitions with these After Effects tutorials. In these three lessons you'll find out how to animate masks to create a custom transition, build animated graphics using Shape layers and create transparency in a layer using a track matte.
14. After Effects basics VFX tutorial
Teaching you how to make a lit fire effect, this is one of the most fun After Effects tutorials for beginners we know of. As host Black Mixture explains, this process includes versatile methods are at the basis of creating lots of different special effects, so it's a great set of transferrable skills to learn as a beginner.
15. Create a custom glitch effect
It's great when After Effects tutorials have a cool effect as their end goal, and this one is no exception. Discover how to make a cool glitch effect in this tutorial, entirely within the app and requiring no source footage.
16. Create visual effects in After Effects
Here's a great series of After Effects tutorials focusing on techniques for creating several popular visual effects. These five lessons explain how to: use the 3D Camera Tracker effect to place type into a scene, add a blur over a specific area in the video footage, isolate elements by pulling a greenscreen key, clean up keyed footage using a garbage matte, and retime video to create visual impact.
17. Create animated backgrounds
These After Effects tutorials explain how to use a Generate effect to create an animated background. There are two lessons here. First, you'll create animated graphic elements from scratch that you can use to create an animated background. Then, you'll create a seamless looping background using evolution options.
18. Select and animate layers
This collection of After Effects tutorials guide you through techniques and tools that simplify the process of selecting and animating multiple layers in your composition. In these three lessons, you'll work with multiple layers in a comp, use Pre-compose to animate groups of layers, and use null objects to drive animation of multiple layers.
19. Work with 3D
This set of After Effects tutorials focuses on create and work with 3D in compositions. Across the three lessons you'll learn about the different renderers available in After Effects, how to enable 3D on a layer to position 2D layers in 3D space, and how to add lights to a composition containing 3D layers.
20. After Effects 17.0: New features
Most After Effects tutorials for beginners are a year or two old now, but new features are being added to the software all the time. So to get up to speed, check out this School of Motion tutorial from last November, which walks you through the latest big update to the software.
After Effects tutorials: Build your skills
Once you've mastered the basics, it's time to start building your skills. There's plenty more to learn – whether you want to start upskilling in motion graphics, animation and videos, improve your productivity, or organise your projects more efficiently. Here are the best After Effects tutorials to help you do so.
21. Adobe After Effects CC 2021 New Features & Updates!
After Effects got an update this year, and this video explains everything you'll need to know. Jump through sections introducing the new features including Taper and waves, Middletro and more.
22. How to Make a Simple Intro in After Effects CC 2020
This tutorial from Tech Infusion teaches you how to make a simple intro using After Effects. Some people say the tutorial is a bit fast, but we found a generous use of the pause button was enough to keep up. It's a super-useful tut, with great results.
23. Organise your project assets
Working in After Effects can become overwhelming if things aren't well organised. This tutorial explains how to navigate Adobe After Effects so you can organise your projects – including imported assets, precompositions, and timeline layers – and apply effects efficiently.
24. Render your work
Learn to render a video composition in this After Effects tutorial. Get started with the Render Queue and discover how to render multiple file formats using Adobe Media Encoder.
25. Understand animation
In this tutorial from Lynda.com and Ian Robinson, you'll discover the powerful options within After Effects for animation. Topics covered include basic animation concepts, terminology, and animation features.
26. Add text with formatting and effects
Want to add and adjust text elements to your compositions? In this After Effects tutorial you can learn how to set text as editable, adjust character formatting, and fade in your text on a clip.
27. Fix unusable footage
In this After Effects tutorial, you're taught how to repair imperfect footage using tools that address common problems. Fix a shaky, handheld shot with the Warp Stabilizer VFX effect, and then use Camera Shake Deblur to sharpen all frames before applying the Lumetri Color effect to correct colour imbalances.
28. Adjust for shaky camerawork
Learn how to smooth handheld footage, choose which objects in a scene get stabilised, and even reverse a stabilisation to track an object in an unstable scene using the Warp Stabilizer VFX.
29. Capture colours, shapes & brushes on the go
In this tutorial, Sergiy Maidukov reveals how to quickly capture, create, and edit custom brushes, colour themes, vector shapes and unique looks in Capture CC, which you can then use in After Effects (see below).
30. Turn captured shapes into motion graphics
We love After Effects tutorials that demonstrate how to take advantage of the wide range of tools in the Creative Cloud, and here's a great one. In this walkthrough, Matty Newton explains how to capture a handwritten signature with Adobe Capture and turn it into an animation in After Effects.
31. Create animated sun rays
This tutorial explains how to draw and animate a simple sun shape using After Effects, in just a few steps.
After Effects tutorials: Use tools
Here are the best After Effects tutorials to help you find your way around the software's toolset, and unlock the special features that can help you become more productive and creative.
32. How to use the Roto Brush tool
Rotoscoping is a tedious task that involves tracing and isolating objects within an image. However, the Roto Brush tool in After Effects, which is similar to the Quick Selection tool in Photoshop, makes it much quicker and easier. In this video tutorial, Jason Boone explains how to use it.
33. Use the Puppet tools
After Effects tutorials are a great way to keep up with the latest new features, and here's a great example. AE comes with puppet tools, including the Advanced and Bend puppet pins, and in this video, Boone shares his top tips for making the most of them in your projects.
34. Export comps to the Render Queue or Media Encoder
There are two ways to export compositions from After Effects: the Render Queue and Adobe Media Encoder. Each method has its benefits: In this short tutorial, Maria Corte explains how to use both.
35. Apply motion blur for smoother playback
This After Effects tutorial by Chris Meyer explains how to apply the Pixel Motion Blur effect to avoid visual strobing, when playing back some footage and 3D renders at normal speed.
After Effects tutorials: Work with other software
One of the big advantages of After Effects being part of the Adobe Creative Suite is that it works smoothly and efficiently with other creative tools. These After Effects tutorials will help you make the best of this interoperability.
36. Adobe Premiere Pro and After Effects workflow
In the old days switching video clips between Premiere Pro and After Effects was very time consuming and unpractical. You had to render and export your edit from one application to import them in the other one. Now, though, dynamic Link allows different tools to work together in a way that's fast and user-friendly. One of many excellent After Effects tutorials from Cinecom, this video demonstrates how this can create a super-efficient workflow between Premiere Pro and After Effects, and other tools besides.
37. How to prepare Illustrator graphics for After Effects
When Adobe Illustrator files are passed across for animation that are not ready for After Effects, it causes a lot of confusion and friction between the illustrator and animator. Follow this checklist from Jeff Hurd to ensure your designs are ready for animation.
38. See what's possible with Cinema 4D Lite
Cinema 4D Lite is the 3D creation and animation software included with After Effects that makes it easy to integrate 3D elements directly inside your compositions. In this video tutorial, Timo Kuilder and Thanassis Pozantzis explain how to use the two tools together.
Create effects
After Effects isn't just for editing. Follow these After Effects tutorials and learn how to add spectacular and professional looking effects to your videos.
39. NBA Lights
In this video, filmmaker CM De La Vega explains how to recreate a cool neon outline effect, as made famous in a 2018 Christmas commercial for the NBA. We love After Effects tutorials that come with free project files and this is one of them: you'll find all the files you need to take part on that link.
40. Add special effects to a video
Get to know the basics of motion graphics and video compositing techniques using After Effects CC in this series of After Effects tutorials. Over a course of six videos, you'll become familiar with the workspace and how to import footage and other assets, and learn to combine elements in the scene using layers and nondestructive blend modes.
41. Apply immersive effects
In this After Effects tutorial by Charles Yeager, you'll discover how to stylise your 360/VR footage by applying or generating seamless effects – formatted specifically for equi-rectangular footage – without incurring unwanted artefacts.
42. Use masks to control effects
In this tutorial by Brian Maffitt, you'll learn how to limit an effect to a specific area using a mask on the layer without additional adjustment layers or track matte layers, and then change properties on a per-mask basis and save masks and effects as animation presets.
Advanced After Effects tutorials
Once you've got a few years' experience under your belt, it's time to start learning some advanced level skills. From working with VR to adding 3D text to your videos, these After Effects tutorials will help you become a true AE ninja.
43. Create an ultra 3D Earth
Video Copilot is one of the best sources of advanced After Effects tutorials, and here's a brilliant example. In this tutorial, Hollywood visual effects legend Andrew Kramer talks you through creating a CG Earth and a 360-degree star field using a free plugin, called Orb, which you can download here.
44. Advanced Electric FX Tutorial
Here's another of Video Copilot's excellent After Effects tutorials. This one looks at how to create some advanced electricity effects, namely lightning with realistic reflections, realistic cloud illumination and directional electricity. Project files can be downloaded here.
45. Mock up AR graphics with After Effects
After Effects has some powerful tools that we can use to mimic augmented reality. There aren't many After Effects tutorials on this topic yet, but here's one very good one from Laura Hawk. In this walkthrough she explains how to mock up AR graphics; this could be used, for example, you wanted to make a pitch video to show what an app with augmented reality capabilities could look like.
46. Create an explosive transition
Lightning bolts are a popular topic for After Effects tutorials, and here's a corker. Discover how to replicate the lightning bolt transitions seen in the trailer for DC's Shazam with this tutorial from Motion Array. It walks through everything from shooting some simple footage to adding the explosive transition.
47. Design a branded loading animation in After Effects
In this After Effects tutorial, InVision's Andy Orsow shows you how to make a custom loading animation, and turn it into a lightweight GIF.
48. Design a Hollywood-style movie title
Nik Hill of Territory Studio uses Adobe Creative Cloud tools to create UI screen graphics and titles for popular films such as Avengers: Age of Ultron, and so the opportunity to follow one of his After Effects tutorials is a real treat. Here he explains how to create a movie title sequence by manipulating assets from Illustrator using Cinema 4D Lite in After Effects.
49. Rotoscope nature footage
Here's one of the best After Effects tutorials we've found for producing nature footage. In this tutorial, which comes with full project files, Centrale Supélec student Hugo Germain uses rotoscoping effects on to reimagine the exotic marine life of Lord Howe Island, Australia.
50. Track facial features to apply precise effects
Track faces with exceptional accuracy by managing the level of detail you track, and apply effects only to a face or just the pupils, mouth, and nose. This tutorial from Maxim Jago Image walks you through the process.
51. Animate graphics with data
Data visualisation is becoming a skill that's in much demand right now, and here's one of the best After Effects tutorials to tackle it. Daniel Walter Scott shows you how to create data-driven animations of charts or graphs in Adobe After Effects CC without coding any graphics yourself. Import JSON data files to create a motion graphic, and then edit the data to update the graphic automatically.
52. Preview in real time as you make adjustments
Preview comps, layers, and footage, and also view design iterations in real time, adjusting composition properties and resizing interface panels without halting playback – Brian Maffitt shows you how in this short and sweet video tutorial.
Related articles: