Advanced After Effects tutorials
Once you've got a few years' experience under your belt, it's time to start learning some advanced level After Effects skills. From working with VR to adding 3D text, these tutorials will help you become a true After Effects ninja.
After Effects has some powerful tools that we can use to mimic augmented reality. Discover how to use them in this tutorial by Laura Hawk.
Discover how to replicate the lightning bolt transitions seen in the trailer for DC's Shazam, from shooting some simple footage to adding the explosive transition in After Effects.
Motion illustrator Iain Acton shows you how to work with null layers to create a looping animation of basic shapes – a conga line of shapes moving between two tunnels.
InVision's Andy Orsow shows you how to make a custom loading animation in After Effects, and turn it into a lightweight GIF.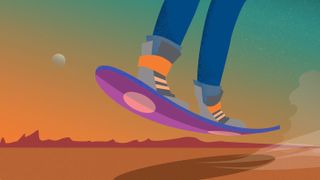 Want to create a hoverboard effect like the one seen in Back to the Future II? Discover how you can use After Effects to apply a track matte to a video captured on the go with Premiere Clip in this tutorial by Brian Maffitt and Will Freeman.
Nik Hill of Territory Studio uses Adobe Creative Cloud tools to create UI screen graphics and titles for popular films such as Avengers: Age of Ultron. Here he explains how to create a movie title sequence by manipulating assets from Illustrator using Cinema 4D Lite in After Effects.
See how Centrale Supélec student Hugo Germain uses rotoscoping effects on nature footage in After Effects to reimagine the exotic marine life of Lord Howe Island, Australia, within this untouched environment, then try the tutorial.

Placing 3D titles in a video clip and tracking that text to move realistically with your footage is not as hard as you might think. Ian Robinson shows you how to apply a track camera in Adobe After Effects and then enable the Cinema 4D Renderer, extrude the 3D text, and link your composition back to your sequence in Adobe Premiere Pro.
Turn a static character you created in Adobe Photoshop CC into a movable, talking puppet using Adobe Character Animator. This tutorial by Jing Wei and Dave Werner walks you through the process.
Dave Werner and Ryan Bubnis teach you how to use behaviors such as Motion Trigger, Cycle Layers, and Head Turner in Adobe Character Animator CC (Beta) to animate a hummingbird.
Dave Werner explains how to go beyond facial movements for your puppets in Adobe Character Animator CC by creating walk cycles, looped frames that allow your character to walk without requiring you to animate each step. Make adjustments for various leg lengths, avoid foot slippage when looping frames, and fine-tune the walk behavior for each puppet's performance.
Track faces with exceptional accuracy by managing the level of detail you track, and apply effects only to a face or just the pupils, mouth, and nose. This tutorial from Maxim Jago Image walks you through the process.
Daniel Walter Scott shows you how to create data-driven animations of charts or graphs in Adobe After Effects CC without coding any graphics yourself. Import JSON data files to create a motion graphic, and then edit the data to update the graphic automatically.
Preview comps, layers, and footage, and also view design iterations in real time, adjusting composition properties and resizing interface panels without halting playback – Brian Maffitt shows you how.
Related articles: