Finding the best ASUS laptop is no easy feat – largely because there are just so many to choose from, whether for gaming, business or studies. There are different form factors and components that can completely change how well these machines will form in different settings.
To help you find the right one for you, our experts have personally tested and reviewed as many ASUS laptops as we can get our hands on, and combined our analysis with results from benchmark tests, external reviews and market research. Using these insights, we've compiled this list of the best ASUS laptops available right now.
If you want to look at other brand's laptops, we've included a far wider selection in some of our other guides, whether it's the best laptops for working from home or the best laptops for graphic design.
The best Asus laptops available today
Why you can trust Creative Bloq Our expert reviewers spend hours testing and comparing products and services so you can choose the best for you. Find out more about how we test.
ASUS has done it again with another innovative and exciting laptop, and one we can confidently say is the best ASUS all-rounder available right now. From its gorgeous screen to its brilliant features, including its 2-in-1 form factor, this laptop doesn't disappoint.
While it's advertised as a gaming laptop, it's a very malleable machine that would work well for content creators and general productivity, too, thanks to its beefy AMD CPU (though the GPU could stand to have an upgrade) and touchscreen functionality. We even found ourselves impressed by the Mini-LED tech – something we're not used to from other desktop devices.
Read more in our full ASUS ROG Flow X16 review.
If you're looking for a slightly more affordable model that can still pack a punch, the Asus Vivobook S14 is well-balanced and can handle low-demand applications and software with relative ease despite its low retail price.
The specs aren't much to write home about; you can choose between 8GB or 16GB RAM, and it comes with Intel 11th generation processors, but that should be enough to see students, lightweight creatives, and workers through the day. It's also specifically designed to be especially apt at handling creative software like Adobe Photoshop and Clip Paint Studio for any digital illustrator; maybe just save the more intensive rendering tasks for a more robust machine.
Packed out with an astonishing number of top-notch components, this laptop is perfect for handling complex and processing power-hungry creative tasks and software. Despite this, it remains cool and doesn't throttle.
It's pretty gorgeous to look at, to boot - with its luxe design and bright, colour-accurate OLED display which hits 100% of the DCI-P3 colour gamut, the ASUS ProArt Studiobook OLED even has touchscreen functionality. there's even a built-in dial above the trackpad, which is programmable app-by-app; a real boon for creatives.
Read our full ASUS ProArt Studiobook OLED review.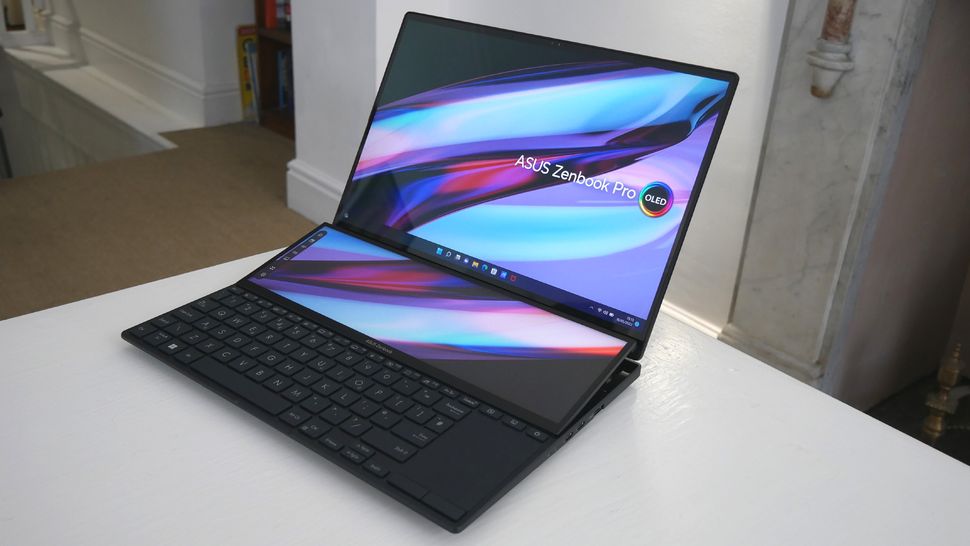 The Asus Zenbook Pro 14 Duo OLED (2022) is kitted out with some fantastic components, from its 12th generation Intel processor to its Nvidia RTX 3050 Ti 4GB graphics card. Thanks to these beefy parts, this machine can handle more intensive tasks ranging from gaming to video editing and graphic design.
Of course, more goes into the makings of a great laptop than CPU and GPU; the Zenbook Pro 14 Duo has 32GB of RAM and a 14-core processor, making it an excellent machine for multitasking and productivity. The real star of the show in that sense, though, is its dual-screen setup – in addition to the gorgeous 14.5-inch 120Hz OLED main display, there's a 12.7-inch IPS display above the keyboard. Better yet, it works with a stylus, effectively making it a mini drawing tablet.
Read more in our Asus Zenbook Pro 14 Duo OLED (2022) review.
Especially for a gaming laptop, the ASUS TUG Gaming F15 is pretty affordable yet still offers impressive performance, making it great for both gaming and game development.
This latest model has been refreshed for 2022, and now features 12th Gen Intel processors and a 1440p screen with a 165Hz refresh rate and 100 per cent coverage of the DCI-P3 gamut. Unfortunately, the CPU and GPU still aren't the most powerful, but given its more budget-friendly price, they're pretty brilliant.
Read our full ASUS TUF Gaming F15 review for more details.
If you need a laptop that can really keep up with you, look no further than the Asus Zenbook 14X OLED is absolutely worth considering. It's practically a full-blown portable computer, and based on our review, we'd even bet on it against the MacBook Pro in terms of performance – despite the lower price tag. Unfortunately, this does come at the expense of the battery life, which lasts only eight hours.
Beyond this powerful performance are further benefits; the Zenbook 14X OLED has a built-in touchscreen, letting you navigate its bright and colourful OLED panel with ease when working on your creative projects.
The ASUS Zenbook S 13 OLED is the ultimate lightweight laptop, and pretty much took our breath away in our review with its fantastic performance, which we felt was good enough to take on bulkier and heavier rivals (such as the Dell XPS 13 and MacBook Air). Of course, that doesn't necessarily go for much more intensive rendering tasks like video editing or 3D work, but it'll do just fine for photo editing and general use.
The screen does look teeny, but thanks to its super-sharp 2.8K resolution it feels far bigger than it actually is. All round, it's pretty robust and will see you through a good few years, though its integrated graphics are a little unfortunate.
This stylish and svelte laptop is kitted out with some of the most powerful components from recent years, including the Nvidia GeForce RTX 4090 graphics card. It's flashy inside and out with its LED lid display, which is reflected in its hefty price tag, and will work wonderfully both as a creative workstation and for gaming.
In our review, we praised the "premium feel", noting it's not all style, no substance; however, some of the ASUS ROG Zephyrus M16 proprietary technology, namely the ROG Intelligent Cooling Thermal System, doesn't quite work as advertised. Plus, it's just frighteningly expensive.
Why should I buy an ASUS laptop?
In our experience, Asus laptops are very reliable, perform well and offer a decent lifespan without breaking the bank. As they're slightly more affordable than some other premium brands, though, you do make the occasional concession on components and build quality.
ASUS also makes a huge range of laptops, many of which have graced various buying guides across our site in the past, so you can rest assured of the brand's reputation.
How should I choose the best ASUS laptop for me?
Well, the answer really depends on what you want. If you want an Asus laptop for gaming or game development, we'd recommend the Asus TUF Gaming F15, which is a pretty affordable model that still performs under pressure.
Alternatively, the ASUS ProArt Studiobook OLED (H7604) is, without a doubt, the best Windows laptop for creatives; in fact, as of writing, it's second only to the MacBook Pro 16-inch (M2, 2023) across all laptops. ASUS also produces some more niche and unique devices, like the ASUS Vivobook S14, which is a great budget-friendly option for creatives.
More broadly speaking, the most important thing to do when choosing an ASUS laptop is to identify exactly what you're working with; how much can you budget towards a laptop, what are you most frequently going to be doing on it, and do you have any accessibility or form requirements?