When we talk about the best laptops for working from home, we're looking for something different to a laptop that lets us work wherever we are. The focus here is less on having a big and beautiful screen for creative work absolutely anywhere (we assume you have great monitors already), and more about having something that's conveniently portable from your home to your office.
So the best laptop for remote work needs to fill certain requirements. On the one hand, we have laptops that need to be portable workstations, capable of delivering the pro levels of power you need, and easy to take from one place to another. On the other hand, maybe you don't need that power, and need something that's super-light to avoid weighing down your commute. And on the third hand (that we all fortunately have in order to keep up with demands these days…), you might need something that you can work on flexibly, with a touchscreen for drawing or editing.
Our list here reflects these needs. You can see our guides to the best laptops for graphic design or the best laptops for 3D modelling if you want to put the focus more on being able to do those things anywhere. We're looking for laptops that let you do those at home, then at the office, and that won't break your back in between. And we want them to have decent webcams too, naturally, and a few other useful little features that can make for a better WFH experience
And if you don't have your monitors at your desks ready to connect them to, be sure to check out our guides to the best USB-C monitors, and best monitors for photo editing.
The best laptops for working from home right now
Why you can trust Creative Bloq Our expert reviewers spend hours testing and comparing products and services so you can choose the best for you. Find out more about how we test.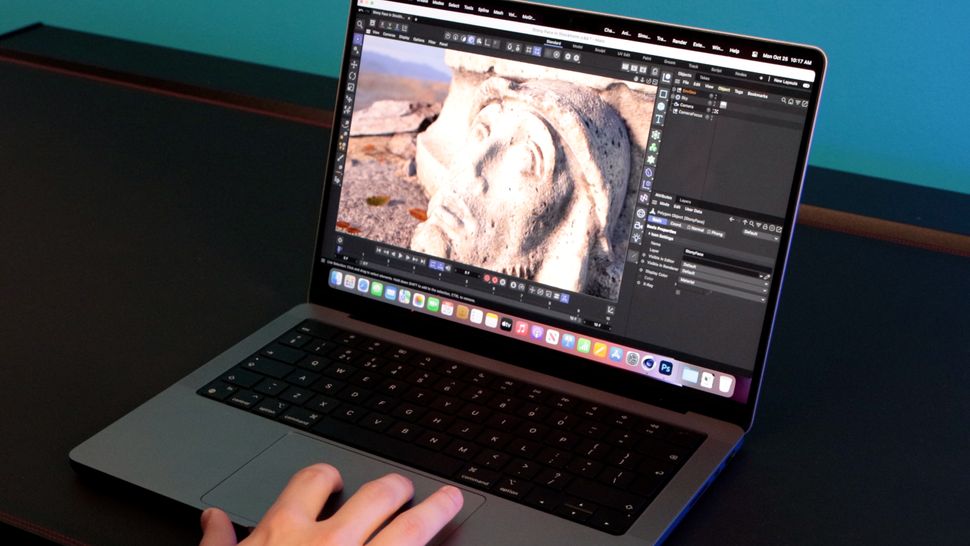 In a guide focused on power in a portable package, that this is number one won't be a surprise. In its most basic version with an M2 Pro chip, it's an extremely capable machine with great processor and graphics power for creative work – and if you need more, you can boost the processor power and more than double the graphics power with an M2 Max chip, depending on the version you choose. And nothing else gives you 96GB of GPU-addressable memory in a laptop like this.
But it's still small and fairly light – it's easy to throw in a bag and take to the office without doing yourself a back injury. Added bonuses for WFH include a good-quality webcam and great built-in mic, impressive speakers, and all-day battery life if there's a power outage. The 14-inch screen is very detailed, and the mini-LED HDR contrast is as good as it gets on portable machines. For more details, see our MacBook Pro 14-inch (M2, 2023) review.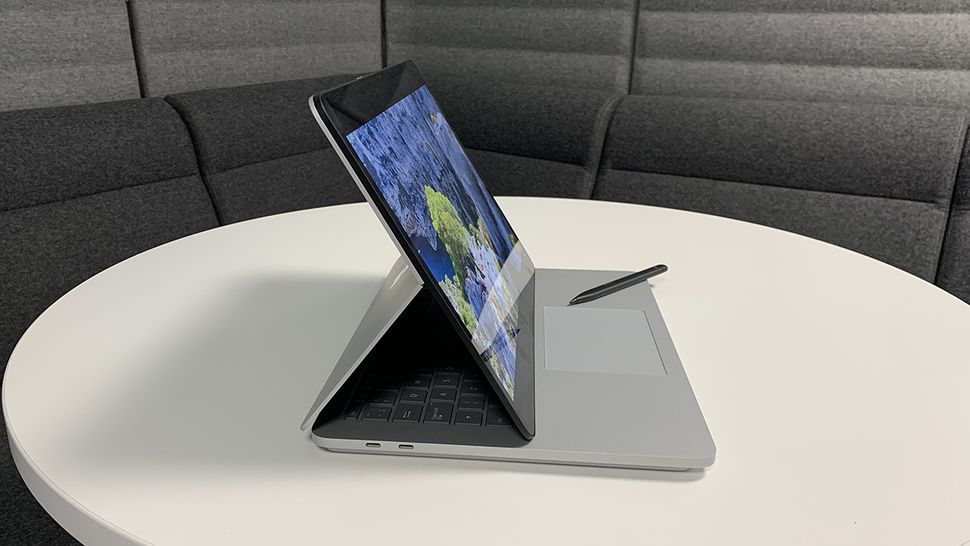 If you need to work from home on a drawing monitor, this could be the ideal choice. Boasting a sharp 3:2 screen with a 120Hz refresh rate and support for your choice of MPP stylus, and an ergonomic design that specifically great for drawing – giving you far more potential angles for the screen than a simple L-shaped laptop – this is an excellent choice for digital artists or pen-based photo editors.
With quad-core Intel Core i5 or i7 processors, and either Intel Xe graphics or an Nvidia RTX 3050 Ti, there's plenty of power here – though it does mean the build is a little bulky. And if it's the power you want, you can get it for less from other laptops – but you'd have to give up the drawing abilities that make this a great pick for artists in the first place. See our Surface Laptop Studio review for full details.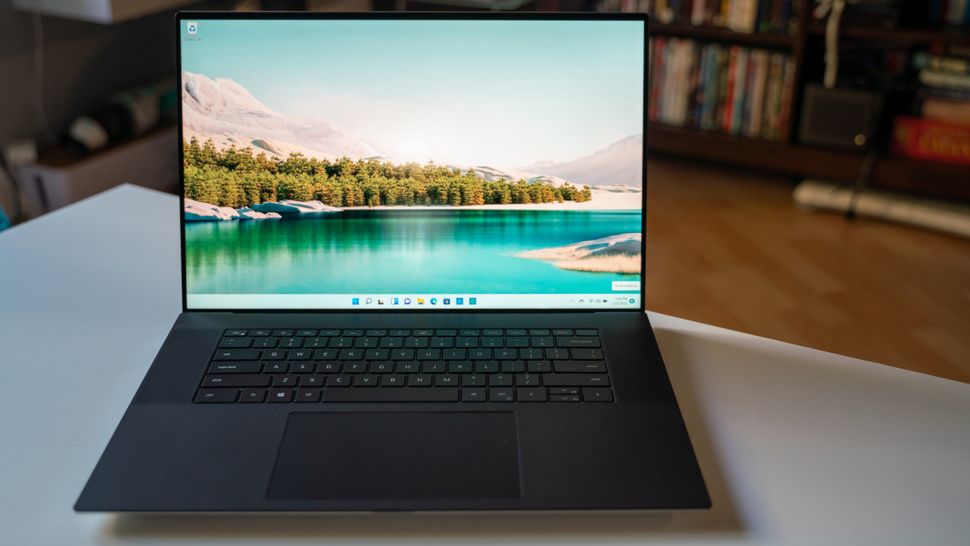 This the rare large-screen laptop we've chosen, and frankly the smaller XPS 15 or even XPS 15 might be better choices for many people because they're smaller and easy to transport – however, we've chosen the XPS 17 as our working from home hero because of amount of power it makes available in a non-heavyweight body. Well, a relatively non-heavyweight body – it's hardly super-light, but it's still impressively svelte for something that provides 14 cores of processing power, up to an Nvidia RTX 3060 6GB for GPU power, and the potential for 64GB of RAM. (The 15-inch version is limited to a 3050 Ti at most.)
You can choose between an HD display or a 4K display depending how much you actually might use it without another display (or your budget). The battery life isn't very impressive on this, but maybe that's not a problem if you're just taking it from the office to the home and back again. It's also quite loud when you put it under a heavy workload, which may be more frustrating. See our Dell XPS 17 9710 review for more details.
The latest MacBook Air is the perfect choice for those who want something ultra-thin and light for when you do need to go into the office, knowing that you'll sacrifice power to get there… but without sacrificing power totally. The M2 chip can run in this fanless machine that's barely thicker than a tablet, but is actually has as much CPU power as late-generation Intel MacBook Pros. It does get pretty warm if you're pushing it with high-intensity tasks, though.
On top of that, you've got a good mic and webcam, good built-in speakers, long battery life for when you need it, and a lovely screen with P3 colour support. Two Thunderbolt 3 ports mean it's easily expandable too. Read more in our full MacBook Air (2022) review.
The Razer Blade might be a gaming laptop first and foremost, but its focus on putting a lot of power in a frame that's easy to carry around is great news for us as well. With a 14-core latest-gen Intel processor and the option of an Nvidia RTX 3080 Ti with 16GB of VRAM (or a 3070 Ti with 8GB), if you need to throw GPU power at a task on a Windows laptop, this is perfect.
You've got the option of an OLED screen or an LCD screen, and Thunderbolt 4 makes it easy to connect to peripherals. Don't forget there's also the Razer Blade Studio, which throws in the ability to add a 4K display or Nvidia Quadra GPU. But for our WFH needs, we think the balance of being able to pack something so portable with a 3080 Ti and connect to an external monitor means this check off pro needs quite nicely overall.
If you don't need to worry about power from your WFH home machine, and want something that's easily fast enough for general admin work, but that also has entertainment and creative value from being a flexible 2-in-1 machine, we love the Yoga 9i range. Depending on how you fold its gorgeous OLED screen, it can be used in laptop or tablet mode, and the latter is idea for viewing images, annotating documents, watching movies, or drawing.
The latest-gen Intel processor won't be wowing anything with its creative power, but we've got other options here for that. This is an alternative to the MacBook Air for those who want to draw or take notes, and it's very stylish, very impressive, and very good at this job.
Laptops for working from home: what to look for
We alluded to some of this at the top, but the most important thing is to think about what exactly you need this laptop to achieve, and what the purpose of it being a laptop is.
Obviously, if you're running pro apps that need a lot of power, then you need to start with looking at models that can achieve this. But that can be anything from the impressively svelte MacBook Pro or Dell XPS range, up to gaming laptops that pack huge amounts of CPU and GPU power in and don't care if they weigh as much as a small dog.
So then your second decision is how portable you need it to be. Do you cycle or walk to the office or to see clients, or stand on crowded public transport? Then it may be worth spending more on a laptop that fits that power into a smaller frame, using clever engineering. If you drive in and only carry the laptop for a couple of minutes a day, maybe you can just put all your money into high-end specs without thinking about the bulk.
But don't forget that today's thin-and-light laptops have more than enough power for standard work – if you have a separate machine for the creative power, can you just get by with something ultra thin that takes up less space?
What computer specs do I need for working from home?
If you're a creative pro with specific app needs, then you'll know this better than us. So we'll just focus on the minimum option we'd recommend for people looking for something to be just an admin machine. Get 8GB of RAM as a minimum, at least a quad-core processor, and 256GB of flash storage or more. If you can future-proof by going for 16GB of RAM, that'd be wise – even basic-seeming software like Microsoft Office, Google Chrome and Slack can really eat up memory these days. As long as you have a recent processor (11th-gen Intel or newer), four processor cores should be able to handle anything in standard admin work. And 256GB of storage will be enough for an admin-type machine – but if people will send you large pro creative documents to review or anything like that, you will want more.
Should I buy a desktop or a laptop for working from home?
If you working a flexible, mixed schedule where you're in and out of the office, as many are these days, then a laptop is absolutely ideal. It means you don't need to sync or transfer files – you just take them with you. Today's laptops are ridiculously powerful, and will have all the power that the vast, vast majority of people need.
However, if you are only working from home (and don't want to occasionally work from a shared space or coffee shop), then a desktop would give you more power for your buck, no question. As the obvious example of this: you can get a Mac Studio with the M1 Max chip for less than the price of a MacBook Pro with M2 Pro chip. That's a big power upgrade.
Read more: