The best touchscreen laptops can be valuable tools for digital artists and content creators. Despite Apple's disdain for the form factor (no, you're not going to find any MacBooks on this page, sadly), laptops with touchscreens can be extremely useful thanks to their versatility.
A good touchscreen laptop offers a quick and tactile way to interact with your work. Instead of using the keyboard or trackpad, you can quickly select a window to focus on with just a tap. Some people find using their finger to scroll up and down a page, or use gestures to zoom in and out, more intuitive, and for digital artists 2-in-1 touchscreen laptop with a keyboard that can flip behind the screen (or be removed entirely), can be a real game changer, allowing you to lay it flat and draw with a stylus.
To help you pick the best touchscreen laptop for your needs, below we've picked our own favourites for different needs and budgets based on our reviewers' experiences and a comparison of their specs. For more laptop options, see our pick of the best laptops for graphic design. And if you want an extra screen, see our choice of the best touchscreen monitors.
The best touchscreen laptops available now
Why you can trust Creative Bloq Our expert reviewers spend hours testing and comparing products and services so you can choose the best for you. Find out more about how we test.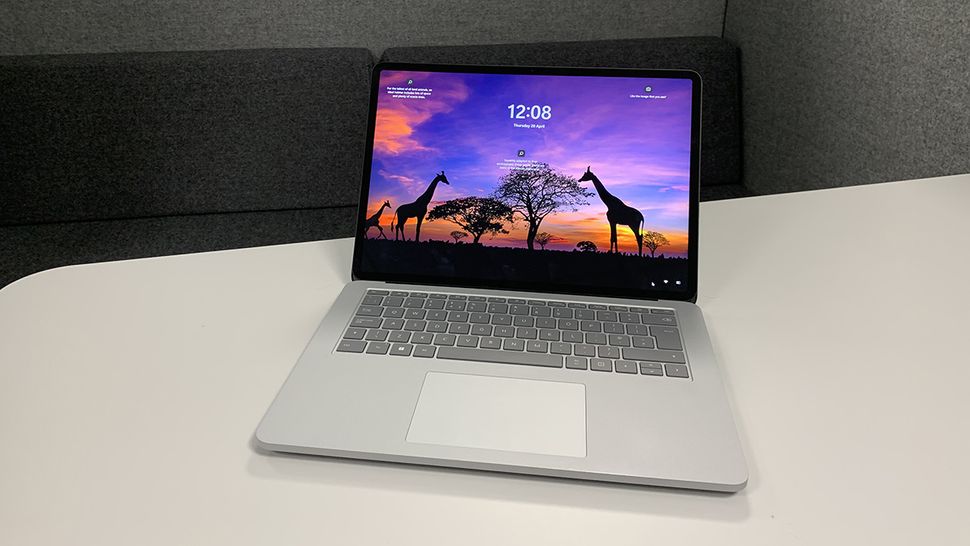 We think the Microsoft Surface Laptop Studio is simply the best touchscreen laptop a digital creative can buy right now. It has a premium look, a gorgeous screen and the kind of sleek finish and feel that even Mac devotees might be impressed by. The way it converts from a laptop to a tablet and back again is one of the smoothest and most flexible we've experienced. The screen doesn't fold back on itself like many do, but instead slips forwards over the keyboard. This gives you an additional position – easel mode, with the screen at a nice angle for watching films or working on digital art.
The 3:2 screen size is taller than the usual widescreen format, allowing extra vertical space that can improve productively whether you're drawing, editing photos or even just writing and reading documents. And with a refresh rate of 120Hz it could even serve as a reasonable gaming laptop.
When we reviewed the Surface Laptop Studio, we were impressed with the performance: it can be configured up to 32GB RAM, so you should have no problem using heavy image editing or 3D design programs. We got a consistent 12 hours of battery life in our tests, too.
See our full Microsoft Laptop Studio review for more details.
The Lenovo IdeaPad Duet Chromebook delivers two form factors in one, while keeping the price impressively low. This is because this touchscreen laptop runs Chrome OS - a lightweight operating system that can run on lower power (and cheaper) hardware. This makes Chromebooks like the Lenovo IdeaPad Duet excellent choices for anyone on a budget.
As it's a Chromebook, it also comes with an impressive battery life of almost 22 hours – so you can go through multiple work days on a single charge. For this price, sacrifices have to be made, naturally – the keyboard is tiny, the trackpad isn't as reliable, and the charger and headphones share one port.
The touchscreen means you can use a stylus to draw or write, and while Chrome OS doesn't have the same level of app support as Windows or macOS, there are some great drawing and creative apps available, and you can also install Android apps, giving you access to thousands of apps and games.
While Samsung is a big player in the smartphone world, it hasn't quite made the same impact with laptops - until now. The Galaxy Book2 360 brings some of the style and build quality that we've come to expect from the company's flagship smartphones to a touchscreen laptop that's a joy to use - and isn't punishingly expensive either.
It features a stunning AMOLED display, and while it has a modest 1080p resolution, it still looks incredible, with rich and vibrant colours and contrast. It also features some decent components that allow it to keep on chugging along for most tasks, though in our review we found that when you're using a lot of apps at once, the battery life can drain quite quickly. If long battery life is your number one priority with a touchscreen laptop, then check out the Lenovo IdeaPad Duet Chromebook above.
Read more in our Samsung Galaxy Book2 360 review.
HP is one of the most trusted brands in the world when it comes to laptops - including touchscreen laptops. With the HP Envy x360, it's easy to see why. This is a great-looking touchscreen laptop that comes with a solid aluminium build, and with integrated Bang & Olufsen speakers, it sounds great, and definitely a step up from the tinny sound offered by many laptops.
Its 13.3-inch HD touchscreen display looks similarly impressive, delivering 400 nits of brightness and 100% sRGB, and Corning Gorilla Glass NBT means that you shouldn't have to worry about the screen getting scratched while you're using it (or when carrying it around).
The performance is good – and the battery life's fantastic – but if high-end gaming's your thing for winding down at the end of the day, this 2-in-1's likely to struggle. Also the 720p webcam's a bit of a disappointment. And because the keyboard doesn't detach (it just folds round), the HP Envy X360 feels more than a little clunky to use in tablet mode.
Learn more in our HP Envy x360 review.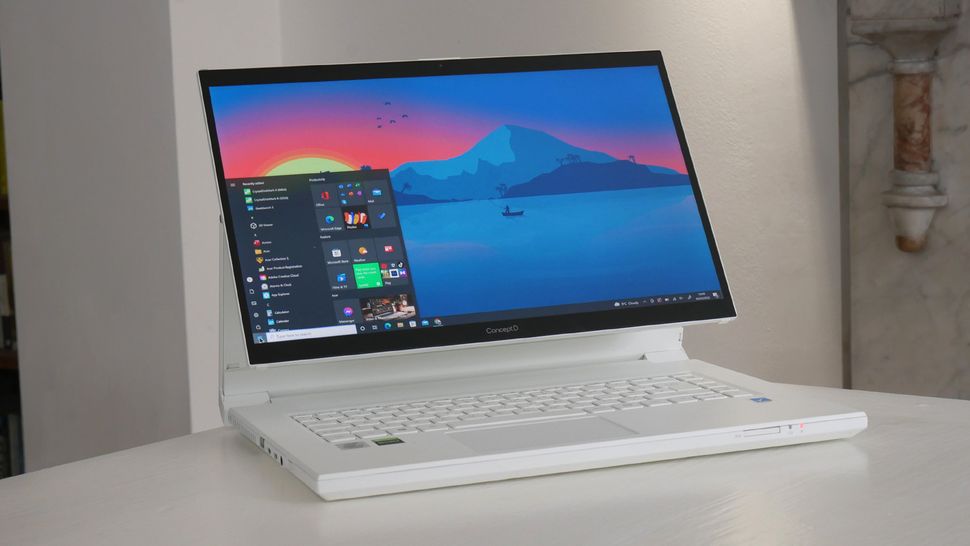 The Acer ConceptD 7 Ezel Pro won't be for everyone, but if you're looking for a touchscreen laptop that can handle some serious creative workloads, but which also offers the convenience of a touchscreen interface, then this could be the perfect fit. It looks gorgeous, and once you fire it up, things get even better. When we reviewed it, we found the Pantone-validated 4K IPS display to offer brilliantly true colours.
It also comes with a rather novel hinge that attaches the screen to the keyboard, and this gives you the added option of setting the touchscreen into an easel-like position. The laptop's backed up with some serious hardware too, configurable with a choice of powerful Intel processors and Nvidia graphics cards, and RAM goes up to 32GB. Basically, it should be able to handle anything you throw at it. So why's it so low down the list? Well with a starting price of $2,500 / £2,500, for a lot of us, it's not even an option.
See our full Acer ConceptD 7 Ezel Pro review
Read more: