Apple has only just revamped the MacBook Pro, giving the high-end notebook new ports, more power and, most controversially, a notch. But already, attention is turning to the Pro's smaller sibling, which has languished without a design update for what feels like centuries. But if rumours are to be believed, that could all be about to change in 2022.
From improved screen tech to some retro new colours, it seems the MacBook Air could be in for a radical new look next year. And if the M1X and M1X Pro chips make their way to the Air, the internals could be set to stun too. Don't fancy waiting? Check out the best Apple Black Friday deals available now.
Apple 13.3" MacBook Air, Early 2020: $999
Apple 13.3" MacBook Air, Early 2020: $999 $729 at B&H
This is the cheapest we've ever seen a 2020 MacBook Air. The 13.3-inch model in fetching gold features a 1.1 GHz 10th Gen Intel Core i3 Dual-Core processor – which, in short, means it's unbelievably fast. Snap it up while you can! DEAL ENDS: 26 Nov, 12am ET
MacBook Air 2022: Design
The most colourful MacBook Air rumours definitely involve the design. We've heard that the Air will be taking cues from the 2021 iMac by introducing colour to the line-up. We've already seen plenty of fan renders imagining all manner of delectable pastel hues, and we'd love to see Apple inject some fun back into its laptop designs.
Elsewhere, we've heard that the famous tapered design could be on the way out, with a more uniform straight, flat-edged design taking over. And yep, rumour has it the notch is coming too – because, as Apple insists, it's a really, very, extremely "smart" design touch. (Okay, then.)
Then again, rumour also has it that there won't be a notch – instead, the MacBook Air might have wider bezels than the Pro. This would of course mean a slightly smaller screen, so the lack of a notch could come at a cost.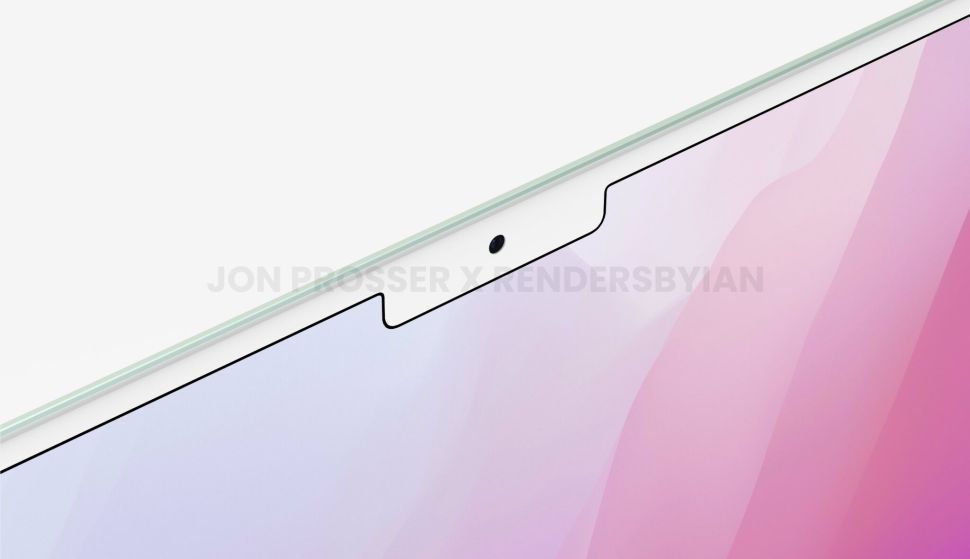 And that flat design could also make the 2022 MacBook Air the thinnest MacBook ever. For creatives, this could be a game-changer – the MacBook Air's best quality is its portability, but it can't quite compare in that regard to the likes of the iPad. An Air that lives up to its name once again can only be good news for digital artists on the go.
And perhaps the most surprising rumour is regarding the title of the machine. It's been claimed that Apple is planning to drop the 'Air' moniker altogether, reverting to the simple 'MacBook' name last used by the company's ill-fated 12-inch laptop. And it seems to make sense, bringing the MacBook naming convention in line with products like the iPhone (where we have a Pro, but there isn't an Air in sight).
MacBook Air 2022: Tech specs
Elsewhere, we've heard that the MacBook Air could feature game-changing display tech. Apple leakers have suggested the Air will have a Mini LED display, a technology that Apple already introduced in this year's iPad Pro 12.9, offering super high brightness and contrast.
And then there's ports. Apple users rejoiced when the company, tail between its legs, reintroduced MagSafe, HDMI and more to the MacBook Pro this month. And if rumours are to be believed, they're coming back to the Air too. It could finally be time to say goodbye to Apple's self-imposed dongle dystopia.
As for specs themselves, there's little in the way of rumours about the internals of the MacBook Air. But we think it's a safe bet to assume the M1X chip, introduced with the new MacBook Pro, will be making its way to the Air.
Time will tell what Apple has in store in 2022, and we'll keep this page updated with every rumour and leak that comes along. If you want the best iPhone experience available now, check out today's best MacBook deals below.
Read more: