If you're a creative professional looking for the best 17-inch laptops money can buy, you've come to the right place. While 13- and 14-inch laptops are easily portable thanks to their compact sizes, they aren't always the most comfortable to work on, especially for creatives who work a lot with visual mediums.
While 15-inch and 16-inch laptops offer more workspace, if you want a lot of screen real estate, the best big laptops are a great choice. These give you more space to have apps and windows open at once, and can help reduce eye strain, as you're not trying to cram stuff on a small display. Of course, with a 17-inch display, this makes the overall size of the laptop much larger, so these aren't the laptops to go for if you want an easily portable device to work on when out and about.
However, the larger screen means you may not feel the need to plug the laptop into an external monitor, so it can actually end up being more portable than you might first think. Also, laptop makers like Dell and LG are producing some seriously impressive slim and light 17-inchers, proving that you don't have to completely sacrifice portability for screen size. For more ideas on the best laptops for graphic design and the best laptops for photoshop, check out our guides.
The best 17-inch laptops currently available
Why you can trust Creative Bloq Our expert reviewers spend hours testing and comparing products and services so you can choose the best for you. Find out more about how we test.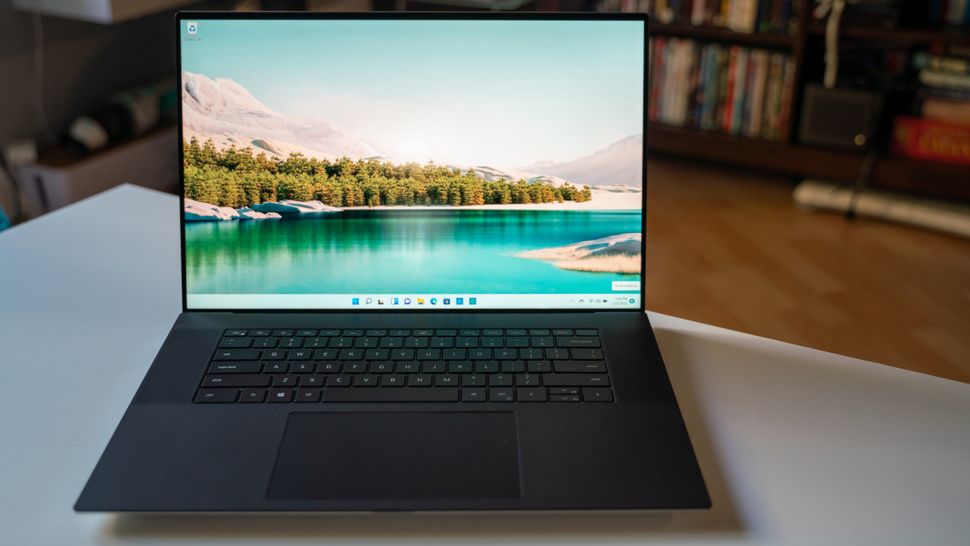 The Dell XPS 17 also proves a large-screen laptop doesn't have to be big and bulky. It's an impressively thin and light device, with the same attractive design that we've seen in the smaller Dell XPS 13 and XPS 15 laptops. The 17-inch UHD+ screen boasts good HDR for enhanced lights and shadows and decent colour coverage for creative work.
This 17-inch laptop also comes with quite some power behind it, thanks to 11th-generation Intel Core processors, up to 64GB RAM and an Nvidia RTX 3060 graphics card. We found this to be more than enough power for even the most intensive graphic design workloads when we tested it out – see our Dell XPS 17 9710 review for more details.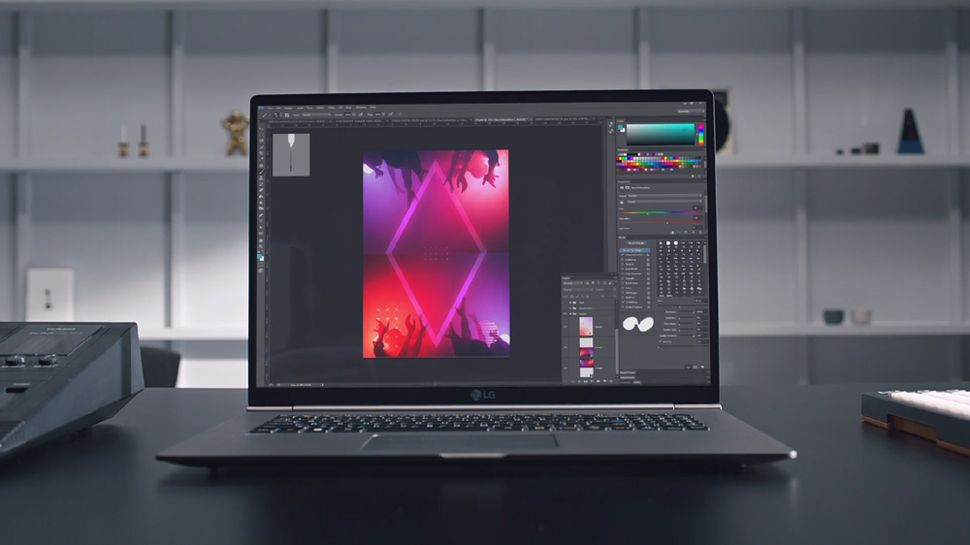 The LG Gram 17 has two big strengths for graphic design: it offers a large 17-inch display offering plenty of workspace, but it's also incredibly light, weighing just over 1kg. For a 17-inch laptop, this is pretty remarkable, and it means despite its large size, it's still pretty comfortable to carry around with you.
Its also helps that it's packing some of the best mobile tech with Intel's 11th generation processors and Iris Xe graphics. We found battery life to be extremely impressive, easily lasting around 12 hours on a single charge. We don't think it's the most exciting-looking laptop when it comes to design, but the powerful components, light weight and large screen make it great for graphic design work. See our full LG Gram 17 review for more details.
As the name suggests, the MSI Creator Z17 is a 17-inch laptop that's specifically aimed at creatives, and that means a gorgeous 17.3-inch display with 100% DCI-P3 support and it's a touchscreen and can be used with a stylus, turning the screen into a large digital canvas.
Build quality is also extremely high, and while it is very expensive, it has powerful components including a dedicated graphics card which means it's an excellent performer when it comes to video and photo editing, especially if you max it out with a huge 32GB of RAM and NVIDIA GeForce RTX 3080 GPU.
You can also fit it out with up to 2TB of fast SSD storage, which again is a real boon to digital creatives who are working with large file sizes.
It's not quite perfect, however. All that power comes at a high price, making the MSI Creator Z17 an unaffordable prospect for many people. Battery life is also not great, though with a screen this big, that's not too surprising.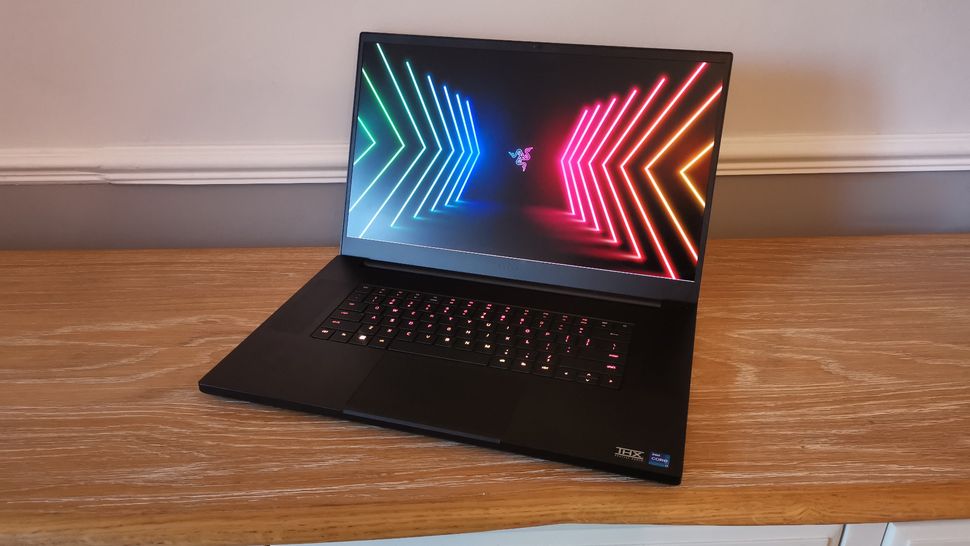 The latest Razer Blade 17 is a fantastic laptop for Photoshop, Premiere Pro and pretty much any creative app you can throw at it, as it features cutting-edge Intel 12th generation processors, along with Nvidia's latest Nvidia GeForce RTX 3080 Ti laptop GPU.
This is the most powerful GPU you can get in a laptop without spending a seriously huge amount of money, and while it does mean that for many people, this laptop is probably overkill, if you use Photoshop's AI and machine learning tools a lot on ultra-high resolution photos, the Razer Blade 17 will make short work of even the most arduous of tasks.
It's very expensive, but for your money you're getting some of the best mobile tech available right now. Combined with a great build quality and stunning 17-inch screen, this is a brilliant creative workstation for people who need a lot of power.
Read our Razer Blade 17 review for more information.
If you're not looking for the best 17-inch laptop for demanding creative work like video editing or photo editing or with the speed for gaming, you probably don't need to pay for the specs offered by the laptops above. If you're simply looking for a larger laptop for watching movies, programming, writing on more than on panel etc, the HP Laptop 17 should do the job just fine, and for less than $500 for the base configuration.
There's a range of configurations available. We should not that the starting configuration with 8GB RAM and 256GB SSD is going to fill up fast if you're handling large files, and it will struggle with video editing, but it's just fine for general productivity. The screen is bright and colourful, the keyboard and number pad are comfortable to type on, and the battery gave us 11 hours on a charge. Drawbacks are the lack of backlighting on the keyboard and SD reader, but there is USB-C connectivity.
Over two years after its release, the Gigabyte Aero 17 HDR XC remains a powerful 17-inch laptop, with a 10th generation Intel Core i9 processor with 8-cores and, with the Nvidia RTX 3080; one of the best graphics cards you can find in a laptop. This makes it a brilliant workstation laptop for people working in a creative industry that needs to handle lots of graphically intensive workloads.
Perhaps its biggest selling point is the Pantone-certified 4K HDR screen, with 100% Adobe RGB coverage. But it also packs loads of ports, so you can plug in memory cards and peripherals without needing adaptors. It may be overkill for many people. It's getting on a bit now, but we think it still makes a good alternative to the MSI Creator Z17 at number 3 in our list if you find a good deal, which is now more likely with it getting on in years. For more details, see our Gigabyte Aero 17 review.
How to choose the best 17-inch laptop for you
Which of these options is the best 17-inch laptop for you will depend on what you're looking to use your laptop for. Obviously, 17-inch laptops are all less portable than smaller laptops due to their size, but their portability still varies among them because there can be significant differences in weight. The Dell XPS 17 at the top of our list can weigh up to 2.5kg depending on your configuration, while the LG Gram at number weighs about a kilo less (and battery life is more impressive too).
Beyond portability, you'll need to decide what power and features you need (and what you can pay for). Configurable up to 64GB RAM and with a NVIDIA GeForce RTX 3060 GPU, The Dell XPS has plenty of power for creative work, but high-end configurations get very pricey. If you're not looking for a laptop for video editing or other such graphically intensive work, and simply want a laptop with a larger screen for more comfortable experience for typing, browsing and watching films, such a laptop may be overkill and a cheap 17-inch laptop like the HP laptop costs less than a third of the price.
How we chose the best 17-inch laptops
We chose the laptops on the list above based on our own reviews, those of our sister site TechRadar and opinions and recommendations from our regulator contributors. We have been reviewing laptops for over a decade, and we put devices through a range of benchmark tests as well as using them over several weeks for creative work, general productivity tasks and media consumption. For the choices above, we chose laptops that meet different needs: specifications that can handle creative work, portability and gaming specs and value.