If you're looking for the best Acer laptops, you're in the right place. Acer makes some of the best gaming laptops around and is known for its high-spec, powerful machines that will work well for anything from creative to business and general use needs.
We've looked at the value, design, and specs of the Acer laptops in this guide to help you choose which laptop is best for you. Based on our own expert reviews and benchmark tests as well as customer reviews and general market research, we've identified which laptops are best for different uses.
Of course, you might decide Acer laptops aren't for you; if so, check out our picks of the best laptops for video editing and the best laptops for programming.
The best Acer laptops available today
Why you can trust Creative Bloq Our expert reviewers spend hours testing and comparing products and services so you can choose the best for you. Find out more about how we test.
This absolute powerhouse is fantastic at handling heavy-load tasks, thanks to its fantastic specs. Featuring a 10th-generation Intel CPU and an NVIDIA GeForce GTX 2080 SUPER graphics card, it's great not only for gaming but also handling power-intensive software.
It's also great for creative work, thanks to its Full HD 15.6" LED-backlit IPS display, making it a great choice for colour-sensitive work. Despite all of these excellent specs, it's surprisingly lightweight, and therefore our favourite all-rounder Acer laptop.
Despite being a very affordable laptop, the Acer Chromebook 314 still packs a punch, and it's a great choice for general use, as well as for students and workers. It's got a decent 12 hours of battery life and a 14-inch display, but you might need some external or portable storage to compensate for its minimal 32GB eMMC storage.
It's a Chromebook, meaning it's a bit more limited in terms of software availability, but it's still pretty powerful and can still handle some more basic creative apps, and has a good variety of ports for different peripherals.

See our in-depth Acer Chromebook 314 review for more details.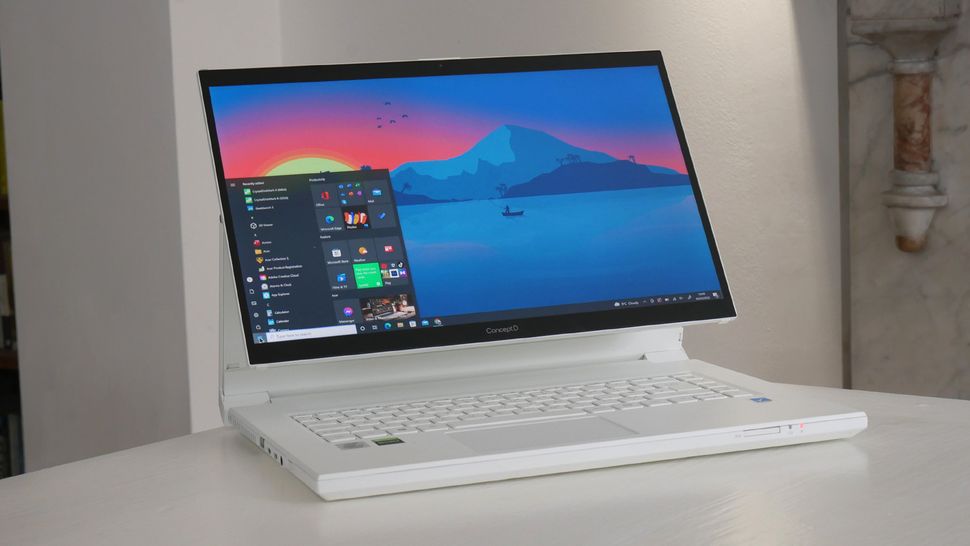 While its unique form seems like it might be all style and no substance, it actually works really well in the Acer ConceptD 7 Ezel Pro, enabling a huge range of ergonomic options that creatives will love.
This does mean that a lot of its value for money is spent on design rather than specs, but such is the price of reshaping the clamshell form factor. It's not the first laptop to attempt this dual-hinge display format, but it does do it particularly well, and even comes with a Wacom EMR input pen, making it fantastic for productivity or creatives like photo editors and digital artists.
Read our full Acer ConceptD Ezel Pro review.
This is another affordable option from Acer, but it's among the best 2-in-1 laptops available now, especially for digital creatives, further evidenced in that it comes with its own stylus.
The Spin Acer 5 is somewhat of an oddity with its 3:2 aspect ratio (versus standard widescreen 16:9), meaning its 13.5-inch screen actually grants more vertical space for drawing than some of the alternatives. It feels a little flimsy, but otherwise is pretty well equipped for portable use, with a 12-hour battery life and rapid charging.
Read our full Acer Chromebook Spin 514 review for the full lowdown.
The Acer Swift Edge 16 is a lightweight and portable laptop with a strong CPU, ample RAM, and a vibrant 16-inch OLED screen. It performs well with creative software and multitasking, making it a capable tool for on-the-go image editing and multitasking. While it does lack the graphics power for intense gaming or heavy 3D tasks, this stripped-back hardware paired with its aluminium-magnesium alloy frame contributes to its exceptional lightness.
It also boasts fast USB 4 ports and ample internal storage. However, the cooling system and built-in speakers are not as robust as desired, but these limitations are mainly relevant to power users or those who rely on laptop speakers. Overall, the Acer Swift Edge 16 is a solid all-rounder with a few standout features.
For more information, read our full Acer Swift Edge 16 review.
This powerful laptop is designed for AAA gaming, offering impressive performance and a stunning 16-inch, 120Hz display, Intel 12th-Gen i5 processor and compatibility with platforms like Xbox Game Pass, Nvidia GeForce Now, and Amazon Luna+... but it's a Chromebook?! Counterintuitive, we know, but it's designed especially for cloud-based gaming; this does mean it needs a reliable and fast WiFi connection to make the most of its capabilities.
While its primary focus is gaming, it also excels in everyday tasks and video streaming, making it one of the top Chromebooks currently available – all for a pretty affordable price.
Read our full Acer Chromebook 516 GE review for more insight.
Overall, the Acer Chromebook Vero 514 is a recommended choice for daily tasks, especially if you want a laptop that stands out from the crowd; it's made from post-consumer recycled materials, it features a 14-inch Full HD display, 12th generation Intel Core i3-1235U, 8GB RAM, and 128GB SSD storage.
While it lacks 2-in-1 flexibility, its performance is zippy. ChromeOS has made significant improvements, offering a virtual desktop and seamless compatibility with apps like Xbox Game Pass.
For further insights, check our Acer Chromebook Vero 514 review.
Why should I buy an Acer laptop?
Acer laptops are known to be very powerful, especially when it comes to gaming laptops. It's not just gaming laptops, though; Acer makes pretty much everything you can imagine from 2-in-1 machines to lightweight models.
They also tend to offer brilliant value for money, with some laptops being far more on the affordable end of the spectrum than some of the competition. More generally, they're a reliable and reputable brand we tend to trust with our money.
Acer has been especially prolific in introducing inventive and capable Chromebooks in recent years, and offers many of our favourite Chromebooks right now, so if you like the Chrome OS environment, Acer should really be your first port of call at the moment.
How should I choose the best Acer laptop for me?
Before diving into choosing the best Acer laptop, you'll want to figure out a few important things.
First off, you'll need to decide on a budget. Acer does some brilliant and affordable laptops, but also some much more premium powerhouses that come at a price.
Next, think about what you'll be using it for mostly; if it's for gaming, for example you'll need a machine with a powerful GPU and CPU, a decent display and a good amount of RAM. Creatives will want a laptop with a large and high-quality display, preferably OLED, with a good colour gamut and a good processor, on the other hand.