The best Dell laptops often rank highly in expertly curated list for the best laptops currently on the market, and for good reason. The tech giant produces some of the best devices across the entire spectrum of computing, with Its Inspiron range of laptops used throughout schools and businesses, while the XPS range is often seen used by professionals in demanding industries.
Dell also owns another well-established company, Alienware, better known for its flashy and powerful desktop PCs and gaming laptops. While other brands might focus on being budget-friendly, Alienware is all about out-of-this-world power and performance. If that feels like it might hit your wallet a little too hard then don't worry! Dell also has its own G-series of affordable gaming devices so there is literally something for everyone.
When you're in the market for a new laptop, there are plenty of good reasons to go for a Dell. However, with so many makes and models available it can be overwhelming to make a decision - which is why we've put together this list of the best Dell laptops to help you choose the right machine for your needs and budget. Our dedicated tool also checks the best prices on each laptop, so you're not paying over the odds.
For anyone looking to save some cash, ask your employer or educational facility if they're eligible for a corporate discount on Dell products. Many companies can provide a discount coupon, which can save you a pretty penny on a new laptop, as well as essential peripherals like keyboards and mice.
If you can't find what you want in this list of the best Dell laptops, why not explore our guide to the best laptops for graphic designers? You can also look at our 10 best student laptops if you're seeking something more affordable.

The best Dell laptops in 2021
The Dell XPS 13 2-in-1 (2021) takes the top spot on our list of best Dell laptops, which might come as a surprise when you consider the rest of the XPS lineup it's up against. It isn't the most powerful device on this list, but its configuration options allow users to order the Dell XPS 13 2-in-1 to their exact needs, and we feel like its versatile design and highly portable size make it the best option for everyone across students, office workers and creatives.
Simply put, not everyone needs the raw power of an XPS 15 or XPS 17 workstation, which makes this XPS 13 the best all-rounder for just about everyone. It's got a solid build quality and features Intel's latest Tiger Lake processors and can be configured to include Intel Iris Xe graphics.
With a 13.4-inch HD+ touchscreen, 1TB max onboard storage, and up to 14 hours of battery life, this 2-in-1 laptop is well worth the investment for anyone who wants a powerful system that's lightweight (under 3 lbs.) and compact enough to bring anywhere.
You can make a few adjustments to further optimise it for your creative needs, such as bumping the 1080p display to a 4K UHD, and if you have some especially demanding applications to run then you can opt for 32GB of ultrafast DDR4 4267MHz RAM that will blaze through just about every task.
Also read: the best 2-in-1 laptops for creatives
The 2021 model of the Dell XPS 15 is an absolute powerhouse of a laptop that's packed full of features to benefit photographers, video editors and artists, this device is every bit worth its steep asking price.
Even if you're not creative, or just looking for a secondary device that can do anything you throw at it, the Dell XPS 15 is considered to be one of the best laptops on the market even when stacked against rival products like the MacBook Pro range of mobile workstations from Apple.
This is the device you pick up when you need something especially powerful, and given you can configure the components inside with as much customisation as you can a MacBook Pro, this makes it an ideal Windows-based alternative for anyone looking to ditch macOS.
Better yet, while it's not a gaming laptop by any means, the Nvidia RTX graphics card is powerful enough to run older and less demanding titles, so you can crack out a round of Fortnite or two on your lunch break.
You can get an OLED InfinityEdge display for crisps blacks and vivid colour, 11th-generation Intel processors and the latest Nvidia RTX 3050 or 3050 Ti graphics cards, though Intel UHD is also an option for anyone looking to save some cash.
If you need a laptop with a 15-inch screen then this is pretty hard to beat, especially when it includes three Thunderbolt 4 ports and a built-in SD card slot, unlike some laptops which now require a separate dongle. You're losing the standard USB-A port which might make hooking up any peripherals like a graphics drawing tablet tricky, but there are Bluetooth options available and the Dell XPS 15 really is worth the effort.
The Dell XPS 17 (2021) is one of the most powerful laptops you can buy right now, and the ideal choice for creatives who want an extra-large screen on their device.
That glorious 17-inch 4K display makes it well suited for everything from editing 4K video footage, graphic design projects in Adobe Photoshop and even just chilling out and watching Netflix at the end of a busy workday.
As it remains an amazingly thin and light device, you can easily carry it around wherever you go alongside other heavier equipment like cameras or audio equipment which makes it an ideal powerful laptop for people who want to work remotely, or on the move.
Its large size isn't ideal for everyone, but that extra display real estate is perfect for content creators, eliminating the need for an additional display in a pinch so you can work remotely with the same level of productivity.
This is the first laptop in the XPS range to have disappointed us regarding battery life, but you can still expect around 7 hours of usage before it needs a nap, so you don't have to worry about finding a plug socket too often. its price isn't too bad either, and while it is expensive, it's worth every penny you pay.
The entry-level Dell Inspiron 15 3000 is beloved throughout schools, colleges and businesses for being a fantastic everyday laptop that doesn't cost the earth. After all, not all of us need an expensive workhorse of a laptop, especially for menial tasks like web browsing or report writing.
It's equipped with an Intel dual- or quad-core processor, 4GB RAM, 128GB SSD, and a 15.6-inch HD display, which is plenty enough to get by in basic applications. They're hardly world-shattering specs, but they're more than enough for students and work-from-home warriors to write and work on basic design projects if you're on a tight budget.
This certainly won't be knocking your socks off in regards to power, but it's reliable and well built. This budget Dell laptop is also outfitted with various ports and slots including HDMI 1.4 so you can connect it to an external monitor or TV if you find the current display isn't up to your standards.
You also get that fantastic Dell build quality, so while this is very much a budget option, you don't need to worry about how it can deal with wear and tear as much as you would an inferior quality device.
From budget to beast, if you're looking for something that can eat through applications like Blender and Unreal Engine 5, while playing the latest AAA titles then look no further than the Alienware m17 R4, a powerful gaming laptop that features a choice of either Intel i7 or i9 10th-gen Intel processors, an Nvidia GeForce RTX 3070 or RTX 3080 GPU and up to 32GB of RAM.
Dell owns Alienware, which is the premium gaming brand in its family of products (with the more affordable Dell G-series for those on a tighter budget), so it does come with a hefty price tag. That said, you're getting what you pay for, and if you like a laptop with some iconic style, it doesn't get much better than this.
If you like competitive titles then there are additional benefits too, such as the 144Hz display that could help give you the edge in a match. All of these specifications aren't limited to just gamers of course, and people in demanding creative fields like 3D artists and video editors can appreciate the near-workstation-like build.
There are a few caveats, one being that chassis. While we think it's cool and one of the more unique designs on the market (and very distinguishable an Alienware product), some folks won't like the RGB lighting and alien motifs. Additionally, the battery life is extremely poor, which isn't unusual for a powerful gaming laptop, so make sure you don't wander too far from a power outlet if you want to grab an Alienware m17 R4 for yourself.
Gaming laptops tend to rank as some of the most expensive devices on the market alongside portable workstations, and for good reason. Those beefy components and modern features don't come cheap, but If your budget doesn't quite stretch to Alienware's ultra-pricey gaming laptop range, the Dell G3 15 is a fine alternative.
This is Dell's affordable answer for gamers who want solid performance without dropping a large stack of cash. Despite being comparatively priced, this is a very capable machine for casual gamers, and its powerful components also serve a great function for creatives, powering demanding applications.
Cost-cutting does come with a few negatives though, as the Nvidia GTX graphics card doesn't come with raytracing, so not only will your games not be as 'shiny' as they could be, but some applications get a decent boost from RTX and DLSS.
Still, if you're a student looking for something that can tackle both graphic design, photo editing and run most of the Steam game library on a budget, this is it.
We've established that Alienware is a leading company when it comes to creating gaming devices, but the Alienware M15 R3 has a secret weapon up its sleeve that might make it better suited to creatives than gamers.
The 4K OLED panel is total overkill for most gaming laptops, and many have a split opinion over how relevant it is for a gaming-optimised machine. Given these specifications though, the Alienware M15 R3 is also ideal for creatives which is where that OLED display can really shine.
We're seeing many professional workstation laptops for creative professionals such as photographers and video editors including miniLED and OLED displays, which means that the Alienware M15 R3is the perfect hybrid of work and play.
As you can get this laptop with a raytracing-capable graphic card, you can also make use of a tonne of applications that utilise Nvidia RTX to boost performance, which is especially useful for 3D artists who use Maya, Blender and more.
You might need to grit your teeth a little if you don't want a laptop with an unusual design and plenty of RGB lighting slapped onto it, but if you can live with an alien-looking device in your office, you'll get out-of-this-world results.
The Dell Precision 5750 might be just what you need if you're looking for one of the best portable workstations on the market. It has plenty of power, an amazing display and a massive amount of available storage at the top available specifications. You'll find there's not much you can throw at the Dell Precision 5750 that it can't handle, making it perfect for running demanding applications or trying to render 4k video.
Its more muted and professional design also makes it more suited to taking into an office or shared workspace than gaming ranges from Dell. A gaming laptop isn't ideal for everyone after all, so while we would recommend one for folks who like to game in their spare time, an optimised workstation such as this is a better choice for creative professionals in an office environment who want a device for work and not play.
Sadly, this power does come at a very hefty cost, and while the beefy NVIDIA RTX A3000 GPU is impressive, there are better and newer graphics cards available that might have helped to justify the steep price. Still, if money is no object and you need a professional, portable workhorse, look no further.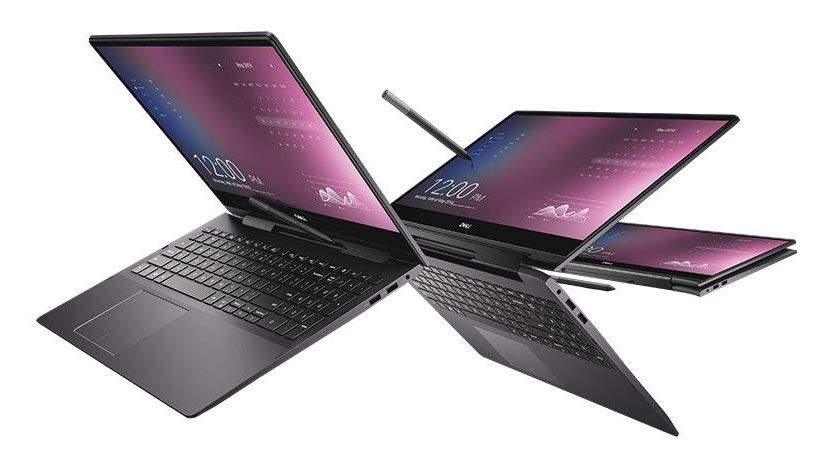 The Dell Inspiron 13 7000 2-in-1 might be slim, but this ultra-portable device is packing some serious power for a device of this size. If you like to edit photographs or mock-up digital sketches and designs on the go then this is one of the best products from Dell that can mitigate the need for an additional graphics drawing tablet.
It's more affordable than the Dell XPS 13 too, which makes it a great choice for anyone who wants the benefit of a Dell 2-in-1, but doesn't have the stacks of cash required to buy something premium. If you're a student or simply on a tight budget, this could be a better choice for your wallet.
The 4K display can be a big drain on the battery, but when used alongside a stylus, you've got a fantastic tablet to edit images or sketch on, which gives the Inspiron 13 7000 2-in-1 a flexibility advantage over other Inspiron laptops. Its small size also means this is easy to throw into a backpack and take to an office or college, which is a good feature for anyone put off by larger laptops like the Dell XPS range.
As with most devices, there are a few trade-offs to get such a good quality 2-in-1 as the speakers are fairly lacklustre so you won't want to do much audio mixing, but given its other strengths, there's plenty to love about this premium 2-in-1 from Dell.
---
Why should I buy a Dell laptop?
Dell makes some of the best all-around laptops and 2-in-1 devices on the market, perfectly balancing the technical specs needed by most users across a wide range of budgets. The build quality across both Dell and Alienware is very respectable, so if you're looking for a powerful gaming laptop, buying from either brand is a safe bet.
Not only are they offer top-of-the-line components and features, but they look very classy and stylish to boot, competing for looks against well established devices like the Apple range of MacBook Pro and MacBook Air laptops.
If you have a price in mind and a particular area that needs to be optimized for your needs, Dell will have something that suits you, from 4K displays for photo editors, to beefy graphics cards and plentiful RAM for 3D artists and gamers.
What is the best Dell laptop?
There's no right or wrong answer to this because everyone will have very different needs from a device that stems from what you actually need it for. We love the Dell XPS 13 2-in-1 for its portability and speedy components, but it won't appeal to those of you who need something with more power behind it for especially demanding applications.
The Dell XPS 15 or 17 are well suited for those who need raw power and a high-quality display, but size could prove troublesome for anyone looking for portability.

For high-quality gaming, consider something from Alienware, a sub-brand of Dell that makes powerful gaming laptops, and for a real workhorse, look at the Precision range of portable workstations.
Read more: