Best Dell Laptops: Jump Menu
The Quick list ↴
1. Overall: Dell XPS 17
2. Budget: Chromebook 3110
3. Premium: Dell XPS 15
4. 2-in-1: Dell XPS 13
5. Gaming: Alienware x15 R2
6. Student: Inspiron 15 3000
7. Premium gaming: Alienware M17 R4
8. Professional: Dell G15
9. Rugged: Dell Inspiron 7620
10. Portable: Precision 5760
11. FAQs:
The best Dell laptops are ideal for a range of hobbies, professions and budgets (including students), and while you can buy an expensive XPS workstation laptop, the Inspiron series is well-priced and a perfect option for workplaces and schools. There are also gaming laptops, which our testing has found are useful for way more than just gaming (all that extra power could be used for 3D modelling or video editing).
Our extensive experience with laptops can help you make an informed choice for your workflow. When whittling down your choice of Dell's best laptops, you'll likely consider price, battery life, and the ideal level of power. Anything beyond that depends on your personal workflow and task list. We've spent hours reviewing many of the picks on this list, running benchmark tests, and if that hasn't been possible we've gone on extensive research into reviews and industry reputation.
If you can't find what you want here, try our list of the best laptops for graphic designers. The best student laptops offer something more affordable, and our guide to the most powerful laptops will deliver high-end specs.
The quick list
The best Dell laptops available today
Why you can trust Creative Bloq Our expert reviewers spend hours testing and comparing products and services so you can choose the best for you. Find out more about how we test.
The best Dell laptop overall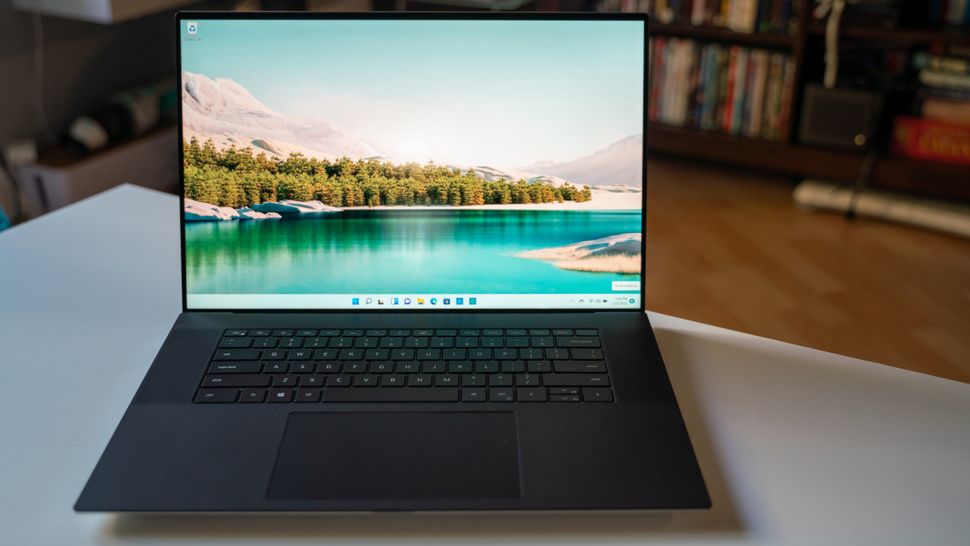 The Dell XPS 17 has a huge 17-inch 4K display, which makes it well-suited for creatives. In our review, we noted that the screen is ideal for editing 4K video footage, touching up photos in Adobe Lightroom and graphic design – our reviewer certainly loved the additional real estate. We found the screen is high-quality too, with 500 nits of brightness and 100 per cent Adobe RGB and 94 per cent DCI-P3 colour gamut coverage available at your disposal.
"It's also impressive when performing graphically-intensive tasks like photo and video editing," said our reviewer, which is thanks to the 12th-generation Intel Core i9 processor, 64GB of RAM and a GeForce RTX 3060 graphics card that is all available.
You can expect around seven hours of battery life on a single charge, which was our only real criticism of this Dell best laptop given most of the XPS range has a fairly impressive battery life, but so long as you stay near a power source it won't cause too much of an issue.
See our complete Dell XPS 17 review for more details.
The best budget Dell laptop
If you're a student, you might have looked at the range of Dell laptops and wondered if there's something more affordable. Well, the good news is that Dell makes a very good Chromebook that's perfect for students or those on a budget.
The Dell Chromebook 3110 2-in-1 shows you don't need to spend big to get 2-in-1 functionality. It's highly portable, making it perfect for taking to lectures or loading into a backpack. And if you want to turn it into a tablet, just detach it from the keyboard and away you go.
For sure, it's far from the most powerful Dell laptop in the world, but that's not the point of a Chromebook. Instead, you'll be getting a lightweight device that won't weigh you down when you need to do a bit of work here and there.
The best premium Dell laptop
The Dell XPS 15 should be top of your list if you're on the market for something Windows-based that can rival a MacBook Pro. Not only does it provide incredible performance thanks to the latest generation of components powering this bad boy, but it's stylish and lightweight to boot - it even offers a few features that you won't currently find on any Apple laptops.
That is, of course, a glorious OLED InfinityEdge display for crisp blacks and vivid colours which is sure to win over any creative professional. Pair that with a 12th-generation Intel processor and Nvidia RTX 3050 or 3050 Ti graphics cards, It's the ideal choice for photo editing, video editing and graphic design, all while also being a decent buy for everyday working professionals and students.
You can even configure this powerful, portable workstation to have up to 64GB of RAM to eat through every application you toss its way. This isn't just one of the best Dell laptops on the market, it's one of the best laptops period.
The best 2-in-1 Dell laptop
The Dell XPS 13 2-in-1 (2022) is one of the best 2-in-1 devices on the market, and while it's not the most powerful device, there are plenty of reasons why we selected this as the best Dell laptop that you can buy right now.
Featuring a 13-inch touchscreen with 3K resolution, don't let its small size fool you - it's more than capable of running applications such as Adobe Photoshop, and its ability to fold into a tablet device also means you can pair it with a stylus to avoid requiring a graphics drawing tablet for tasks like photo editing or digital illustration.
Not only does it come equipped with a fast Intel processor, plenty of RAM and integrated graphics, but its hybrid design and wide range of configurations means it's well suited to almost every environment. Students can appreciate how lightweight it is for carrying around campus for example, while creative professionals such as graphic designers can utilize its touchscreen display for making quick edits on the go.
Speaking of creatives, there are a few adjustments you can make that will ensure the Dell XPS 13 is well suited to handling your requirements, such as opting for the full 16GB of ultrafast DDR4 RAM.
It also has up to 512GB of onboard storage for saving large files like raw photographs, as well as up to 14 hours of battery life on a single charge, so you can bring it with you on the go without anxiously looking for a power outlet.
If this doesn't take your fancy, check out our guide to the best 2-in-1 laptops for creatives.
The best Dell laptop for gaming
The Alienware x15 R2 is another great option for creatives who need a powerful, portable workstation.
Our review is positive, and says this 15-inch gaming laptop is a powerful and versatile machine along with being well-made and pleasing to look at – if you can put up with the RGB lighting. The choice of components and plenty of RAM ensures games and other demanding tasks are dealt with smartly, but the short battery life means this is a laptop best used at home.
"During our tests, it took just under three minutes to export 100 high-resolution images with basic editing from RAW to JPEG in Lightroom and less than 17 seconds when keeping the same RAW format," our reviewer said.
This is because of the selection of components included. It has all you'd expect from a modern gaming laptop – a powerful CPU, plenty of RAM and fast storage, backed up by a graphics chip capable of generating high-res, ray-traced images as well as plenty of heat. The screen seems to be a bit of an anomaly – the pixels are surprisingly low for a graphics card of this might – but there is an HDMI 2.1 port, which could solve any problems that arise.
The trackpad is disappointingly small, and the battery life too short for it to be truly portable. Find out more in our Alienware X15 R2 review.
The best Dell laptop for students
The Dell Inspiron 15 3000 is an incredible budget-friendly laptop for those who just need a way to get online, but can't be limited to using a Chromebook. In fact, it's likely you will have used an Inspiron device at some point thanks to their popularity across schools, colleges and workforces because of how affordable and reliable they are. This makes this model an excellent choice for students
There are a good few configurations available, from 8GB RAM, 256GB SSD, and a choice of Intel or AMD processor. That's clearly not going to be running 3D renders anytime soon, but it's a great choice for creative professionals with low hardware requirements, such as digital illustration programs like Clip Studio Paint, and you can always configure this with more powerful components.
The 15.6-inch HD display is pretty good for the price, and you're getting plenty of ports and slots. We would recommend this for students on a tight budget, but it's also well suited for those who are working from home.
The best premium Dell laptop for gaming
The Alienware m17 R4 is, despite its name, a Dell-branded product after the two brands merged several years ago, and while it's marketed as a gaming laptop, there's plenty about it that creatives will love.
Price likely won't be one of them as something this powerful costs a lot of cash, but you're getting a lot of laptop for your money. The m17 R4 is equipped with a choice of either Intel i7 or i9 10th-gen Intel processors, an Nvidia GeForce RTX 3070 or RTX 3080 GPU and up to 32GB of RAM, and those components make it well suited for 3D sculpting and game design.
The processor might be slightly older now that Intel has released its 12th-generation CPUs for laptops, but that doesn't make them any less capable. There are also very few dedicated creative laptops on the market, which makes gaming hardware a more accessible choice for folks wanting to use apps like Blender and Unreal Engine 5 on the go.
The trade-off is that the battery life is extremely poor, and the design is certainly going to be a deal-breaker for some, but overall, this is a great choice for creatives working with graphically demanding software.
The best Professional Dell laptop
The Dell G15 is another gaming laptop, though this model will appeal to you more than the Alienware above thanks to its more palatable price tag and modest looks, exchanging an RGB-infested, alien-branded chassis for something that would look more appropriate in an office of classroom.
There's plenty of configurations available for you to customize the device to your exact needs, though you won't be able to equip it with the most powerful hardware on the market. Still, the top-spec RTX 3060 model is very capable at running 3D applications. It's a great choice for creative professionals and students alike who want a laptop with a little more power under the hood for playing around in apps like Blender.
The caveat is going to be both fan noise and battery life, but if you're happy to stick near a power outlet and make sure it gets plenty of unrestricted airflow then this is a great choice for both work and play.
The best Rugged Dell laptop
We spent a week with the Dell Inspiron 7620 2-in-1, and decided it is a solidly built aluminium-shell laptop, able to withstand the sort of day-to-day battering it might receive in a student rucksack but sleek enough to look stylish in an office.
While its weight puts it more in the laptop camp than the tablet camp, the screen is impressive in tent mode and the hinges feel like they'd withstand quite a bit of abuse. Although the lack of an included stylus to go with the responsive touchscreen feels like a major oversight, it's a solid, dependable choice for graphics and writing work but doesn't quite stand up to video editing or processor-heavy gaming.
If you're looking for a solid 2-in-1 you can carry around, prop up in tent mode and take calls on, the Dell Inspiron 7620 2-in-1 could be the right choice for you, especially if you're planning to buy the PN5122 Dell Active Pen.
Find out more in our Dell Inspiron 760 2-in-1 review.
The best portable Dell laptop
The Dell Precision 5760 is a true workstation rather than a gaming laptop, and that comes with a pinch of professionalism. What it lacks in flashy RGB lighting, it makes up for with raw power and performance.
You're getting a display that offers up to 100% Adobe RGB and 99% DCI-P3 coverage, as well as the powerful RTX A3000 graphics card that doesn't feature too often in laptops. This is the professional alternative to game-ready graphics cards, making this ideal for anyone looking for a portable solution while working with VFX.
As always, battery life on something with a discrete GPU is going to be a bit disappointing but if you're set on buying an actual workstation laptop over a gaming device then this is one of the best options on the market - providing you can stomach its hefty price tag.
FAQs
Why should I buy a Dell laptop?
Dell makes some of the best all-around laptops and 2-in-1 devices on the market, perfectly balancing the technical specs needed by most users across a wide range of budgets. The build quality across both Dell and Alienware is very respectable, so if you're looking for a powerful gaming laptop, buying from either brand is a safe bet.
Not only are they offer top-of-the-line components and features, but they look very classy and stylish to boot, competing for looks against well established devices like the Apple range of MacBook Pro and MacBook Air laptops.
If you have a price in mind and a particular area that needs to be optimised for your needs, Dell will have something that suits you, from 4K displays for photo editors, to beefy graphics cards and plentiful RAM for 3D artists and gamers.
What's the best Dell laptop?
There's no one answer to the question of which is the best Dell laptop overall because everyone will have very different needs from a device. We love the Dell XPS 13 2-in-1 for its portability and speedy components, but it won't appeal to those of you who need something with more power behind it for especially demanding applications.
The Dell XPS 15 or 17 are well suited for those who need raw power and a high-quality display, but size could prove troublesome for anyone looking for portability. For high-quality gaming, consider something from Alienware, a sub-brand of Dell that makes powerful gaming laptops, and for a real workhorse, look at the Precision range of portable workstations.
How should I choose the best Dell laptop?
When looking for the best Dell laptop, you'll need to consider your specific needs. Dell's range spans all types of laptop including 2-in-1, gaming and workstations. Each have their own merits, but won't all be the right fit for everyone. You should consider whether you're always out and about (and need good battery life and a lightweight machine) or mostly in one place so portability isn't a consideration.
Creative professionals are likely to need a laptop with good RAM, a powerful graphics card and a fast processor so the machine is capable of handling technical and demanding applications. A laptop named as a workstation has the power of a desktop. If this is what you need, then the Dell Precision 5760 is a good bet. The Dell XPS 17 (2021) is also super-powerful, with a giant screen. It also goes without saying (but we will anyway) that those working with video or images will want to prioritise the display.
Students may not need the power of a gaming laptop or a workstation (unless their specialism is in a creative discipline) so could look for something that proritises value for money over power, such as the Dell Inspiron 15 3000.

Need something in between tremendous power and simplicity? Our top pick straddles the gap, and is also a 2-in-1 laptop. 2-in-1 devices are usually less powerful but are gaining power all the time. Plus, you can edit high-res images using a stylus – a useful function for creatives.