The best Dell laptops will vary depending on your own needs, but no matter what you need to get out of a new computer, Dell has something to suit every demographic, budget and style. The affordable Inspiron range of laptops are popular within schools and businesses, while the more luxurious XPS line is coveted by professionals and creatives thanks to their sleek designs and powerful components.
If you need something that can handle graphically demanding applications then Dell also has plenty to offer, with both the G-series and Alienware gaming brands. Even if you're not much of a gamer, these often come equipped with a recently released processor, a powerful graphics card and plenty of memory, which makes them especially well-suited to creative professionals who need a device for 3D rendering and sculpting – see our best gaming laptops guide for more options.
In fact, simply by offering a line of gaming laptops, Dell is offering its customers more variety than its biggest market rival Apple, and many of its top-line models can rival the likes of popular Mac products such as the MacBook Pro or MacBook Air.
Dell offers so much choice that you could easily feel overwhelmed by the sheer variety, which can make it difficult to make a decision. This is why we've put together this list of the best Dell laptops to help you choose the right machine for your needs and budget.
Our dedicated price scan tool also checks the best prices on each laptop, so you're not paying over the odds, but if you're looking to save some cash, ask your employer or educational facility if they're eligible for a corporate discount on Dell products.
If you can't find what you want in this list of the best Dell laptops, why not explore our guide to the best laptops for graphic designers? You can also look at our best student laptops if you're seeking something more affordable, and our guide to the most powerful laptops if you're looking for high-end specs.
The best Dell laptops available today
The Dell XPS 13 2-in-1 (2021) is a fantastic 2-in-1 laptop, and ond of the best all-rounder products on the market, capable of keeping up with a wide variety of workloads.
It's well suited to almost every industry thanks to Its lightweight and compact design, which is great for portability, and it comes equipped with a fast Intel processor, plenty of RAM and integrated graphics, making it a great choice for office workers, creative professionals and students alike.
You can make a few adjustments to further optimise it for your creative needs, such as bumping the standard 1080p display to a 4K UHD, and if you have especially demanding applications to run, you can opt for 32GB of ultrafast DDR4 RAM.
It also features a 13.4-inch touchscreen, 1TB max onboard storage, and up to 14 hours of battery life so you can do an entire day's work and still have enough power to watch some content when you get home.
Sure, it won't be beating the latest MacBook Pro Range on power any time soon, but it's more than capable of running applications such as Adobe Photoshop, and its ability to fold into a tablet device also means you can pair it with a stylus to avoid requiring a graphics drawing tablet for tasks like photo editing or digital illustration.
If this doesn't take your fancy, check out our guide to the best 2-in-1 laptops for creatives.
The Dell XPS 15 really does have everything: the latest powerful components, a fantastic display and reliable Dell build quality. Its little wonder then that this is the go-to of many creative professionals, office workers and more who want a stylish Windows-based alternative to the popular MacBook Pro line of laptops from Apple
You can configure it with an OLED InfinityEdge display for crisp blacks and vivid colours, 11th-generation Intel processors and the latest Nvidia RTX 3050 or 3050 Ti graphics cards, though Intel UHD is also an option for anyone looking to save some cash. It's ideal for photo editing, video editing and graphic design, as well as being a great all-rounder.
While it's not a gaming laptop by any means, the Nvidia RTX graphics card is powerful enough to run games like Fortnite or retro/indie titles, and that boost to graphics will come in handy for running any demanding creative applications.
If you need a laptop with a 15-inch screen then this is pretty hard to beat, especially when it includes three Thunderbolt 4 ports and a built-in SD card slot, unlike some laptops which now require a separate dongle. You're losing the standard USB-A port which might make hooking up any peripherals like a graphics drawing tablet tricky, but there are Bluetooth options available and the Dell XPS 15 really is worth the effort.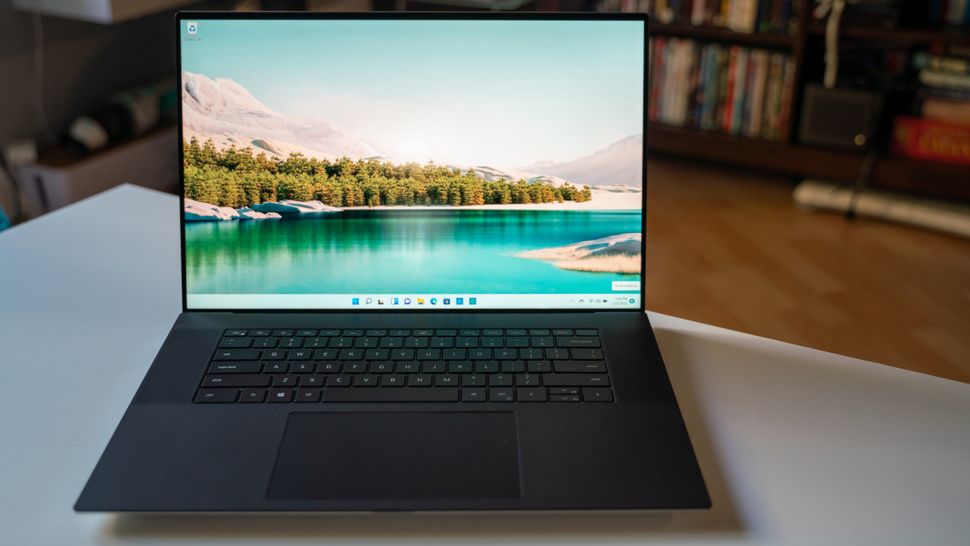 The Dell XPS 17 should be your go-to if you want all of the benefits of the smaller XPS 15, but with a larger display. While some may find a laptop of this size to be cumbersome, it's a great asset to video and photo editors who can make use of that extra screen real estate, and even digital illustrators and artists will enjoy having some additional room to work with.
Despite its size, it's still an amazingly thin and light device that you can easily carry around wherever you go alongside other heavier equipment like cameras or audio equipment which makes it an ideal powerful laptop for people who want to work remotely, or on the move.
You also still get many benefits carried over from the 15-inch version, so you can configure it with the latest Nvidia laptop graphics card to give your creative applications a boost, or simply to play some games in your downtime between work.
That glorious 17-inch 4K display makes it well suited for everything from editing 4K video footage, graphic design projects in Adobe Photoshop and even just chilling out and watching Netflix at the end of a busy workday.
This is the first laptop in the XPS range to have disappointed us regarding battery life in our tests, but you can still expect around seven hours of usage before it needs to be plugged in for a charge, so you don't have to worry about finding a plug socket too often. The price isn't too bad either as while it is expensive, it's worth every penny you pay.
See our complete Dell XPS 17 review for more details.
The Dell Inspiron 15 3000 certainly won't be knocking your socks off in regards to power, but it's reliable and well built, and not all of us need an expensive workhorse of a laptop, especially for menial tasks like web browsing or report writing.
Because of this, it's likely that you might have used an Inspiron laptop before, either at school or as a work-allocated machine. They appear often in large businesses thanks to its affordability and reliability.
Despite it being a budget-friendly option, there are a good few configurations available, from 4GB RAM, 128GB SSD, and a choice of Intel or AMD processor, which is plenty enough to get by in basic applications. You can configure this higher thankfully as they're hardly world-shattering specs, but they're more than enough for students and work-from-home warriors to write and work on basic design projects if you're on a tight budget.
It does mean that you won't be running any demanding applications on this, but digital illustration programs like Clip Studio Paint shouldn't have any issues, and the 15.6-inch HD display is ideal for novice artists looking to try out a digital medium.
This budget Dell laptop is also outfitted with various ports and slots including HDMI 1.4 so you can connect it to an external monitor or TV if you find the current display isn't up to your standards.
Alienware is a subsidiary of Dell, and the Alienware m17 R4 features a choice of either Intel i7 or i9 10th-gen Intel processors, an Nvidia GeForce RTX 3070 or RTX 3080 GPU and up to 32GB of RAM. Those are some seriously impressive specifications, so it's little wonder that while this is technically a gaming laptop, it should also be on your radar if you dabble with demanding creative work like 3D sculpting and game design.
Artists and video editors alike can appreciate the near-workstation-like build and that dedicated GPU is better suited for modelling software than other popular creative workstation laptops like the MacBook Pro.
The processor might be slightly older now that Intel has released its 12th-generation CPUs for laptops, but it's still very capable which makes this beastly device the perfect choice if you're looking for something that can eat through applications like Blender and Unreal Engine 5, and that dedicated GPU means you can also play the latest AAA titles.
If you like competitive titles then there are additional benefits too, such as the 144Hz display that could help give you the edge in a match, but if you don't play any games you'll still see the benefit of smooth playback regardless.
There are a few caveats, one being the chassis. While we think it's cool and one of the more unique designs on the market (and a very distinguishable as an Alienware product), some folks won't like the RGB lighting and alien motifs. Additionally, the battery life is extremely poor, which isn't unusual for a powerful gaming laptop, so make sure you don't wander too far from a power outlet if you want to grab an Alienware m17 R4.
The Dell G15 is the ideal choice if you, like Miley, want the best of both worlds. This relatively budget-friendly gaming laptop has all the power and performance to run your favourite games and demanding creative apps, but in a more professional chassis that lacks the edgy Alienware brand motifs, which makes it better suited to office and school environments.
It's also a lot more affordable than an Alienware device, but its specifications will allow you to run creative applications with ease, more so than a laptop without a dedicated GPU. There's sadly no option to include the most powerful graphics cards on the market, which is little surprise given this is a budget-friendly laptop and products rocking an RTX 3080 Ti will cost an eyewatering sum of cash.
That means that while you'll be fine running programs like Maya or Blender, it's not going to be as speedy or smooth as it would be running on a desktop PC, or even a beefier laptop, and the fan noise can get a little loud when they're trying to keep the system cool. Still, if you're a student looking for something that can tackle graphic design, photo editing and run most of the Steam game library on a budget, this is a sound option.
The Alienware x15 is another fantastic laptop that creatives might want to consider if you enjoy the stylings of the Alienware brand. Given it looks like something out of a sci-fi movie, we're happy to report that its performance is also out of this world, which is ideal for creatives who need to run graphically demanding applications.
The specs are top of the line, with 11th generation Intel processors that start from the i7 up to the workstation-ready i9, and the only available graphics cards being the RTX 3070 and RTX 3080, so you can also make use of a tonne of applications that utilise Nvidia RTX to boost performance, which is especially useful for 3D artists who use Maya, Blender and more.
Understandably, this is a hellishly expensive device so it's while it's certainly got a lot of appeal, it won't be within everyone's budget. Still, if you need a laptop equipped with the most powerful hardware available then this is one of the more stylish options.
There are several configurations to choose from despite the seemingly limited choice of components, one of which is the display. You can select between either FHD or QHD resolution, with FHD having an sRGB 100% colour gamut rating and the QHD panel rocking 99% of the DCI-P3 colour gamut. There are even a few refresh rates to choose from starting from 165Hz, which is great for video editors and gamers alike.
The Dell Precision 5760 isn't as well known as the XPS family of Dell products, but this is one of the best portable workstation laptops on the market, suitable for replacing a full desktop setup for folks that don't want to feel tied down to a desk. It has plenty of power, an amazing display and a massive amount of available storage at the top available specifications, with a display that offers up to 100% Adobe RGB and 99% DCI-P3 coverage.
There's very little that the Dell Precision 5760 can't handle, making it perfect for running demanding applications or trying to render 4k video. The powerful RTX A3000 graphics card is also the first non-gaming or integrated GPU option to feature on this list, and it's ideal for anyone looking for a portable solution while working with VFX.
For context, this will kick out around the same performance as the RTX 3060 gaming GPU, so it's not more powerful than some of the newer mobile graphics card options. If you wanted something more gaming-focused for playing AAA titles in your downtime, check out the Alienware line that has offerings up to an RTX 3080 Ti.
Its more muted and professional design also makes it more suited to taking into an office or shared workspace than gaming ranges from Dell, so while you can absolutely play games on it, you're not going to blind anyone with an RGB keyboard or aggressive alien-themed motifs.
The Dell Inspiron 15 2-in-1 is a great solution for people who need the functionality of a graphics tablet with the support of the Windows operating system to run the full versions of applications and software rather than the 'lite' watered-down versions available on tablet devices.
It doesn't have a dedicated graphics card so this won't be the first choice for folks who need to work in a 3D environment, but it's more than capable at running Adobe applications like Photoshop so you can edit images and create digital illustrations and logos on the go. The lack of GPU also means you're getting a much lighter, slimmer laptop than anything made with gaming in mind, giving it extra appeal for people needing portability.
The 4K display can be a big drain on the battery, but when used alongside a stylus, you've got a fantastic tablet to edit images or sketch on, which gives the Inspiron 15 2-in-1 a flexibility advantage over other Inspiron laptops.
As with most devices, there are a few trade-offs for such a good quality 2-in-1. The speakers are fairly lacklustre so you won't want to do much audio mixing without adding externals, but given its other strengths, there's plenty to love about this premium 2-in-1 from Dell.
Why should I buy a Dell laptop?
Dell makes some of the best all-around laptops and 2-in-1 devices on the market, perfectly balancing the technical specs needed by most users across a wide range of budgets. The build quality across both Dell and Alienware is very respectable, so if you're looking for a powerful gaming laptop, buying from either brand is a safe bet.
Not only are they offer top-of-the-line components and features, but they look very classy and stylish to boot, competing for looks against well established devices like the Apple range of MacBook Pro and MacBook Air laptops.
If you have a price in mind and a particular area that needs to be optimised for your needs, Dell will have something that suits you, from 4K displays for photo editors, to beefy graphics cards and plentiful RAM for 3D artists and gamers.
How should I choose the best Dell laptop?
There's no one answer to the question of which is the best Dell laptop overall because everyone will have very different needs from a device. We love the Dell XPS 13 2-in-1 for its portability and speedy components, but it won't appeal to those of you who need something with more power behind it for especially demanding applications.
The Dell XPS 15 or 17 are well suited for those who need raw power and a high-quality display, but size could prove troublesome for anyone looking for portability. For high-quality gaming, consider something from Alienware, a sub-brand of Dell that makes powerful gaming laptops, and for a real workhorse, look at the Precision range of portable workstations.
Read more: