The best HP laptops are well worth checking out, whether you want a reasonably priced device for casual use, a business-oriented device for work, or a full-on workstation for creative professional tasks such as 3D modelling and animation. We particularly like HP laptops for their durability, great battery life and sleek-but-understated design. To help you find the best one for you, we've carefully curated a selection of the very best HP laptops, based on our own experience, expertise and hands-on reviews, as well as those of our sister sites and wider network of contacts.
We've looked at a variety of factors, including specs, power, display, features and value for money, both running extensive benchmark tests, and living and working with the laptops for extended periods of time, to get a real sense of how their real-world performance is. And based on our findings, we've picked the best HP laptop for a range of different purposes. (If you want to find out more about our review processes, you can read more about how we test laptops.)
Of course, HP isn't the only trusted laptop brand, so note that we also have guides to the best Dell laptops and the best MacBook for students, as well as more general guides to the best laptops for graphic design and the best laptops for video editing.
The quick list
Here you'll find a quick overview of the top products in our guide. Keep scrolling for our full breakdown of each product.
Best overall
The best HP laptop overall
The HP Envy offers an ideal mix of power, portability, battery life and screen real estate for most creative workers. It can run demanding creative software, will go for an entire workday between charges and is cheaper than many rivals too. The screen isn't fantastic, but it more than does the job.
Read more below
Best 2-in-1
2. HP Spectre x360 16 2-in-1 (2022)
The best 2-in-1 HP laptop
The Spectre X360 2-in-1 is not only one of the best HP laptops or its top 2-in-1 options; it's one of the best 2-in-1 laptops overall. It's a real visual performer, good for photo and video work, and the 2-in-1 capabilities make it a great presentation (or video-night) tool too.
Read more below
Best 13-inch
The best 13-inch HP laptop
If you want more in a smaller package, you can't really beat the Envy x360. It's wondrously compact at only 13 inches, but will convert to tablet mode with a single flip and offers a really good visual experience for such a small-screen laptop. One of the better 13-inchers out there.
Read more below
Best for WFH
The best WFH HP laptop
It may not be the latest model any more, but the HP Envy 13 is still a great option for home or hybrid workers. Really light and compact, it still offers enough grunt to take on every creative work alongside everything you need for general office work. Plus it's frequently discounted now.
Read more below
Best for designers
The best for designers
The ZBook Firefly G9 is custom-designed to make creative professionals' job easier, with a good screen, great portability and good battery life for pros on the go. It handles most creative software with ease and is equipped with pro-level privacy and security features too.
Read more below
Best for business
The best for business users
If you want a great all-rounder for your work, but don't need 4K resolution or completely stellar specs, the HP EliteBook 840 G9 offers excellent value. This makes it a great option for business buyers who need their staff to have a strong laptop that will last for a good while.
Read more below
The best HP laptops available now
Why you can trust Creative Bloq Our expert reviewers spend hours testing and comparing products and services so you can choose the best for you. Find out more about how we test.
The best HP laptop overall
The HP Envy 16 was launched in 2022 and quickly proved itself as a real winner among HP's wide-ranging lineup, thanks to its combination of power, portability, size and build quality, along with the usual excellent battery life you get from HP laptops.
What we like the most about the Envy 16 is that it takes all the things that worked so well in the older Envy 13, the battery life, reliability and sturdiness, and made it all bigger. The screen is bigger, there's considerably more RAM, and the storage can be expanded to a sizeable 2TB too. It also undercuts many similarly specced rivals on price.
If there's a downside here, it's that the Envy 16's screen isn't quite market-leading, and it's a bit heavy if you're going to be on the move a lot.
Best 2-in-1
Looking for a laptop that pushes the boundaries and transforms into a tablet? Allow us to introduce the HP Spectre x360 16 2-in-1, now upgraded for 2022. This device is truly a powerhouse, and it comes wrapped in a sleek, all-alloy chassis, offering exceptional value for what it delivers.
Our favourite feature of the HP Spectre x360 is its impressive 16-inch OLED touchscreen. It also comes bundled with an input pen that supports Microsoft Pen Protocol 2.0, which we loved using. Equipped with a solid 12th-gen Intel CPU, Intel's Arc graphics, and remarkable battery life, we found it an enticing package at an unexpectedly attractive price point. With a generous 1TB SSD storage, you'll have ample space for your local files as well. Admittedly, the sound quality may not be top-notch, and there is room for HP to enhance its basic software configuration. However, the overall appeal of this device is so strong that these minor details don't overshadow its exceptional value proposition.
Read more in our full HP Spectre x360 16 2-in-1 (2022) review.
Best 13-inch HP laptop
The HP Envy x360 is a sleek and compact laptop that also functions as a tablet, thanks to its versatile 360-degree hinge and touchscreen capabilities. Unlike the HP Spectre x360 mentioned earlier, it boasts a smaller 13.3-inch screen, which translates to a lighter and more portable device – a factor worth considering based on your specific requirements.
Equipped with the latest Intel Core i7 processor and an impressive 16GB of RAM, we think it's an excellent choice for both students and business professionals, offering the power of a laptop combined with the convenience of a tablet.
Not only does the HP Envy x360 exhibit exceptional build quality, but it also delivers strong performance suitable for a wide range of activities. Whether we were engaging in day-to-day computing tasks or simply relaxing with a movie, this laptop excelled in every aspect. It's an ideal choice for those who desire versatility without compromising performance or aesthetics.
Read more in our full HP Envy x360 review.
Best WFH HP laptop
Looking for a reliable all-rounder to work from home? Look no further than the HP Envy 13. This compact and capable laptop may be getting on a bit now, having been launched in 2020, but it still does everything we need from an everyday laptop, providing a powerful performance that won't go unnoticed. While it may not incite actual envy any more, it certainly packs enough punch to handle both creative tasks and day-to-day business requirements effortlessly. With options available up to an Intel Core i7 processor, it's not the most formidable powerhouse, but it still handles most of our design needs well.
Constructed with a sturdy aluminium build, the HP Envy 13 exudes durability. Its comfortable keyboard and crisp 13.3-inch display further enhance the overall user experience. As highlighted in our review, this machine offers unwavering performance without any compromises. However, it's worth noting that we have reservations about its plastic touchpad, instead of glass, which many rivals now offer.
Read more in our full HP Envy 13 review.
Best for designers
If you're in search of a high-end HP laptop tailored for creative professionals, look no further than the HP ZBook Firefly G9. We found the upgraded version surpasses its G8 predecessor, offering seamless performance and an enjoyable user experience. It effortlessly tackles a wide range of creative tasks, making it an ideal companion for professionals in the creative field.
The HP ZBook Firefly G9 is equipped with HP's Wolf Security, providing invaluable assistance to professionals who prioritize safeguarding their work. Additionally, it boasts convenient features such as a fingerprint scanner, a physical webcam shutter, and an inbuilt Tile functionality that allows us to track our device if it happens to go missing. During our tests, the only notable downside we discovered was that the fan may activate earlier and more frequently than desired. Read more in our full HP ZBook Firefly G9 review.
Best for business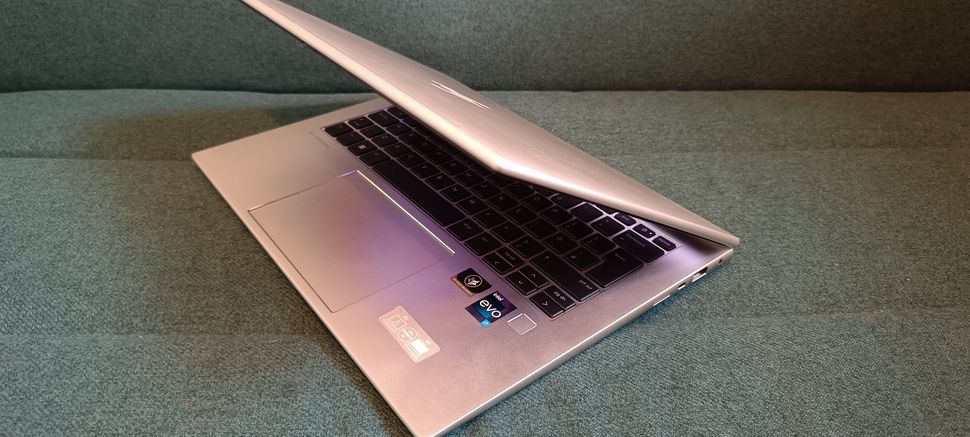 If you want a great all-rounder for your work, but don't need 4K resolution or completely stellar specs, the HP EliteBook 840 G9 offers excellent value.
With a powerful Intel Core i7 processor, everything runs nice and fast, and the laptop scored well in our benchmark test. The 14-inch display offers a pixel density of 162 PPI, which is more than enough for regular photo editing and digital artworking. Unusually these days, there are lots of ports too, which if you're anything like me, you'll find very welcome for plugging external keyboards, mice, portable hard drives and other peripherals into.
I found the battery in this laptop lasted an impressively long time, and was similarly impressed by how the business-spec security software was nicely unobtrusive. And the fingerprint sensor and the Windows Hello-enabled webcam add extra layers of protection too.
Read more in our full HP EliteBook 840 G9 review.
When you're editing photos you don't always need a stack of power. But every now and then you'll find yourself working with a huge image and a stack of filters, and in need of all the grunt you can get. So if you're after the best HP laptop for photo editing, we'd suggest the ZBook Studio G8.
Even in its basic configuration, it has more than enough oomph for everyday photo editing, and if you go for pricier setups you'll find it can deal with the most demanding creative apps. It's light and slimline with a sharp and bright 15.6-inch display, as well as Bang & Olufsen-tuned speakers for top audio quality.
The HP Chromebook x2 11 is the Chromebook that convinced us Chrome OS has a place in our life. Its 11-inch screen is just right for viewing on the go, and its bright edge-to-edge glass finish feels classy in our reviewer's hands.
The battery life is fantastic and inside, the Qualcomm Snapdragon 7c processor handles everything we threw at it, which admittedly is limited by Chrome OS – there's no full version of Photoshop on Chrome, for example. Yet, the HP Chromebook x2 11 proves adaptable and flexible; a tablet for sketching, browsing and games and a laptop for work.
Also, if you are looking for a budget alternative to the iPad Air, this is a great shout (and one where you don't have to pay extra for a keyboard...).
The average laptop isn't really enough if your work involves lots of video, so if you need a machine that won't give up the ghost when faced with a stack of 4K footage, the HP ZBook Fury 17 G8 is the way to go. It's not the most exciting-looking laptop, granted, but this portable workstation looks extremely impressive in terms of power, especially when you start spending on more heavyweight specs.
Big performance is going to cost you, of course, and we found that this isn't one of the most portable laptops. It's big and heavy and we wouldn't want to rely on it when we're not near an electrical socket, as the battery life isn't particularly great.
The HP Omen 17 is an absolute monster of a gaming laptop, and you know what that means: not only can it cope with all the latest games in maximum detail with as many frames per second as you need, it'll also be great for eating the most demanding design apps alive.
The basic configuration isn't exactly cheap, but with the mobile version of the GeForce RTX 3070 under the hood it's a proper graphical performer. For serious performance, however, you can spend quite a bit more on a model with an extra 16GB of RAM as well as the top-end RTX 3080, which should see you able to easily outpace the average desktop PC.
If you're looking for one of the best laptops from HP for business, and you've got money to spend, the HP Elite Dragonfly is the best in show right now. Updated for 2022, the HP Elite Dragonfly G3, drops the 2-in-1 functionality for a purer premium ultraportable approach. We like the taller 3:2 aspect screen in this compact 13.5-inch form factor. The combination of the slim chassis and great connectivity, including USB4, USB-A and full-sized HDMI is an added plus.
It's well specified, too, with a 12th Gen Intel CPU, a large, remarkably long-lasting battery for this device class, and much better connectivity than you might expect given the ultra-slim chassis.
There are some extra little details like a fingerprint scanner for logging into Windows – some people will find that gimmicky while for others it will provide a welcome security enhancement. The keyboard is very pleasant to use too. It's fairly expensive and does suffer from sluggish performance at times. But all in all, this is a very solid business laptop choice.
How should I choose the best HP laptop for me?
Before you decide which is the best HP laptop, you should establish what you need the laptop for. HP is a reliable brand, but each machine will have different strengths (and weaknesses) that could make all the difference to your experience.
HPs ranges cover everything from general consumer laptops to business laptops, gaming laptops and devices aimed at creatives, so make sure to look at the key specs and features you need in your new laptop. If you're just looking for something to boost productivity and for general browsing, your needs may be fairly basic; a reliable machine with decent battery life and a simple design, like the HP Chromebook.
Or, if you need something a bit more suitable for work environments, you could look into the EliteBook range; the HP EliteBook 840 G9 will give you enough battery to power through the day and then some. If you're looking for a device that can support your creativity, you'll need something with dedicated graphics and a lot of power like those found in the Envy and Zbook ranges.
Who are HP's different laptop ranges aimed at?
With such a wide variety on offer, HP's laptop ranges can be overwhelming at first, but there are clear distinctions between the kinds of users each line targets. Once you're familiar with these, shopping for an HP laptop becomes a lot less daunting.
At the top of the range are HP Spectres and Zbooks, the most premium laptops – the latter being portable workstations. These are designed to be the ultimate all-rounders, packing power, battery life and portability into one robust and reliable machine.
The next step down would be the HP Envy range, which connects the professional and consumer markets. Featuring a number of x360 2-in-1 laptops, the Envy range is premium but with more accessible prices than the Spectres and Zbooks, as well as some impressive specs.
Then, there's the EliteBook range, which is directed towards business users, the HP Omen for gamers, and lastly, the HP Pavilion, which is suited best for the general consumer and family market. Beyond these main ranges, HP also produces a number of small, lightweight Chromebooks, which run Chrome OS rather than Windows; so don't expect all of the desktop apps you're used to.
How much do HP laptops cost?
HP laptops span pretty much the entire range of price points, thanks to the wide range of different-spec laptops available. If you're on a tight budget, you can get HP entry-level laptops or HP Chromebook laptops for as low as £200/$250. Then you can work your way upward through the 130 or so models and variants available until you get to the beefiest HP Omen laptops, kitted out with all the processing power you'll need and the latest-generation graphics cards, which will set you back over £3,000/$2,500.
Are HP laptops good?
HP is one of the most experienced maker of laptops in the world, and has achieved that status on the back of making high-quality, reliable laptops for decades. HP is perhaps best known for its business laptops and computers, but with over 130 models available at the time of writing this, you can find anything from ultra-cheap laptops for school through everyday work and business models to creative powerhouses and specced-out gaming rigs capable of giving dedicated gaming brands a run for their money - if you know how to get the most out of them, that is.
I say that because HP is also known in recent years for downtuning its machines, in the name of battery life and durability. That means that creative professionals and gaming aficionados may sometimes find themselves a little disappointed with the top-level performance of HP laptops that they use. Thankfully, you can manually change those settings, if you know what you're doing, or alternatively take it to a computer expert who will do it for you. However, if you want optimum performance over battery life or long-term durability out of the box, you may need to add other brands to your shortlist.
Related articles: