The best Lenovo laptops are reliable, high-performing, and cost-effective, and come in a variety of shapes and sizes depending on your needs. Some are fantastic for creative needs, others are better for gaming, and some are just out-and-out powerhouses capable of running more intensive software.
We've reviewed the laptops in this list to help you find the best laptop for you, judging the entries based on specs, price and design. As well as our own expert reviews, we've run benchmark tests and conducted market research, looking at consumer reviews and industry reputation to ensure we only recommend you the best of the best.
Not sold on Lenovo? Why not check out some of our more general guides, like our picks of the best student laptops, or the best laptops for video editing?
The best Lenovo laptops available today
Why you can trust Creative Bloq Our expert reviewers spend hours testing and comparing products and services so you can choose the best for you. Find out more about how we test.
Although it's classed as a business laptop (and previous models have appeared in our best business laptops guide), the Lenovo ThinkPad X1 Carbon Gen 11 is generally just a really solid laptop.
This latest generation unfortunately doesn't have an option for 4K, but it does have a gorgeous 16:10 as it stands. Its CPU performs well, but it leaves a little to be desired in the graphics department. Still, it would be able to handle most workloads, be they professional or academic, and can be configured with a 2.8K OLED display with full DCI-P3 coverage.
This thin and light laptop is on the more affordable side, and while it's no work of art, it performs decently and is very portable. It has a large, reasonably high-quality screen,
It suffers from not-too-great battery life and mediocre CPU and GPU performance, and the off-centre trackpad placement and build quality make it a little uncomfortable to use over long periods. Add to that its middling speaker quality and washed-out screen, and this laptop most certainly isn't the go-to for gamers or creatives, but if you need a general work and study laptop, the IdeaPad Slim 3 will cover all your essentials without breaking the bank.
This super-light, super-flexible 2-in-1 laptop is a fantastic choice if you regularly work from home, travel or are a student needing something you can throw in your backpack before heading to campus. It's stylish, too, and pretty reliable.
It's not terribly powerful, but it's got enough speed to whiz through simple tasks or low-power software like word processors and browsers. The screen is truly beautiful, and the device can be folded to be used in laptop or tablet mode, making it a neat tool to at least knock out a few sketches in between editing documents, watching videos, and sending emails.
Lenovo's Legion line-up is its gaming-focused series of laptops, and the Legion Pro 7i 16 is from the latest generation of high-performance gaming laptops. It has a gorgeous and spacious 16-inch QHD screen that is fast enough to keep up with the on-screen action and packs some impressive components on the inside for an excellent gaming experience.
We love that it has per-key RGB lighting too, though the keyboard seems a little flimsy. It's not too expensive either, sitting fairly comfortably as a mid-range laptop. And with a 40-series Nvidia GeForce graphics card, 32GB RAM and an Intel Core i9 processor, it will handle most creative challenges you can throw at it too.
This light and thin workstation packs a punch, stuffed out with pretty powerful components including 11th Gen i7 Intel Core processors and NVIDIA T1200 Max-Q 4GB GDDR6 graphics, so it will be a great option for any graphic design work you can think of.
It's portable enough to let you work on-the-go, but still strong enough to handle the work, making it a popular choice for artists and content creators – but this performance does come with a fairly premium price tag, though.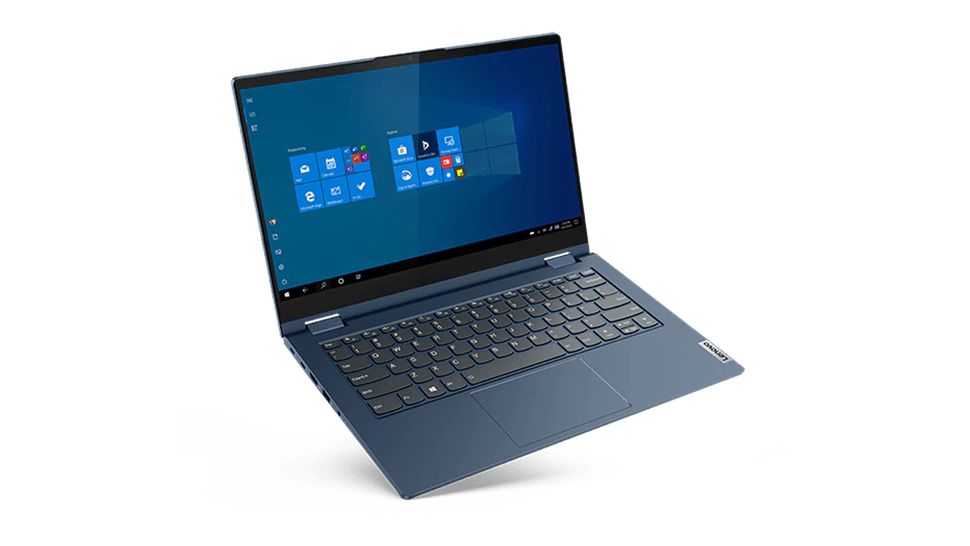 Another 2-in-1 laptop, the ThinkBook 14S Yoga is a great choice if you're writing code - but it's important to note that, like most 2-in-1s, it doesn't have a dedicated graphics card, instead relying on integrated Intel Iris Xe graphics.
Despite this, it still packs a punch with its modern mobile components, granting more than enough power to see you through writing all of your code ready to test. Plus, if you're programming for mobile devices, you can simply transform it from laptop to tablet mode and test how well your code works with a touchscreen device.
Included with the device is a stylus, meaning you can also exercise your creative juices if you need to quickly whip up a character design or cover art.
Why should I buy a Lenovo laptop?
Lenovo laptops are some of the more affordable options on the market, but that doesn't mean they're less reliable. Generally, they're slightly less powerful and might be a little less robust in design than some of their rivals like Dell, ASUS, MSI or Razer, but that shouldn't put you off; they're very capable, especially if you aren't in a position to buy from pricier brands.
There's a huge range of Lenovo laptops available, so it's not too hard to find one that will meet your needs, whether you need a powerful device for gaming or creative tasks or just want something lightweight and affordable for working from home.
What's the best Lenovo laptop?
As with any laptop brand, this is going to depend entirely upon your specific needs, but one of Lenovo's latest models, the Lenovo ThinkPad X1 Carbon Gen 11 (2023) has caught our attention this year thanks to its power and battery life – as an added bonus, it has a great in-built camera quality and port selection. It can hold its own against one of the tankiest ultraportable laptops around, the Dell XPS 13 Plus (2022), which is no easy feat.
Alternatively, lines like the Legion range are designed to be great for gaming, whereas ultraportable models like the Lenovo ThinkPad Z13 might be better if you're often on the move.
How should I choose the best Lenovo laptop for me?
The first place to start when choosing the best Lenovo laptop is to figure out what your needs are. Is money no object, or are you on a budget? What will you specifically be using the laptop for most often? Do you need it to be portable for frequent travelling, or can you handle something a little heavier?
If you're a creative, you'll likely want a powerhouse; something with a fast processor, a powerful graphics card, such as the Nvidia 30 or 40-series, and decent RAM (at least 16GB, preferably 32 or 64GB) so you can run all of your creative software without any hiccups.
On the other hand, you might be a student or a home worker and just need something light and easy to carry around and run simple software like word processors. Then what you should look for is lightness, portability, and of course price.