The best Microsoft laptops come in all shapes and sizes, with a huge range of unique features and at different price points, but all showcase how Windows can be best served in a laptop.
It's been just over ten years since Microsoft launched its Surface range, and in that decade its laptops have gone from strength to strength to now include everything from some of the best lightweight laptops to powerhouse 3-in-1 devices like the Surface Laptop Studio.
This does, of course, make it a lot harder to choose which one is right for you; that's where we come in. We've compared the specs, design and value of all of the best Microsoft laptops to help you find the perfect machine for your needs, whether you're a gamer, a professional or a creative.
If you're looking for something a bit more specific, why not check out some of our other guides, like the best laptops for graphic design, or the best laptops for gaming?
The best Microsoft laptops available today
Why you can trust Creative Bloq Our expert reviewers spend hours testing and comparing products and services so you can choose the best for you. Find out more about how we test.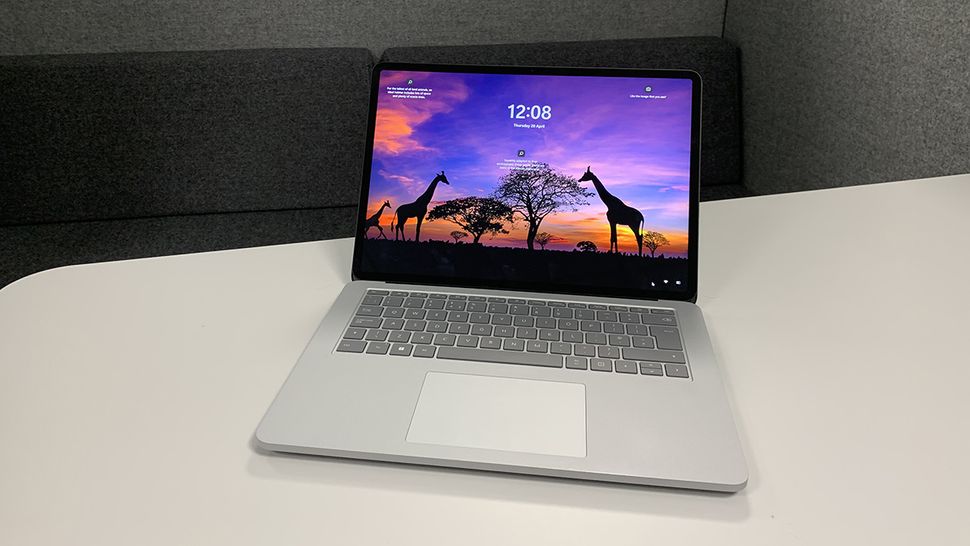 Without a doubt, the Microsoft Surface Laptop Studio is our favourite laptop from Microsoft - especially if you're a creative.
From its versatile 2-in-1 form factor to its premium build, bright and beautiful screen and its svelte design, Microsoft's Surface Laptop Studio oozes a charisma and finish we wouldn't typically attribute to the oft-clunky tech giant. Better yet, it's technically a 3-in-1 laptop thanks to its easel mode, which is wonderful both for entertainment and for drawing.
In our review, we called it a "great all-rounder hybrid", and it's certainly got the specs to match this claim. It's got extra vertical space thanks to the taller 3:2 screen size, making it great for a variety of creative activities, and, certainly when configured in its most premium build, specs like its 120Hz refresh rate mean the Surface Laptop Studio just scrapes our minimum viable requirements for a gaming laptop.
See our full Microsoft Laptop Studio review for more details.
The Microsoft Surface Laptop Go 2 is a compact and lightweight laptop that excels in tasks like writing, admin work, and browsing on the go. It has a decent touchscreen, but the low resolution might not meet the requirements of graphics professionals, meaning it's better as a starter device or a budget-friendly alternative to some of the pricier models on our list.
Weighing just 1.1 kg, the Surface Laptop Go 2 offers a sturdy build with a satisfying keyboard and fast fingerprint login. However, the lower-than-average screen resolution of 1536x1024 may disappoint graphic designers and artists, and the 720p webcam resolution is middling, which is to be expected in a budget laptop, but does mean it's less suitable for Zoom calls.
On a positive note, the Surface Laptop Go 2 embraces environmental considerations by featuring more replaceable parts, making it potentially upgradeable and easier to fix than typical laptops (by Microsoft rather than home users).
Read our full Microsoft Surface Laptop Go 2 review.
The Microsoft Surface Laptop 5 is a solid workhorse, capable of handling most tasks, but it may slow down when running multiple high-spec apps simultaneously. To get the best build, you'll need to invest more, making it one of the pricier Windows 11 laptops without the best value.
The design feels a little dated, but during our testing, we found the Surface Laptop 5 to be a great all-rounder and can run creative software with ease; though not more than one app at a time. We loved its touch screen, which is wonderfully responsive (though, we note, not OLED).
Read our full Microsoft Surface Laptop 5 review
The Surface Pro 9 is very light and thin, perfect for quickly stashing in your bag. Equipped with Windows 11, it's got a snappy 120Hz refresh rate, and at higher configurations can be pretty powerful.
While technically speaking, Microsoft qualifies the Surface Pro 9 - and a few other devices on this list - as a tablet, the optional Type Cover accessory makes it just as good as a laptop and runs Windows 11, granting you access to the full suite of desktop software. Plus, with its excellent Surface Pen stylus support (sold separately), the Surface Pro 9 is fantastic for drawing, illustration, and photo editing - just make sure to opt for more RAM if you want to use more demanding software like Lightroom.
Read more in our full Surface Pro 9 review.
Perfectly designed for stashing quickly in your backpack, this sturdy yet thin and light laptop has a fantastic blend of features to see you through your day on campus. It'd also work really well for workers on the go and even some creatives, thanks to its wonderful PixelSense touchscreen and excellent battery life.
The keyboard is wonderful to type on, and on test, we were incredibly impressed with how powerful and well-equipped this laptop is. You can also choose between Intel and AMD configurations, depending on your needs. It's definitely still not going to be quite enough for more intensive tasks like video processing or game development, though.
Read our full Surface Laptop 4 review for more information.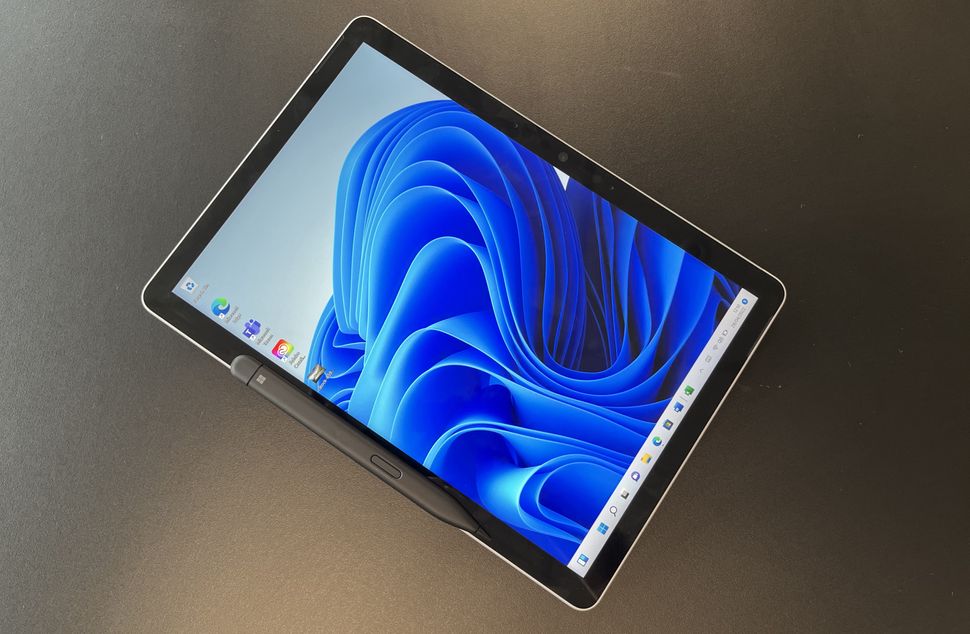 While we wouldn't recommend this laptop for anyone looking to do more intensive tasks, the Surface Go 3 is the most affordable 2-in-1 tablet in the Microsoft family, and it's still worth considering on that merit.
The Surface Go isn't very powerful, offering an affordable alternative to the more powerful Surface Pro 8, but it's plenty good enough for running low-demand software, web-based applications, and conferencing software. In as much, it's perfect for students on a budget, or remote workers who just need something simple to hop onto calls with.
Plus, it comes with Windows 11 installed and ready, and on test we found it can run a few design applications like Clip Studio Paint pretty well - though we can't imagine that would be the case for more intensive programs like video and image editing software.
One thing worth noting is that you'll need to buy accessories separately if you want to make use of the Surface Go 3's various use cases; a stylus for drawing/control and a keyboard, as the device is sold in its tablet-only form.
You can read more details in our full Microsoft Surface Go 3 review.
Why should I buy a Microsoft laptop?
Microsoft is one of the best-known names in computing and needs little-to-no introduction, so it's fair to say you can trust the tech giant's laptops to be reliable.
That doesn't mean every Surface device is an absolute hit; back in 2012 when the line launched, the original Surface was met with mixed reviews, at best.
Still, these days the huge variety of form factors paired with how well these devices showcase Microsoft's proprietary Windows operating system make Microsoft laptops among the best available.
What's the best Microsoft laptop?
For us, there's no doubt that the Surface Laptop Studio is the best Microsoft Laptop in terms of performance; its specs and design are top-notch, and it's a great all-rounder. However, it's not fantastic at any one thing, perhaps barring graphic design, so it might not be the best one for you specifically.
How should I choose the best Microsoft laptop for me?
Before choosing your next Microsoft laptop, the first thing you'll want to do is make sure you've organised your thoughts.
First, narrow down what budget you're working to, then what you're mostly going to be using the laptop for. Once you know this, you can keep an eye out for laptops that will meet your hardware needs while keeping the costs low.
For every laptop in our list, we've given guidelines for who it will be best for, so make use of our testing experience and expertise when making your choice!