Choosing a new laptop for graphic designers can be tricky, given the varying software requirements and tools needed to get the job done, while ensuring that your new workstation is capable enough to handle pressing tasks without any signs of struggle. If you're unsure where to start, we're here to help.
There are a number of factors you need to consider when shopping for any laptop, let alone one tailored specifically to creatives and graphic designers. We've broken this article into different sections to advise you on the minimum requirements we think you'll need, given our expertise in this area and years of experience from testing the latest laptops.
Take a look at our other helpful guides to the best laptops for animation, plus our picks of the best laptops for 3D modelling, and if you prefer an all-in-one workspace, maybe consider one of the best computers for graphic design instead.
What's the best processor for graphic design?
It's a known fact that Intel processors are leading the charge right now, and are considered to be the top choice for many as the most powerful, reliable (and most expensive) chips for processing tasks that creatives can get. But with that said, you don't necessarily need the latest 14th-gen Intel Core i9 chips to create your best work, and there are more affordable CPU options out there.
We recommend the AMD Ryzen series as a suitable Intel alternative, with the 7000 series offering excellent near-matched performance, and you can even downgrade to the Ryzen 5 (or Intel Core i5) series if you're on a tighter budget but still need reliable performance. For a rundown of the very best Intel and Ryzen processors that we personally vouch for, see the 6 best processors for designers.
You'll benefit from a CPU that has a minimum proceessing speed of at least 4 GHz and above to ensure speedy task processing, and combine this with a minimum number of 8 cores for carrying out multiple computational tasks, and a quality GPU (more on this next) and you're off to a smooth start. If you have money to spend then the more cores and clock speed a CPU has, the better performance.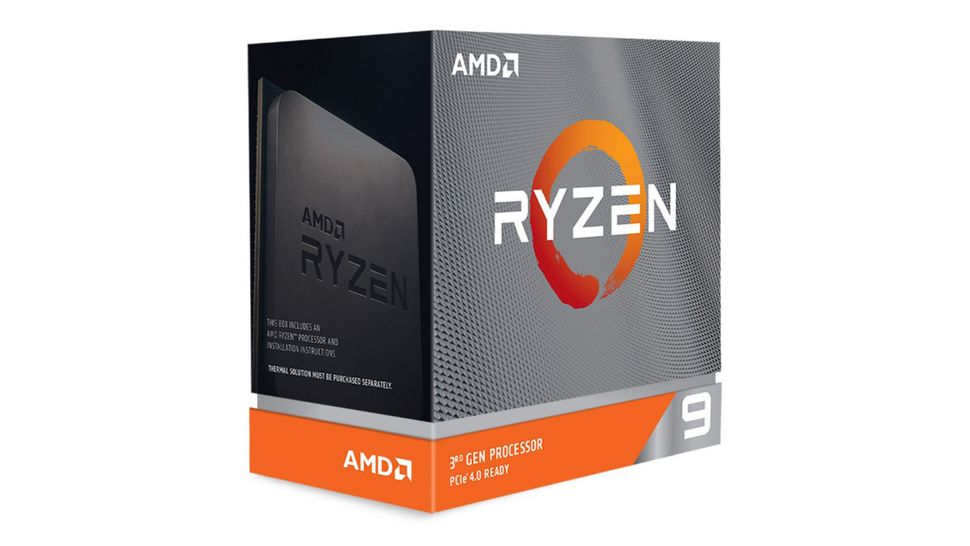 What's the best GPU for graphic design?
Another essential thing to consider when choosing a laptop suitable for graphic design is the graphics card (GPU). This component is crucial if you use creative apps like Adobe Illustrator as it handles the visual processes you see on your screen, and impacts the smooth and accurate running of images and videos.
According to leading laptop manufacturer ASUS, discrete laptop GPUs (as opposed to integrated variants) which feature VRAM (Video Random Access Memory) are key components for carrying out graphics-heavy tasks. You can't go wrong with a NVIDIA GeForce RTX GPU which you'll find in most of the best ASUS laptops, and specifically the RTX 4060 from NVIDIA is a top choice recommended for graphic designers.
We have a guide to the best graphics cards if you need some more suggestions, and an explainer on AMD vs Nvidia GPUs if you're torn between two manufacturers.
What's the best RAM for graphic design?
You might already know what laptop RAM is most useful for, but if you don't – it's a type of memory that works by allowing immediate access to multiple files, software, and apps on your device all at once, and determines how much data your laptop can handle before it begins to struggle, freeze up, and lag.
Adobe recommends having at least 16GB of RAM equipped for designers who rely on Adobe Illustrator software running smoothly, and some creative laptops have additional slots allocated to allow you to upgrade your device and add dual-RAM for extra memory should you need it.
We would strongly advise against opting for 8GB of RAM if you work with editing softwares or desktop apps, as from our experience this amount of memory alone is not enough to keep up with creative tasks and can't handle much more than your basic browsing and checking for emails.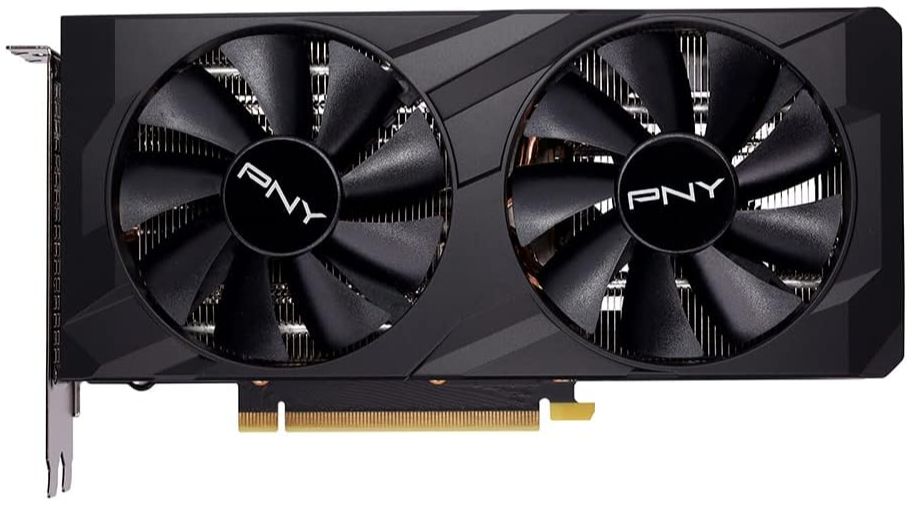 What's the best storage size for graphic design?
Speaking of memory, chances are that you have some large files stored on your laptop if you work in the creative industry, and even simple software can take up significant space on your device too. While you can invest in one of the best external hard drives to keep your files in a separate space, your laptop will still need a sufficient amount of storage for software updates and program files.
For graphic designers, we recommend you opt for at least 512GB of device storage to be on the safe side. Yes, you could probably get away with 128GB if you keep your work backed up through a cloud storage provider or a seperate storage drive instead, but all it takes is one large download to wipe out your disk space during a big project. You most likely won't need more than 2TB of storage, but that's your call.
We've seen cases before where people have dropped to as low as 64GB of storage like you might find on the smaller portable 2-in-1 laptop models. Do not make this mistake! One windows update is enough to essentially render your device useless with no options to update your system software, and no internal storage left for completing even the most menial tasks.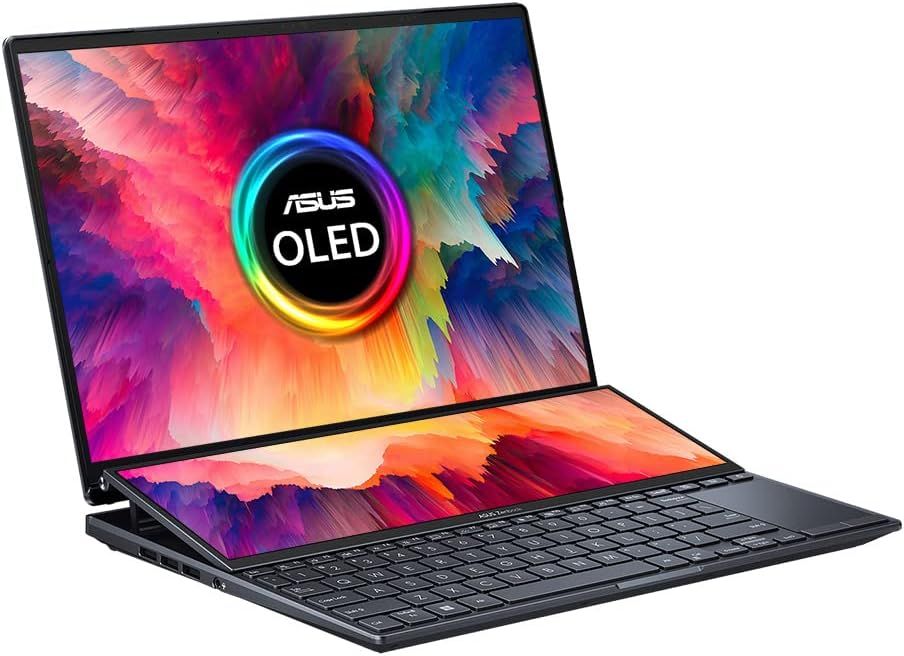 What's the best screen type for graphic design?
Once you've determined the base configurations that you'll need for powering your next laptop, it's now time to start thinking about the display. For visual artists, you'll probably benefit from a larger screen size (at least 15-inches) to see every detail of your creations, and colour accurate sRGB displays that have been Pantone validated are excellent choices for photographers too.
Do you need a touchscreen? Stylus compatibility? Built-in calibration tools? How about a high webcam quality? The ASUS ProArt StudioBook range ticks all of these boxes and more with beautiful touchscreen OLED displays that knock typical LCD screens out of the park. It's not all about 4K resolution anymore.
Brightness is also an important factor for choosing a display suitable for graphic designers, as you need to see what you're working on clearly with a high level of detail, dynamic range, and good contrast levels. With that said, it's a good idea to consider a screen with reduced blue light emissions to prevent eye strain too.
And then there's colour accuracy. As a starting point, we suggest you look for a screen with no less than 10-bit color depth, and 100% coverage of sRGB (preferably Adobe RBG and DCI-P3 too) color spaces for true-to-life accuracy.
What's the best laptop format for graphic design?
If your graphic design job requires you to work on public transport or travel into the office regularly, then chances are you won't want to be lugging around anything too heavy and bulky all day, even with one of the best laptop bags to assist.
Be cautious that laptops often marketed as slim, lightweight and portable aren't always top-spec, and probably lack in some other areas from ditching the extra weight. You'll need to find a middle ground in a device that meets all of your needs yet isn't too heavy, and a portable workstation that doesn't compromise on quality.
Usually large display laptops can be the most awkward to lug around, but are equally the most beneficial for visual artists. With this in mind, consider whether large trackpads, intense cooling fans, large-capacity chargers, and backlit keyboards are essential must-haves or adding dead weight to your device.
What's the best price on a laptop for graphic design?
Price is likely a key factor for many graphic designers and general creatives when deciding on a new laptop. While it's easy for us to list which new top-spec laptop models should be on your radar, that's not helpful if these aren't within your budget. So let's look at some excellent laptops for graphic design at different price points.
Price - Under $700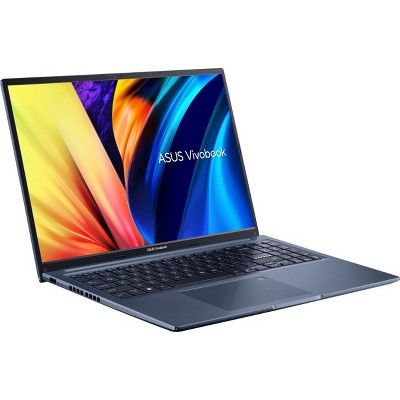 Under $700
Looking to spend as little as possible but still need a reliable laptop? It's tricky to find a capable laptop for creative work at this price point, but not impossible.
• We recommend the ASUS Vivobook 16-inch laptop which is currently $699 at Best Buy with the configurations: AMD Ryzen 7 CPU, 16GB RAM, 1TB SSD, and an entry-level AMD Radeon graphics card. It has a great IPS display too, with a 60Hz refresh rate, backlit keyboard, and an 8-core CPU. It weighs only 4.14 lbs, and measures at 0.78-inches thin, so portability factor is there too.
Psst, If you're looking for a real bargain, there's an open-box ASUS Vivobook 16 laptop listed for just $360 at Best Buy right now.
Under $1,000
Under $1,000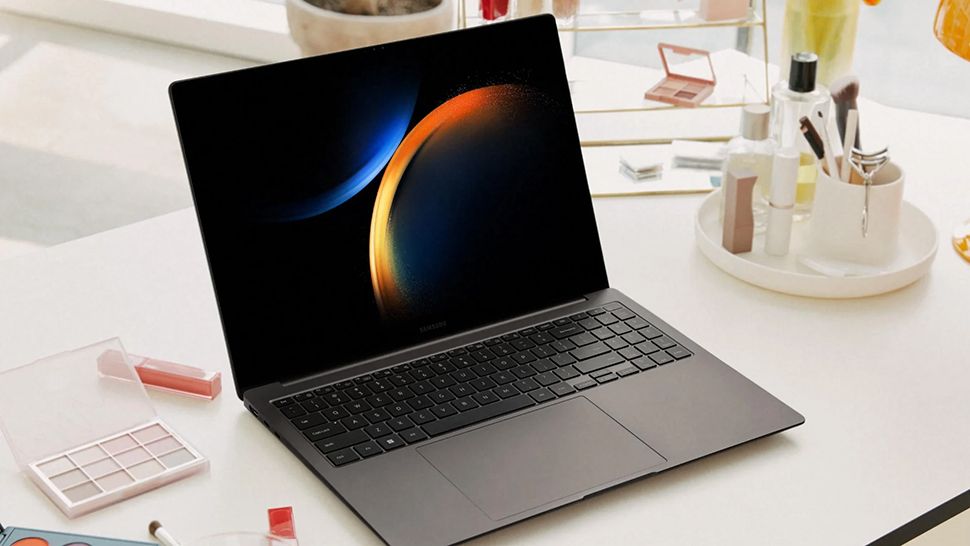 This price range gives us a little more leeway in finding a great laptop for graphic design equipped with the minimum specs needed to succeed.
• Discounted to $999 at Best Buy for a limited time (down from $1,549), the Samsung Galaxy Book 3 2-in-1 laptop is a great choice for the FHD AMOLED touchscreen alone, but this model also comes equipped with an Intel 13th-gen i7 processor, 16GB of RAM, an Intel Iris Xe Graphics card, and a 1TB SSD.
• You can also get the Lenovo 16-inch ThinkPad E16 Gen 1 Multi-Touch Notebook laptop for $940 at B&H Photo, equipped with a 13-th gen Intel i7 Core processor, 16GB of RAM, 512GB of SSD storage, and integrated Intel Iris Xe graphics.
• More of a gaming laptop but still a capable option is the Acer 15.6-inch Nitro 5 laptop for just $989 at B&H Photo, boasting a 12th-gen Intel Core i5 processor, a NVIDIA GeForce RTX 4050 Graphics card, 16GB of RAM, and 512GB of SSD storage.
• If you can afford an extra $49, then you can bag a 15.3-inch MacBook Air M2 laptop from Amazon for just $1,049 with 8GB of RAM, 256GB SSD storage, and a 10-core GPU. The M2 chip is a great processor for creative work, and despite only having 8GB of RAM, you shouldn't struggle with this laptop at all.
Under $2,000
Under $2,000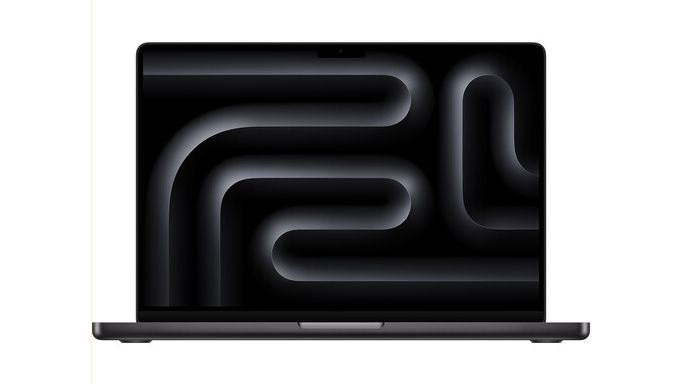 Now we're talking. Unfortunately creative workspaces with the best specs come at much higher price points, so you should be expecting to spend at a minimum $1,500 for a truly dedicated graphics design laptop. Below are some of the top devices we'd recommend for under $2,000.
• We have to mention the newly announced Apple 14-inch MacBook Pro (M3 Pro) laptop which is currently priced at $1,999 at B&H Photo for a 14-core M3 Pro CPU, a whopping 18GB of RAM, and a 512GB SSD. The display is a Liquid Retina XDR screen with an impressive 3024 x 1964 resolution, and 1080p camera.
• Not a fan of Apple? There's also the ASUS ProArt Studiobook OLED model that we mentioned earlier, priced at $1,999 from Best Buy with a beautiful 16-inch display, 13th gen Intel Core i9 processor, 16GB of RAM, a NVIDIA GeForce RTX 4060 GPU, and a 1TB SSD storage drive.
• Lastly, we recommend the ASUS Zenbook Pro 14 Duo OLED laptop priced at $1,999 from Amazon, which comes not only with a 14.5-inch 2.8K 120 Hz OLED display, but an additional full-width secondary screen for multitasking. It has an Intel Core i7 processor, 32GB of RAM, 1TB of SSD storage, and an Intel Iris Xe graphics card.