Herman Miller is a big deal in the world of ergonomic office chairs, and the Aeron is an absolute classic. It's been reduced by 25% to $956.25 at Herman Miller for a couple of weeks now, so I don't expect the sale to hang around for much longer after Cyber Monday.
And it happens to be my favourite office chair of all time. It tops my list of the best office chairs for back pain for good reason. It really is a design icon, and it's supremely comfortable. Many have tried to copy it, without success.
Note that you can get the Aeron cheaper from other third party retailers at the moment, but they've got questionable reviews and they don't offer the 12 year warranty that you get when you buy direct from Herman Miller.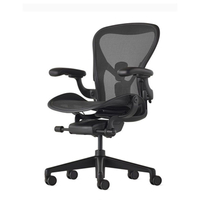 Herman Miller Aeron: from $1,275 $956.25 at Herman Miller
Save $318.75: The Aeron has been a design icon since it was launched in 1994. It's not often that Herman Miller offers savings this big, so 25% off is a deal to grab. We should note that there are even bigger discounts available on Amazon, where you can find the Aeron for as cheap as $695.99 from third-party retailers, but it should be noted that these do not have the manufacturer's generous warranty, and some customer reviews on Amazon mention complaints about the chairs being poorly packaged.
Also see our comparison of Herman Miller Mirra 2 vs Aeron, our ranking of all of the best Herman Miller chairs and a guide to the best Herman Miller Aeron prices.
See below for the best prices on a range of office chairs in your region.