Out of all Apple's products, it's arguably the Mac mini that provides the best specs-to-price ratio. It's a fantastic computer for under a grand. In fact, on launch you could get this year's excellent M2-chipped Mac mini at a starting price of $599. So that's why this deal might be my favourite Apple deal of the year so far – you can pick up the M2-chipped Mac mini down from $599 to $499 over at B&H Photo.
This is such a great deal because this is a near-perfect product for creatives that we rate highly, having spent many months using it. In fact, I'm currently writing this article on my M2 Pro Mac mini, and I can attest that it handles video editing, photo editing and AAA gaming effortlessly. Of course, this deal will be mainly for people who already have one of the best 4K monitors, but if you do, and you're looking for a powerful, stylish, discreet PC, this is definitely worth checking out.
Amazon is also providing the same deal, so head over there if the above deal has run out, or you prefer that retailer. Want more Apple deals? Then you should definitely check out our Apple Memorial Day Sale hub, where we will be bringing together all the best deals this weekend and Monday.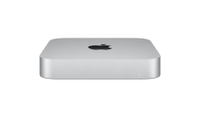 Apple Mac mini (8GB, 256GB, M2, 2023)
Was: $599
Now: $499 at B&H Photo
Save $100
Overview: For the price, this is one of the best computers out there. You're getting the famed Apple M2 chip with 8-core CPU and 10-core GPU, 8GB RAM and 256GB SSD. This may not be for pro video editors – you'll want 16G RAM for that – but if you want a powerful PC that can handle pretty much anything else, this is a great option.
Key features: The M2 chip is Apple's latest, bringing speed, power and reliability to its computers. As mentioned, I have the M2 Pro Mac mini, but to be honest for the work that I do, this Mac mini M2 would do everything that I need and more. It's got two Thunderbolt 4 ports, HDMI and two USB-A ports. It can also support two displays at the same time (up to 6K and 5K), should you really want to pimp out your office set up.
Price history: The Mac mini is already sold at a fair retail price, so to get $100 off the M2 model is a rare deal. Since its release this year, this is definitely the best price we've seen.
Price comparison: $499 at Amazon | $599 at Best Buy
Reviews: When we got our hands on this Mac mini at the beginning of the year, we were impressed by 'immense power', and called it, 'one of, if not the, best small form factor PCs money can buy'. Looking around at the other top tech sites, they all agree.