Quick menu
Jump to the quick list↴
1. Best overall: Apple iPad Air
2. Best portable: iPad Mini
3. Best for creatives: iPad Pro
4. Best Windows: Surface Pro 9
5. Best Android: Galaxy S8 Ultra
6. Another Windows: Surface Pro 8
7. Best 2-in-1: HP x2 11
8. Budget Android: Galaxy S6 Lite
9. Best budget: Amazon Fire HD 8
10. Budget Windows: Surface Go 3
11. Best basic: IdeaPad Duet
12. Also budget: Yoga Smart Tab
How to choose
How we review
FAQs
If you're starting back at school or looking to upgrade your old kit, the best tablets for students make for fantastic and versatile machines. Gone are the days when bulky, heavy laptops need to be lugged into every lecture and class; now, tablets are available with a variety of tools and software to make them just as good for note-taking, creative work, and organisation.
To help you choose the best tablet for your learning needs, we've assessed everything from the power, versatility, size and resolution specs to the available apps, any accessories that enhance the experience as well as the build quality to come up with a list of tablets that suit a variety of needs. We've weighed up the pros and cons, explaining why each of the devices below made the cut.;
As well as our own reviews, we've also considered customer reviews to determine which of these tablets most deserve your attention, but we've also got a more specific guide to the best budget drawing tablets, and the best iPad alternatives if you're ready to whittle down your options further. You may also find refurbished versions of the tablets on my list below; before buying those read our guide to buying refurbished tech.
The best tablets for students: Quick List
Below, we've summarised our top picks for when you want some quick insight, but you can scroll down, click the 'read more' text or find 'jump to' links at the side of this page to read our full thoughts.
The best tablet for students overall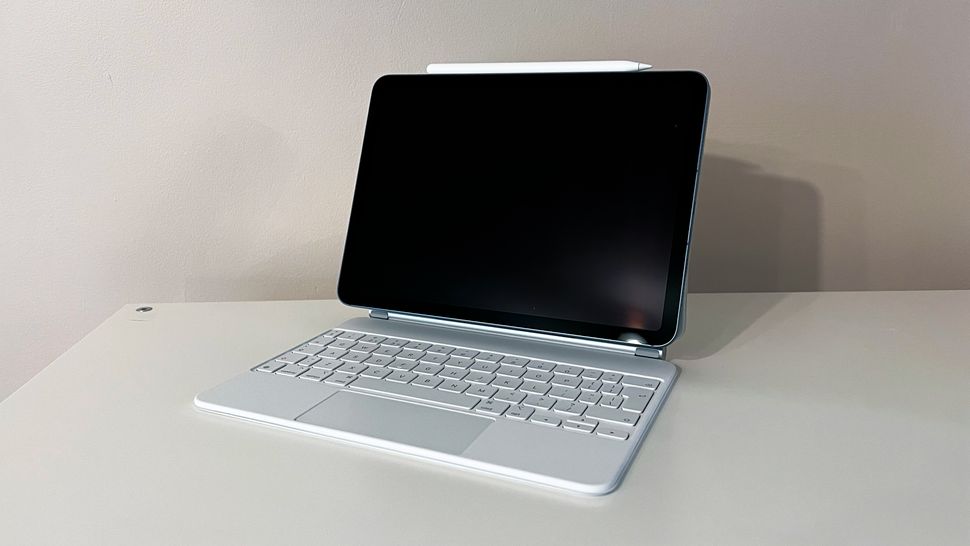 We were already big fans of the 2020 iPad Air, and we had rated it as the best tablet for students since it came out. Now the new Apple iPad Air (5th Gen, 2022) has stolen its predecessor's crown by adding a level of power that comes very close to making it an iPad Pro. It's a powerful, slim and lightweight tablet, now with Apple's own M1 chip, which is the main upgrade over the previous model.
When we reviewed it, we found that this processor upgrade makes the new iPad Air capable of handling almost any task asked of it, including leading art apps such as Procreate and the best video editing software. Considering that it's cheaper than an iPad Pro, for us this makes it the best tablet for students overall.
We found the screen to be sharp and vibrant, while the front camera and USB-C have been improved from the previous devices (there's also now the option of 5G connectivity. Meanwhile, the revamped iPadOS has introduced desktop workflows, including multiple work windows that can make it faster to work. See our full Apple iPad Air (5th Gen) review for more details.
The best portable tablet for students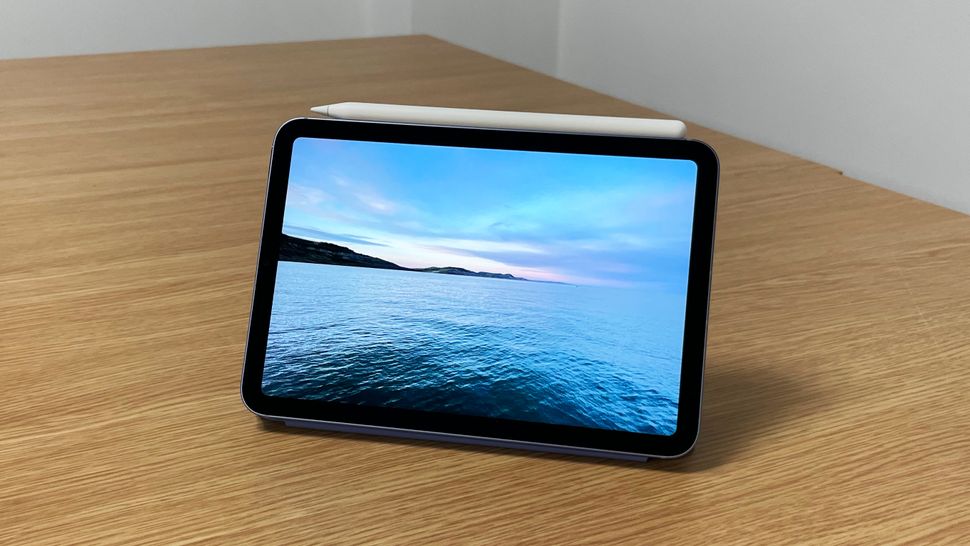 Ever since it received Apple Pencil support the iPad Mini has been a firm favourite of ours, and the September 2021 update made it an even better option, adding Apple Pencil 2 compatibility. It also got a processor boost that makes it a pretty powerful compact little device.
This iteration uses a reworked version of the A15 Bionic chip for powerful processing, and while some users may feel frustrated by only 4GB of RAM, realistically this should be enough for the tasks you'd want to do on a screen this small. We found the compact size and lightweight (less than 300g) make the tablet perfect for use on the go, for example on transport.
There's a very welcome USB-C port, which opens up a lot of possibilities. For example, when we reviewed the tablet, we used it with a USB DAC to listen to Apple's Lossless Hi-Res music, and with a USB mic to record a voiceover. The display is a little larger than that of the last iPad Mini, even though the overall body is smaller, with a 3:2 aspect ratio. We found the brightness to be very even, making it pleasant to use for long periods, and we were very impressed with the colour accuracy. While you're still paying a fairly premium Apple price, we reckon the iPad Mini 2021 offers solid value for money.
See our full iPad mini 6 review for more details.
The best tablet for creative students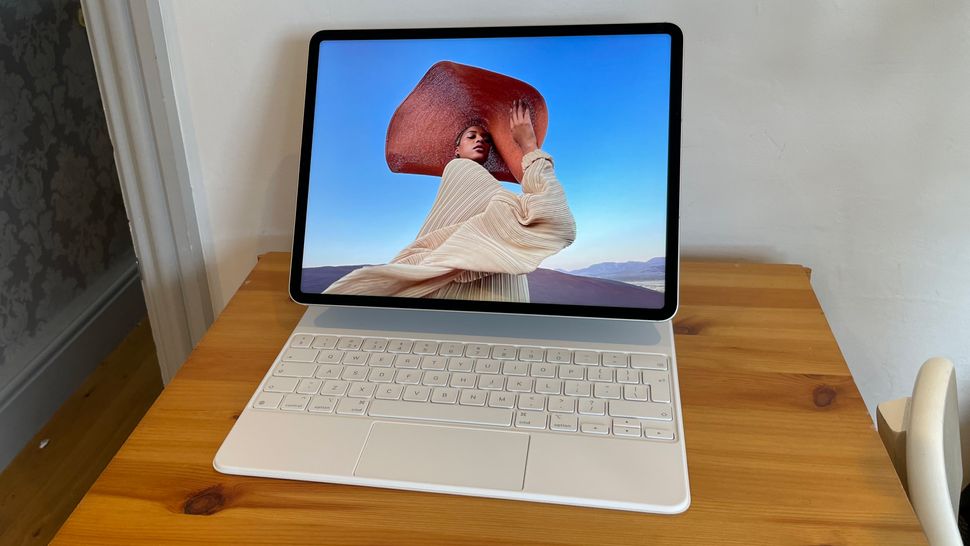 The big appeal of the iPad Mini is its portability, but if your area of study needs power (and you have a bigger budget), we recommend the iPad Pro 12.9 (2021) as the best student tablet for those on creative courses. As Apple's most powerful tablet, it doesn't come with a very student-friendly price, but you get a device that can handle even the most demanding visual design tasks with almost MacBook-level power. Pair it with a keyboard and mouse, and it could could even use it as a super portable laptop.
The HDR display is the best we've seen on a tablet, with a 120Hz refresh rate and a resolution of 2048 x 2732. Its peak brightness is 1,600 nits, and with better control of local dimming, it's more pleasant to look at for long periods. We found darker areas to have more nuance and depth to them, making for a better and more accurate image that's excellent for photo and video editing.
Of course, we hesitate to recommend this as the best tablet for students because of the price, and we'd say it's only worth splashing out on if you really need the specs you need to run power-hungry editing apps. In that department, it shouldn't disappoint.
See our full iPad Pro 12.9 (2021) review for more details.
The best Windows tablet for students
The Microsoft Surface pro 9 is a powerful tablet that, like iPad Pro, can be turned into a decent desktop computer by clicking in a cover/keyboard hybrid. The thing to watch here is the build – the Intel i5 and i7 models are excellent high-end machines while the 5G SQ3 model is built for battery life, and so lacks some power to run complex software.
For the money, I'd opt for the Intel i5 model that can run full software such as Photoshop with ease and can be paired with the excellent Surface Pro stylus and keyboard for a complete package. Our Surface Pro 9 review found that if you're looking to replace your laptop with a powerful and adaptable tablet (that's also a laptop), and are wedded to Windows, then Surface Pro 9 is an excellent option.
If you're looking for a decent web-browsing, cloud-based tablet for online classes and writing, then the 5G model is good (though there are cheaper tablets on this list that can do this as well).
Whichever model you choose – again, opt for the Intel builds – the Surface Pro 9 is a quality tablet, with a fantastic screen and light and tactile build. A nice feature is this newer Surface Pro can use the keyboard and stylus of the Surface Pro 8, saving you money if upgrading.
The best Android tablet for students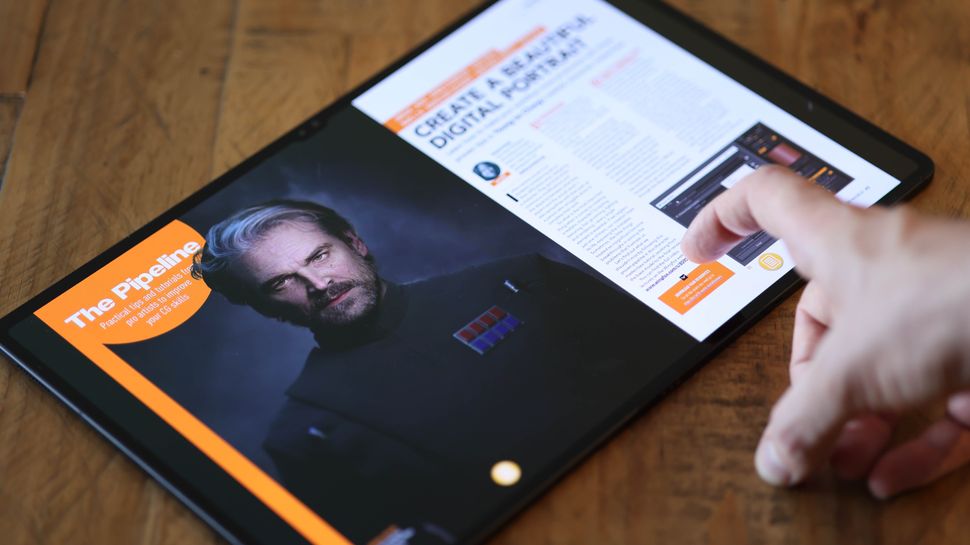 If you prefer an Android tablet and need plenty of power, the new Galaxy Tab S8 Ultra delivers that, and for a very reasonable price given its specs. You get a very big screen for a tablet – 14.6 in, which dwarves the largest iPad Pro. This makes it a good choice for those looking to take notes or sketch using the S Pen stylus, which refreshingly comes included as standard, making this even better value for a premium tablet.
You can take the specs up to pretty powerful configurations too, with up to 16GB in RAM and 512GB storage. Of course, the size makes this heavier than many of the options on our list of the best tablets for students, and not so conveniently portable. But we loved the slim, sleek design when we reviewed the tablet, and found the punchy screen fantastic for watching media and even editing photos. If you don't need the specs of the Ultra version, you might consider the cheaper standard Tab S8.
Note that there have been availability issues in the US due to high demand, but the Samsung store does now have stock available. There are also imported options available on Amazon. See our full Samsung Galaxy Tab S8 Ultra review for more details.
Another Windows tablet for students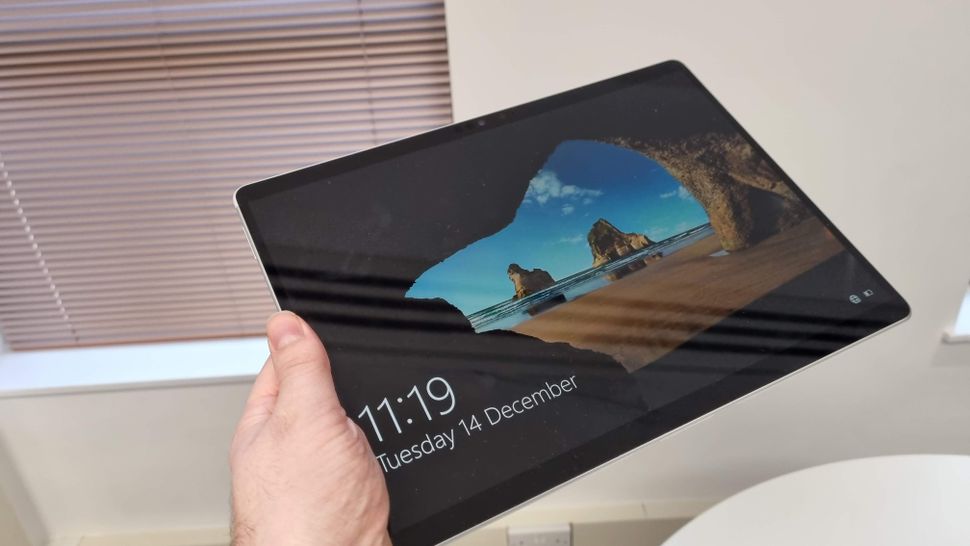 If you choose an iPad or Android tablet then you'll probably be able to find all the apps you need in their respective stores. However, if your coursework requires the use of full desktop software rather than mobile versions, a Microsoft Surface Pro could be the best student tablet for you. The Surface Pro is a Windows PC in tablet form, which means you can use desktop software such as full-fat Adobe Photoshop and other Creative Cloud packages, without having to worry about them not having all the features you might need.
The Surface Go 3 below is a lot more affordable, making it a good student choice for general use, but if you need a tablet that really runs desktop apps without having to pause for breath every now and then, the Surface Pro could be your new best friend. When we reviewed it, we found the improvements over the older Surface Pro 7 to be much more notable, both in terms of design and performance.
The Surface Pro 8 is designed to showcase Windows 11 and it does that with aplomb thanks to a gorgeous screen and powerful processor. Pair it with a Type Cover, and you have an experience that can stand up to a laptop while being thinner and lighter Battery life is great as well. There are several configurations, so you can opt for lower RAM and storage space to save cash. This is always going to be a pricey tablet for students, but it's a good time to grab this 2021 device because it's starting to get regular discounts now that the Surface Pro 9 is coming out.
See our full Surface Pro 8 review for more details.
The best 2-in-1 tablet for students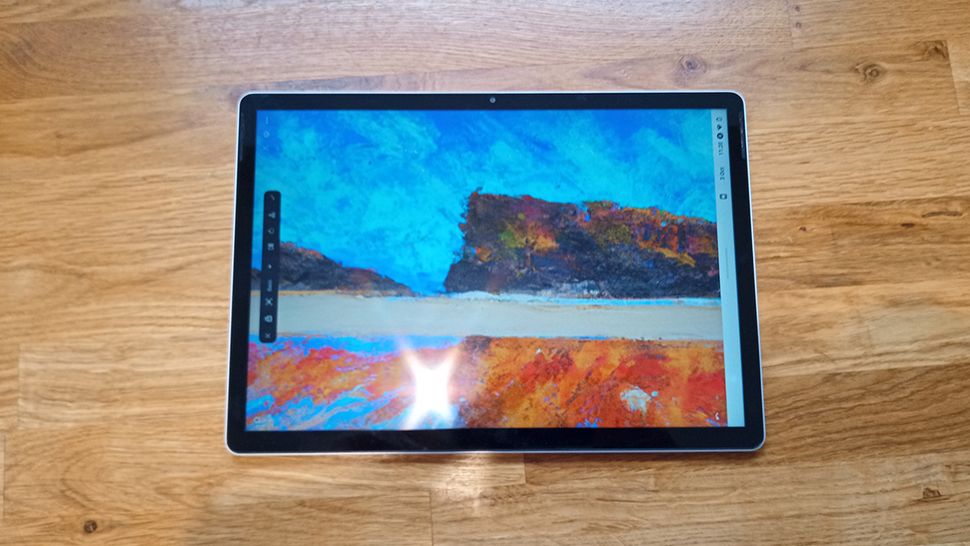 The HP Chromebook x2 11 is a smart little Chromebook that offers the best of both worlds; it's a tablet for note-taking, web-browsing, video streaming and digital art but can turn into a decent laptop for writing and productive work when its neat keyboard is clicked in place.
In my HP Chromebook x2 11 review, I found this tablet to be incredibly versatile. We were just as happy to use it on the go as a tablet or on a desk as a laptop; its 2K QLED screen and cloud-focused setup proved excellent for gaming and video streaming. Any student with an Xbox Game Pass account will find this useful between writing tasks and classes.
Of course, this is a Chrome OS device so that comes with the caveat that it runs apps via the Google Play Store rather than full software like the comparable Surface Go from Microsoft. However, Google's own suite of apps – Sheets, Docs, etc – are excellent substitutes for Word and Excel. Also, everything saves and exists in the cloud so you can access your work anywhere you have an internet connection.
For more, take a look at our guide to the best Chromebooks available now.
The best affordable Android tablet for students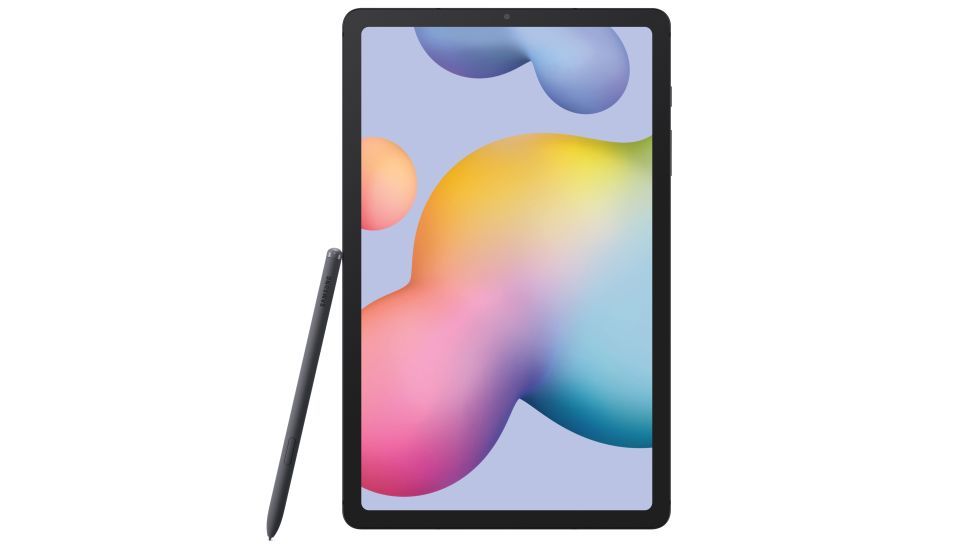 We've already recommended the Samsung Galaxy Tab S8 Ultra above as the best tablet for students looking for a premium Android device with a reasonable price tag. But if you don't need those specs (or you don't want such a large tablet), you could save money by going for an older, more budget Galaxy Tab.
The Galaxy Tab 6 Lite has long been superseded, but you can still pick it up online, and often at a very tempting price. It still provides respectable performance and build quality, and again, it comes with the S-Pen included. While it can't compete with some of the more advanced styluses out there, it's fine for note-taking and doodles.
The best budget tablet for students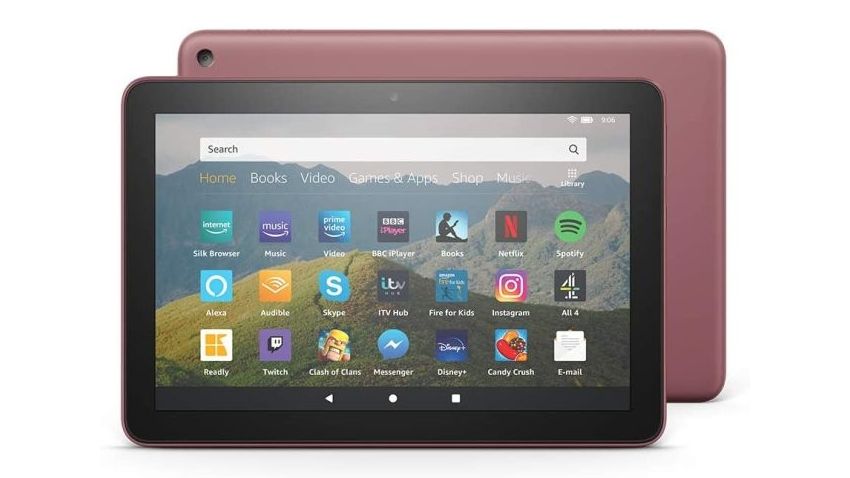 If you don't have a lot of money to spend on a tablet, don't despair. While you're never going to get iPad Pro-level performance out of a cheap tablet for students, if you opt for the very reasonably-priced Amazon Fire HD 8 (2020) you should at least be pleasantly surprised by what it can do. Despite its low-end price it still packs some decent features, and it's a significant upgrade from its predecessor.
If you shop on Amazon a lot and you have a Prime membership, you'll find a lot to like with this tablet, and it'll run plenty of apps that can help you with your studies and can be used for word processing and spreadsheets. It's also a good performer when it comes to entertainment. There's Amazon Prime, of course, along with Netflix and Disney Plus, and they all run well and look good on the 8-inch screen. If you want a tablet but don't want to spend much, then this is a great budget choice.
Note that with Amazon Fire tablets, the number refers to the size of the tablet (as opposed to Samsung, Microsoft and Apple tablets in which the number refers to the generation). If you need a larger tablet, there's the Fire HD 10, but we like this 8in version for its compact size.
The best affordable Windows tablet for students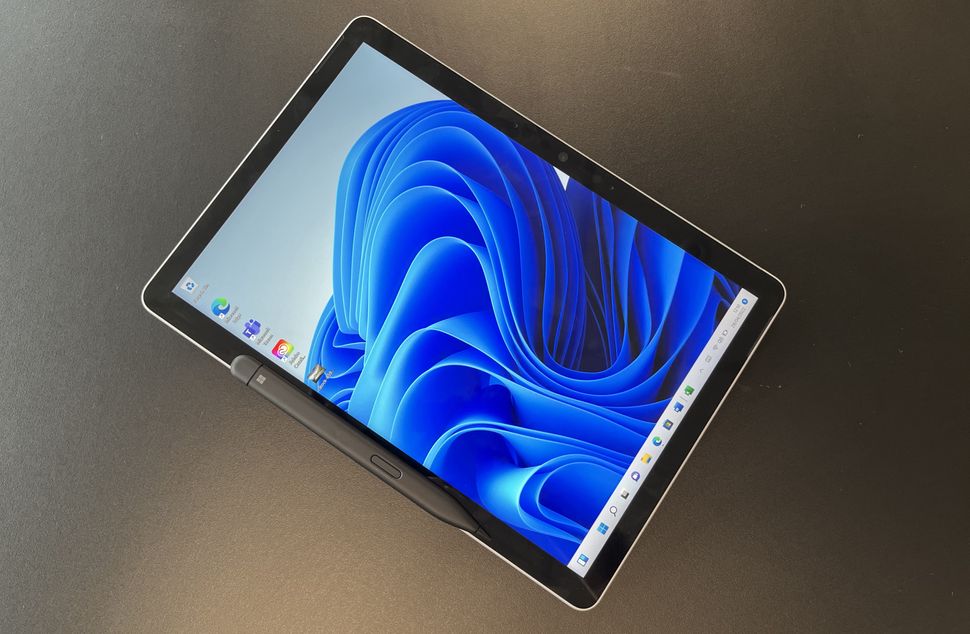 The Surface Pro 8 above is the best Windows tablet for students overall, if you have the money to splash and if you need that much power. But if you'll only be using your tablet for taking notes and writing up essays, it's really much more than you need. In that case, you might be better opting for the Surface Go 3.
The Surface Go 3 is not going to be able to cope with heavy creative apps and image rendering like its Pro cousin mat, but it is the most affordable Surface tablet, and it offers a stylish, lightweight design and low price. Invest in the Type Cover, and you can protect the screen and turn the Surface Go 3 into a great little Windows laptop for writing up essays.
The Surface Pro 3 offers a newer processor and slightly better performance over its predecessor, although its display is slightly dimmer and battery life isn't great, so you might also consider the older model if you spot a good deal. See our full Surface Go 3 review for more details.
The best basic tablet for students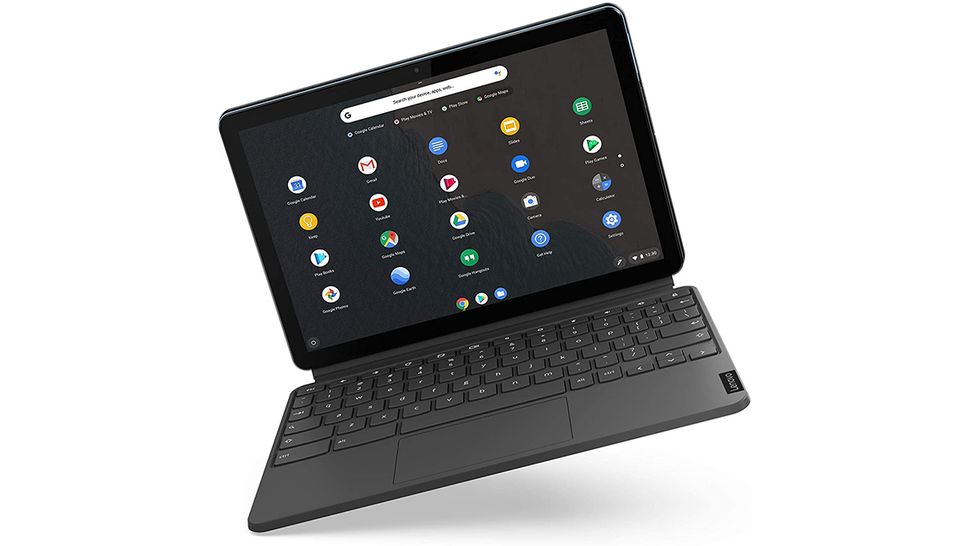 A Chromebook may not be your first choice when looking for the best tablets for students. Nevertheless, there are plenty of reasons why you might opt for one. With Google Chrome as your OS, you get speed and ease of use, as well as Google's own security, cloud storage and free connected apps. And the Lenovo IdeaPad Duet Chromebook 10.1 is a fine option; not only does it come at a great price, it's absolutely perfect for things like research, writing and organisational tasks, and it's ideal for video conferencing too.
The downside to using a Chrome OS is the tablet lacks the power of an Apple or Windows device, and won't run desktop or intensive software. That aside, the Lenovo IdeaPad Duet Chromebook 10.1 performs most tasks, and many desktop apps have mobile editions that can prove just as useful and are often far cheaper.
The Lenovo Duet is a well-designed tablet. It's a little chunky compared to Apple devices but that also means it's a sturdy device. The fact it comes packaged with a keyboard and stand is a bonus, and only serves to reinforce the value-for-money this budget tablet offers.
The best budget alternative tablet for students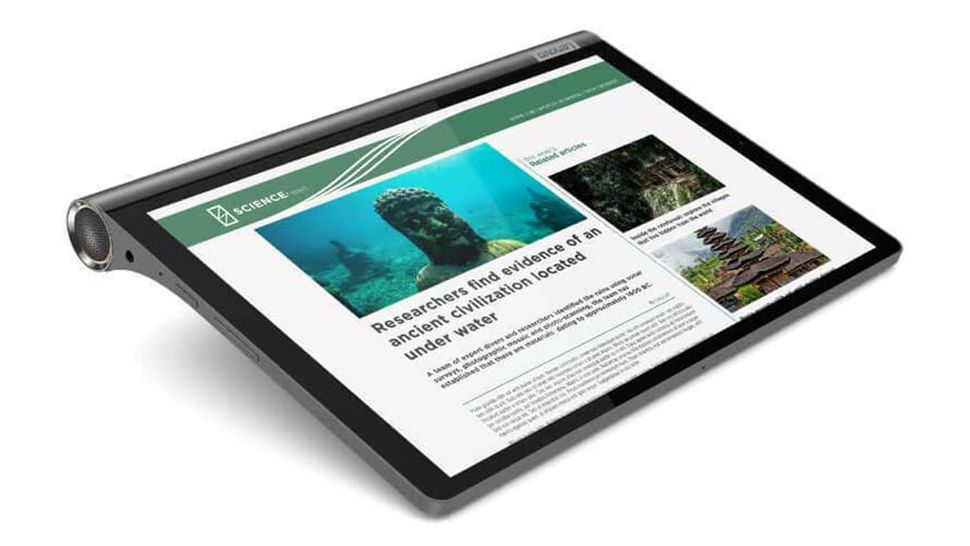 If you're short on budget, the Lenovo Yoga Smart Tab is an interesting little tablet that's well worth a look. Compared to many of the tablets listed above it's a little short on power, but it has a great-looking screen and decent built-in speakers, and it has Google Assist built in. As a result, what you have here is a well-priced and functional tablet for any student who doesn't have money to burn.
The design of the Lenovo Yoga Smart Tab is unique. One end has a bulky, rounded cylinder that tapers away to form a smooth and curved design. This ensures it a natural typing position and can be stood upright at an angle for viewing – it's a perfect device for written work and video calls (and great for films).
Made from aluminium and covered with a soft-touch acrylic finish, the Lenovo Yoga Smart Tab is a light and agile tablet. This device has a lot going for it, but it's also light on power and uses an older version of Android, which can limit its app use. That said, if you're writing and organising, researching and browsing the web, or taking on video calls and remote lectures, it's actually very handy; a good backup tablet.
The best high-spec tablet for students
The Huawei MatePad 11 is a high-spec tablet that is comparable to the Apple iPad. It is a light tablet with a superb and vibrant 120Hz display, a rarity in tablets at this size and budget (£449). The screen, its size and the excellent stylus make this a wonderful tablet for digital art.
There's an overall quality to the Huawei MatePad 11 that impresses, and in fact is a good alternative to Apple and Android, particularly as it comes in a 256GB edition. So what's the catch? Well, Huawei is a Chinese company and so has been banned from access to the Google Store. Huawei has its own versions of all of the apps you'd need for everyday tasks, including a word editor, PDF reader and excel-like document app.
In use, my Huawei MatePad 11 review revealed there's a neat APK direct download solution workaround, which means you can actually download all of the apps you'd usually use, including Netflix, but it's a little scrappy and not as easy as using Google Store. Also, you're missing out on some great art apps. If you can manage without some apps and need an everyday tablet for work and play, for less, then the Huawei MatePad 11 is a good option.
How to choose the best tablet for students
How should I choose the best tablet for students for me?
Which option is the best student tablet for you will depend on your requirements. We'd suggest considering size and weight: you'll want a tablet that can easily fit into your bag. Even with the largest tablets, like the 14in Samsung Galaxy Tab S8 Ultra, they're still lighter and more portable than a laptop, but one of the reasons we rate the iPad mini so highly is that it offers good specs but also a very convenient size.
Some students will need high-level specs, especially those on creative courses who need to edit images or video. This is why we've included several of the most premium tablets around on our list. Unfortunately, these don't have such student-friendly prices, but you may be able to get an Apple student discount.
Otherwise, if you're studying a course that doesn't entail use of more demanding creative software, then you may be just fine with a cheaper tablet like an older Galaxy Tab S or the 2020 iPad Air, or the super economical Amazon Fire.
Frequently asked questions
Can a tablet be used for online classes?
Yes, modern tablets are designed to be used for streaming video and video calls. Whether it's the latest Apple or a Chromebook you'll find new tablets are excellent for taking online classes. You will, however, need a stand so make sure you cost this in; Apple and Microsoft sell these separately while Chromebooks tend to come with them.
Is a laptop or tablet best for college?
Laptops tend to be better workhorses and come with the extra protection of a folding case to keep the screen safe and clean. However, tablets released in the 12 months, such as Apple iPad Air (5th Gen) or Microsoft Surface Pro 8, offer the best of both worlds – power and the portability of a tablet.
Is a tablet good for college?
We'd say so, the portability of a tablet, and ideally one with a touchscreen, stylus and keyboard, is a good option for daily classes and campus jostling. If you're looking to take notes, record audio and write a tablet is great. As a companion to a laptop, a Chromebook tablet is a good option as they're cheap and save to cloud storage / Google Drive.
How much do the best student tablets cost?
Of course, when choosing the best student tablet, price is a factor. Some students will require high-end specs that are inevitably expensive, especially those on creative courses that involve the use of graphically demanding software that requires a powerful chip and lots of RAM for a smooth experience. Such students will probably want to go for options like the iPad Pro or Surface Pro, which can even replace a laptop in some cases.
However, students on courses that don't require visual design software won't need that level of power and will be fine with a much more affordable tablet. In our pick of the best student tablets above, we've been sure to include some more economical options for those on a budget or who don't need the highest-end specs for their study.